Starting a call center can be an excellent business opportunity if done right. With the global contact center market expected to reach over $300 billion by 2025, there is massive potential for growth and success.
However, launching a call center requires careful planning, significant investment, and the right strategies.
This comprehensive guide will walk you through the key steps involved in starting a call center from scratch.
Follow this 9-step plan to set up a fully functional contact center tailored to your business needs.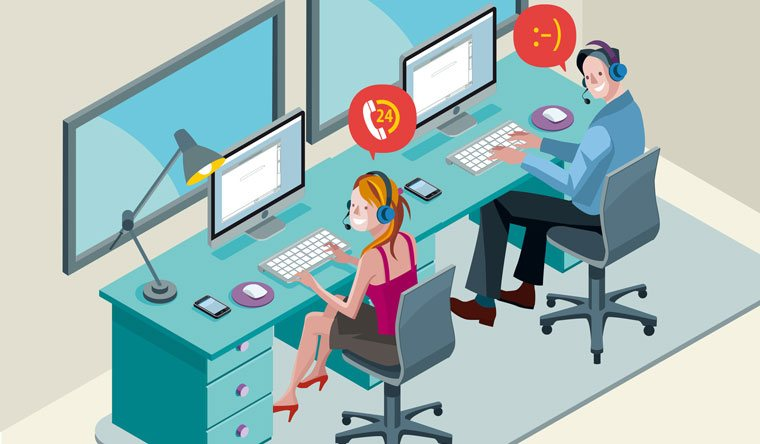 What is a call center?
A call center acts as a central point of contact between a company and its customers.
Call centers provide customer support, handle inquiries and complaints, offer technical assistance, process orders and transactions, and carry out telemarketing and survey activities.
The key functions of a call center include inbound call handling, outbound call handling, email support, social media support, and chat support.
When starting a call center, you need to make major decisions regarding location, technology, staffing, operations, and strategies.
Careful planning and research are required in terms of infrastructure, equipment, software, human resources, training processes, and compliance.
This guide will take you through the essential steps involved in launching a call center successfully.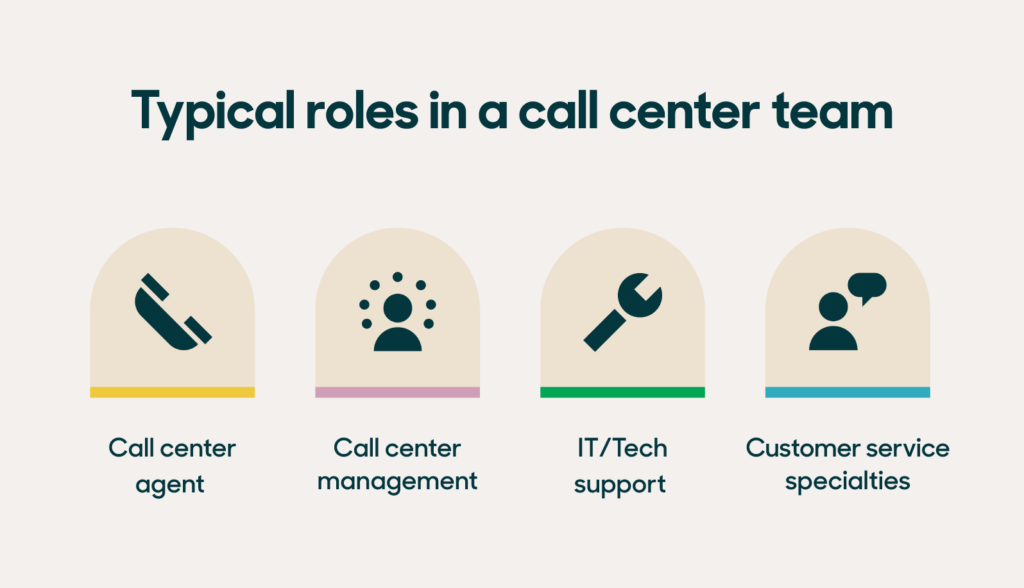 Step 1: Develop a Solid Business Plan
The first and most critical step is to create a comprehensive business plan.
This will act as your roadmap and help secure funding and investments. Your business plan should cover:
Executive Summary: Briefly summarize your company profile, objectives, market analysis, operations plan, and projected growth. This gives investors an overview of your proposed call center.
Company Description: Provide background on your company, founders, location, and type of business (LLC, partnership, etc.). Mention your mission statement, values, and unique approach.
Market Analysis: Research your target market thoroughly. Analyze demand for call center services in your region, profiling customer demographics and psychographics. Conduct competitor analysis to identify the strengths and weaknesses of other players in the locality. Estimate market size and projected growth using surveys, focus groups, and other methods.
Operations Plan: Describe your operating model, technology infrastructure, equipment, workforce strategy, training programs, compliance policies, quality management, and business processes in detail. Outline your facilities, layout, telecom systems, and cybersecurity measures.
Financial Plan: Project your startup and operating costs. Estimate capital requirements, funding needs, and sources of financing (loans, investors, etc.). Develop income statements, balance sheets, cash flow statements, and break-even analysis for the first 5 years. List key assumptions behind your projections.
Risks and Mitigation: Identify potential risks such as competition, regulatory changes, talent shortage, tech disruptions, etc. Describe strategies to mitigate these risks to ensure smooth operations.
Appendix: Include relevant data, surveys, Infographics, images, and projections to support your plan.
A solid plan demonstrates thorough research, reasonable assumptions, and a viable business model.
It is instrumental in securing licenses, financing, partners, talent, and infrastructure.
Step 2: Select a Strategic Location
Choosing the right location is crucial for any call center. Analyze the following factors while deciding your location:
Infrastructure: Prioritize locations with reliable power supply, high-speed internet connectivity, strong network coverage, and good public transport links. Avoid areas prone to frequent outages.
Talent Availability: Pick regions with an abundant workforce skilled in customer service. Gauge language proficiency, accent neutrality, educational qualifications, and relevant experience.
Scalability: Opt for cities that allow seamless expansion in terms of real estate, labor supply, government regulations, etc.
Costs: Focus on tier-2 or 3 cities offering competitive labor rates, affordable real estate, and lower operational expenses.
Government Support: Prefer states with policies favoring BPO/ITES sectors through tax incentives, subsidies, training programs, etc.
Compliance: Choose locations facilitating legal compliance in areas like minimum wage, labor standards, data protection, etc.
Competition: Steer clear of regions with too many existing call centers to avoid saturation.
Proximity to Customers: If serving a local customer base, evaluate setting up operations within your state or region.
Linguistic Needs: Areas with multilingual workforce suit call centers targeting global clients.
Do extensive research, calculate long-term costs, visit potential sites, and consult local agencies before deciding on your call center location.
Places with sustained growth prospects and availability of qualified, affordable talent make ideal choices.
Step 3: Design Your Facilities
Your call center facilities and layout directly impact productivity and efficiency. Key elements to consider:
Size: Have adequate space for your workforce, allowing 60-100 sq. ft per agent. Account for future expansion too.
Design: Structured cabins with low partitions boost privacy. Open spaces promote collaboration. Strike the right balance.
Lighting: Bright lighting with no glare improves engagement. Use natural light where possible. Install occupancy sensors.
Ergonomics: Choose ergonomic furniture to avoid strain. Invest in height-adjustable desks, armrests, and footrests.
Noise control: Use acoustic tiles, carpets, and sound-absorbing furnishings to minimize noise. Create quiet zones.
Air quality: Ensure proper ventilation, air conditioning, and humidity control for comfort. Promote green plants.
Power backup: Install generators and UPS for uninterrupted electricity to systems.
Security: Control access with ID cards and biometrics. Install surveillance cameras, fire alarms, and sensors. Hire onsite security staff.
Amenities: Offer wellness rooms, kitchenettes, gender-neutral bathrooms, nursing stations, and recreation areas for staff.
Technology: Build server rooms, IT support stations, and a robust telecom and internet network. Implement cybersecurity measures.
Warehouse: Have dedicated space to store equipment and materials, if required.
An efficient layout promotes collaboration while allowing focus. Ergonomic furnishings and top-class infrastructure also help attract and retain agents.
Step 4: Set up Technology Systems
Seamlessly integrating the right technology systems is vital for call centers. Key solutions required:
Automatic Call Distributor (ACD): Routes incoming calls to agents efficiently based on configurable rules like skills, availability, etc. Enables call monitoring, reporting, and analytics.
Interactive Voice Response (IVR): Automates call handling with menu options for callers to route calls, check information, or conduct transactions using voice commands or keypad inputs.
Computer-Telephony Integration (CTI): Links telecom systems to computers. Enables call control and screen pop-ups on agent desktops for customer data. Boosts productivity.
Dialers: Automates outbound calling. Predictive dialers connect answered calls to agents while skipping unanswered ones to maximize agent time usage. Preview dialers display contact info before connecting.
CRM: Stores customer data and interactions. Helps agents access information to personalize service. Enables recording call details for traceability.
Workforce Management Software: Forecasts call volumes, schedules agents, and manages performance. Balances staffing to meet service levels.
Call Recording: Records call for quality evaluation, compliance, and training. Options include full recording or on-demand recording. Encrypt sensitive data.
Analytics: Provides insights through reporting metrics on call volumes, wait times, agent performance, customer satisfaction, etc. Helps identify improvement areas.
Knowledge Base: Central repository of documents, resources, and FAQs for agents to find information easily and deliver consistent service.
Choose solutions that integrate well and suit your size and needs.
Deploy cloud-based systems for flexibility and scalability. Partner with expert vendors and IT consultants.
Step 5: Set up Telecom Channels
Omnichannel presence is key for call centers today. Set up channels based on your offerings:
Voice: The telephone remains the primary communication medium. Have a toll-free number and sufficient inbound lines to minimize dropped calls.
Email: Dedicated email IDs for customer queries and order forms. Integrate with CRM system.
Website: Self-service portal for common requests like order tracking, appointments, bill payment, etc. Offer web chat.
Social Media: Respond to comments, queries, and complaints on all social platforms regularly. Assign platform-wise teams.
Mobile App: Enable key functions through the app itself like raising tickets or ordering goods/services. Offer push notifications.
IVR: Build intelligent automated IVR with speech recognition to handle caller needs around the clock. Integrate with back-end.
Video Calling: Incorporate video chat and conferencing for select services like tech support, telemedicine, etc. that benefit from visuals.
Chatbots: Use AI-powered bots on websites and messaging apps to handle common questions or make appointments before routing complex issues to agents.
Messaging Apps: Offer real-time support on popular platforms like WhatsApp. Use for appointment reminders, delivery updates, etc.
Social Messaging: Respond to direct messages and comments on social media messaging apps like FB Messenger, Twitter DMs, etc.
Omnichannel presence and context-aware routing to the appropriate channel/agent create a seamless experience. Partner with telecom providers to enable the required channels.
Step 6: Staff Your Call Center
Building a skilled, motivated workforce is central to call center success. Key steps:
Demand Forecasting: Project staffing needs based on expected call volumes using historical data. Factor in absenteeism, attrition rates, skill needs, etc.
Recruitment: Hire staff through job portals, recruiters, advertisements, and referrals. Assess communication skills, aptitude, and customer focus during interviews.
Training: Conduct thorough induction training on systems, processes, products, soft skills, compliance, and company values. Have ongoing training programs for development.
Organization Structure: Group teams under skilled supervisors and managers. Key departments required – call handling, customer care, technical support, HR, admin, finance, quality, etc.
Scheduling: Use workforce management tools to predict hourly call volumes and schedule adequate staffing. Set up shift rotations to have coverage at all times.
Monitoring: Observe calls randomly for quality. Track metrics like call resolution rates, wait times, adherence to processes, etc. and provide feedback.
Motivation: Offer incentives like bonuses, vouchers, extra time off, etc. for top performers. Recognize achievements publicly. Promote a positive work culture through team events.
Performance Appraisal: Set individual targets aligned to contact center goals. Review periodically and link to rewards. Take remedial action for underperformers.
Career Progression: Offer clearly defined career paths to retain agents. Enable movement to supervisory and managerial roles based on performance and potential.
Work-life Balance: Follow leave policies, prevent excessive overtime, and offer remote working options and health benefits to enhance well-being and satisfaction.
Invest in skilled resources and motivate them through competitive compensation, a congenial environment, growth opportunities, and rewards.
Step 7: Develop Efficient Processes
Well-designed processes boost productivity and customer satisfaction. Key aspects:
Contact Routing: Use skills-based routing to map caller needs with agent expertise. Implement priority routing for premium customers.
Service Approach: Train agents to greet customers warmly, show empathy, actively listen, and clarify issues patiently. Standardize call opening and closing.
Query Resolution: Empower agents to resolve queries independently within defined parameters. Escalate complex issues seamlessly to specialized staff.
Ticketing System: Log all requests and complaints into CRM. Assign service level agreements (SLAs) for response time. Track till resolution.
Knowledge Management: Make the knowledge base, FAQs, and internal forums easily accessible to agents to find solutions quickly.
Quality Monitoring: Listen to call recordings and score agents as per criteria like resolution, accuracy, etiquette, process adherence, etc. to identify training needs.
Customer Satisfaction: Seek post-call feedback through IVR surveys, emails, etc. Review periodically to understand pain points and improve processes.
Complaint Management: Have a clear escalation matrix for complaint resolution. Close the loop with dissatisfied clients and seek feedback on resolution.
Continuous Improvement: Analyze call data, metrics, customer feedback, audit reports, etc. regularly. Implement corrective and preventive measures to address root causes.
Update Processes: Review policies and processes periodically to maximize efficiency. Incorporate feedback from staff and best practices.
Well-designed processes that enhance customer and employee experience are key to call center excellence. Seek ongoing feedback and continuously improve.
Step 8: Comply with Regulations
Call centers must comply with diverse regulations covering operations, sales, data security, and employment:
Telemarketing: Honor Do Not Call registries. Follow rules regarding calling hours, frequency, disclosures, etc. Train reps on compliant practices.
Data Security: Encrypt sensitive customer data. Control access. Follow norms related to international data transfers, third-party usage, etc.
Labor Laws: Provide breaks, overtime pay, minimum wages, and time off as mandated. Avoid forced overtime. Honor union regulations.
Anti-discrimination Laws: Ensure fair recruitment and pay regardless of gender, race, religion, sexual orientation etc. Accommodate disabilities.
Workplace Safety: Follow safety codes regarding office equipment, ergonomics, fire, sanitation, etc. Offer health insurance and wellness programs.
Harassment Laws: Enforce zero tolerance on workplace harassment through awareness, investigation procedures, disciplinary action, etc.
Financial Regulations: Adhere to accounting standards, taxation norms, audits, etc. applicable to your location and industry.
Industry-specific Rules: Follow guidelines relevant to your vertical like healthcare, insurance, debt collection, etc. regarding ethics, transparency, and consumer protection.
Designate resources to stay updated on existing and emerging regulations.
Conduct periodic audits to identify and rectify non-compliance. It is cheaper to invest in compliance than to pay fines.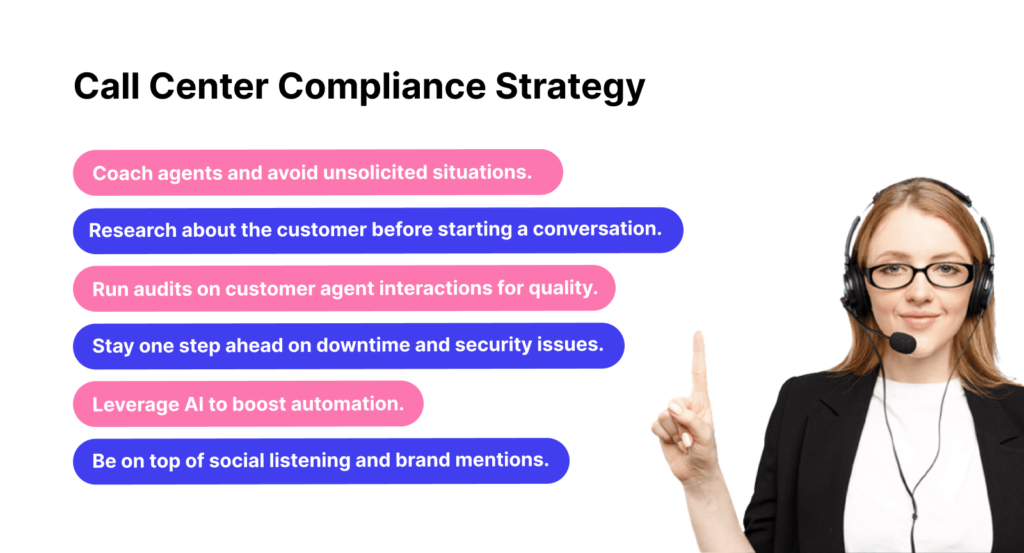 Step 9: Plan Your Call Center Launch
Meticulous planning and execution is key for successfully launching your call center:
Stakeholder Alignment: Conduct project kickoff meetings with all internal stakeholders – leadership, department heads, architects, IT consultants, etc. to align on strategy, plans, budget, responsibilities, and timelines.
Infrastructure Development: Oversee construction, interiors, IT systems set up, security measures, and telecom implementation as per agreed designs and quotes. Perform inspections at key milestones.
Software Customization: Work with vendors to configure software suites to your processes, reporting needs, and desired workflows. Test integrations extensively.
Content Development: Create scripts, FAQs, tutorials, forms, email templates, etc. as per brand guidelines to equip agents. Set up a knowledge management portal.
Compliance Review: Finalize operating procedures and policies in line with regulations. Put disclosures, confidentiality clauses, customer consent forms, etc. in place.
Recruitment & Training: Start talent acquisition 2 months before launch as per staffing plan. Conduct rigorous induction training on all aspects followed by floor simulations.
Operations Blueprint: Document detailed standard operating procedures for every workflow from call handling, query resolution, and escalations to closures.
Vendor Selection: Finalize vendors for catering, security, logistics, stationery supplies, etc., and onboard them after due diligence. Establish systems for management.
Trial Runs: Conduct extensive dry runs to test every process, system integration, policy, workflow, etc. Refine based on observations before going live.
Go-Live: Celebrate the grand opening with staff. Cutover telephony and sales channels seamlessly. Ramp up operations gradually after assessing initial volumes and capacity.
With clear goals, robust planning, and the right technology, talent, and processes, you can build a world-class call center that drives customer and business value.
Adapt the steps outlined to suit your specific context and launch your venture successfully.
Frequently Asked Questions (FAQ)
Ques 1: How can I improve my call center's customer satisfaction scores?
Ans: Some ways to improve customer satisfaction include reducing wait times, training agents on empathy and active listening, setting realistic customer expectations, gathering feedback through surveys, and having a simple IVR menu system.
Ques 2: What metrics should I track for my call center?
Ans: Important call center metrics to track are service level, average handle time, first call resolution rate, average wait time, customer satisfaction, turnover rate, and absenteeism. Tracking these KPIs can help identify opportunities and problems.
Ques 3: How can I optimize my call center's staffing?
Ans: Look at historical call volume patterns, forecast demand, calculate required staffing levels, schedule agents to match projected call volumes, overstaff during peak periods, and use part-time or contract workers during fluctuating demand.
Ques 4: How can I reduce customer hold times in my call center?
Ans: Some strategies are to match staffing levels to call volume, use call-back options, implement an automated IVR, offer self-service options online, improve first-call resolution rates, and educate customers on slower service times.
Ques 5: What can I do to improve call center agent retention?
Ans: Offer competitive pay and benefits, create a positive work culture, provide training and growth opportunities, set clear expectations, recognize good performance, empower agents, and give feedback and coaching.