A VoIP softphone is a software application that allows you to make phone calls over the Internet using Voice over Internet Protocol (VoIP) technology.
VoIP softphones provide an alternative to traditional landline phones and bring several benefits such as reduced costs, enhanced features, and improved mobility.
This comprehensive guide will help you understand what a softphone is, how it works, its key features and benefits explained in detail, potential drawbacks to consider, and tips for choosing the right VoIP softphone provider for your business and the best VoIP providers having the best softphone systems.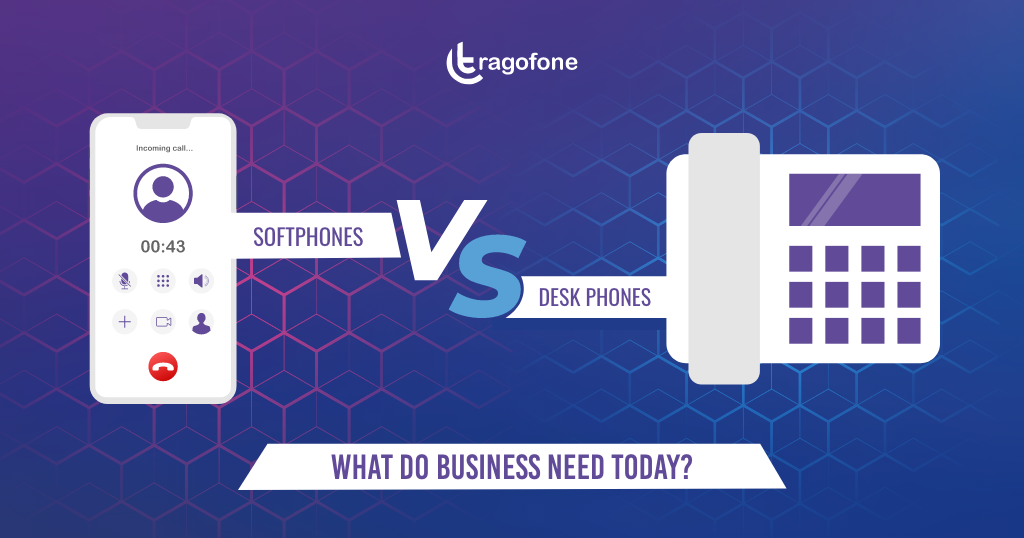 How Does a VoIP Softphone Work?
A softphone works just like a regular telephone but instead of a public switched telephone network (PSTN), it utilizes the internet and VoIP technology to transmit calls.
Here is a more detailed overview of the core concepts of how a softphone works:
1. VoIP Technology
VoIP stands for Voice over Internet Protocol. It is the technology that allows voice calls to be made over an IP network like the Internet instead of traditional phone lines.
With VoIP, your voice is converted into digital data packets that traverse the internet to reach the other person. Standard protocols like SIP, RTP, SRTP, etc. enable this process.
2. Softphone Apps
The softphone application installed on your PC, smartphone, or tablet allows you to access the VoIP service provider's phone network to place and receive calls.
Leading softphone apps like Zoiper, Bria, and Jitsi replicate standard phone features plus additional functionalities via an easy user interface.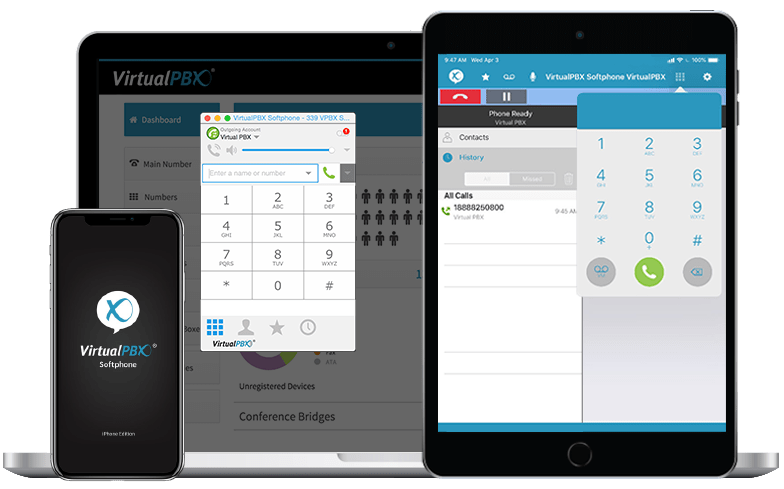 3. Accounts and Credentials
To use a softphone, you need to first create an account with a VoIP phone service provider, the IP PBX system of your company, or a free calling platform that supports SIP protocol.
You will be assigned credentials like username, password, domain, etc. to configure your softphone app.
4. Call Encoding/Decoding
When you make a call with the softphone app, your voice is picked up by your device's microphone and encoded into digital data packets suitable for transmission over the internet based on audio codecs like G.711, G.729, or Opus.
At the receiving end, the softphone decodes the packets back into audio signals so that the recipient can hear your voice.
5. SIP Protocol
Session Initiation Protocol (SIP) enables multimedia sessions like voice calls between two or more participants over IP networks.
It is the signaling protocol that allows your softphone to establish, manage, and terminate a call connection with another softphone or SIP device.
6. RTP Protocol
The Real-time Transport Protocol (RTP) is used to efficiently transmit the encoded audio and video between the call participants once a SIP call session is established.
SIP signaling happens on UDP port 5060 while RTP media transmission uses UDP ports 16384-32768.
7. Network Connectivity
A VoIP softphone requires stable, broadband high-speed internet connectivity to function optimally.
Wi-Fi, Ethernet, and mobile 3G/4G networks allow softphones to offer the convenience of mobility. Satellite internet and cellular tethering can also enable softphone usage in remote areas.
Top Features of VoIP Softphone
VoIP softphones offer a wide range of nifty features and capabilities to enhance communication and user experience:
Call encryption – Softphones support strong end-to-end encryption using SRTP, and ZRTP to secure calls from breaches and wiretapping during transmission over the internet.
HD voice quality – Softphones can simulate landline call quality with minimum latency using advanced audio codecs like G.722, Opus, and acoustic echo cancellation to enable crisp, delay-free calls.
Call recording – This useful feature allows the recording of important business conversations and interviews for future reference or compliance purposes, with options to store recordings in cloud storage.
Call forwarding – Automatically forward incoming calls to another number or voicemail when you are busy or unavailable. Useful for providing seamless service to customers.
Call transfer – Allows you to seamlessly transfer a call to another coworker or department extension without having to disconnect. Saves time and elevates the customer experience.
Conferencing – Softphones make conference calls extremely easy by allowing multiple participants across different locations to join through a simple weblink or conference ID.
Presence indicator – Softphones show the real-time availability status (online, offline, busy) of your professional contacts or coworkers, helping avoid unnecessary call attempts when someone is unavailable.
Instant messaging – Exchange real-time text chats, images, and files alongside voice calls directly from the softphone interface for enhanced productivity.
Call history log – The softphone maintains a detailed digital record of all incoming, outgoing, missed, or dropped calls which can be synced across devices. The call history log enhances organization-wide visibility.
Interactive voice response system – This lets you create custom voice prompts and menu trees to intelligently automate call routing, and responses, and elevate the caller experience.
Call parked – Puts an active call on hold and allows retrieval from another device or endpoint. Useful for fluid mobility between desk phones and softphones.
Unified communications – Leading softphones seamlessly integrate calling with organizational chat, video conferencing, screen sharing, etc. into one cohesive experience.
Benefits of VoIP Softphone
Let's look at some of the top benefits offered by VoIP softphones in detail:
1. Cost Savings
One of the biggest advantages of using softphones is the substantial cost savings you can achieve on voice calls, especially long-distance and international calls which are billed at almost marginal rates on VoIP.
With a reliable broadband connection, VoIP call rates are extremely economical irrespective of location. This allows businesses to significantly reduce calling costs.
There is no expenditure involved in purchasing and maintaining additional phone hardware devices when using softphones.
Hosted VoIP solutions provide bundles offering unlimited calls along with a fixed number of softphone licenses. This helps limit monthly phone expenses.
Scalability of softphone licenses lets you dynamically align costs to changing requirements. Adding more lines is easy and affordable.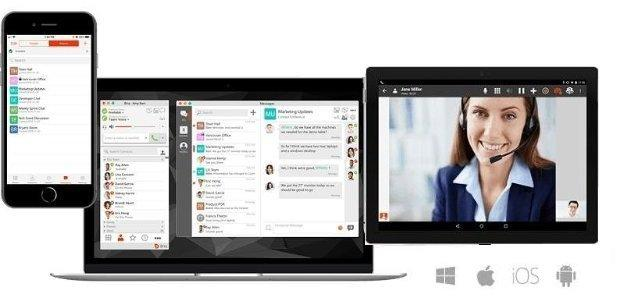 2. Enhanced Mobility
VoIP softphones enable flexibility and mobility which is a key asset for today's workforce.
Users can make calls worldwide by installing the softphone app on laptops and smartphones without relying on desk phones.
There is no longer a need to forward calls or use separate mobile devices. Employees can be directly reached on their work extension anytime.
Remote employees and teams can collaborate and communicate seamlessly using softphones via home broadband or mobile data.
Employees such as gig workers or field technicians can be onboarded swiftly by providing softphone access without costly hardware.
Users can switch desks or locations without reconfiguring devices. Calls can be answered on the go which improves responsiveness.
3. Advanced Features
Softphones elevate the communication experience through a suite of built-in capabilities not traditionally available on landlines.
Features like conferencing, call transfer, recording, etc. optimize collaboration and transparency.
Built-in chat and SMS enable quick internal chats avoiding email clutter and external texting costs.
Softphone mobility features like call park, redirect, simultaneous ring aid uninterrupted communication.
Capabilities like call center functionality, CRM integration, and analytics offer deep business insights.
Regular updates provide continuous access to the latest communication innovations enhancing agility.
4. Administrative Control
VoIP softphones offer centralized control and easy administration for IT teams.
User profiles, access privileges, and phone settings can be managed from a unified web-based console.
Upgrades and patches are easily installed on the backend instead of individual devices.
Administrators can track utilization metrics, and monitor user activity for security compliance.
New employees can be swiftly onboarded by creating a new softphone profile eliminating deskphone equipment costs.
Remote provisioning capabilities make it easy to configure or troubleshoot softphone deployments.
Built-in redundancy and automatic failover to mobile network prevents downtime and ensures business continuity.
5. Drawbacks of VoIP Softphone
While softphones provide immense value, some limitations need consideration:
Dependence on Internet Connectivity
Unlike landlines, softphones cannot function without stable high-speed internet connectivity.
Call quality or connectivity may deteriorate due to network congestion, low bandwidth, or Wi-Fi dead zones.
Power outages eliminate internet access impacting softphone reliability until power is restored.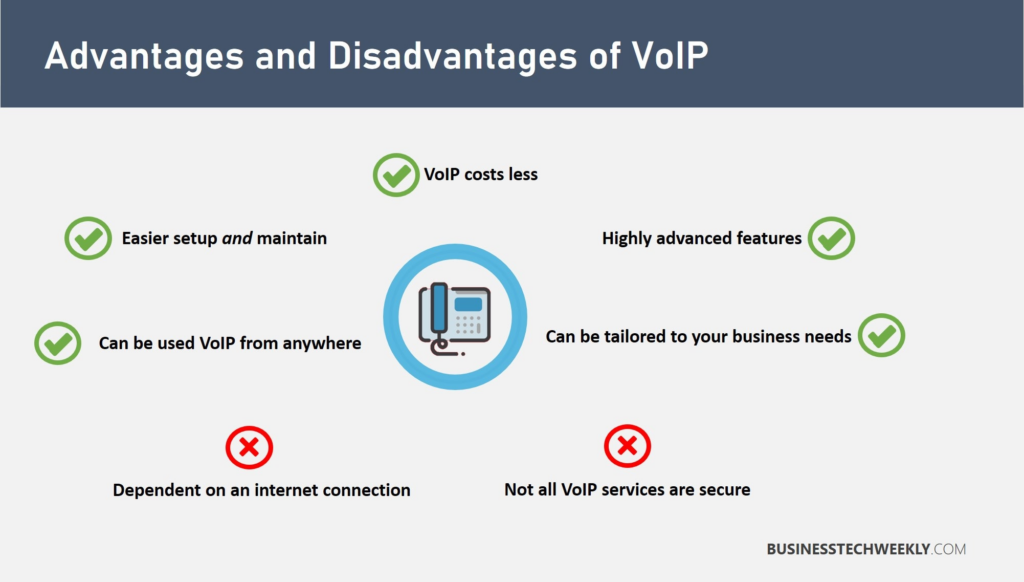 6. Security Vulnerabilities
VoIP calls traveling over the open internet have a higher potential for eavesdropping compared to landlines.
Softphones may be targeted by cyber threats like phishing, malware injection, or distributed denial of service attacks.
Additional security layers like encrypted protocols, VPN, and firewalls are essential to harden softphones.
7. Power Supply Requirements
Battery life and availability of electric outlets to charge devices impact mobility since softphones run on computing devices.
The phone will cease to work if case of battery draining out until it is recharged. Lack of power backup during outages also causes disruption.
8. E911 Limitations
Basic 911 dialing may work but location data provisioned to emergency dispatch may be limited compared to traditional landlines.
Reliable E911 access with accurate location information is difficult to guarantee on mobile softphones.
How to Choose a Softphone Provider for Business?
Here are some key criteria to evaluate when choosing a business VoIP softphone provider:
1. Call Quality and Reliability
Pay close attention to factors that determine consistent call quality:
The softphone vendor should have a large, resilient network of globally distributed SIP servers to route calls with minimum latency.
They must utilize premium voice codecs like G.711, Opus, and WebRTC for reliable HD audio.
Look for sophisticated jitter buffers, echo cancellation, and QoS mechanisms for robust call handling.
They must offer comprehensive service level agreements for uptime, and failover support to guarantee reliability.
2. Features and Scalability
Assess if the feature set matches your needs:
Compare capabilities like auto attendant, intelligent call routing, real-time analytics, etc.
See if popular integrations like Salesforce, Slack, Microsoft Teams, etc. are available out of the box.
Ensure the solution can scale up easily by adding more licenses through self-service online.
Check for mobile support, CRM embed, and note-taking for complete communication functionalities.
3. Security
Security is vital for business-grade communications. Ensure the vendor provides:
End-to-end call encryption using SRTP, and TLS protocols for preventing eavesdropping.
Two-factor authentication mechanisms for user accounts.
Integrated software firewalls to safeguard network traffic.
Protection against telephony denial of service attacks.
4. Customer Support
24/7 technical support ensures minimal downtime:
Check response time and channels for support – phone, email, chat, social media, online ticketing.
Local support is preferable for addressing region-specific issues quickly.
Self-help resources like FAQs, forums, and documentation can supplement real-time support.
5. Cost
Compare monthly per-user pricing plans based on the capabilities required. Look for discounts on annual subscriptions.
One-time setup costs if any should be affordable. There should be no rigid contracts.
Value-added extras like toll-free minutes, desktop apps, device procurement support, etc. should be available.
Leading softphone solutions include RingCentral Office, Nextiva, Ooma Office, 8×8 Work, LogMeIn GoToConnect, Dialpad Talk, and Vonage Business Cloud suiting different business sizes and requirements. Do thorough research to determine the best fit.
VoIP Providers Having the Best Softphone Systems
1. RingCentral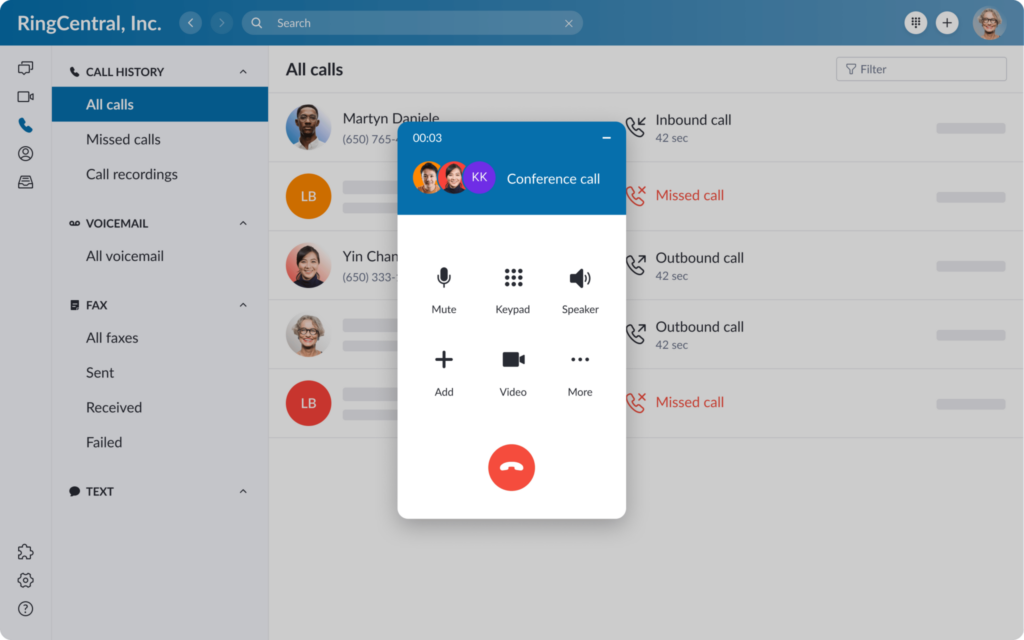 Overview
RingCentral is a leading cloud-based communications platform that provides advanced VoIP phone services for businesses.
Their softphone system, RingCentral Mobile, allows users to make and receive calls, send texts, start video meetings, and more using their mobile device or computer.
Features
HD Voice – Provides crystal clear audio quality on calls
Team Messaging – Chat, share files, and collaborate with teammates
Video Conferencing – Host and join meetings with screen-sharing
Call Recording – Record calls for training, compliance, and more
Auto-Receptionist – Custom interactive voice menus to route calls
Pricing & Plans
Essentials Plan – $24.99/user/month
Premium Plan – $34.99/user/month
Ultimate Plan – $49.99/user/month
Pros
User-friendly interface
Robust features for communication and collaboration
Flexible plans to fit business needs
Cons
Can be pricey for larger teams
Some advanced features only in higher tiers
Why to Pick
With a reliable platform and intuitive softphone, RingCentral is ideal for growing businesses that need a fully-featured VoIP phone system.
2. Nextiva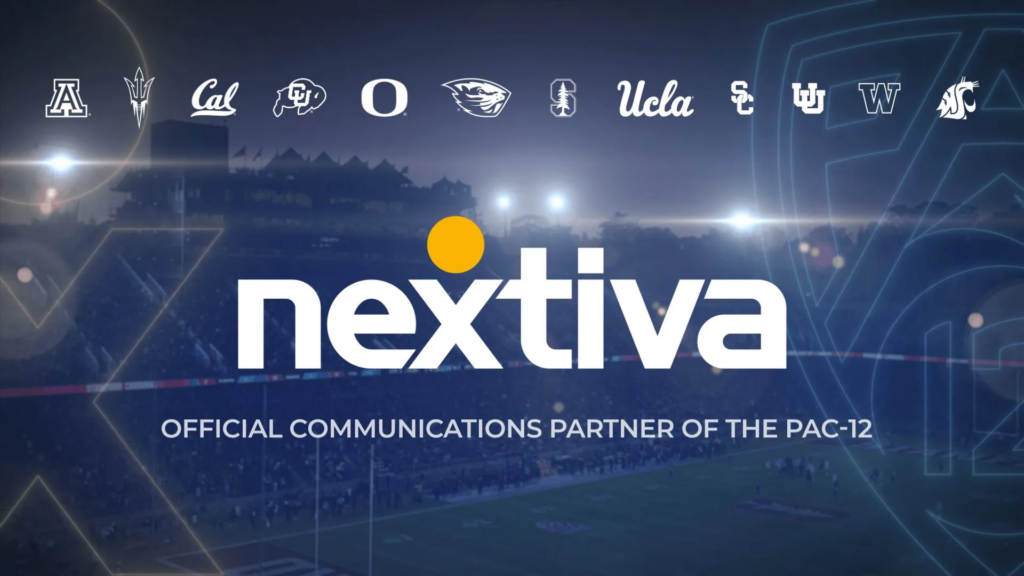 Overview
Nextiva is a business VoIP provider that offers advanced IP phone service with its Nextiva App softphone. The app provides complete calling and collaboration features on mobile devices and computers.
Features
Presence Indicators – See coworker availability at a glance
Team Chat – Group messaging and file sharing
Video Conferencing – Face-to-face meetings through HD video
Call Forwarding – Route calls to any device
Call Analytics – View insights on call history
Pricing & Plans
Essentials Plan – $20/user/month
Professional Plan – $30/user/month
Enterprise Plan – $45/user/month
Pros
Intuitive and easy-to-use interface
Reliable uptime and call quality
Competitive pricing and plan options
Cons
Limited integrations compared to some rivals
Call recording only available on higher plans
Why to Pick
Nextiva delivers a feature-packed softphone through an affordable, business-optimized VoIP solution.
3. Vonage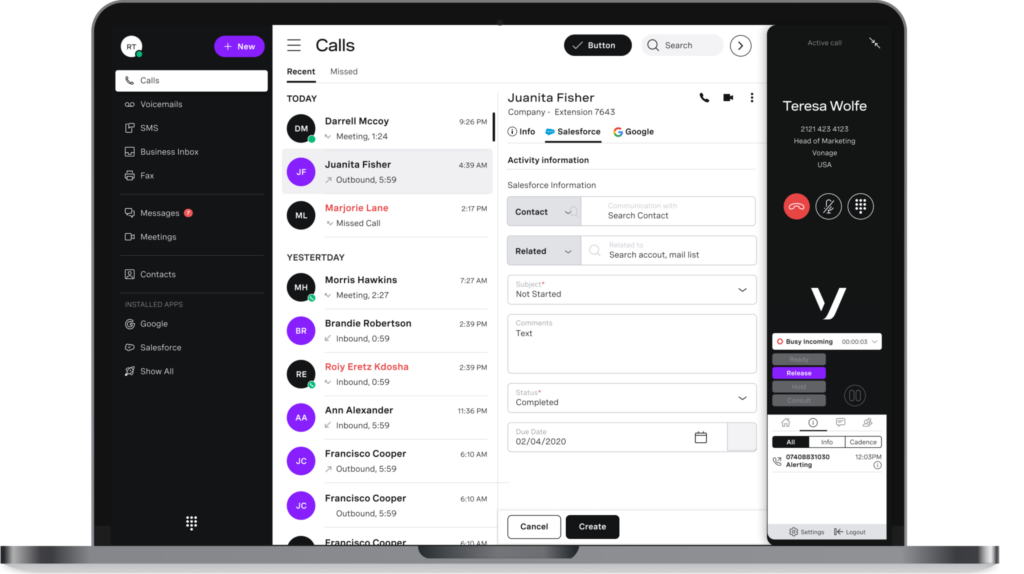 Overview
Vonage Business Cloud combines a full-featured cloud phone service with its Vonage Softphone app. The app enables calling, messaging, video conferences, and more from PCs, Macs, smartphones, and tablets.
Features
Visual Voicemail – View and manage voicemail through a visual interface
Presence – See real-time availability of coworkers
Group Texting – Seamless team messaging and collaboration
Call Flip – Seamlessly switch calls between devices
Integrations – Connect softphone with CRM and productivity apps
Pricing & Plans
Mobile Plan – $19.99/user/month
Professional Plan – $29.99/user/month
Advanced Plan – $39.99/user/month
Pros
Reliable call quality and uptime
Generous mobile features included in the basic plan
Advanced capabilities like visual voicemail
Cons
Plans get pricey for larger teams
Limited video conferencing participants on lower tiers
Why to Pick
Vonage offers a robust softphone solution that tightly integrates calling with business workflows and productivity.
4. 8×8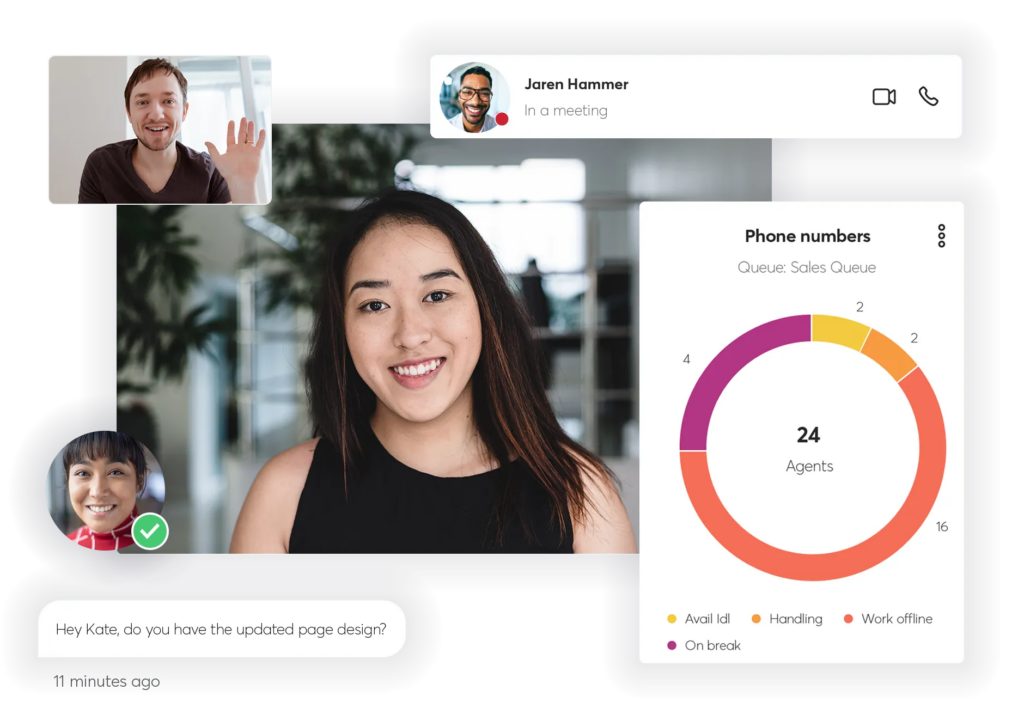 Overview
8×8 provides a unified communications platform combined with its 8×8 Work softphone app. The app enables calling, meetings, chat, and more across desktop and mobile.
Features
Presence Indicators – See coworker availability in real-time
Team Chat – Group messaging with read receipts
Video Meetings – Face-to-face conferencing with screen sharing
Call Park – Put calls on hold and pick up on another device
Analytics – Insights into call history and patterns
Pricing & Plans
Essentials Plan – $12/user/month
Professional Plan – $24/user/month
Enterprise Plan – $44/user/month
Pros
Generous features on entry-level plan
Easy-to-use interface across devices
Reliable uptime with 99.999% SLA
Cons
Limited integrations compared to some competitors
No free toll-free numbers
Why to Pick
8×8 offers an affordable softphone solution with powerful communication and collaboration tools for improved productivity.
5. Ooma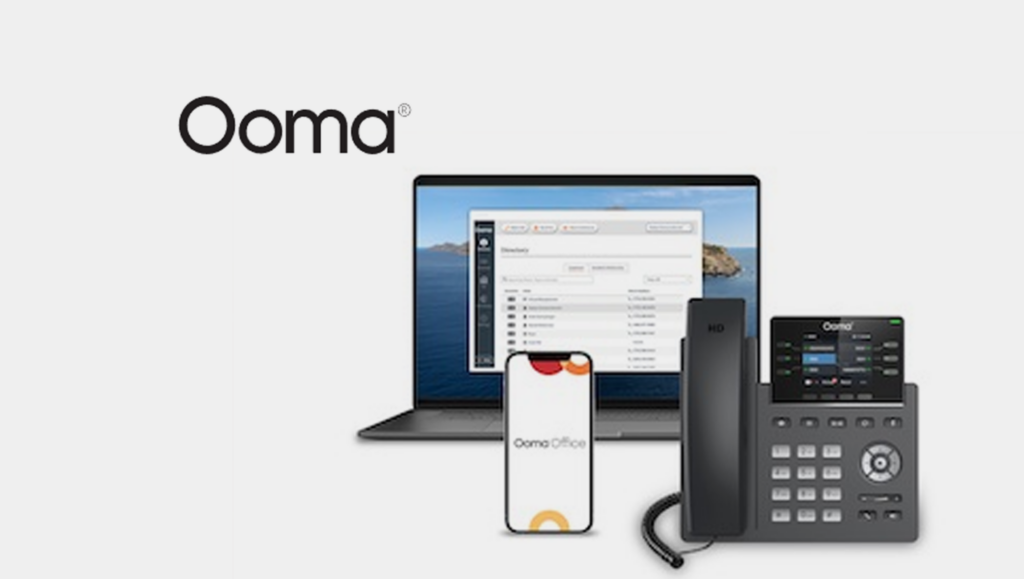 Overview
Ooma Office provides a cloud phone service paired with its Ooma Softphone app. The app offers full calling capabilities along with chat, video conferences, and more.
Features
HD Voice – High-definition calls deliver life-like sound
Virtual Receptionist – Automated attendant with customized menus
Video Conferencing – Face-to-face meetings for up to 6 participants
Presence – See real-time availability of coworkers
Call Recording – Record calls for training and compliance
Pricing & Plans
Essentials Plan – $19.95/user/month
Professional Plan – $29.95/user/month
Enterprise Plan – $39.95/user/month
Pros
No per-minute charges for local and long-distance calls
Generous features on entry-level plan
Easy to manage and use
Cons
Limited integrations with business apps
Video conferencing capacity caps on lower tiers
Why to Pick
Ooma offers an easy-to-use softphone with a solid set of features at competitive price points for SMBs.
Frequently Asked Questions (FAQ)
Ques 1. Can you use a VoIP softphone without a headset?
Ans. Yes, you can use a VoIP softphone without a headset. The softphone software allows you to switch audio between handset mode (using microphone and speakers) or headset mode.
However, using a good quality headset is recommended for softphone calls to isolate background noise and enable hands-free conversations.
Ques 2. Is VoIP softphone secure?
Ans. VoIP softphones can be very secure when encrypted protocols like SRTP, HTTPS, and TLS are used to encrypt calls and data transmission.
Reputable softphone providers also offer features like two-factor authentication and firewall traversal to enhance security. Overall, VoIP calls are considered secure against eavesdropping when proper security measures are implemented.
Ques 3. Can you text from a softphone?
Ans. Yes, most VoIP softphone applications allow you to send and receive real-time text messages from within the interface.
This instant messaging capability enables you to text colleagues, customers, and contacts without sharing personal cell numbers. Integrated messaging improves productivity.
Ques 4. Does VoIP softphone offer 911 service?
Ans. Basic 911 service may be available with VoIP softphones, but the provider may not offer full Enhanced 911 (E911) service that transmits your location data to the operator when you dial 911.
For guaranteed E911 access, a landline may be preferable over softphones for some businesses and residences.
Ques 5. What are the best free softphones?
Ans. Some of the best free softphone options include Zoiper, X-Lite, Jitsi, Linphone, and Groundwire.
While the audio quality is decent, the features may be limited compared to paid solutions. For business use, opting for a commercial softphone provider is recommended to get reliable performance and full-featured service.