Vonage is a cloud communications provider that offers phone, messaging, video, and analytics services for businesses of all sizes.
Vonage Business Cloud plans are scalable, flexible, and packed with features to improve productivity and customer engagement.
This article provides a comprehensive breakdown of Vonage Business Cloud plans, pricing, features, and pros and cons to help you determine if Vonage is the right communications solution for your business needs.
Read on for a complete overview of what Vonage Business Cloud offers.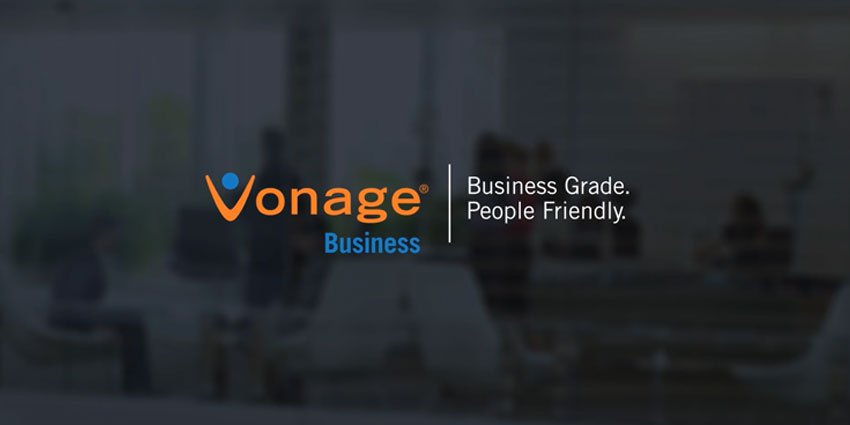 Key Features:
Cloud PBX phone system – Cloud-based phone service with unlimited calling, automated attendants, call routing, voicemail, and more.
Smart numbers – Virtual phone numbers to track calls and messages by location, ad campaign, or other parameters.
Video and audio conferencing – Face-to-face meetings through desktop and mobile apps.
Team messaging – Unlimited text, audio, video, and image messaging.
Mobile app – Make and receive calls, hold meetings, send messages, and manage contacts from smartphones and tablets.
Integrations – Connect Vonage to popular business apps like Salesforce, Zoho, Office 365, and more.
Admin portal – Configure settings, manage users, monitor usage and usage, and access reports from one interface.
Vonage Business Cloud provides the essential communications and collaboration tools that growing businesses need to connect with customers and employees.
It replaces the need for separate solutions with one platform.
What Does Vonage Cost?
Vonage Business Cloud pricing is based on a per-user per-month model, with reduced rates for annual contracts. There are three main plans to choose from:
Mobile plan – $19.99 per month per user billed monthly, $17.99 per month per user for annual contracts. Includes unlimited national calling, basic call management, mobile app, and 10 GB per user online meeting minutes.
Professional plan – $29.99 per month per user billed monthly, $24.99 per month per user for annual contracts. Adds unlimited video meetings, single sign-on, Salesforce integration, and more.
Advanced plan – $39.99 per month per user billed monthly, $34.99 per month per user annually. Full access to all features including contact center, advanced analytics, and integration with business software.
The number of users and minutes used for audio or video meetings impact the total monthly cost.
Overage minutes can be purchased in bulk packages. Additional costs may apply for toll-free or international calling, number porting fees, and 911 service charges.
Overall, Vonage Business Cloud pricing is simple and scalable. It avoids high startup costs and long contracts associated with traditional phone service. You only pay for what you need each month.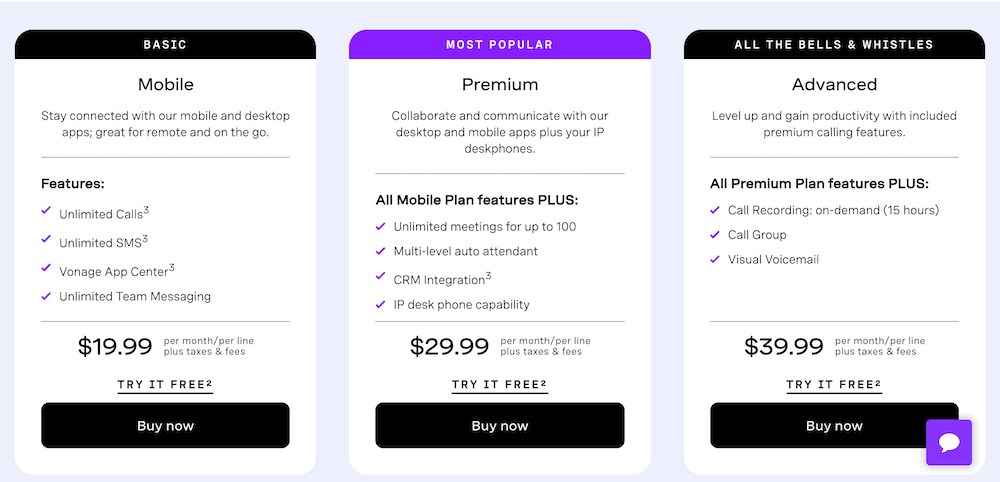 Vonage Features for Business Users
Vonage Business Cloud packs in everything from basic phone service to advanced communications under one platform.
Here are some of the key features available for business users:
1. Unlimited calling
Vonage offers unlimited calling across the US, Canada, Mexico, and UK landlines and mobiles.
Businesses never have to worry about per-minute charges racking up their phone bill.
Employees can make as many nationwide calls as needed without incurring extra fees. This helps encourage communication and collaboration without budget concerns.
2. Virtual numbers
With Vonage, businesses can set up local numbers in most area codes or toll-free numbers.
This helps establish a local presence so customers can more easily reach you. It also enables tracking numbers by ad campaign or other parameters to garner insights into marketing effectiveness.
Virtual numbers make it simple for customers to contact you regardless of location.

3. Intelligent call routing
Vonage provides smart call routing tools to streamline call handling. Incoming calls can be automatically routed based on time of day, department, caller ID, and other rules.
For example, calls outside business hours could go straight to voicemail while top customers get priority routing. Intelligent call routing ensures calls are efficiently directed to the right people and answered professionally.
4. Voicemail
Voicemail messages can be conveniently received via phone, email, or the Vonage mobile app.
Transcriptions can also be enabled to read voicemails if preferred. Employees never need to miss an important message whether in or out of the office. Voicemail integration empowers productivity and responsiveness.
5. Auto attendants
Customizable auto attendants provide greetings to guide callers to the appropriate person or department.
Callers simply follow voice prompts to get where they need to go without an operator. Auto attendants enable efficient self-service and a professional first impression.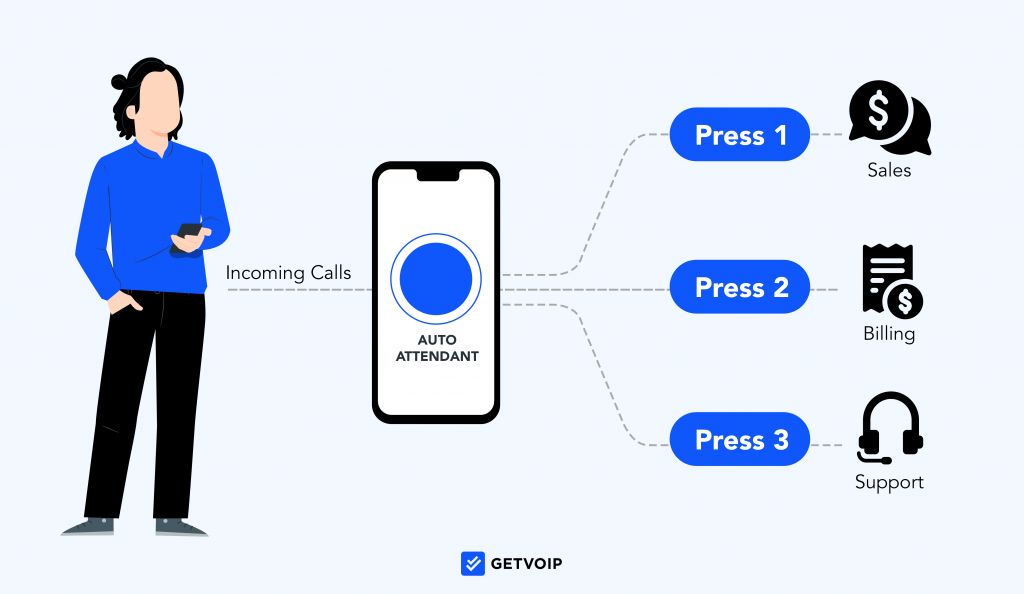 6. Call recording
Recording inbound and outbound conversations can be invaluable for quality assurance, training, compliance, and dispute resolution.
Vonage enables one-click call recording so businesses can easily monitor interactions and address any issues. Recordings can also help new hires learn best practices for customer service.
7. Video meetings
Vonage integrates high-quality video conferencing with screen sharing, annotations, and team chat.
Video meetings enable more impactful connections and collaboration compared to phone calls. Employees can easily conduct online meetings face-to-face from any location.
8. Team messaging
Vonage Business Cloud provides unlimited messaging capability.
Employees can instantly chat, share files, start video meetings, and collaborate across devices. Persistent chat rooms also allow for seamless teamwork.
9. Mobile app
Vonage's mobile apps for iOS and Android enable full business communications on the go.
Users can make and receive calls, check voicemail, join meetings, and chat whether they are in or out of the office. Staying connected is easy.
10. CRM integrations
By connecting Vonage to CRM platforms like Salesforce, Zoho, and Microsoft Dynamics, businesses gain powerful click-to-call, screen pop, and activity logging capabilities.
This data integration between systems enhances communications and drives productivity.
11. Reporting
Vonage provides a wealth of reports with deep insights into call volumes, wait times, service levels, agent performance, and more.
Business users can analyze metrics to optimize call routing, staffing, and processes. The reporting facilitates data-driven decisions.
12. Contact center
Sophisticated contact center features like intelligent call routing, IVR, call monitoring, omnichannel queuing, and advanced analytics help elevate customer support operations.
Agents can deliver top-notch service for sales and support.
13. API
Developers can integrate Vonage communication capabilities like voice, video, and messaging into custom business applications via robust APIs.
This enables building fully customized solutions.
Vonage for Business: Pros and Cons
Vonage Business Cloud stands apart from traditional phone services, but is it right for your company? Here are some of the key pros and cons:
Pros:
Cost savings – No expensive PBX hardware purchases are needed. Pay-per-user pricing scales costs based on needs.
Flexibility – Add and remove users each month as the business grows or shrinks. Avoid long contracts.
Productivity – A unified platform keeps employees connected and collaborative from anywhere.
Customer service – Smart call routing and contact center features improve customer satisfaction.
Scalability – Cloud-based system adjusts easily as companies expand to new locations or offices.
Reliability – Vonage network provides 99.999% uptime SLA to keep businesses connected.
Mobility – Make and receive calls, join meetings, and chat through desktop and mobile apps.
Integrations – Connect with essential business software for deeper insights.
Easy to use – Intuitive interface and self-setup get businesses up and running quickly.
Cons:
Costs add up – Monthly per-user charges can get expensive for large deployments.
Voice quality – Call quality is dependent on local broadband connection bandwidth and performance.
Limited physical phones – Only Cisco and Yealink devices are available. Can't reuse old phones.
Feature gaps – Contact center and other advanced tools may still need supplementation.
Third-party apps – Some capabilities require integrating apps from the App Store at added cost.
Admin learning curve – Can take time to learn all the settings and capabilities available.
Who is Vonage Business Cloud For?
Vonage Business Cloud is designed to meet the needs of all types and sizes of businesses but offers the greatest value under these conditions:
Growing businesses – Scalable plans and pricing fit the needs and budgets of small/medium businesses.
Distributed teams – Keep dispersed teams connected through messaging, video meetings, and mobile apps.
Customer-focused – Contact center features and integrations streamline customer interactions.
Mobile workers – Employees can collaborate and communicate from anywhere, on any device.
Multi-location – Manage communications across multiple locations from one platform.
International – Reduce costs for global communication with low international rates.
Sales teams – Integrate with CRM platforms to enhance sales processes.
New businesses – Avoid large capital outlays and long contracts required by legacy phone systems.
Hybrid work – Seamlessly supports both remote and in-office workers.
Tech-centric – Take advantage of API integrations and the latest collaboration tools.
Vonage is less ideal for larger enterprises that require extensive customization or specialized devices.
But for most small and mid-sized organizations, Vonage Business Cloud provides an affordable and agile communications solution.
Frequently Asked Questions (FAQ)
Ques 1. What types of numbers can I get with Vonage?
Ans. Vonage offers local, toll-free, and vanity numbers to establish a local presence anywhere. You can also port existing phone numbers onto the Vonage network.
Ques 2. Does Vonage work with my existing phones?
Ans. Vonage is compatible with most IP phones. You can use Yealink and Cisco phones or softphones for PCs and Macs. Old analog phones require an adapter.
Ques 3. Is the call quality good?
Ans. Call quality is generally excellent but is dependent on your internet bandwidth. Vonage recommends 100 Kbps per simultaneous call for optimal quality.
Ques 4. How difficult is it to set up?
Ans. Vonage can be set up in under 10 minutes through the self-service web portal. Simply choose numbers, assign extensions, and start using the features you need.
Ques 5. What support options does Vonage offer?
Ans. Vonage provides 24/7 support via phone, email, chat, and social media as well as an online knowledge base, onboarding assistance, and live training webinars.