In today's competitive business environment, call centers play a crucial role in providing exceptional customer service and shaping the customer experience.
However, without proper quality assurance (QA) practices in place, call centers may deliver inconsistent and unsatisfactory experiences
Implementing a thoughtful QA framework with regular evaluations and coaching helps call centers improve processes, optimize performance, and exceed customer expectations. 
This article explores what call center QA entails, why it's important, methods and best practices for implementation, common challenges, and tips for success.
With a focus on quality monitoring, evaluation, and training, call centers can continuously refine operations, empower agents, and achieve service excellence.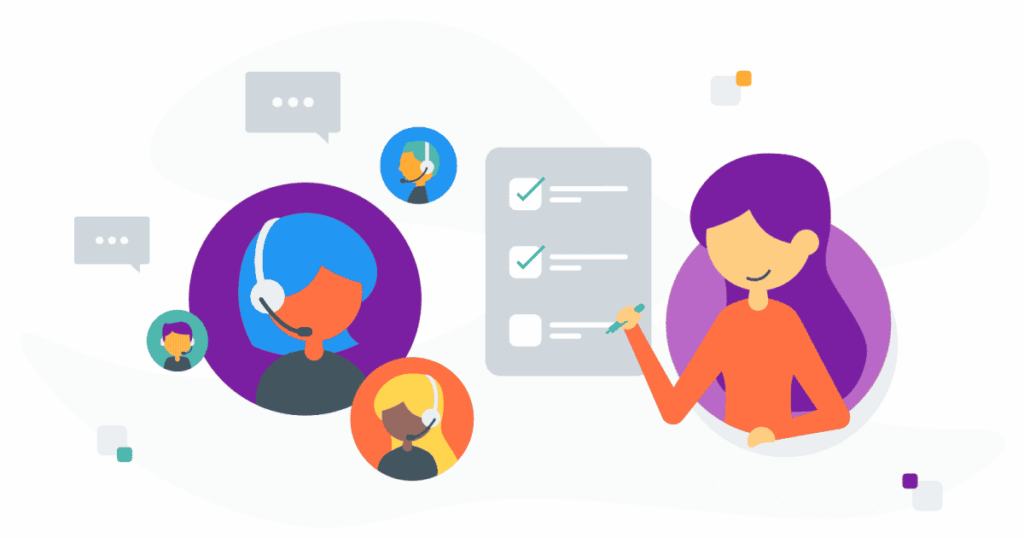 What is Quality Assurance in a Call Center?
Quality assurance in a call center refers to the systematic procedures and rigorously defined processes implemented to regularly monitor, comprehensively evaluate, and proactively improve all aspects of agent performance, customer interactions, and overall service delivery.
The fundamental goals of effective QA activities in a call center include:
Ensuring consistent and uniform service by continuously evaluating a representative sample of customer calls and interactions. This is enabled by meticulous call monitoring, comprehensive scoring evaluations, and constructive feedback essential for identifying areas needing improvement.
Optimizing operational performance by thoroughly analyzing performance metrics, trends, and actionable insights uncovered through diverse QA initiatives. This allows for precisely targeted coaching and training to enhance capabilities.
Improving workflows and processes by proactively identifying common gaps, pain points, and breakdowns that impede service delivery. QA brings these issues to light so they may be swiftly resolved.
Protecting the customer experience by intervening in real-time when interactions deviate from prescribed standards and expectations before customers are impacted.
Driving higher customer satisfaction by developing well-trained, skilled agents capable of delivering seamless, integrated service.
Why is Call Center Quality Assurance Important?
Here are 5 compelling reasons why implementing robust, data-driven quality assurance is a pivotal business priority for call centers:
1. Dramatically Boosts Customer Satisfaction Levels
Proactive monitoring of customer interactions coupled with continuous improvement of pain points flagged through QA activities significantly increases first-call resolution rates.
This creates smoother, effortless experiences for customers, greatly improving satisfaction and loyalty while reducing complaints.
2. Tangibly Enhances Operational Performance
Meticulous evaluation coupled with action on opportunities identified through QA leads to higher productivity, efficiency, consistency, and adherence to prescribed service standards across all customer touchpoints.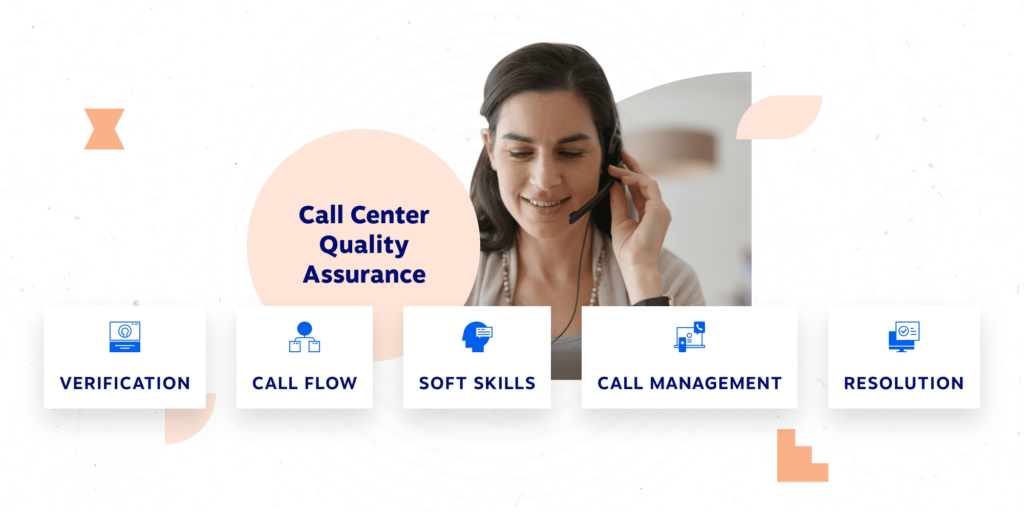 3. Allows for Precisely Targeted, Individualized Coaching
Comprehensive scoring based on monitored customer interactions pinpoints specific strengths, weaknesses, and training opportunities tailored to each agent.
This enables precise, personalized coaching.
4. Provides Valuable Performance Insights
Careful analysis of diverse QA data including call monitoring, scoring, customer surveys, and speech analytics reveals performance trends, risks, and possibilities for improvement over both short and long terms.
5. Ensures Regulatory and Policy Compliance
Ongoing call monitoring and oversight help verify strict compliance with important regulatory requirements, prescribed processes, and organizational policies.
Methods of Quality Assurance In Call Centers
Call centers leverage a variety of techniques and tools to perform rigorous quality assurance:
1. Call Monitoring
Live monitoring: Silent monitoring of live customer calls provides valuable frontline insights into agent performance and customer interactions.
Call recording: Capturing call audio allows for retrospective evaluation by scoring calls versus prescribed criteria.
Screen recording: Recording agent screen activity during calls identifies process efficiency opportunities.
Speech analytics: AI-enabled analysis of call transcripts provides data-driven insights to enhance interactions.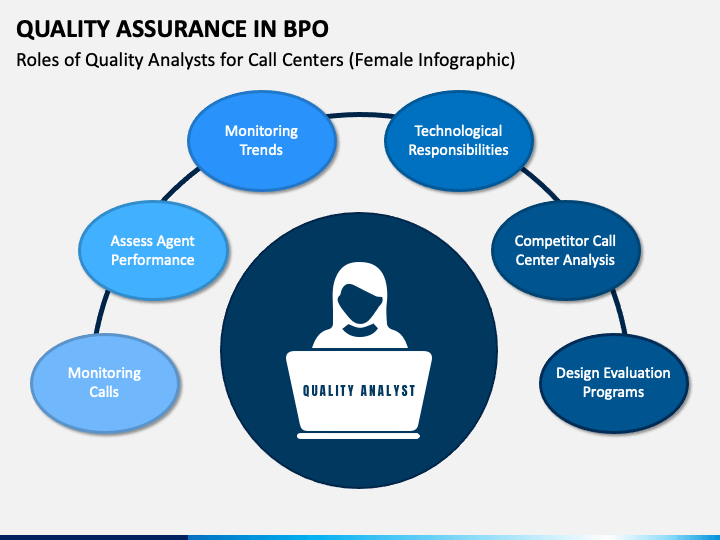 2. Call Evaluations
Call scoring: Monitored calls are consistently evaluated against pre-defined, weighted criteria and parameters.
Performance reviews: Insights from call monitoring are discussed in 1-on-1 coaching to boost competencies.
Self-assessments: Agents assess selected calls based on provided rubrics to strengthen skills.
3. Customer Surveys
Transactional: Brief automated surveys immediately after post-calls gauge satisfaction.
Relationship: More comprehensive periodic surveys evaluate overall service experience.
4. Performance Metrics
KPI tracking: Monitoring key metrics like call handle time, and resolution rates.
Trend analysis: Statistical analysis of performance data identifies patterns.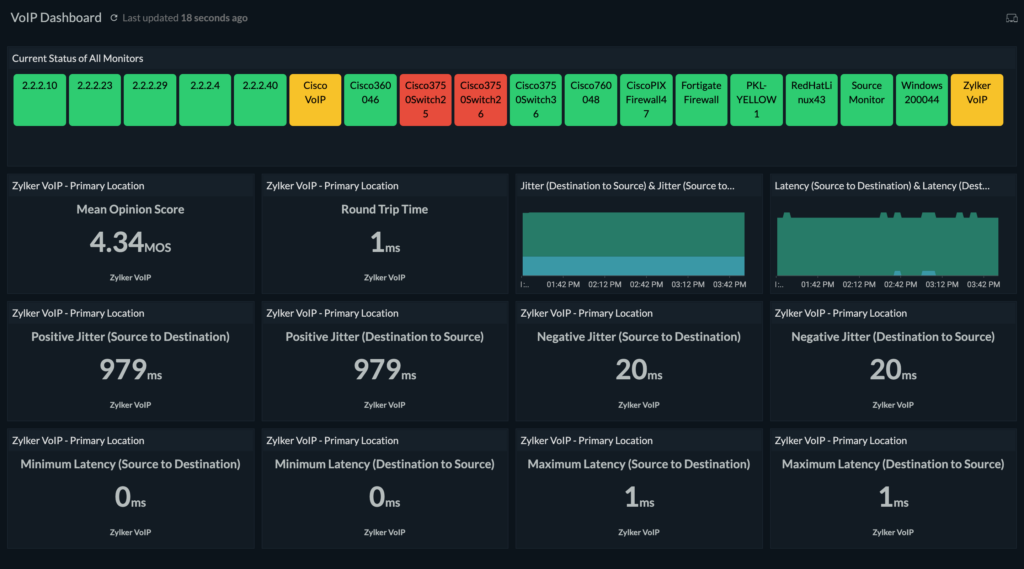 5. Process Audits
Procedure review: Assess adherence to prescribed processes and workflows.
Process testing: Audit calls specifically to test process effectiveness.
Root cause analysis: Pinpoint process breakdowns causing recurring customer issues.
How to Create a QA Framework for a Call Center?
An impactful quality assurance framework provides guidelines, best practices, resources, metrics, and processes to drive continuous improvement.
Here are tips for creating an effective QA framework:
Start by defining specific, quantifiable QA goals aligned to critical business objectives and KPIs–for instance, reducing average call handle time by 20% or boosting first-contact resolution by 30%.
Outline clear policies and standards for service delivery including key parameters like call duration, resolution rates, and compliance. Ensure standards align with brand values like professionalism, accuracy, and timeliness.
Build call monitoring procedures detailing the scope, representative sample sizes, optimal timeframes, required technology, compliance rules, and sequential steps including random selection, silent monitoring, recording, and scoring evaluations.
Develop quantified call scoring guidelines and rubrics based on desired service criteria, weighting crucial elements like greeting needs assessment, resolution, and sign-off.
Implement structured mechanisms for continuous feedback, improvement, and coaching at both individual agent and team levels.
Select and implement the right technology tools to enable data-driven QA activities including call recording software, speech analytics, CRM, and performance dashboards.
Create detailed schedules stipulating regular quality analysis, aggregated reporting, metrics review, and issue escalation. Analyze insights for driving ongoing improvements.
Train all agents on standard QA activities, their benefits, how evaluations will be fairly conducted and performance constructively measured.
Recognize and reward QA performance achievements to further motivate staff.
Best Practices for Call Center Quality Assurance
Here are 10 best practices for maximizing the business impact of quality assurance:
Monitor a Representative Sample – Leverage technologies to monitor a balanced, unbiased sample of frontline interactions for objective insights.
Focus on Constructive Feedback – Highlight areas needing improvement while recognizing agent strengths and achievements.
Evaluate for Development – Position QA evaluations more for fostering growth versus penalization.
Ensure Consistent Scoring – Use standardized criteria and rubrics to objectively score all agents.
Act Swiftly on Insights – Promptly address negative trends uncovered through QA before they worsen.
Close Feedback Loop – Share scoring results to improve through 1-on-1 coaching.
Adopt a Mix of QA Techniques – Blend approaches from call monitoring to customer surveys for comprehensive insights.
Automate Where Possible – Leverage solutions like speech analytics to enable efficient, unbiased evaluations.
Make QA Ongoing – Conduct regular monitoring versus periodic or ad-hoc evaluations.
Review for Process Improvements – Analyze recurring issues signaling opportunities to optimize workflows.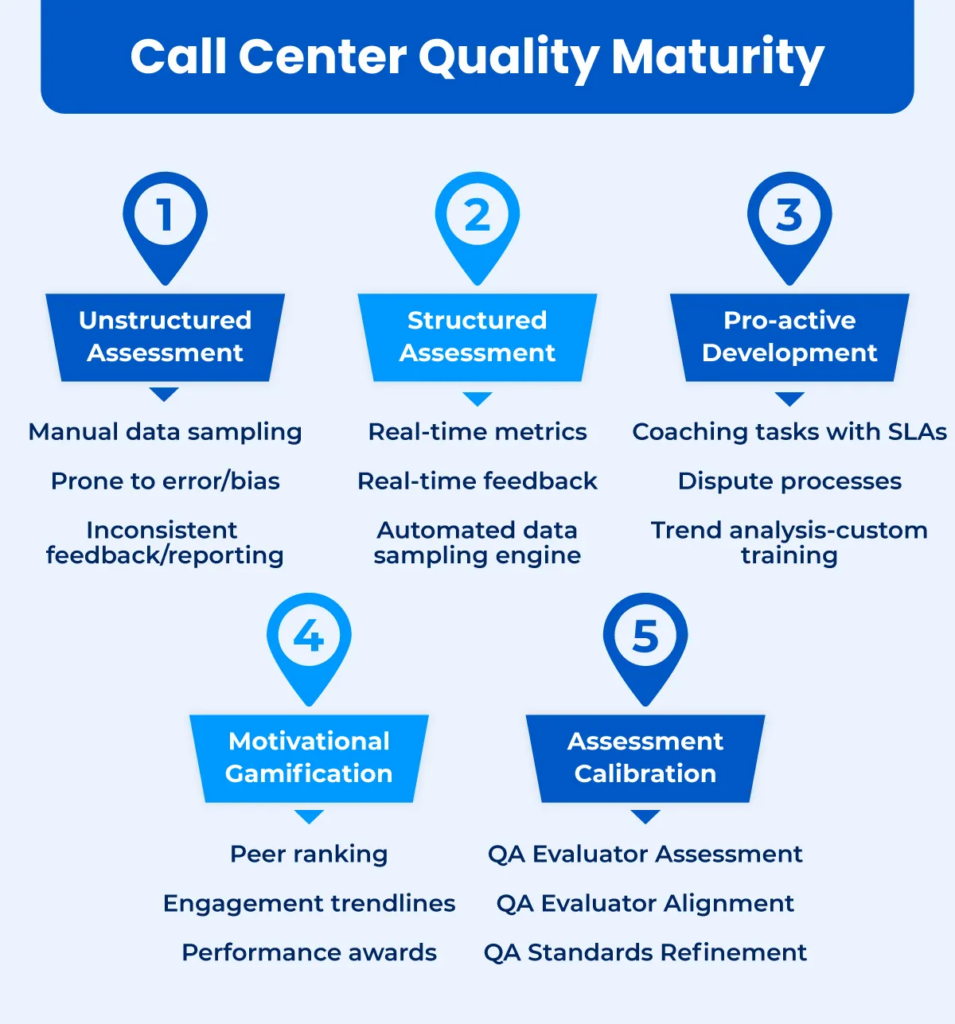 The Challenges of Call Center Quality Assurance
While indispensable, executing quality assurance practices also pose some common challenges:
1. Time Investment
Comprehensive monitoring, scoring, analysis, and training workflows are undeniably time-intensive. Allocating sufficient resources is key.
2. Agent Resistance
Staff may view evaluations as punitive if the value of QA in enhancing skills is not effectively communicated.
3. Biased Assessments
Inconsistency in scoring or skewed selection criteria distorts analysis. Adequate training and standardized processes help overcome this.
4. Technology Costs
Certain QA solutions like speech analytics require considerable software and infrastructure investments. However, benefits realized usually overshadow costs.
5. Information Overload
Large volumes of QA data from multiple sources can overwhelm. Effective synthesis and visualization provide focus.
6. Isolated View
A narrow focus only on agent performance is limiting. Take a systemic approach looking at overall processes.
7. Complacency Risks
QA risks becoming a 'check-the-box' activity without driving meaningful change. Leadership engagement mitigates this.
8. Data Security
Recording and monitoring require stringent measures to secure sensitive customer information shared during interactions.
9. Scaling Complexity
Exponentially greater effort is required to implement QA across large, geographically dispersed centers, agents, and channels.
Meticulous planning and adoption of automation overcome this barrier.
Tips on Improving Call Center Performance
Here are tactics to drive ongoing improvements leveraging quality assurance:
Set Specific, Measurable Targets – Establish quantifiable targets and timeframes for improvement based on QA insights.
Monitor Senior Agents – Occasionally sample calls of skilled, tenured agents to set benchmarks.
Vary Timeframes – Monitor interactions across different days, weeks, and seasons for balanced insights.
Evaluate Dedicated QAs – Experts wholly focused on scoring will detect more improvement opportunities.
Gather Agent Input – Frontline staff have valuable perspectives on enhancing processes and training.
Compare Segments – Break down data by product, region, department, etc. to identify and spread best practices across segments.
Automate Basic QA – Tools for recording, transcription, analysis, and reporting add efficiency.
Ensure Concrete Action – QA results in specific, documented changes, not just theoretical findings.
Recognize Top Performers – Publicly call out agents with high QA scores to motivate others.
Continuously Innovate – Adopt emerging QA approaches like virtual monitoring to provide fresh perspectives.
Conclusion
With increasingly demanding customers and fierce competition, call centers must deliver consistently flawless, seamless experiences to thrive.
This necessitates implementing a robust quality assurance function focused on monitoring, evaluation, and training to optimize performance across the board.
While building such capabilities has its challenges, the payoff in enhanced customer and agent satisfaction, deeper insights, improved brand reputation, and business growth makes the investment worthwhile.
With strong leadership commitment and by following best practices around rigorous QA, call centers can deliver service excellence and lasting value
Frequently Asked Questions (FAQ)
Ques 1. How often should quality assurance monitoring be done in a call center?
Ans. Ideally, call monitoring and evaluations should be performed on an ongoing basis, rather than limited periodic reviews.
Aim to monitor 5-10% of total call volume spread consistently over days and weeks. Increase sampling for newer agents. Monitor struggling agents more frequently to address issues promptly.
Ques 2. How can quality assurance add value to call centers?
Ans. A robust QA program adds value by enhancing customer satisfaction through consistent service, improving agent capabilities and confidence with coaching, optimizing processes by identifying recurring problems, protecting the brand by reducing risks, and providing data to guide better strategic decisions.
Ques 3. What metrics are used to measure call center quality assurance effectiveness?
Ans. Key metrics include call monitoring frequency, number of evaluations completed, first call resolution rates, quality scores over time, number of issues identified and resolved, customer satisfaction survey results, compliance breach reduction, and process improvement opportunities uncovered through QA.
Ques 4. What are the key elements of an effective call monitoring form?
Ans. An effective call monitoring form should include evaluation criteria aligned to standards, be quantitative as well as qualitative, have specific parameters based on average performance, capture mandatory information, be easy to complete in real-time, highlight areas for improvement, and enable scoring for trend analysis.
Ques 5. How is quality assurance data best used for coaching call center agents?
Ans. QA data has a maximal impact when used for coaching by combining it with feedback on the agent's strengths, maintaining a collaborative tone, focusing discussions on development areas through questioning, goal-setting for improvement, having agents self-evaluate performances, role-playing to apply feedback, and tracking progress on development goals.