For a call center, choosing the right auto dialer software is crucial for operations and efficiency.
The leading options provide customizable contact lists, call blending to mix inbound and outbound calls, predictive dialing to estimate when agents will become available, call recording options, real-time campaign monitoring, and integration with call center CRM software.
When evaluating auto-dialing systems, key factors to consider include calling pacing options, compliance with telemarketing regulations, scalability, reliability, and tools for maximizing agent productivity.
The best solutions help call centers increase contacts per hour while observing Do Not Call lists and other compliance rules. This maximizes revenue potential without sacrificing quality.
This article provides an overview of Auto dialer software, covering its operation, many types, major characteristics, advantages, and leading suppliers at the moment.
What is an Auto Dialer?
An auto dialer, also known as a predictive dialer, is a type of automated dialing system commonly used in call centers and sales organizations to automate high-volume outbound calling.
It utilizes predictive algorithms and computerized functions to automatically make calls from a contact list, connect answered calls to available agents or sales reps, and perform other dialing tasks.
Auto dialer systems are primarily used for efficient outbound telemarketing and lead generation, though they can also be used for other communication purposes like customer surveys, payment reminders, event promotions, appointment confirmations, emergency broadcasts, etc.
The main benefit of using an auto dialer manual dialing is the increased agent productivity, cost savings, and faster speed in contacting leads and customers. Studies show predictive auto dialers can improve agent productivity by 30-100% versus manual dialing.
They are designed to integrate seamlessly with your existing contact center infrastructure and CRM software.
Cloud-based auto-dialers make it easy to get started quickly without large capital investments in hardware.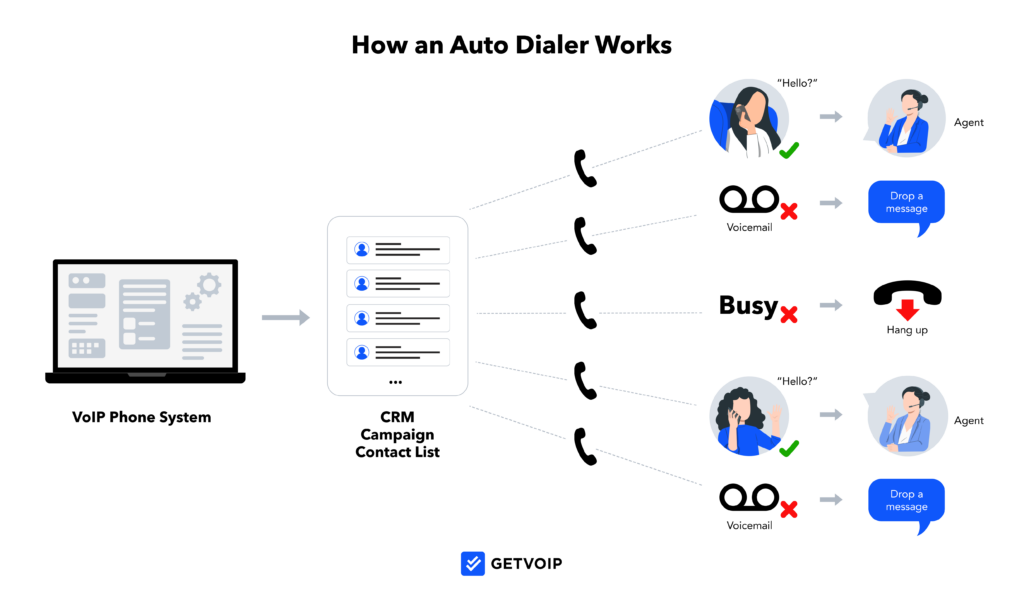 How Do Auto Dialers Work?
Auto dialers provide contact centers with the capability to automatically make outbound calls in a structured, efficient, and compliant manner.
Here is an in-depth overview of how modern predictive dialer systems work:
1. Contact List Upload
The first step is uploading your contact list into the auto-dialer system. Most systems allow list uploads via an easy-to-use web interface, integrations with CRMs like Salesforce, or APIs.
Your contact list will typically include phone numbers and associated lead/customer data like name, company, location, previous activity, etc.
Auto dialers have capabilities to validate, normalize, and prepare uploaded contact lists including:
Identifying and removing duplicates
Correcting invalid phone number formats
Flagging existing "do not call" phone numbers
Adding relevant geographic information for number ranges
2. Predictive Algorithm Analysis
At the heart of an autodialer is the predictive dialing algorithm that determines the pace of outbound calls. The algorithm factors in variables such as:
Number of available agents/sales reps
Average handle time for calls
Allowable abandoned call rate threshold
The average time between calls
Busy signal frequency
Schedule adherence goals
By analyzing these factors in real-time, the algorithm predicts how many leads can be dialed at once while minimizing instances where an answered call waits without an agent is available.
As agents log in/out for the day or take breaks, the system adjusts the dialing pace accordingly to stay within optimized ranges.
3. Outbound Call Initiation
Based on the predictive algorithm analysis, the auto-dialer system begins automatically dialing outbound calls using VoIP technology to reach leads from the contact list.
The system dials multiple calls in parallel, anticipating a percentage of calls to not be answered. This allows answered calls to be routed to the next available agent without delay.
4. Call Routing and Analytics
When a call gets answered, the auto-dialer quickly detects this and immediately routes the call to the next available agent.
If no agents are available, the dialer can place the call on hold and play interactive voice response (IVR) messages until an agent becomes free.
As calls take place, the dialer tracks and records data like call outcome, duration, wait times, etc. for reporting and analytics.
5. Ongoing Lead Engagement
Beyond initial outbound calls, auto-dialers provide options to schedule follow-up calls at optimal times and frequencies to leads who previously did not answer.
This helps persistently try contacting hard-to-reach leads.
The system can also automatically drop leads that meet a defined threshold of unsuccessful outreach attempts.
Types of Automatic Dialers
While auto-dialers share common underlying approaches, some variations in specific dialing modes impact how they function: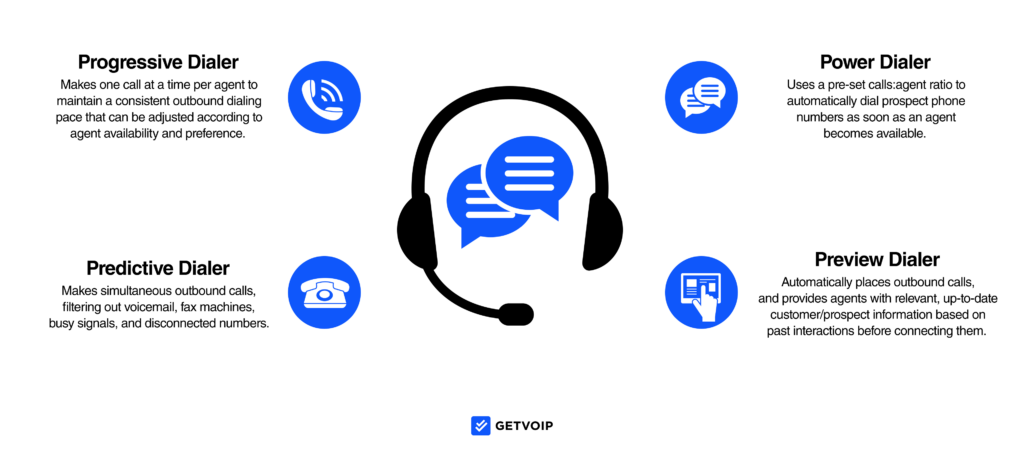 1. Predictive Dialing
This is the most widely used dialing mode in modern auto dialers. As outlined previously, predictive dialing uses algorithms to estimate when agents will finish their calls and become available to receive the next outbound call.
By tracking real-time metrics and agent states, predictive dialers can initiate multiple parallel calls to minimize agents waiting between conversations.
Predictive dialing focuses on maintaining consistent agent productivity and minimizing abandoned calls. It's preferred for high-volume call campaigns.
2. Progressive Dialing
Progressive dialing combines both predictive and power dialing approaches. It starts in predictive mode but can switch to power dialing when agents are waiting between calls to avoid idle time.
Once agents become busy again, progressive dialers revert to predictive mode. This hybrid approach balances optimal call pacing with keeping agents productive.
3. Power Dialing
Power dialing focuses on attempting to contact leads in a contact list as quickly as possible with less emphasis on pacing and reconnects.
Power dialers work in a rapid linear sequence, minimizing the gap between consecutive call attempts versus predicting availability. This trades off some potential idle time for faster overall list processing.
Power dialing is well-suited for campaigns focused on lead acquisition with very high contact rates and less need for optimal resource utilization.
4. Preview Dialing
Preview dialers provide agents with on-screen lead/customer data a few seconds before calls get connected. This allows them to review relevant info like previous interactions to enhance the conversation experience.
The dialer connects the outbound call once the agent accepts the previewed lead. Preview dialing results in more informed and productive call conversations.
5. Manual Dialing
Manual dialing gives agents full control over outbound calling. Instead of auto-dialed calls, agents manually click numbers to initiate dials.
While productivity is lower, manual dialing allows full agent discretion. It also helps meet stricter compliance needs in certain highly regulated industries.
What Are the Key Features of Auto Dialers?
Modern feature-rich auto dialer systems provide a variety of capabilities to enhance outbound calling operations:
1. Core Dialer Functionality
Predictive algorithms – Optimally pace outbound calls based on real-time metrics.
Progressive modes – Switch between predictive and power dialing strategies.
Lead list management – Upload, validate, and prepare calling lists.
Preview dialing – Display lead info before connecting agents.
Rescheduling – Schedule follow-up calls for unreached leads.
Compliance – Adhere to regional calling regulations and DNC lists.
2. Agent Experience Optimization
Interactive voice responses – Play IVR messages for contacted leads.
Whisper messages – Provide agents with guidance during calls.
Call disposition codes – Allow agents to tag call outcomes.
Screen pop-ups – Display relevant customer data when calls begin.
3. Supervisor and Admin Functionality
Real-time monitoring – Dashboard with campaign metrics and real-time agent status.
Disposition code reporting – Generate reports analyzing call outcomes.
Agent performance – Track individual agent metrics like calls handled.
Call recording – Record calls for training and quality purposes.
4. Integrations and Customization
CRM integrations – Connect with popular CRM platforms.
Custom agent desktop – Tailor desktop layouts to your needs.
APIs – Leverage APIs to integrate dialer data with other systems.
Custom reporting – Create and schedule custom result reports.
Overall these features optimize outbound operations for contact centers leveraging auto dialers.
Benefits of Auto Dialer Software
Auto Dialers Make Your Contact Center More Efficient
Using auto dialer systems in your outbound contact center operations provides significant efficiency benefits:
Increased Agent Productivity
By minimizing the time that agents spend waiting between calls, auto-dialers allow representatives to handle more calls per shift. Increased calls handled directly translate into higher agent productivity.
Studies have found predictive auto dialers can increase productivity by 30-100% versus manual dialing. Instead of manually dialing and waiting for leads to answer, agents talk almost continuously throughout their shift.
Reduced Idle Time
Idle time, where agents wait between calls, is minimized through predictive algorithms. By initiating multiple parallel outbound calls, answered calls can be immediately routed to agents as they become available.
This keeps agents engaged in conversations versus waiting through periods of silence. Contact rates accelerate with near-continuous agent activity.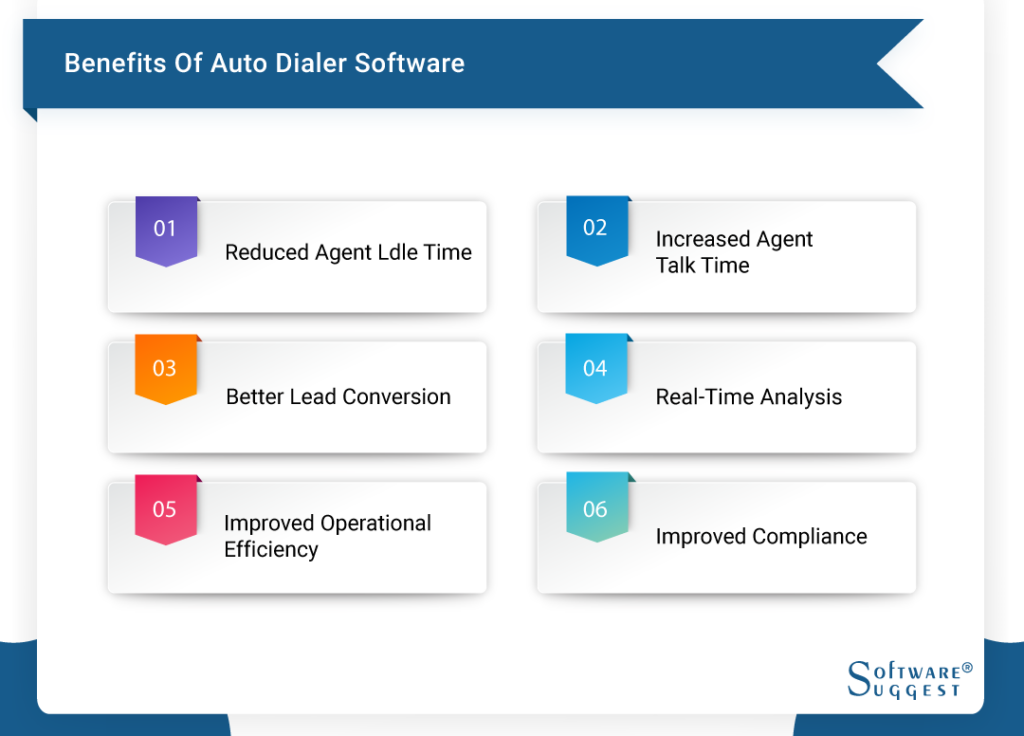 More Calls Handled Per Hour
With agents maximized and idle time reduced, call centers can handle exponentially more outbound calls using auto-dialers.
Instead of manually dialing a few dozen calls per hour, agents can engage with hundreds of leads through automation and predictive capabilities.
Improved Lead and Customer Reach
The increased calls per hour enabled by auto-dialers significantly expand customer reach. Large lead lists and contact databases can be processed in a fraction of the time versus manual efforts.
Hard-to-reach customers are engaged through persistent dialing and scheduled follow-up call attempts. More conversations drive better business results.
Faster Campaign Execution
The compound impact of reduced idle time, increased agent productivity, and higher call capacity is that campaigns get completed much faster.
What once took weeks of manual dialing to work through can now be accomplished with an autodialer in days or hours. Campaigns scale efficiently.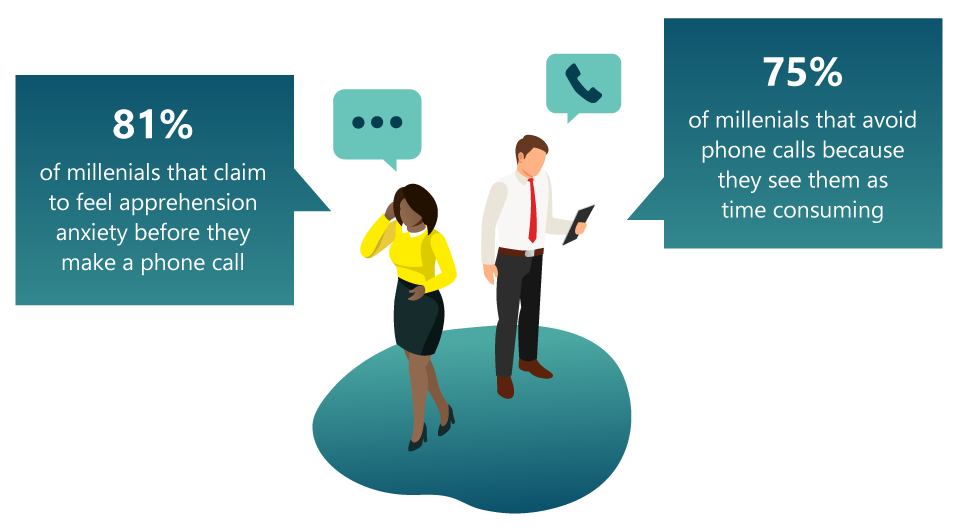 Detailed Analytics and Reporting
Auto dialers track extensive real-time telemetry on campaign performance, agent activity, and call outcomes. Detailed monitoring, results reporting, and data exports help optimize your outbound operations.
By analyzing trends in the provided analytics, campaigns can be fine-tuned to increase contacts and desired call outcomes.
Improved Compliance and Governance
Auto dialers provide visibility into adherence with regional calling regulations, DNC lists, and internal governance policies through detailed reporting and analytics.
Oversight capabilities reduce compliance issues and risks that may otherwise occur with purely manual calling.
Enhanced Customer Experiences
The structured pacing, informed agents, and voice prompts enabled by auto-dialers help improve customer call experiences. Predictive algorithms make the conversations feel naturally spaced.
Auto Dialers Offer Flexibility and Scalability
In addition to efficiency gains, auto-dialers provide flexibility and scalability benefits:
Rapid Deployment
Cloud-based auto dialers can be deployed extremely quickly, letting you launch calling campaigns in days versus weeks. No long hardware installations or capital expenditures are required.
Location-Agnostic Agents
With cloud infrastructure, agents can be located anywhere while all being connected to the centralized auto dialer system. Remote agents are engaged as efficiently as on-site staff.
Easy Scalability
Cloud platforms make it simple to scale up your number of agents and outbound call volume as needed to meet growth or seasonal spikes in demand. Spin up more seats instantly.
Pay-as-you-Go Pricing
No large upfront costs are needed with auto-dialers. Cloud solutions are priced using pay-as-you-go monthly models based on your usage, letting you align costs closely with value.
Best Auto Dialer Software for Outbound Calling
When evaluating auto dialer solutions, focus on providers offering robust features focused specifically on driving more efficient high-volume outbound calling backed by expertise in contact center operations.
Here are some of the top auto dialer systems purpose-built for maximizing outbound calling:
1. Five9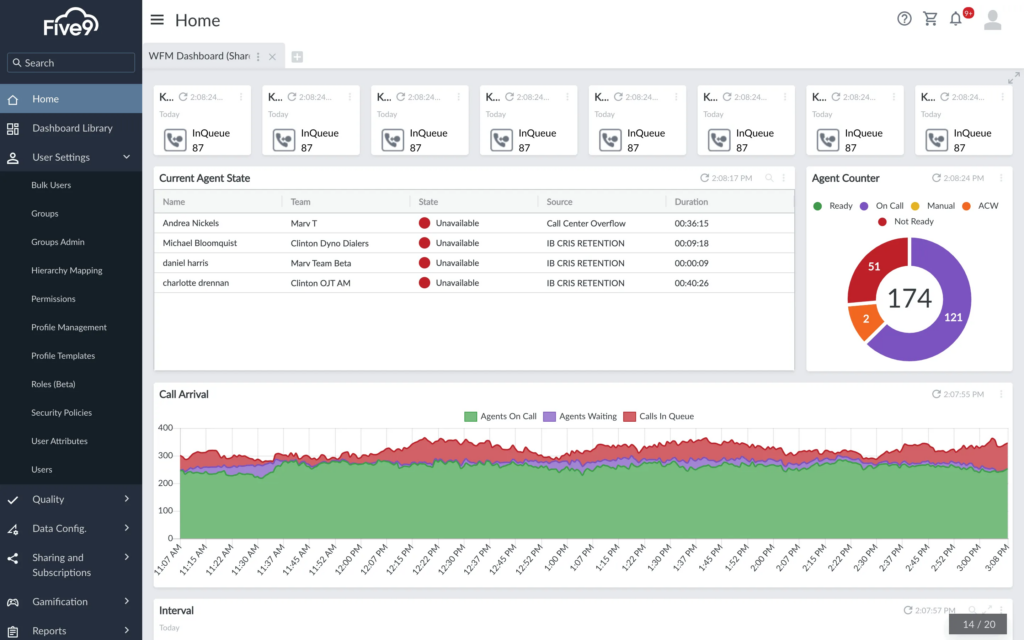 Features:
Cloud-based architecture means no hardware to maintain. Software is accessed via a web browser.
Provides automatic dialing modes like predictive, progressive, preview, power, and blended dialing to optimize outbound calling.
Call pacing allows you to set limits on calls per agent per day or hour to comply with regulations.
Includes comprehensive call management tools – IVR, call recording, call monitoring, dispositions, callbacks, and voicemail.
Offers over 20 pre-built reports and customizable analytics focused on metrics like agent utilization, call outcomes, lead response times, etc.
Integrates natively with Salesforce, Zendesk, and many other CRM and helpdesk tools for screen popups.
Pricing:
The professional plan starts at $65 per user/month for teams with basic outbound calling needs. Includes 50,000 minutes per month.
Additional per-minute rates apply beyond the allowance.
Enterprise plan pricing is customized based on call volumes, number of sites, implementation requirements, and other needs. Starts at around $125 per user/month.
Reasons to Choose:
Complete call center platform trusted by enterprises
Flexible dialing strategies for different campaigns
Strong compliance and security controls
Scales to support large call volumes and agents
Mature product with wide CRM integrations
2. Talkdesk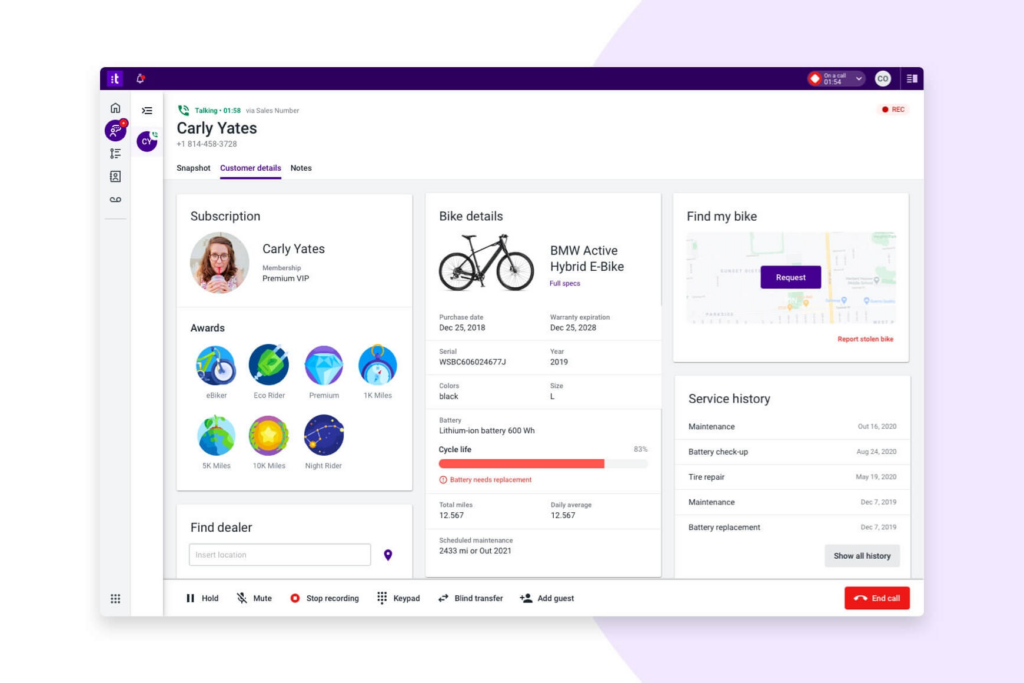 Features:
Automatic dialing includes predictive, progressive, preview, click-to-call, and manual options.
The call pacing feature prevents over-dialing and helps comply with regulations like TCPA.
Visual call flow editor enables easy management of IVRs, call routing, voicemail, and dispositions in a drag-and-drop interface.
Real-time and historical reporting available out of the box, focused on metrics like handle time, wait time, and SLAs.
Talkdesk Interaction Analytics provides insights by analyzing calls with AI and speech recognition.
Natively integrates with Salesforce, Zendesk, and NetSuite among 1000+ apps via talkdesk AppConnect.
Omnichannel capabilities include voice, email, SMS, web chat, and social media for unified customer engagement.
Pricing:
The essentials plan starts at $65 per agent/month including 50,000 minutes. Additional minutes cost extra.
Premium and Enterprise plans have customized pricing based on usage, number of sites, and premium features needed. Around $135 per agent/month.
Reasons to Choose:
Intuitive call center platform with easy visual workflows
Broad native integrations and app ecosystem
Omnichannel customer engagement capabilities
AI analytics provide actionable insights
Scalable for growing businesses
3. NICE inContact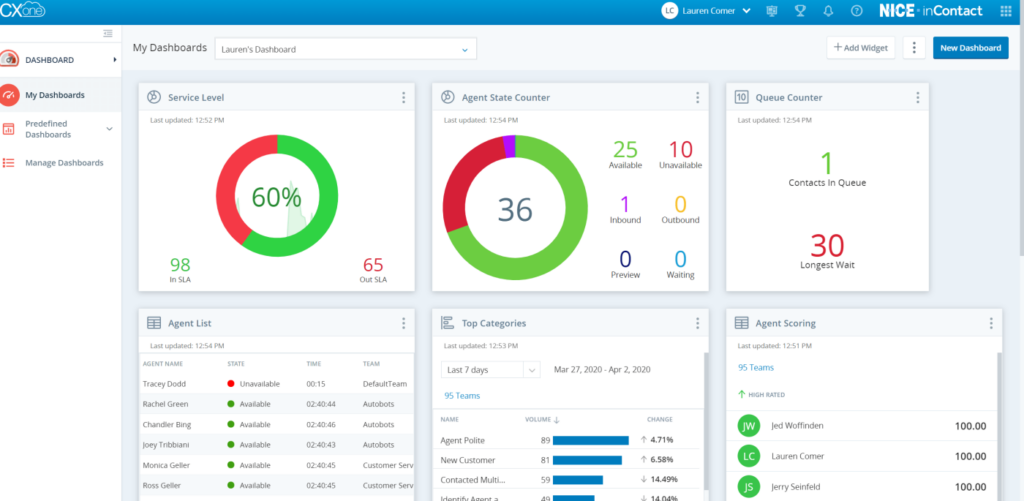 Features:
Automatic dialing options include predictive, progressive, preview, click-to-call, SMS, email, and social media.
Smart pacing ensures optimal dialing speed and regulatory compliance.
IVR, call recording, quality management, and performance analytics features.
Omnichannel routing sends interactions to the right agents in voice, digital, chat, and back-office.
Fully customizable agent desktops and workflows.
140+ native integrations including Salesforce, Zendesk, and Microsoft Dynamics.
WFM tools optimize schedules based on forecasts and trends.
Security measures like data encryption, role-based access, and full PCI and HIPAA compliance.
Pricing:
The essential plan starts around $45 per agent/month including basic outbound calling.
Premium and Elite plans cost more with added features and higher usage limits. Around $110-$135 per agent/month.
Custom pricing for enterprise contact centers based on scale and complexity.
Reasons to Choose:
Complete enterprise-grade contact center platform
Advanced capabilities beyond just outbound dialing
Global presence and support worldwide
Flexible deployment models – cloud, hybrid, or premises
Strong security and compliance posture
4. Genesys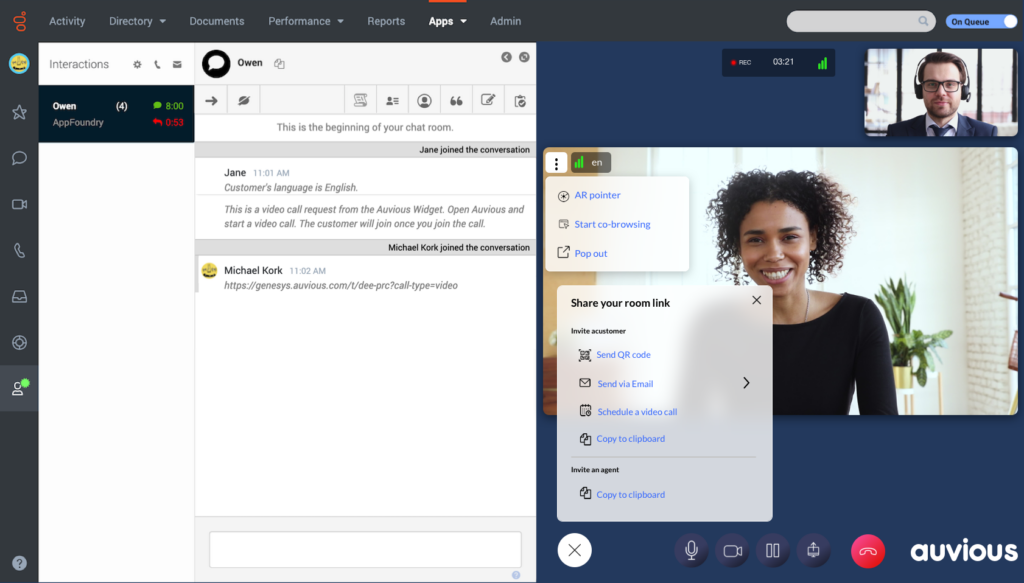 Features:
Automatic and manual dialing modes including predictive, progressive, preview, click-to-call, etc.
Outbound voice calling supplemented with omnichannel digital channels.
IVR, call routing, and workforce management optimize customer experience and agent productivity.
Call recording, quality management, and speech analytics provide insights.
Genesys Predictive Engagement accurately forecasts the outcomes of each call.
100+ native integrations and APIs enable connection to any CRM, ERP, or custom apps.
On-premises and cloud deployment options to meet security requirements.
Pricing:
Contact Genesys sales for a customized quote based on your specific needs.
Advanced capabilities and enterprise-scale usually start around $100-$150 per agent/month.
Reasons to Choose:
The industry leader for large enterprise contact centers
Advanced AI and automation capabilities
Powerful customer journey analytics and reporting
Global presence with support worldwide
On-premises options meet strict security needs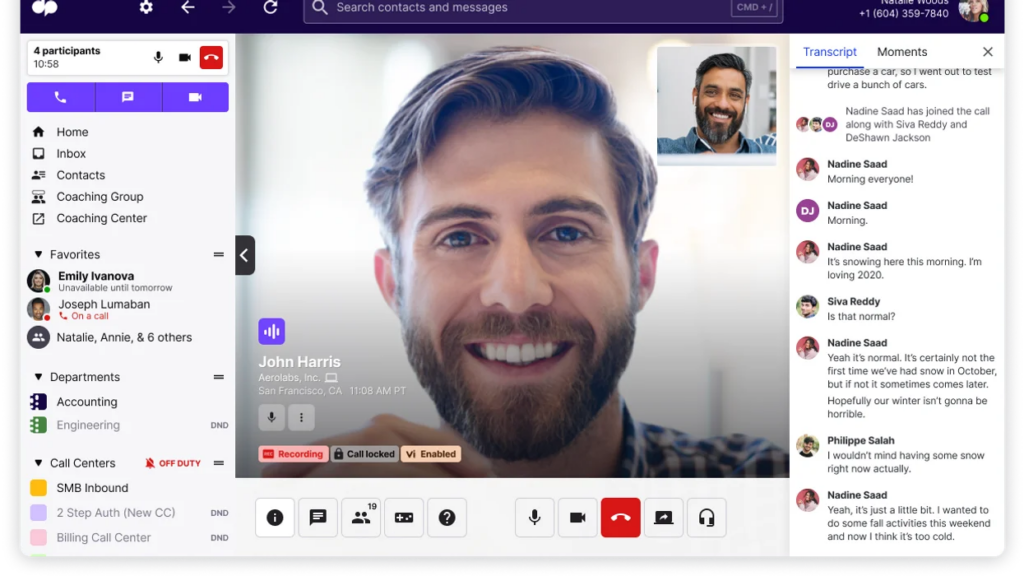 Features:
Automatic dialing includes predictive pacing and compliance monitoring.
Real-time speech recognition generates call transcriptions using AI.
Salesforce, Office 365, and GSuite are natively integrated into the agent desktop.
Unlimited domestic calling is included in base pricing for the US and Canada.
The mobile app enables calling on the go from any device.
99.999% SLA uptime guarantee offered.
Pricing:
The pro plan is $50/user/month including unlimited domestic minutes.
The premium plan is $65/user/month with added features like real-time analytics.
Enterprise pricing can be customized for large call centers.
Reasons to Choose:
The simple transparent pricing model
AI features like real-time transcription
Leading cloud architecture and reliability
Unlimited domestic calling provides great value
Easy to get started and use
6. Convoso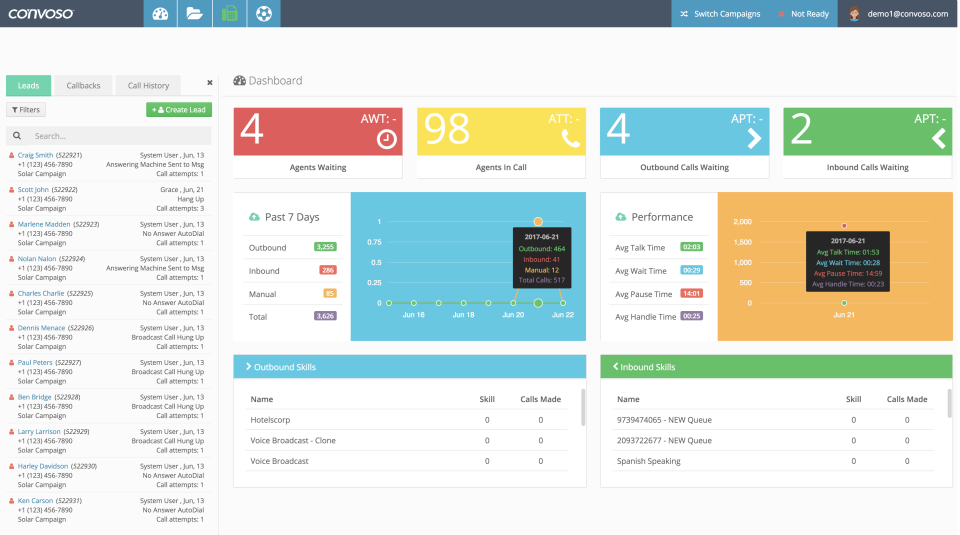 Features:
Automatic pace and call distribution options for outbound dialing campaigns.
Click-to-call from any browser for inbound call management.
Call recording across all conversations. Custom dispositions help categorize outcomes.
Real-time data sync with popular CRMs to update records during calls.
Custom reporting to analyze metrics like calls made, connect rate, and length.
Do Not Call compliance features and calling hours configuration.
Pricing:
The starter plan is $44/user/month including basic outbound calling features.
The pro plan is $65/user/month with added functionality like call recording and CRM integration.
Enterprise pricing is customized based on needs.
Reasons to Choose:
Affordable pricing plans for SMBs
Easy to get started with the software
CRM integration saves agents time on data entry
A good option for US-based companies with smaller teams
Dedicated customer support and onboarding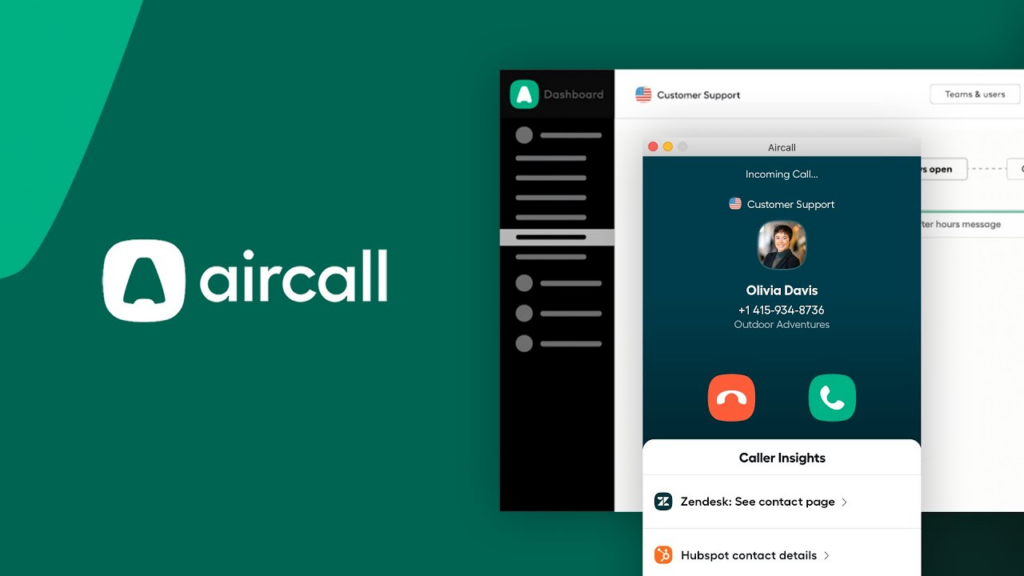 Features:
Automatic and power dialing options for high-volume outbound calling.
Call recording, voicemail transcription, advanced analytics.
Omnichannel support for calls, SMS, chat, email, social media channels.
Over 35 native app integrations including Salesforce, Shopify, and Slack.
APIs enable building custom workflows and integration.
HIPAA is compliant with high-security standards.
Pricing:
Essentials plan is $50/user/month including basic features.
The professional plan is $75/user/month with added functionality.
Enterprise pricing is customized based on needs.
Reasons to Choose:
Simple and intuitive user interface
Unified platform across voice, and digital channels
Generous minute allowances on lower-cost plans
Broad native app integration ecosystem
APIs enable customization
8. VanillaSoft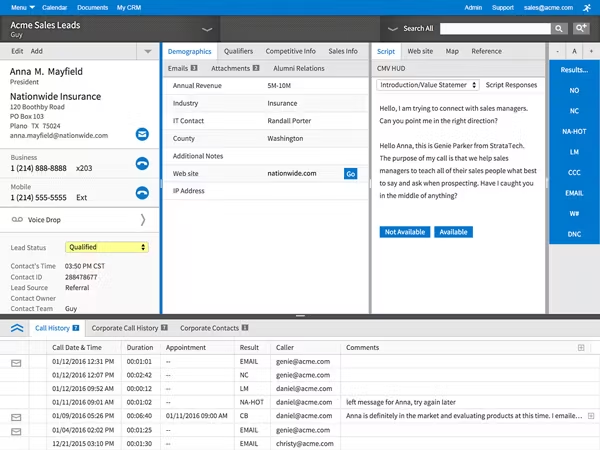 Features:
Automatic pacing and dialing strategies for high-volume outbound sales.
Lead scoring, filtering, and routing help prioritize the best leads.
Campaign management tools track performance over time.
Direct Salesforce integration pushes call data into CRM.
Click-to-call function streams inbound calls to matched records.
Custom reporting on KPIs like calls, connect rate, and follow-ups scheduled.
Pricing:
The starter plan is $85/month including basic outbound calling.
Enterprise pricing is customized based on several users, call volumes, and features.
Reasons to Choose:
Specialized solution for high-performance sales teams
Powerful lead management and routing capabilities
Salesforce integration saves agents time
Proven results for companies like IBM and AT&T
Handles high calling volumes and complex workflows
Auto Dialers Integrate Into Your Existing Systems
You don't need to rip and replace your existing CRM, analytics, and other contact center infrastructure when adding an autodialer. Key integration benefits include:
1. CRM Compatibility
Auto dialers seamlessly integrate with popular CRM platforms like Salesforce, Microsoft Dynamics, Zoho CRM, etc. Lead data flows automatically between systems.
2. Customizable Agent Desktops
Agent desktops can be configured to your specific needs, with flexibility in screen pop-ups, navigation, and information display.
3. API expandability
Auto dialers expose APIs to connect with your other business systems. This allows limitless potential customizations.
Frequently Asked Questions (FAQ)
Ques 1. What is the difference between predictive and progressive dialing?
Ans: Predictive dialing uses algorithms to dial based on predicted agent availability. Progressive starts with predictive dialing but can switch to power dialing modes when agents are idle.
Ques 2. What types of campaigns benefit the most from auto-dialers?
Ans: Auto dialers provide the biggest productivity gains for high-volume outbound calling campaigns like lead generation, customer surveys, payment reminders, appointment confirmations, etc.
Ques 3. What is a power dialer?
Ans: Power dialers focus on contacting a high number of leads in a short time versus minimizing idle time. They rapidly work through a contact list in a linear sequence.
Ques 4. Can auto-dialers automatically record messages?
Ans: Yes, many systems offer voicemail detection and can record a prerecorded message when they reach a voicemail system while dialing.
Ques 5. How does an autodialer increase productivity?
Ans: By minimizing the time agents spend waiting between calls, auto-dialers allow call centers to handle more calls per hour. This directly translates into higher agent productivity.