VoIP services are often cheaper than traditional landline services, and many providers offer free phone numbers.
Getting a free VoIP business phone number can help new startups and small businesses looking to save money on communication costs.
In this article, we will discuss what VoIP phone numbers are, the pros and cons of free services, the top free VoIP providers, and whether you should use a free VoIP number for your business.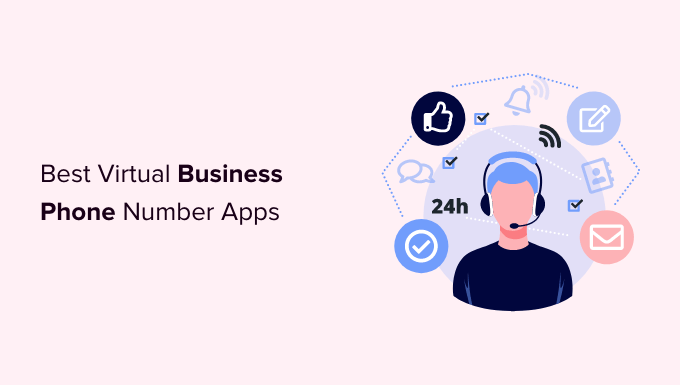 What Are Free VoIP Phone Numbers?
A Voice over Internet Protocol (VoIP) phone number allows you to make and receive calls over the Internet rather than traditional phone lines.
They work by converting your voice into digital data packets that are transmitted over the internet.
To get a free VoIP number, you simply sign up with a VoIP provider that offers free phone numbers. The provider will assign you a phone number with a local area code that you can use to make and receive calls over the Internet.
Free VoIP services work just like paid VoIP services, except they offer phone numbers at no cost.
Many free services provide a limited number of calling minutes per month or limit certain features like caller ID or voicemail. But the basic calling functionality is free.
Some key advantages of free VoIP phone numbers:
Cost savings – No monthly fees for a phone number. Only pay for usage.
Flexibility – Keep the same number if you move locations.
Advanced features – Includes options like call forwarding, voicemail, and conference calling.
Scalability – Easily add new numbers as your business grows.
Free VoIP numbers work for both individual users as well as small businesses looking for an additional business line.
The numbers can be used for taking customer calls, having a local presence in another region, or setting up a support hotline.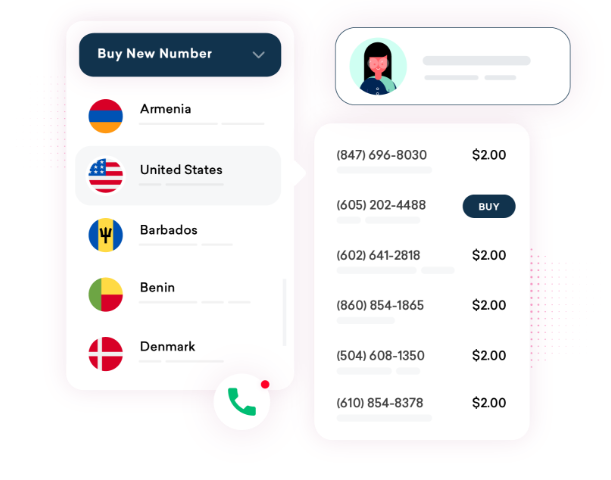 The Pros and Cons of Free VoIP Phone Service
While free VoIP phone numbers offer significant cost savings, there are some limitations to consider before choosing a free prowvider:
Pros
No monthly costs – The biggest benefit is that you get a phone number at no monthly charge. Only pay for call minutes used.
Portable number – VoIP numbers can be used anywhere with an internet connection. Keep the same number of moving locations.
Advanced features – Free services include features like call routing, voicemail, caller ID, etc. Paid services may offer more robust feature sets.
Scalable – Easy to add new toll-free or local numbers as your business grows.
Cons
Call quality – Call quality can be inconsistent due to network congestion. Paid services offer higher reliability.
Limited minutes – Many free services limit monthly minutes. Additional minutes have per-minute charges.
Lack of full features – Features like auto-attendants, call recording, and analytics may not be included or have added fees.
Emergency calls – Most VoIP services don't support 911 emergency calling. A traditional landline is required for 911 access.
Number choice – You may not get to pick your exact number with a free service.
Customer support – Paid services generally offer better technical and customer support.
The pros of cost savings and flexibility usually make free VoIP services worthwhile for small websites, freelancers, and new startups.
But as your business scales, you may want to upgrade to a paid VoIP service for unlimited minutes, business features, and better call reliability.
Top Free VoIP Phone Number Providers
Voice over Internet Protocol (VoIP) has revolutionized the way we communicate.
By sending voice conversations over the internet rather than traditional phone lines, VoIP allows for free or low-cost calling options.
Many providers now offer free phone numbers and calls through VoIP technology. Here are some of the top free VoIP phone number providers and what they have to offer:
1. Google Voice
Google Voice is one of the most well-known and widely-used free VoIP services.
With Google Voice, you can get a free phone number that works for calling throughout the United States and Canada.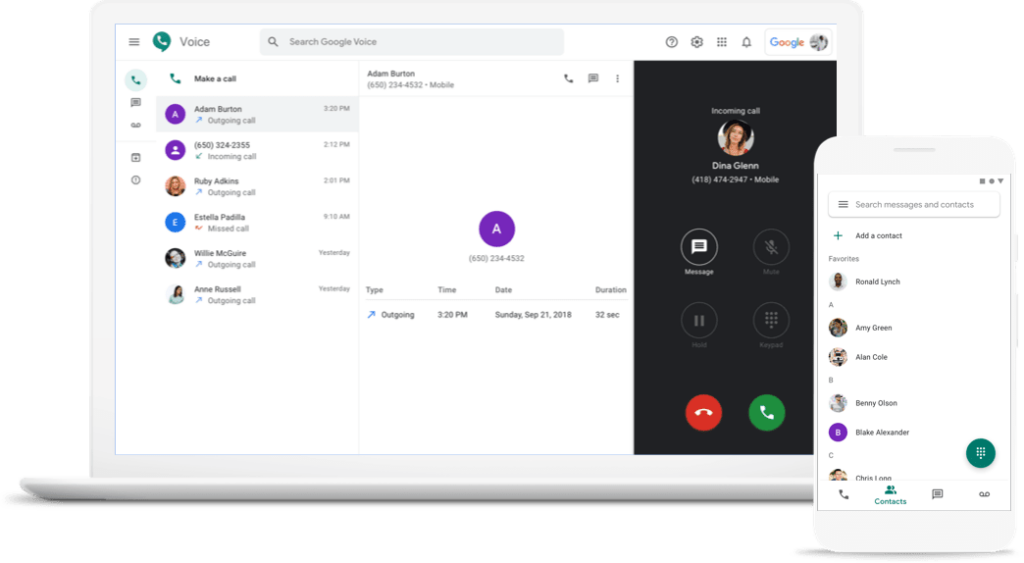 Features
Some of the key features of Google Voice include:
Free phone number for calls within the US and Canada
Call forwarding to ring multiple phones
Voicemail transcription to text
SMS texting
Conference calling
Call screening and blocking
A major benefit of Google Voice is its seamless integration with other Google services. It syncs with your Google account, contacts, and calendar.
Your voicemails and texts are archived in your account. Overall, Google Voice offers a full-featured VoIP solution conveniently tied into Google's ecosystem.
Pricing
Google Voice is completely free for most basic features.
You can get a free US phone number, free calls within the US and Canada, free texts, voicemail, and more at no cost.
International calls are charged based on location, typically starting at $0.01 per minute.
Why Choose Google Voice?
There are several reasons why Google Voice is a top pick for a free VoIP number:
Reputation and reliability of Google services
Deep integration with Android phones
International call rates are relatively low
Voicemail transcription is convenient
Easy-to-use web and mobile interfaces
With its brand recognition and variety of features, Google Voice is a solid option for a primary phone number or secondary line.
It's trusted, widely supported, and comes fully loaded with capabilities like voicemail transcription.
2. FreedomPop
FreedomPop takes a freemium approach to VoIP, offering a free monthly plan and then charging for added features.
It's another excellent choice for a free phone number and calling.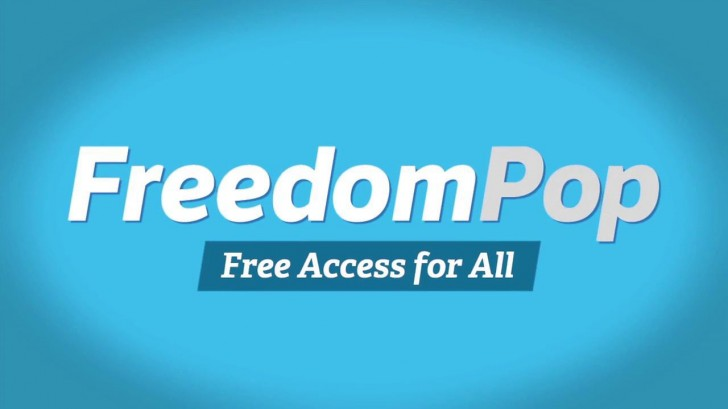 Features
FreedomPop provides the following features:
Free US phone number
200 monthly minutes of free calls
500 texts per month
Voicemail box
Call forwarding
911 access
Pay as you go calling and texting
While FreedomPop's free service is limited compared to some providers, it's still enough for basic calling and texting needs.
By paying for extra minutes and texts, you can upgrade to unlimited talk and text for just $10/month.
Pricing
The basic FreedomPop free plan includes:
Free US phone number
200 monthly minutes for calls to the US and Canada
500 texts per month
Paid options include:
$0.01 per minute for calls above 200 minutes
$0.01 per text above 500 texts
Unlimited talk and text for $10/month
International calling from $1.99/month
Why Choose FreedomPop?
FreedomPop is a great free option for light callers who just need a phone number and basic service. Reasons to choose them include:
A completely free basic plan is available
Low-cost upgrades to unlimited talk and text
Uses major nationwide cell networks for reliable service
Bring your device or buy from FreedomPop
Use with a smartphone app or VoIP adapter
FreedomPop stands out for offering a genuinely free service tier without having to pay anything.
It's a top pick if you don't need a lot of minutes but want a reliable phone number and network.
3. 2ndLine
2ndLine is a VoIP app for iOS and Android devices that offers free US numbers and calls. With 2ndLine, you can make and receive calls and texts through Wi-Fi or data.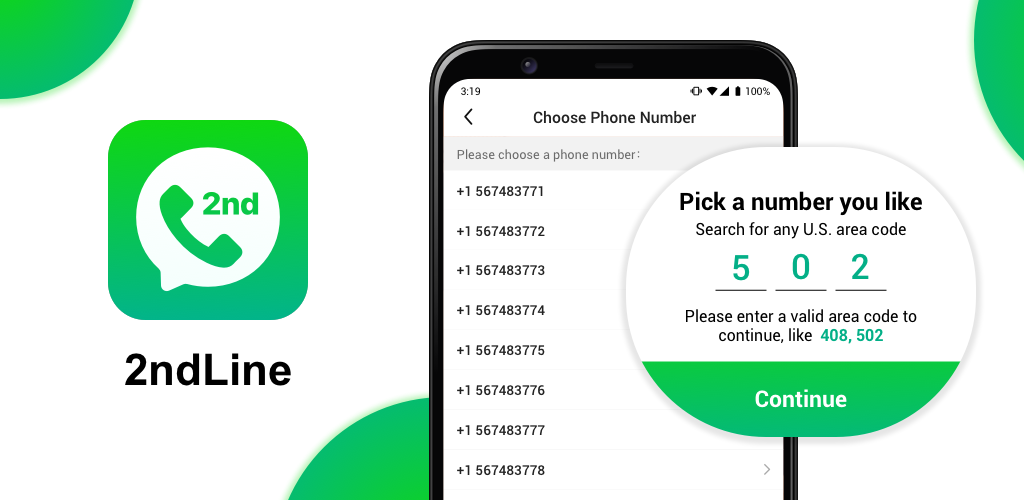 Features
This platform provides:
Free US phone number
Free calls and texts to other 2ndLine users
Voicemail
Call forwarding
Conference calling
Call history
Number sharing via QR code
It offers reliable service through data networks rather than traditional carriers. While it lacks some features of other providers, it makes up for it by being completely free.
Pricing
The basic 2ndLine service is entirely free, including:
Free US phone number
Free calls and texts to other 2ndLine users
Free voicemail
Paid features are available through in-app purchases:
Outbound calls and texts – $0.99 for 100
Inbound texts – $0.99 for 200
Vanity phone numbers – $3.99
Why Choose 2ndLine?
It is a great free VoIP option for a few reasons:
Free phone number and basic service
Easy-to-use iOS and Android apps
Bring your device – no extra hardware is needed
Optional paid add-ons for more flexibility
Keep personal and business calls separate
For the price of zero dollars, 2ndLine provides a lot of value. It's easy to recommend for anyone wanting a free additional phone line on their existing smartphone.
4. TextNow
TextNow offers an easy way to get free phone service and manage everything right from your mobile device or computer.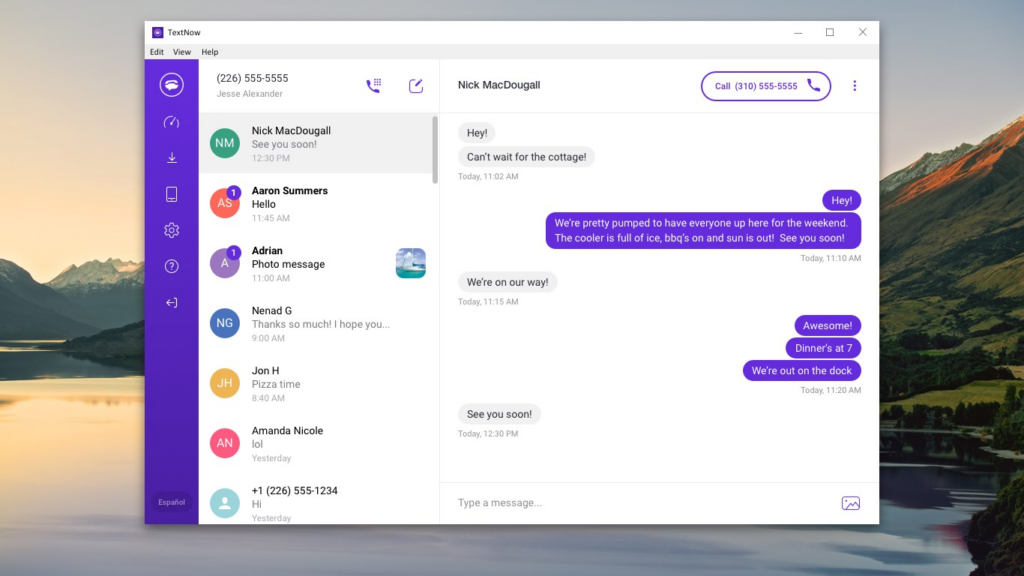 Features
It provides the following features:
Free US/Canada phone number
Free unlimited calls and texts over Wi-Fi
Voicemail transcription
Group chats
Caller ID and call waiting
911 access
Number porting to transfer your number
While It limits how much cellular data you can use for free calls, the overage rates are minimal so you can still get free service.
Pricing
TextNow has a very generous free plan including:
Free US/Canada phone number
Free unlimited calls and texts over Wi-Fi
Free voicemail transcription
Paid options remove some limits:
Remove 40MB/month data cap for $3.99/month
Unlimited calling and texting for $9.99/month
Lower international calling rates from $2/month
Why Choose TextNow?
TextNow has several advantages that make it a leading free VoIP provider:
Very flexible free plan with no hidden costs
Easy to set up and manage through apps or web
Bring your device – works with existing smartphone
Voicemail transcription is useful and unique
Number porting available for convenience
International calling available on cheap prepaid plans
With its extensive free features, cheap upgrades, and app-based convenience, TextNow scores big as a free VoIP option.
The voicemail transcription alone makes it stand apart from much of the competition.
Should You Use a Free VoIP Number?
Here are some scenarios when using a free VoIP phone number makes sense for your business:
Starting a new business – Minimize costs in the early stages with a free number.
Additional business line – Use as a secondary number for sales, support, etc.
Small usage – For very light calling usage, 200-300 minutes per month.
Mobile users – Freelancers that only require call access on their smartphone.
Short-term use – Setting up temporary contact numbers for events.
However, for long-term primary business phone needs, a paid VoIP service is recommended for:
Main business number – Requires full features, reliability, and professional impression.
High call volumes – For 500+ minutes of calling per month.
Office use – For a full multi-line business phone system.
Sales teams – For advanced call routing, reporting, and tracking.
Support lines – Requires multiple numbers and automatic call distribution.
For new startups, individual users, and temporary business needs, a free VoIP phone number can be a great way to get started with minimal costs.
However, for established businesses with significant phone needs, the limitations may outweigh the benefits of free services.
As your call volumes grow, you will likely want to graduate to a full-featured, paid VoIP phone service.
Many providers allow you to port your number from free to paid plans. Carefully evaluate your current and future calling needs.
But don't be afraid to start with a free VoIP number to keep your initial expenses low as you build your business.
Frequently Asked Questions (FAQ)
Ques 1: Can I port my existing phone number to a free VoIP service?
Ans: Most major free VoIP providers like Google Voice and FreedomPop do not support porting in existing numbers.
You would need to get a new number from them. Paid VoIP services often allow the porting of existing numbers for a fee.
Ques 2: How do 911 calls work on free VoIP services?
Ans: Most free VoIP services do not support 911 emergency calling.
For 911 access, you would need to use a traditional phone line or a paid VoIP service that specifically includes 911 support.
Ques 3: Is call quality reliable on a free VoIP service?
Ans: Call quality on free VoIP services may be lower than paid options and can have inconsistencies due to network congestion.
For important business calls, a paid service will provide higher voice quality and reliability.
Ques 4: Can I receive faxes with a free VoIP phone number?
Ans: Most free VoIP services do not support faxing capabilities.
You would need to opt for a paid VoIP provider that includes fax support and subscriptions. Some services can forward faxes to email.
Ques 5: Do free VoIP numbers work internationally?
Ans: Most free providers allow you to call internationally but will charge per-minute rates. Some do not support inbound calls from abroad.
Confirm international capabilities before choosing a provider