Automatic Call Distribution (ACD) is a telephony technology that routes and manages a high volume of incoming calls to a company efficiently and effectively.
ACD automatically queues, assigns, tracks, and monitors incoming calls to available agents or groups using sophisticated algorithms.
In this article, we will understand how ACD call routing works and how key features of ACD systems can help businesses engage customers and improve service operations.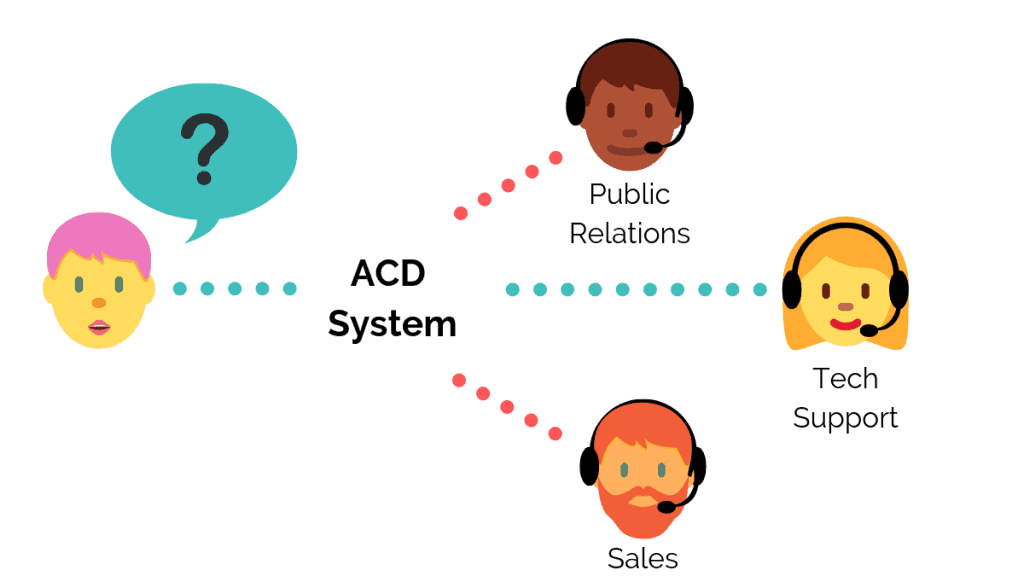 What is Automatic Call Distribution?
Automatic Call Distribution (ACD) is a telephony technology used for call centers and customer service hotlines to distribute large volumes of incoming calls to available agents efficiently and quickly.
ACD automatically queues incoming calls and assigns them to the next available agent. This balances the workload for optimal efficiency.
Sophisticated algorithms route calls based on factors like time in queue, priority levels, agent skills, and more.
Additional call routing options include interactive voice menus, overflow calling groups, voicemail, and outbound calling.
Real-time monitoring provides supervisors with information on call volumes, agent performance, queue analytics, and more.
Recording capabilities create valuable data to further improve customer experience.
Top call centers rely on ACD technology to achieve efficiency, effectiveness, and customer satisfaction.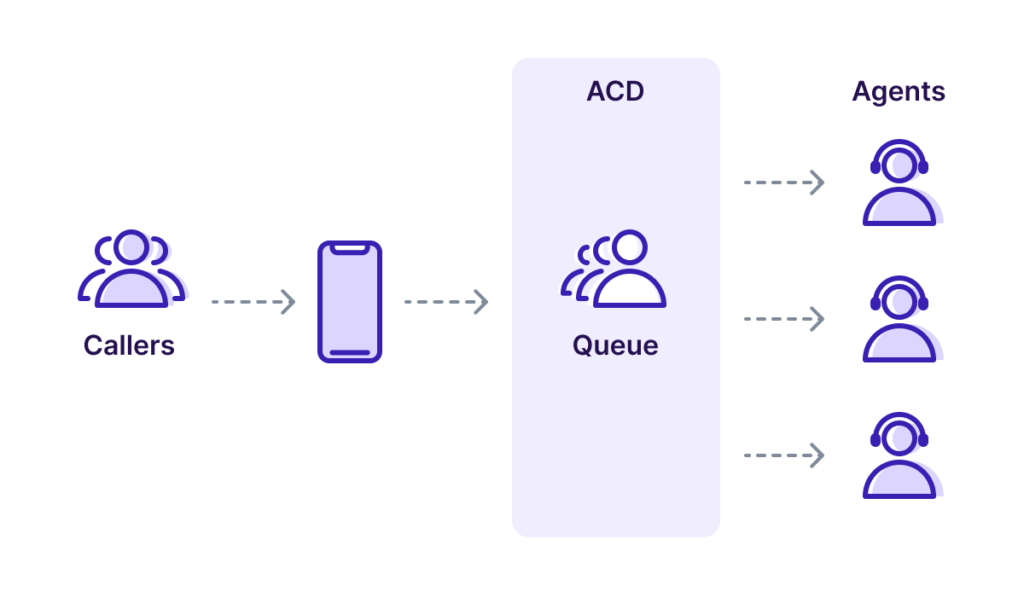 How Automatic Call Distribution Works?
Automatic Call Distribution works through the following key steps:
Incoming calls arrive at the ACD platform via dedicated trunk lines.
Advanced algorithms immediately assign each call to the optimal agent based on configurable routing rules.
If no agents are available, the calls are held in a queue and organized based on parameters like priority and wait time.
Callers hear greetings, music on hold, and status notifications while queued.
Once an agent finishes their previous call, the longest waiting call is automatically routed to them.
If calls have waited beyond a threshold, they may be overflowed to other agent groups or sent to voicemail.
ACD tracks real-time performance analytics like call volumes and agent productivity for supervisors.
All processes are automated for optimal efficiency 24/7 without human intervention.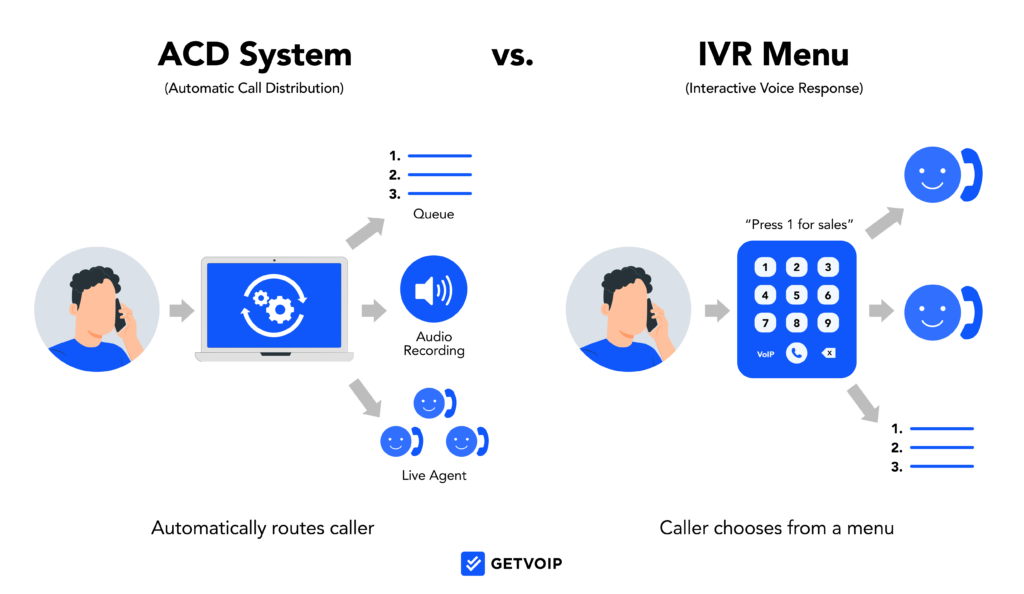 ACD vs IVR
While related, ACD and IVR serve different core functions:
ACD automatically routes and distributes calls to agents. IVR provides interactive menus and self-service options to callers.
ACD focuses on optimizing workforce management. IVR aims to reduce agent workload through automation.
ACD queues calls and connects them to agents. IVR gives computerized responses to handle basic caller needs.
IVR systems can be integrated with ACD platforms to improve experience and efficiency.
IVR handles simple pre-screening tasks while ACD manages live agent assignments.
ACD monitors agent performance. IVR provides metrics on automated call containment.
Together ACD and IVR create the optimal customer experience and contact center operations.
Different Types of Automatic Call Distribution
There are three main types of ACD system architectures:
Premise-Based ACD – Hardware-based on-premise PBX platforms with built-in proprietary ACD capabilities.
Hosted ACD – Delivered as a centralized hosted service leveraging cloud platforms to route calls to remote agents.
Hybrid ACD – Combines on-premise ACD with additional cloud-based routing, reporting, and managing capabilities.
ACD deployment models include:
Basic ACD – Simple incoming call queues and round-robin agent assignment for small contact centers.
Intelligent ACD – Advanced algorithms factor in agent skills, priorities, geography, and optimal outcomes.
Blended ACD – Incorporates external live chat, social media, and email interactions into routing decisions.
Distributed ACD – A single centralized system that manages and routes calls to remote agents in multiple locations.
The Benefits of Automatic Call Distribution
Key benefits that ACD provides for call centers and customer service include:
Optimizes call handling performance through automated call routing.
Provides callers with first-call resolution and consistent experience.
Eliminates manual call routing resulting in faster answer times.
Enables precise tracking of call volumes, queue times, agent activity, and more.
Increases agent productivity through balanced call workloads.
Delivers real-time reporting for supervisors to monitor and improve operations.
Scales call capacity easily by adding more trunk lines and agents.
Allocates staff more efficiently reducing personnel costs.
Improves customer satisfaction through reduced wait times and shorter call lengths.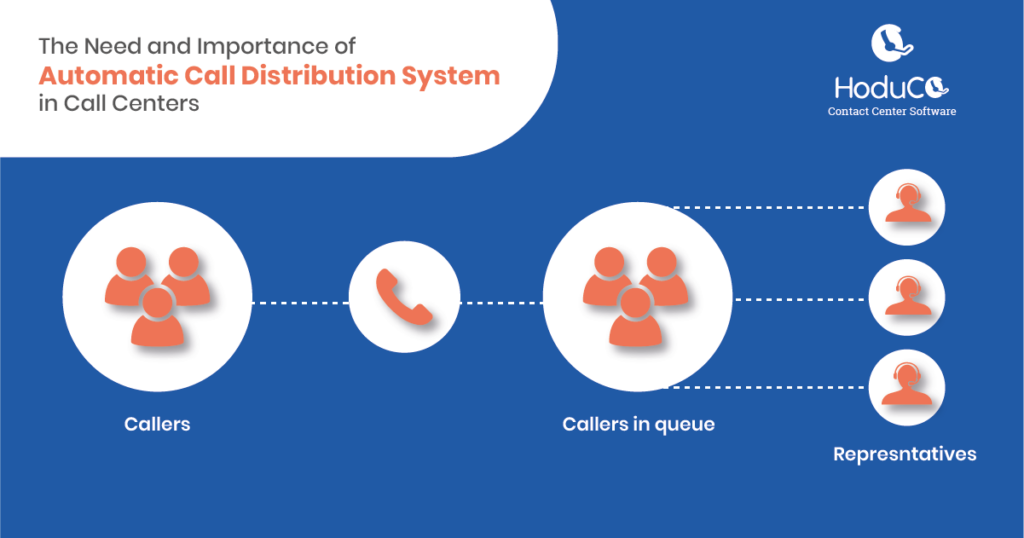 Essential Features of ACD Systems
Robust ACD platforms offer an array of features:
Automatic call routing – Smart algorithms queue and assign calls for optimal workflows.
Real-time dashboards – Supervisors can monitor performance metrics like queue lengths, abandoned calls, talk times, and more.
Agent management – Controls determine which agents receive calls based on schedules, skills, and availability.
Call recording – Stores interactions for training, compliance, and service quality assurance.
Overflow routing – Sends callers to other queues, agents, or services if delays occur.
Interactive voice response (IVR) – Automates tasks like routing and information gathering through voice prompts.
Skills-based routing – Identifies best-equipped agents by individual or team abilities to serve each caller.
CRM integration – Displays relevant customer data screens to agents as calls arrive.
Reporting – Provides historical and real-time data on call statistics to optimize operations.
APIs and customization – Flexibility to tailor system workflows and dashboards to your operational environment.
Best Automatic Call Distribution Software
1. RingCentral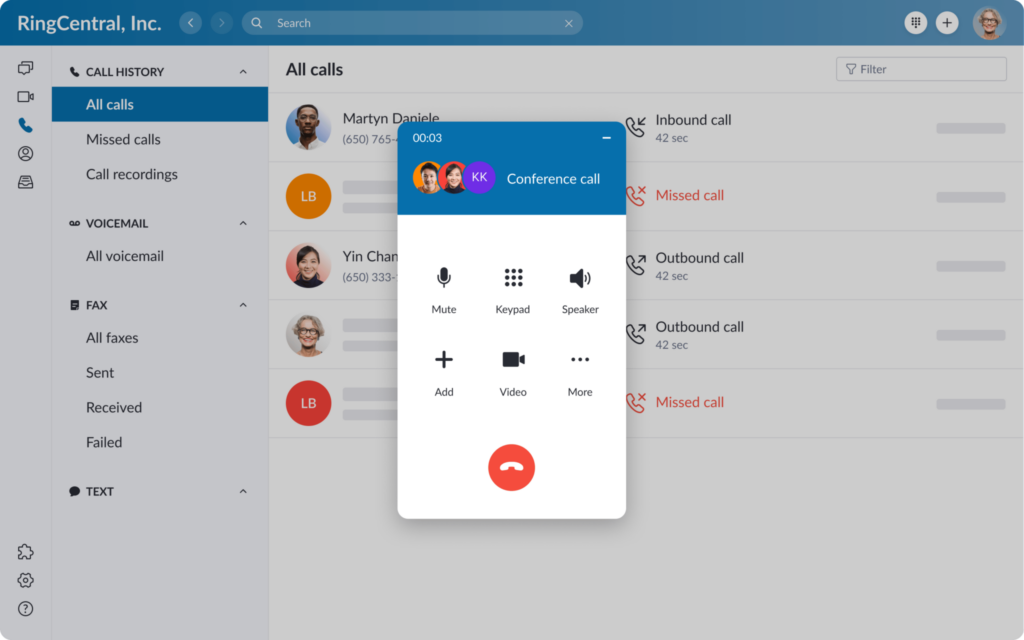 Overview
RingCentral is an industry-leading cloud business communications platform with robust ACD capabilities.
It offers AI-powered call routing, skills-based routing, interactive voice response (IVR), and advanced analytics.
Key Features
Smart call routing based on agent skills, availability, and language
Real-time and historical reporting
Omnichannel support: voice, SMS, email, chat
Mobile app for agents
AI-powered analytics and insights
Pricing
RingCentral has several plans based on the number of users and features needed. Pricing starts at $24.99 per user per month for the Essentials plan.
Advanced ACD features are included in Premium and Ultimate plans starting at $34.99 per user per month.
Best For
RingCentral is ideal for larger call centers needing an enterprise-grade omnichannel ACD system fully integrated with a business phone system. It's scalable, flexible, and has a robust feature set.
2. Talkdesk
Overview
Talkdesk is a cloud contact center solution with intelligent call routing features. It offers easy integration, automation capabilities, and enterprise-level scalability.
Key Features
Skills-based routing
Interactive voice response (IVR)
Real-time dashboards
Quality management
Self-service options
Pricing
Talkdesk pricing is customized based on several agents, features, and minutes used. The average cost is $25-$50 per agent per month for the Professional plan. Enterprise pricing is quoted upon request.
Best For
Talkdesk is ideal for medium to large customer service teams needing an end-to-end contact center platform with advanced ACD capabilities. It's easy to set up and scale.
3. Genesys Cloud CX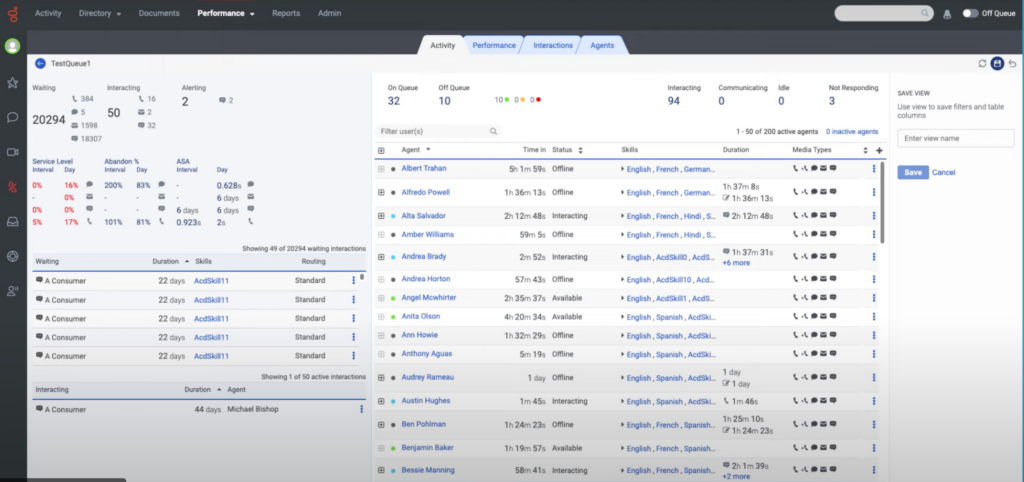 Overview
Genesys Cloud CX (formerly PureCloud) is a leading cloud-based contact center solution with omnichannel ACD capabilities optimized for scalability and flexibility.
Key Features
Omnichannel routing across voice, digital, and back-office
Skills-based routing
Predictive modeling and intelligent call routing
Real-time analytics and reporting
CRM integrations
API Access
Pricing
Genesys has several pricing tiers based on features, users, and minutes used.
The basic PureCloud plan starts at $7 per user per month. More advanced features and support increase pricing up to $70+ per user per month.
Best For
Genesys Cloud CX is ideal for large, distributed contact centers needing an enterprise-level, globally scalable ACD system with advanced analytics and omnichannel support.
4. NiceCXone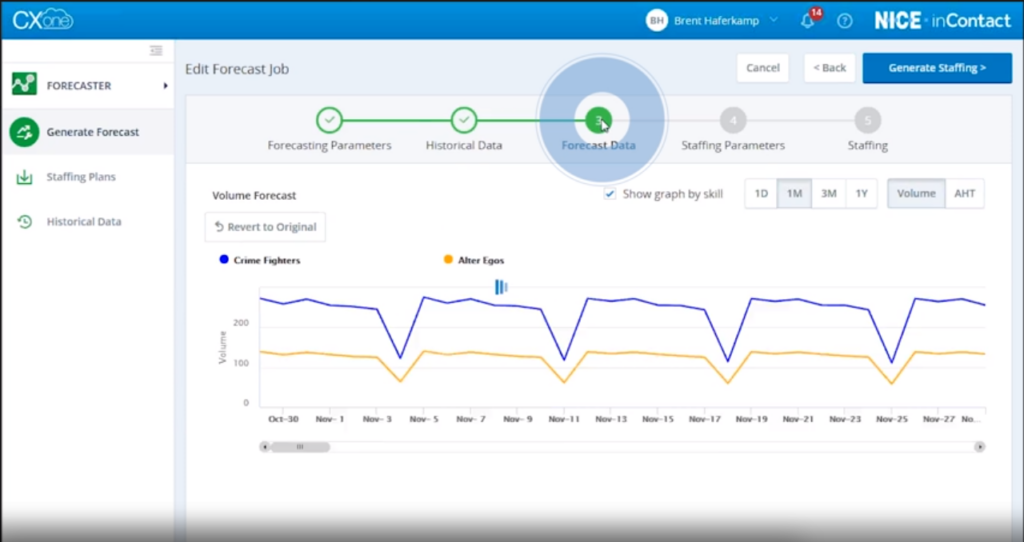 Overview
NiceCXone is an on-premise or cloud-based contact center solution from Nice with strong ACD capabilities optimized for call centers.
Key Features
Skills-based, geographic, and priority-based routing
Real-time agent monitoring
Historical reporting
IVR capabilities
CRM integrations
Pricing
NiceCXone is priced per agent per month. Cloud pricing starts at $90 per agent per month. On-premise pricing starts at $200 per agent for the starter package. Enterprise pricing is customized.
Best For
NiceCXone is best suited for midsize to large call centers needing customizable ACD features without requiring extensive omnichannel capabilities. The on-premise option offers enhanced customization.
5. Genesys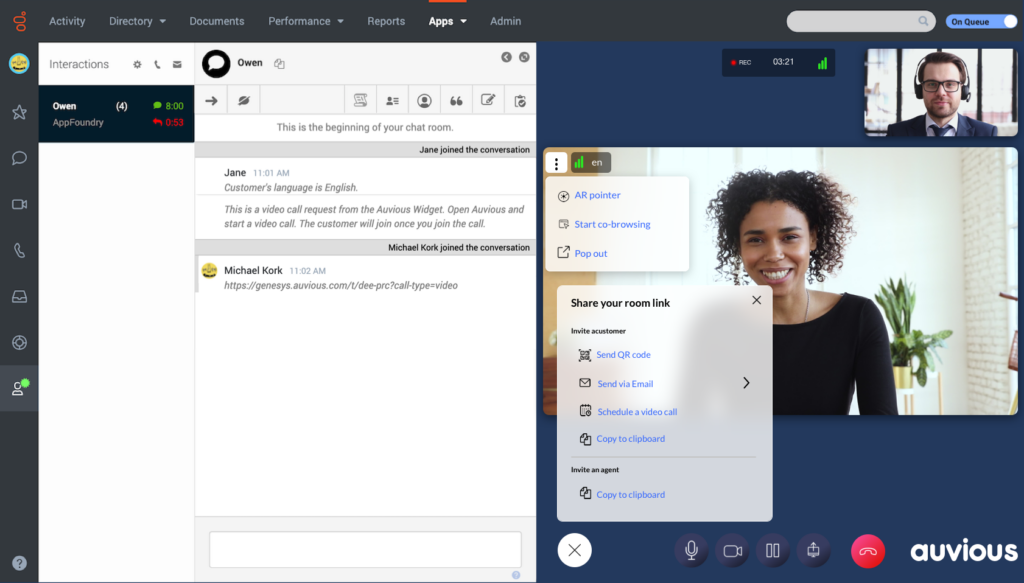 Overview
Genesys is an on-premise call center solution with robust ACD capabilities tailored for large enterprises. It offers customizable call routing, monitoring, and reporting.
Key Features
Skills-based routing
Real-time dashboards
IVR and speech recognition
Quality management
CRM integrations
On-premise deployment
Pricing
Genesys pricing is customized based on several agents, features, and deployment specifics. On-premise solutions start around $100 per agent per month with minimum commitments.
Best For
Genesys is ideal for large, complex contact centers needing an on-premise ACD system with extensive customization and enterprise integration capabilities.
6. Five9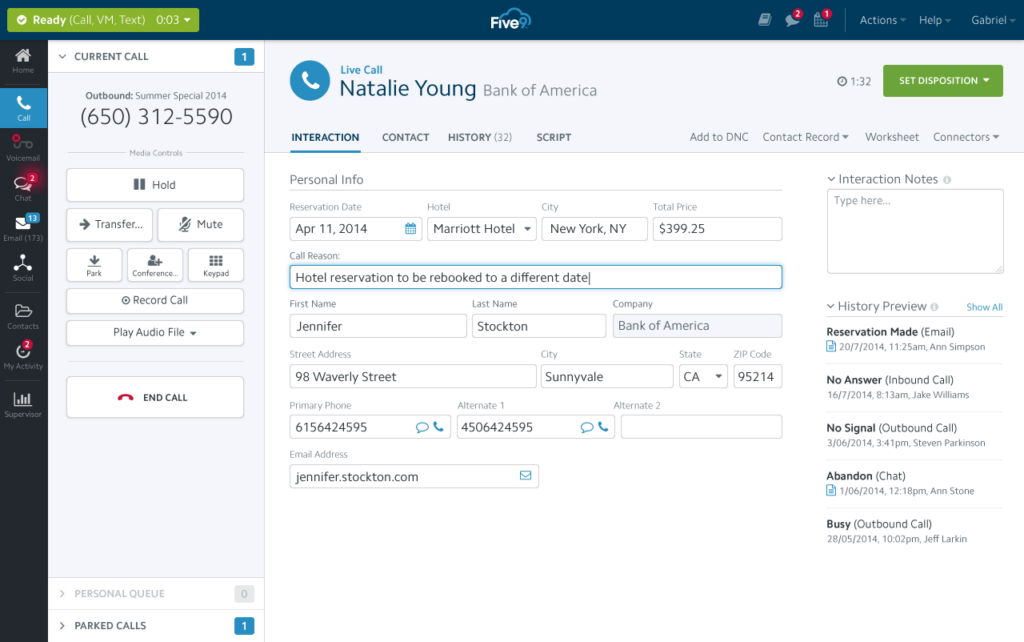 Overview
Five9 is a leading cloud contact center solution with ACD optimized for midmarket and enterprise needs. It provides adaptive routing, automation, analytics, and flexibility.
Key Features
Skills-based routing
Real-time call monitoring
Performance analytics and dashboards
APIs for customization
Omnichannel support
Mobile app for agents
Pricing
Five9 pricing starts at $35 per agent per month for the basic Professional plan. The Elite plan with added features is $50 per agent per month. Enterprise pricing is customized.
Best For
Five9 balances robust ACD capabilities with ease of use and flexibility, making it ideal for growth-oriented companies wanting enterprise-grade functionality.
7. Twilio Flex
Overview
Twilio Flex is a cloud contact center platform with ACD capabilities focused on programmability and omnichannel support.
Key Features
Skills-based routing
IVR flows
Omnichannel queuing
Real-time monitoring
Fully programmable with APIs
Integrates with Twilio Contact Center AI
Pricing
Twilio Flex pricing has three main components:
Flex Plan – $0.10 per agent hour
Minutes Usage – $0.0065 per minute
Phone Numbers – $1 per month per number
Best For
Twilio Flex is ideal for companies wanting a customizable, omnichannel contact center platform leveraging Twilio's APIs and AI capabilities. It fits advanced use cases
Frequently Asked Questions (FAQ)
Ques 1: What is the main function of an ACD system?
Ans: ACD automatically distributes high volumes of incoming calls evenly and efficiently to available agents in a call center.
Ques 2: What key information does the ACD system need to route calls?
Ans: Real-time data on the number of available agents, agent skills, individual queue lengths, wait times, and priority levels.
Ques 3: How does ACD improve customer experience?
Ans: ACD reduces wait times, quickly connects callers to skilled agents, and improves first-call resolution through optimal routing.
Ques 4: Can ACD integrate with CRM software?
Ans: Yes, leading ACD platforms integrate with top CRM systems to deliver customer data screens to agents.
Ques 5: Do ACD systems require on-premise hardware?
Ans: ACD is available in premise, hosted cloud, and hybrid models. Cloud ACD provides the most flexibility.