Fuze is a cloud-based unified communications platform that delivers enterprise voice, video, messaging, and collaboration capabilities.
Based in Boston, Fuze aims to simplify business communications by converging multiple capabilities into an intuitive, seamless user experience.
It offers a full UCaaS (Unified Communications as a Service) solution including cloud PBX, conferencing, contact center features, APIs, and more.
It enables modern remote work environments by providing seamless voice, video, and collaboration across devices.
Fuze is used by organizations across industries to enable distributed workforces and empower productivity.
The platform's focus on intuitive user experiences makes adoption seamless. It offers flexible deployment models along with global capabilities.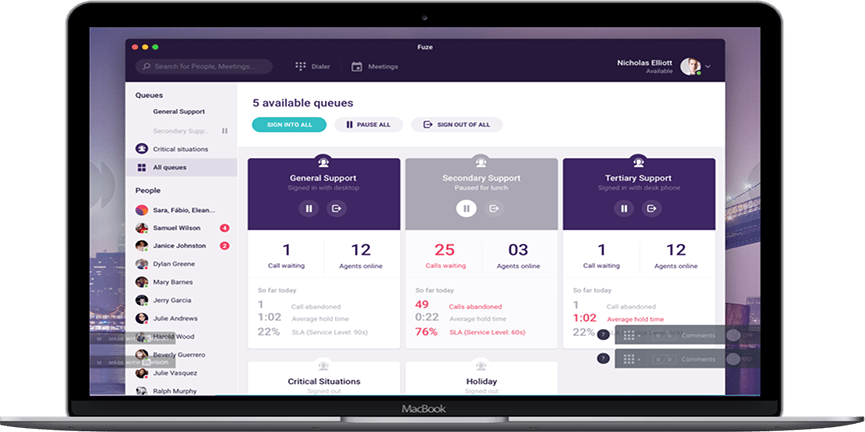 Features
1. Unified Communications
It converges voice, video, team messaging, meetings, and more onto a single platform. This simplifies business communications by bringing together different modalities into a unified experience.
The unified platform creates a consistent user experience across communication channels.
2. Cloud PBX System
It provides a full-featured, enterprise-grade cloud phone system to replace on-premises PBX.
It delivers robust PBX capabilities like auto attendants, call routing, voicemail, and call recording without the need for hosted hardware. The cloud-based system eliminates maintenance and CapEx costs.
3. Team Collaboration
Built-in team chat, document sharing, co-authoring, virtual rooms, and more features allow seamless real-time and asynchronous collaboration.
Integrates with top tools like Slack and Microsoft Teams to consolidate workflows.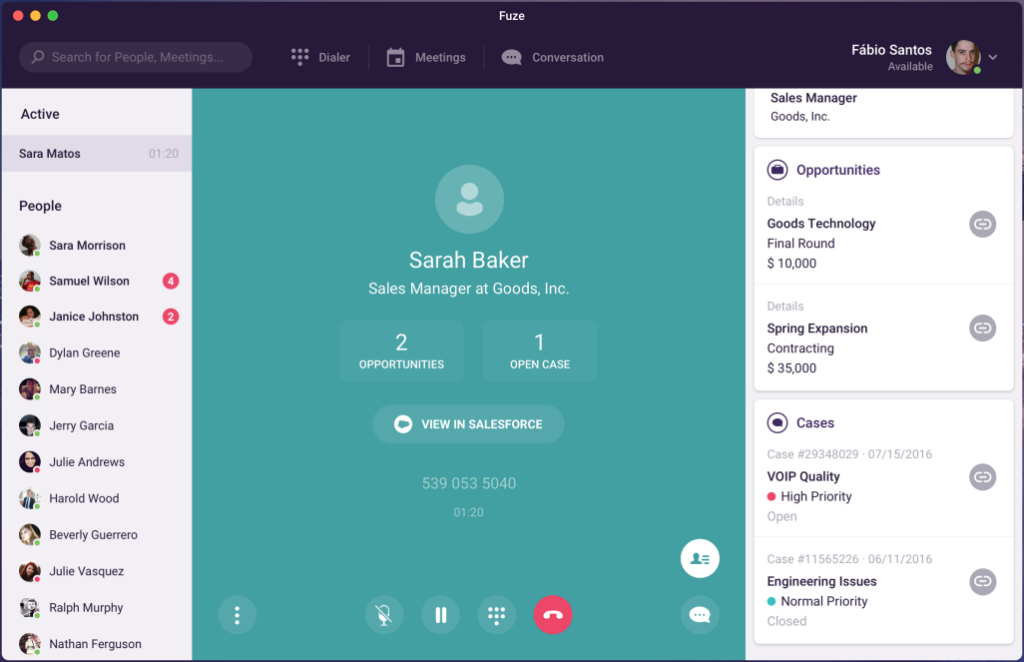 4. Contact Center Capabilities
It offers multi-channel contact center features including IVR self-service, ACD call routing, CRM integrations, call recording, omnichannel reporting, and more for modern customer engagement. Enables personalized experiences.
5. HD Video and Audio Conferencing
It enables high-definition video meetings, screen sharing, webinars, and crystal-clear audio conferencing across desktop and mobile apps.
Supports up to 1000 participants with tools like polling, Q&A, and breakouts.
6. Mobility and Desktop Apps
Native apps for iOS, Android, Windows, and Mac provide calling, meetings, chat, and collaboration capabilities consistently across devices.
Enables work anywhere without disruption.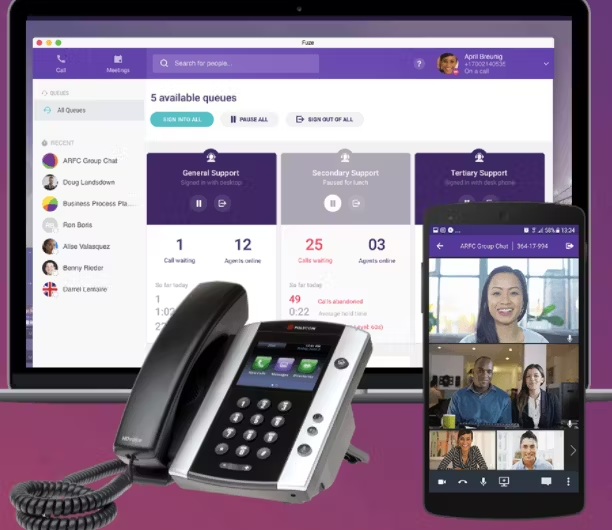 7. Hybrid Deployment Models
It supports hybrid environments blending cloud communications with existing on-premises PBX systems during gradual migration to the cloud.
Makes the transition smooth and flexible.
8. API and Customization Options
It provides APIs and customization capabilities to embed communications or customize workflows.
Zapier integration is also available to connect with business apps. Enables tailored solutions.
Use Cases for Fuze
Fuze supports a wide range of business communication needs:
1. Distributed and Remote Workforces
It enables remote employees to collaborate and communicate seamlessly across locations using messaging, voice, and video features from anywhere.
Maintains engagement.
2. Improving Customer Experience
Contact center features like IVR self-service, omni-channel routing, and CRM integrations improve customer experiences across touchpoints.
Drives satisfaction.
3. Unifying Office Communications
Organizations can standardize Fuze across messaging, meetings, phone calls, and more to simplify workflows with a single platform. Consolidates systems.
4. Facilitating Collaboration
It streamlines collaboration with integrated voice, video, screen share, chat, and virtual workspaces that facilitate teamwork regardless of location.
5. Continuity and Business Resiliency
Its cloud-based delivery and global redundant infrastructure ensure reliability and business continuity. Minimizes disruptions.
6. Global Expansion and Scaling
Usage-based pricing enables cost-effectively scaling up communications capabilities as businesses expand locally or globally. Manages growth efficiently.
7. Modernizing Legacy Systems
It enables transitioning from legacy on-premises phone systems to modern, flexible cloud communications architecture. Simplifies management.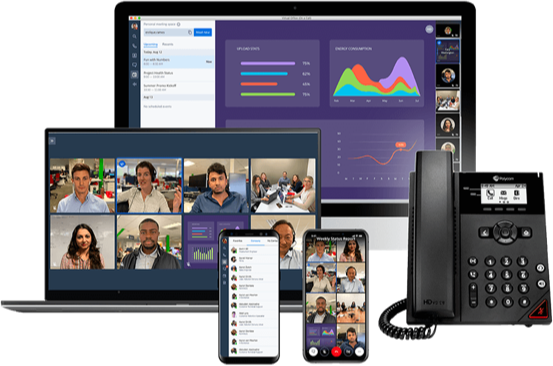 Pros
1. Intuitive User Experience
It provides an intuitive, seamless experience across voice, video, and collaboration from desktop and mobile devices. Drives adoption and productivity.
2. Global Service and Support
24/7 global technical support and account management. Local numbers are available in 100+ countries to deliver a localized experience. Ensures smooth operations.
3. Enterprise-grade Quality and Reliability
Carrier-grade voice quality and platform redundancy deliver reliable connections and crystal-clear calls. Enables seamless communication.
4. Unified Administration
It simplifies management with a single platform and admin portal across calling, meetings, contact centers, and more. Consolidates tools.
5. Flexible Deployment Models
It enables hybrid deployments, gradually migrating users from legacy PBXs to the cloud platform. Makes transition easy and low-risk.
6. Mobility and BYOD
It makes it easy for employees to use desktop or mobile apps from anywhere to stay productive on the go. BYOD friendly.
7. Open APIs and Extensibility
APIs and Zapier integration enable customizing workflows and embedding communications within business apps. Extends capabilities.
8. Unified Billing
Single usage-based billing for the entire UC suite simplifies cost management versus multiple vendors. Reduces overhead.
Cons
1. Potential Vendor Lock-In
A proprietary platform makes switching providers harder once Fuze is implemented as the core telephony system. Creates inertia.
2. Learning Curve
It has a vast range of capabilities that may require ramp-up time for administrators and end users to adopt fully. Requires training.
3. Limited Customization
Being multi-tenant, customization is less flexible compared to dedicated private cloud options. Constrains tweaks.
4. No PSTN Failover Option
It currently lacks built-in failover capabilities to cellular or other networks in case of internet outages. Limits resilience.
5. Voice Quality Inconsistencies
As Fuze expands its infrastructure, some users have experienced intermittent voice quality issues during periods of rapid growth. Quality assurance lacking.
Pricing Plans for Fuze
It uses a per-user-per-month subscription model with volume-based discounts available. Some core plans:
Unlimited – $25/user/month
For SMBs. Includes unlimited calling, 100+ participants, basic UC features, and collaboration capabilities.
Advanced – $30/user/month
Adds advanced communications features like auto-attendants, SLA commitments, expanded storage, and integration capabilities.
Enterprise – Custom Pricing
For large organizations. Includes highest specifications, dedicated support, custom integrations, and options tailored to needs.
Set-up fees start at $4 per user. Toll-free numbers, contact center seats, and other add-ons are available for additional cost. Contract terms can range from monthly to multi-year with discounts.
Alternatives of the Tool
1. CloudTalk
It provides virtual business phone systems delivered via the cloud.
Capabilities include call routing, IVR menus, voicemail to email, call recording, number porting, unlimited calling plans, and advanced integrations.
CloudTalk offers excellent audio quality and great customer support.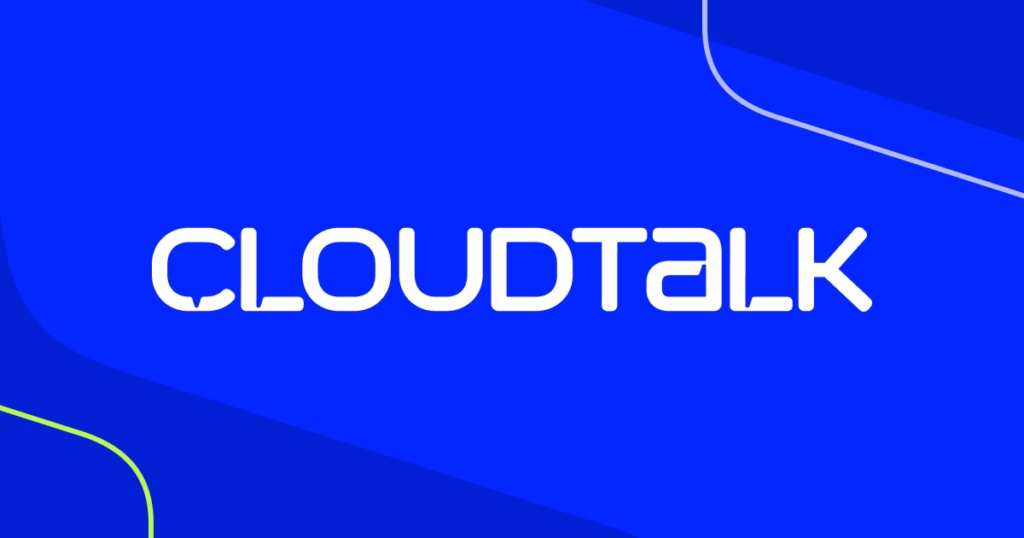 2. Phonebooth
Phonebooth is a cloud-based communications system optimized for call centers and customer support teams.
It comes with skills-based routing, real-time dashboards, quality management, speech analytics, deep integrations, and omnichannel engagement tools. Reliable and easy to use.

3. Telnyx
It offers a programmable cloud phone system and SIP trunking service.
Its telephony platform can integrate with popular business apps for capabilities like call tracking, analytics, omnichannel messaging, and contact center features.
APIs allow customization and automation.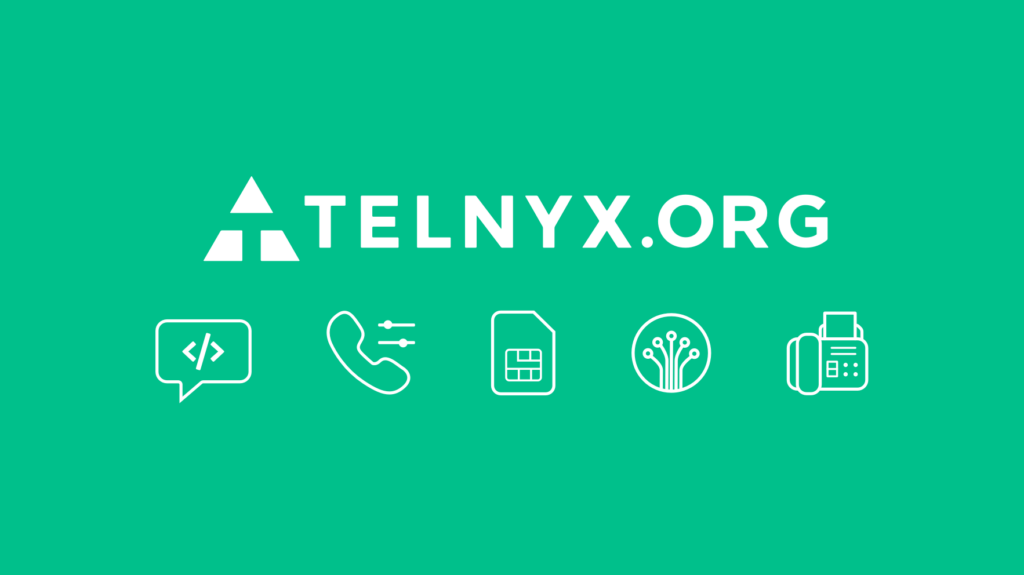 Conclusion
Fuze converges best-of-breed voice, video, collaboration, and contact center capabilities into a seamless, unified experience.
It enables the modern digital and distributed workforce with intuitive communications. For organizations looking to migrate to flexible cloud communications, It is a compelling option.
Frequently Asked Questions
Ques 1. What types of meetings can I host with Fuze?
Ans: Fuze supports instant, scheduled, and recurring voice and video meetings.
Ques 2. Does Fuze offer collaboration features besides meetings?
Ans: Yes, Fuze includes team messaging, content sharing, and task management tools.
Ques 3. Can I record meetings and share recordings in Fuze?
Ans: Yes, Fuze enables recording meetings and sharing the recordings with customizable access controls.
Ques 4. Is Fuze compliant with regulations like HIPAA and GDPR?
Ans: Fuze is compliant with major regulations including HIPAA, GDPR, and SOC 2.
Ques 5. How does Fuze handle large webinars and events?
Ans: Fuze supports webinars for up to 10,000 attendees and offers engagement tools like polls, Q&A, and breakouts.