Video conferencing has become an essential tool for communication in the modern world.
With remote work and learning becoming more common, services like Google Meet and Zoom have seen a surge in popularity.
Choosing between these two popular video conferencing platforms can be difficult.
This article compares the features, pricing, and pros and cons. Read on to find out which platform may work best for your needs.

What is Google Meet?
Google Meet is a video conferencing app developed by Google as part of their G Suite productivity platform.
Key features of Google Meet include:
HD video calling for up to 250 participants
Screen sharing so participants can collaborate on documents or presentations
Real-time captions to transcribe meetings
Secure encrypted meetings
Integration with other G Suite apps like Google Calendar, Gmail, and Google Drive
Ability to join meetings via phone dial-in
Virtual backgrounds to customize your surroundings
In-meeting chat for messaging other participants
Google Meet is included with G Suite business and education accounts.
There is also a free version with limitations on call duration and number of participants.
Overall, Google Meet focuses on easy collaboration and integration with other Google services.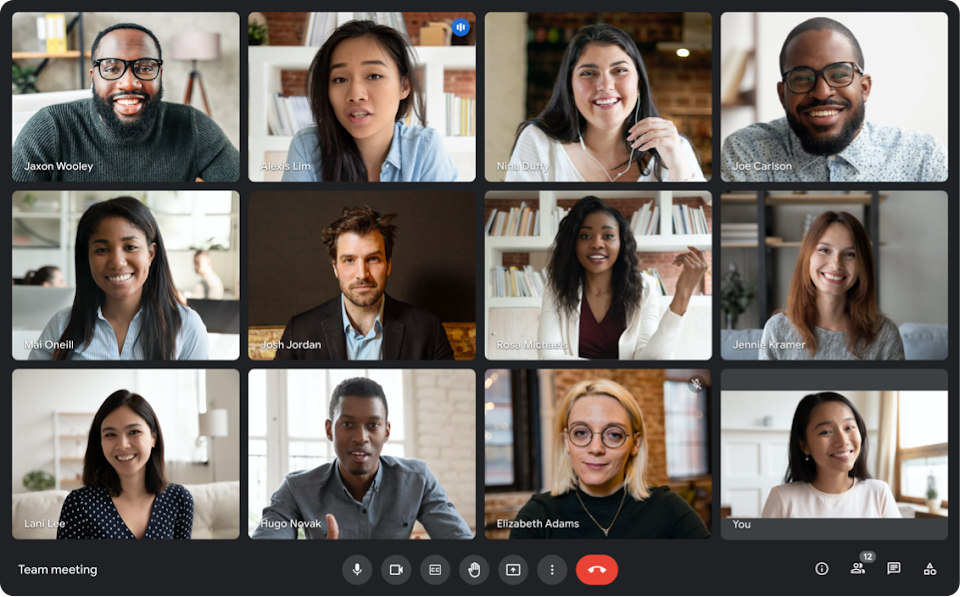 What is a Zoom Meeting?
Zoom is a web conferencing platform developed by Zoom Video Communications.
Key features of Zoom include:
HD video conferencing for up to 500 participants
Screen sharing and annotation tools
Group messaging with chat and emojis
Ability to record meetings to the cloud
Customized virtual backgrounds
Webinars with Q&A and polls for large audiences
Third-party app integrations like Slack, Dropbox, and Salesforce
Local recording to save meeting videos to your device
Touch up appearance settings to adjust lighting and remove blemishes
There are several pricing tiers for Zoom including a free basic plan.
Zoom offers robust customization for meetings and webinars beyond just video conferencing. Its wide third-party app ecosystem is a major advantage.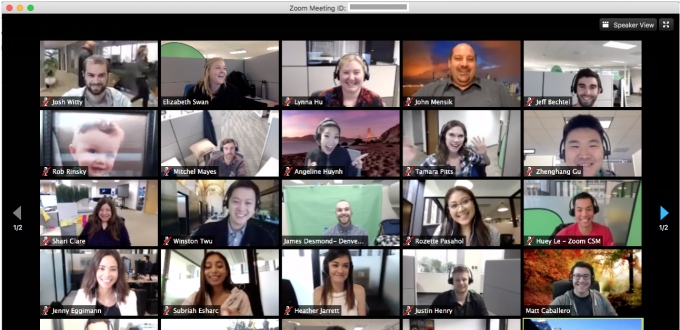 Google Meet vs. Zoom: Feature Comparison
Video-conferencing services have become essential tools for communication and collaboration in the modern workplace.
Two of the most popular platforms are Google Meet and Zoom. While both offer robust video-meeting capabilities, there are some key differences in features to consider when choosing between them.
1. Accessibility and Limits
Google Meet and Zoom aim to make video-conferencing accessible to users across devices.
Google Meet allows up to 250 participants in meetings and live streams for G Suite business users. Free users are limited to meetings with 100 participants. It can be accessed via browsers on desktops or laptops as well as mobile apps.
Zoom has more flexible participation limits, from 100 participants in free basic plans up to 1,000 for enterprise users. Like Google Meet, the Zoom platform is available as desktop and mobile apps across various devices.
Both services offer toll-free dial-in numbers for audio-only access to meetings for international participants. Zoom requires a paid account for toll-free numbers while Google Meet provides it free.
Overall, Zoom offers higher capacity limits for large meetings and webinars. Google Meet provides solid accessibility with fewer restrictions on participant numbers for business users.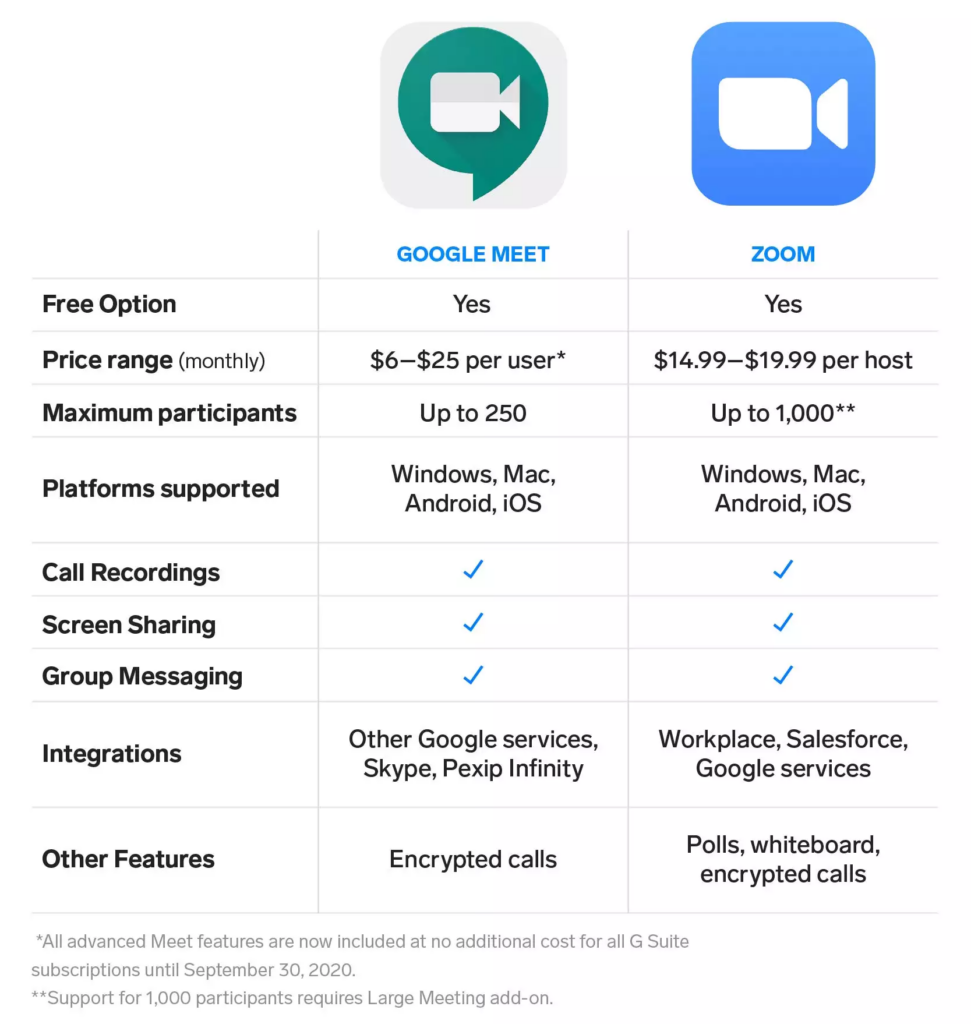 2. Scheduling and Setup
When organizing meetings and enabling participation, Google Meet and Zoom take different approaches.
Google Meet features native integration with Google Calendar for easily scheduling video meetings. Users can join meetings from calendar invites with a click. Meeting details are automatically included in Calendar invites.
Zoom needs the Zoom Scheduler add-on for direct integration with calendars. Otherwise, users copy and paste meeting details from Zoom into Calendar.
For spur-of-the-moment meetings, Google Meet allows users to launch meetings instantly from the desktop or mobile app interface. Zoom also enables quick ad-hoc meetings.
In terms of meeting setup, Zoom has more customization options. Users can tailor virtual backgrounds, layouts, and video filters. Google Meet focuses more on quick meeting launches and joining.
3. Collaboration Tools
Effective collaboration in meetings requires the right built-in tools for discussion and engagement.
Google Meet offers basic collaboration features like screen sharing, chat, real-time captions, and the ability to "pin" video feeds of specific participants. Participants can also raise their hands virtually to signal they want to speak.
Zoom provides additional tools like nonverbal feedback indicators, remote device control for tech support, and simultaneous screen sharing by multiple users. Its customizable gallery view and virtual backgrounds add production value.
When meetings require more structure, Zoom enables breakout rooms for small group discussions and has robust tools for Q&A and polls to facilitate audience participation.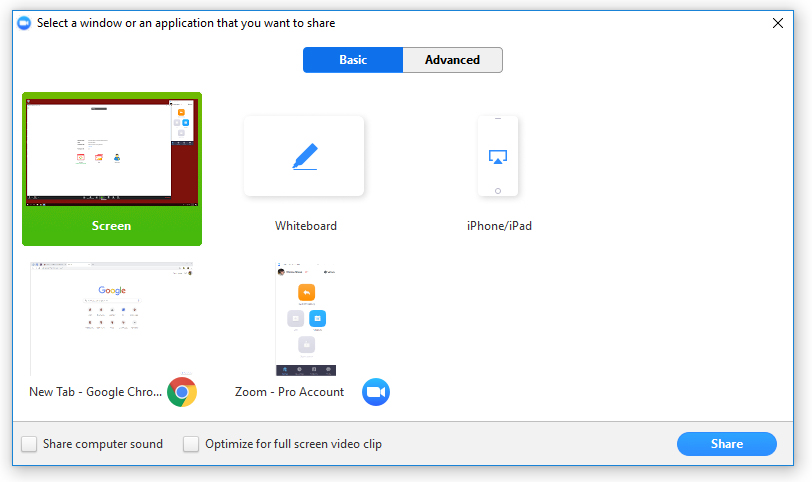 4. Meeting Management and Host Controls
For meeting hosts, keeping things running smoothly requires management capabilities like user controls and moderation tools.
In Google Meet, hosts can mute/unmute participants and end meetings when required. Basic options are available for controlling screen sharing and chat.
Zoom offers greater host control with the ability to mute individual participants, lock meetings once all attendees have joined, remove unwanted or disruptive attendees, and delegate hosting abilities.
The company continues to add advanced security controls like password protection, waiting rooms, and limiting internal chat. Zoom provides more fine-tuned management for hosts to customize meetings and participation.
5. Digital Whiteboard
Built-in digital whiteboard tools make it easy to brainstorm visually in real time during meetings.
Here Zoom has a major edge over Google Meet. Zoom includes a standalone infinite canvas whiteboard that enables collaboration for visual thinking and note-taking. Users can draw, annotate slides, and save/share whiteboards.
Google Meet currently has no native digital whiteboard feature. Users have to rely on adding third-party apps for whiteboarding functionality during meetings.
6. Live Streaming and Webinars
For organizations planning webinars, virtual events, and public live streams, both platforms enable broadcasting meetings to larger audiences.
Zoom supports webinar capabilities for up to 10,000 attendees in its top-tier plan. Webinar features like Q&A, surveys, third-party registration, and monetization via paid tickets make it easy to host engaging productions.
Google Meet recently added live-streaming for up to 100,000 viewers within domains, and support for YouTube integration. However, advanced webinar-style features are still lacking.
For maximum reach and professional webinars or events, Zoom is the better fit currently. Google Meet works for simpler live-streaming needs.
7. Reporting
Understanding meeting activity can help evaluate engagement and Return-On-Investment.
Zoom provides robust analytics through its dashboard reporting on meeting data like attendance, participation, attendee attention metrics, and other insights. Google lacks comparable deep analytics.
Zoom also enables tracking of usage across the organization at the user, group, and account levels. Google Meet only shows metrics for recordings like views.
8. Integrations
The ability to connect video-conferencing with everyday productivity tools boosts efficiency.
Being part of G Suite, Google Meet naturally integrates across Google's ecosystem including Drive, Docs, Sheets, and Slides, making it easy to access meeting resources.
Zoom offers integrations and apps for external tools like Slack, Dropbox, Salesforce, and a marketplace with hundreds of third-party add-ons. However, native integrations within its platform are weaker.
Both services have room for improvement when it comes to deep integrations and apps that help smooth end-to-end workflows.
Overall, while Zoom and Google Meet overlap for basic video-meeting needs, Zoom currently provides more advanced features, customization, and scalability while Google Meet promotes accessibility and simplicity.
Understanding their nuances allows organizations to choose the right solution based on their specific collaboration requirements
Google Meet vs. Zoom: Pricing and Plans
Google Meet and Zoom take different approaches when it comes to pricing and plans:
Google Meet Pricing
Free version with a 60-minute limit on group calls for up to 100 participants
Included with G Suite business ($6 or $12 per user per month) and education (free or $2 per user per month) accounts with a 24-hour limit on calls up to 250 participants
Additional pricing for large meetings with over 250 participants
Zoom Pricing
A free basic plan with a 40-minute limit on group meetings of up to 100 participants
Pro plan for $14.99 per month per host with a 24-hour meeting limit for up to 100 participants
Business plan for $19.99 per month per host with a minimum of 10 hosts that includes webinars and admin controls
Enterprise plans that allow more hosts and participants with customized pricing
The pricing and packages for these services align closely with their typical business use cases.
Google Meet is geared towards companies invested in G Suite while Zoom offers more flexibility for those who just need robust video conferencing.
Google Meet vs. Zoom: Pros and Cons
1. Google Meet
Pros
Free for everyone with a Google account
Unlimited meeting duration for Google Workspace users
Easy to use and intuitive interface
Integrated with other Google services like Calendar, Gmail, Drive
No participant limit on free accounts
Screen sharing and virtual whiteboard
Attendance reports and meeting recordings (for G Suite users)
Customizable virtual backgrounds
Closed captions
Good call quality and reliability
Cons
40-minute limit on group video calls for free accounts
Max 100 participants on free accounts
Limited meeting customization and controls
Fewer features than paid Zoom plans
No breakout rooms
No touch-up appearance feature
Limited meeting recording options for free users
2. Zoom
Pros
Free basic plan with 40 minute limit
Paid plans remove time limits on meetings
Support for up to 1,000 participants
Virtual background options
Customizable meeting ID
Meeting recording options
Breakout rooms for group discussions
Touch-up appearance feature
Attendance reports
Webinars and conference rooms
Easily manage participants with host controls
High-quality video and audio
Local recording option
Cons
The free version has 40 minute limit
Limited cloud recording and storage on free plans
The steep learning curve for some advanced features
Minor security and privacy concerns previously
Toll numbers are an additional cost
Paid plans can get expensive for large teams
Overall, Google Meet is easier to use out of the box while Zoom has more robust features and customization for power users.
For basic video meetings, Google Meet is likely sufficient as a free solution while Zoom offers more controls and flexibility, especially for larger meetings.
Alternatives to Google Meet And Zoom
Google Meet and Zoom are not the only options for video conferencing. Here are some other notable alternatives:
1. Microsoft Teams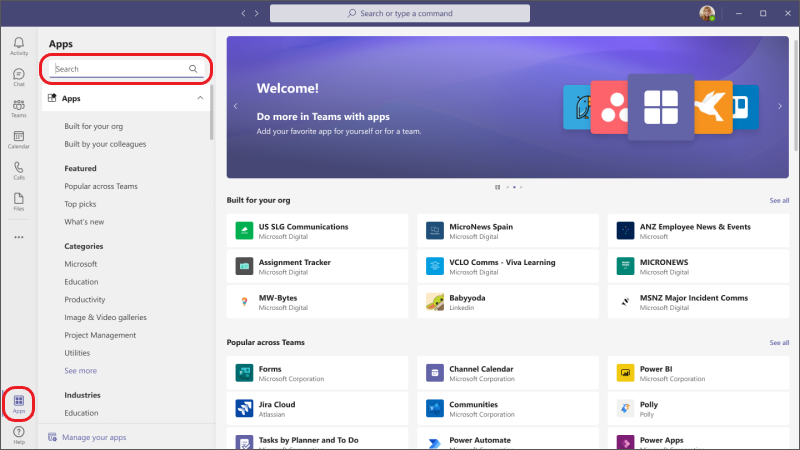 Overview
Microsoft Teams is a unified communication and collaboration platform that combines persistent workplace chat, video meetings, file storage, and application integration.
It is a part of the Office 365 suite and integrates well with other Office apps.
Features
Video conferencing for up to 250 participants with screen sharing and recording options.
Customizable virtual meeting rooms for ad-hoc or scheduled meetings.
Built-in chat and channels for ongoing conversations and collaboration.
File sharing and cloud storage integration with SharePoint and OneDrive.
Tight integration with other Office apps like Word, Excel, PowerPoint, and Outlook.
Flexible meeting options like lobby, virtual backgrounds, live captions, and attendance reports.
Pricing & Plans
The free version allows unlimited chat and searching through the last 10,000 messages.
Office 365 Business Essentials: $5/user per month with online meetings for up to 300 participants.
Office 365 Business Premium: $12.50/user per month with meetings for up to 10,000 participants.
Custom enterprise plans are also available.
2. Skype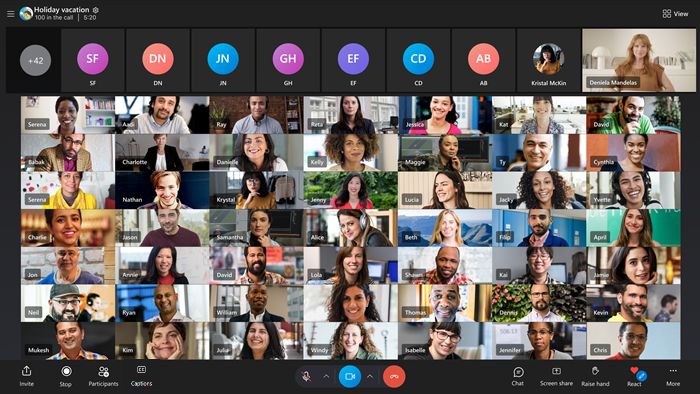 Overview
Skype is an instant messaging app by Microsoft that also provides video conferencing features. It has both free and paid versions for personal and business use.
Features
One-on-one HD video calling for up to 50 people.
Screen sharing on video calls along with virtual backgrounds.
Group chats with up to 300 people via text, voice, or video.
Real-time messaging and file-sharing capabilities.
Call recording and meeting transcriptions (paid versions).
Integration with Outlook and Office 365 calendars.
Pricing & Plans
Free version for personal use with 60 minutes of group video calling per day
Skype for Business plan at $2/user per month with 300 participant video conferences.
Enterprise plan custom pricing with advanced controls, analytics, and phone system integration.
3. Cisco Webex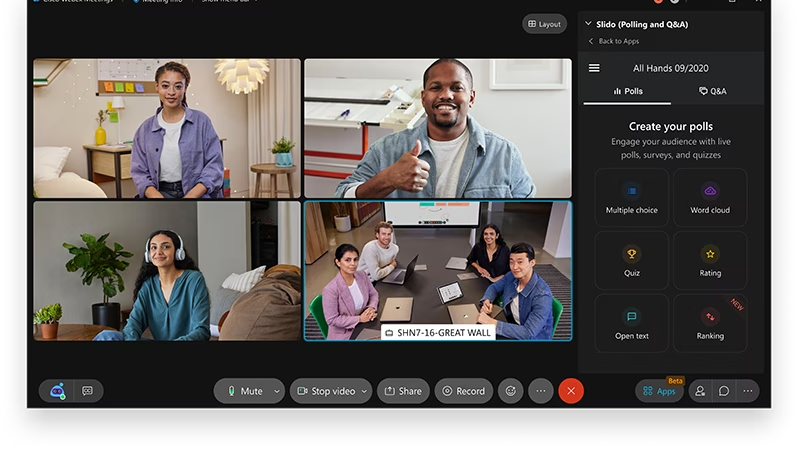 Overview
Cisco Webex is a business-focused video conferencing and online meeting solution with advanced security features and global network support.
Features
Meetings with up to 1,000 participants with screen sharing and recording options.
Customizable meeting rooms with dedicated URLs and personal meeting IDs.
AI-powered background noise reduction and speech enhancement tools.
Enterprise-grade security and compliance standards adherence.
Global network with data centers for low-latency connectivity.
Integrations with leading business apps like Slack, Microsoft Teams, etc.
Pricing & Plans
Free plan for meetings with up to 100 participants and a 40-minute limit per meeting.
The pro plan starts at $13.50 per host per month billed annually with meetings for up to 1,000 participants.
Business plan custom-priced for larger enterprises with advanced analytics, management, and global support.
4. Zoho Meeting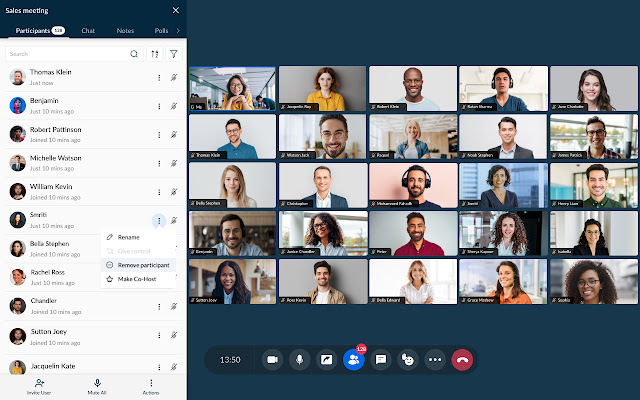 Overview
Zoho Meeting is a video conferencing and webinar solution from Zoho that is easy to use and filled with collaboration tools.
Features
Meetings with up to 100 participants and webinars for up to 1,000 attendees.
Browser-based access and mobile app options for joining meetings.
Screen sharing, co-browsing, whiteboard, and other collaboration tools.
Recurring meeting schedules, calendar integrations, and meeting recordings.
Virtual backgrounds, waiting rooms, and host controls for engaging meetings.
Pricing & Plans
Free version for meetings with up to 3 participants without time limits.
The pro plan starts at $8 per host per month billed annually for 100 participant meetings and webinars.
Business and enterprise plans are available with additional advanced features.
5. Whereby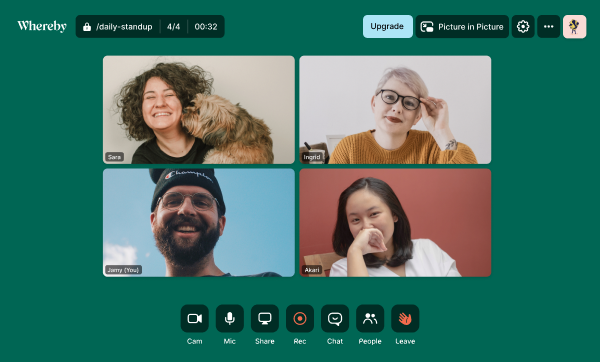 Overview
Whereby offers browser-based video conferencing that requires no logins, downloads, or signups to join meetings.
Features
Instant meetings via shareable custom URLs or room links.
Screen sharing for presentations and collaboration.
Chat messaging for engagement during meetings.
Virtual backgrounds to customize video appearance.
Basic meeting controls for hosts like mute all and lock rooms.
Custom branding options for business accounts.
Pricing & Plans
Free plan for meetings with up to 12 participants without time limits.
The pro plan starting at $9.99 per host per month billed annually allows meetings with up to 50 participants.
The business plan starts at $19.99 per host per month with unlimited participants and advanced features like polls, annotations, and recording.
When evaluating alternatives, consider factors like number of participants, device support, pricing, and ease of use.
For basic video conferencing, many alternatives like Microsoft Teams and Webex can get the job done.
Google Meet and Zoom excel in their specific strengths around accessibility and customization respectively.
Conclusion
Google Meet and Zoom offer robust solutions for video calling, presentations, and online meetings.
For businesses investing in G Suite, Google Meet is a dependable and secure option tightly integrated with other Google products.
Organizations that need webinars and customization will benefit more from Zoom and its third-party integrations.
Consider the pricing, number of participants, and specific features your use case requires when deciding between these two video conferencing leaders.
With remote work expanding, services like Meet and Zoom will only grow in importance as the modern way to communicate, collaborate, and connect.
Frequently Asked Questions (FAQ)
Ques 1: Which offers better security and privacy?
Ans: Google Meet features enterprise-grade security compliance and is safer for companies handling sensitive data.
Zoom has had some privacy issues but has added features like password protection and waiting rooms to improve security.
Ques 2: Can you record meetings on Google Meet and Zoom?
Ans: Yes, both services allow cloud recording of meetings. Zoom also offers local recording to your device which Meet does not.
Ques 3: How many people can join a meeting?
Ans: Google Meet allows up to 250 participants while Zoom allows up to 500 participants on their paid plans. The free versions allow up to 100.
Ques 4: Is there a time limit on meetings?
Ans: The free versions of Meet and Zoom have 60-minute and 40-minute limits respectively. Paid plans allow meetings up to 24 hours.
Ques 5: Which service has better uptime and reliability?
Ans: Google Meet and Zoom typically have excellent uptime in the high 99% range. Zoom has faced some outages but overall both are reliable for business use.