A PBX (private branch exchange) system is a business phone system that enables advanced telephony features beyond a simple telephone line.
PBX systems allow you to route calls internally, set up interactive voice menus, record calls, and integrate with other business applications.
Historically, PBX systems were proprietary hardware boxes but in today's VoIP era, most PBX platforms are software-based.
Open-source PBX platforms have emerged as a popular option – combining the flexibility and cost savings of open-source software with enterprise-grade telephony features.
In this guide, we will take an in-depth look at leading open-source PBX platforms including their features, pros and cons, and ideal use cases.
TheBest Open-Source PBX Software
1. Asterisk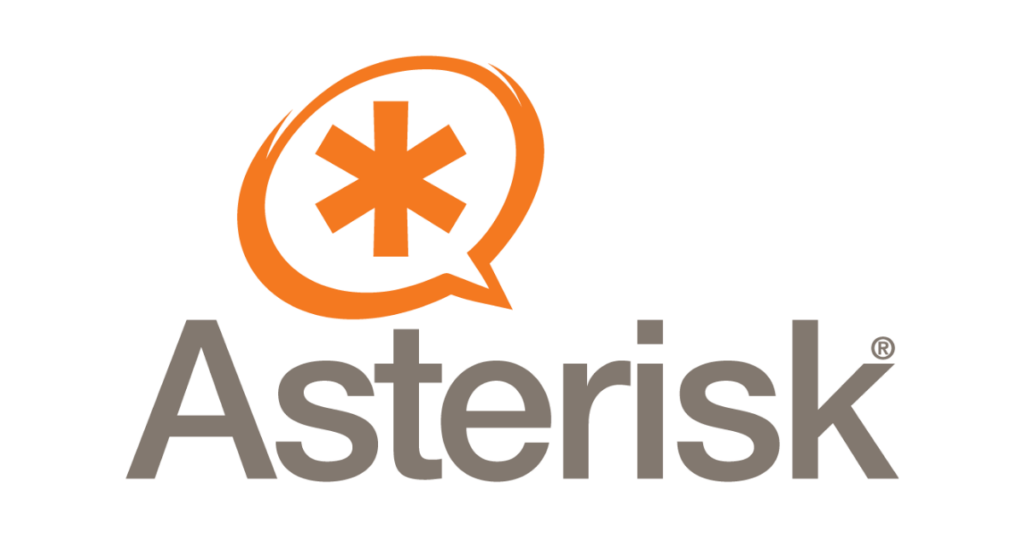 Asterisk is one of the most widely used open-source PBX platforms, with an estimated install base of over 1 million active systems.
It is developed and maintained by Digium as part of the Asterisk project. The software is available for free under the GNU GPL license.
Asterisk enables you to convert an ordinary computer into a full-featured communications server.
It is built around a modular architecture that allows extensive customization and integration with external apps. Powerful dial plan scripting controls call routing and IVR flows.
Features
Supports a wide range of VoIP protocols including SIP, H.323, IAX2, and MGCP for maximum compatibility.
Real-time call routing, switching, and transcoding between formats and protocols.
Voicemail, conference calling, call parking, call queues, and interactive voice response (IVR).
Built-in auto-attendant with dial-by-name directory lookups.
Easy integration with CRM, ERP, databases, and other external systems.
Highly customizable and programmable using easy-to-learn dial plan scripts.
Pricing & Support
The core Asterisk software is entirely free to download, install, and configure without any licensing costs.
You can get community-based support through official forums and IRC channels.
Paid support subscriptions are available through Digium starting at $99 per year for the basic plan. This includes access to Digium support engineers and the latest Asterisk updates.
Pros
Completely free and open source. No licensing fees or proprietary vendor lock-in.
Very flexible and scalable. Can be deployed for small businesses up to large multi-national enterprises.
Backed by a large open-source community for support, add-ons, and documentation.
Regular releases with new features, security updates, and bug fixes.
Cons
Can have a steep learning curve for initial configuration and management.
Requires in-house technical expertise for long-term administration and troubleshooting.
Lacks a polished user interface compared to commercial PBX solutions.
Ideal Use Cases
Asterisk is a great choice for businesses that want a fully open-source PBX system with extensive functionality and no recurring license fees.
The flexibility makes it suitable for a wide range of use cases:
Small businesses – Asterisk provides enterprise-grade features without expensive proprietary appliances. It can scale up as needed.
Custom solutions – Development teams can leverage Asterisk to build custom telephony apps and IVRs.
Large enterprises – Asterisk has been proven to scale to tens of thousands of extensions and supports redundancy.
Hosted PBX providers – The modular architecture allows easy multi-tenant deployments.
If you have access to technical resources capable of administering Linux systems and networking infrastructure, Asterisk can provide a very robust PBX foundation with unlimited potential for customization down the road.
2. FreeSWITCH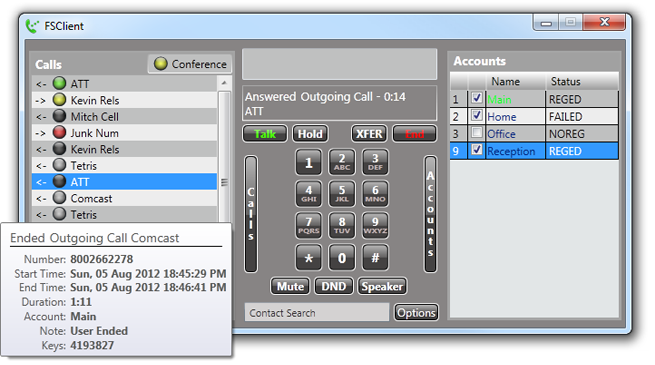 FreeSWITCH is an open-source telecommunications platform designed for building voice, chat, video, and other communications solutions.
It provides a solid foundation for constructing PBX systems, IVR menus, VoIP gateways, and more.
FreeSWITCH focuses on modular flexibility and high performance. It uses a multi-threaded event-driven architecture to juggle multiple simultaneous calls and offers almost unlimited scalability.
The platform supports a wide range of codecs, protocols, and APIs for interoperability.
Features
Very flexible session control for managing and transitioning telephony calls.
Native bridging allows multi-party conference calls and switching between callers.
Supports a wide range of audio/video codecs and protocols including SIP, WebRTC, Skype, and more.
Powerful scripting and programming interfaces for developing custom logic in Lua, JavaScript, Perl, Python, and others.
Exposes APIs for call control, IVR menus, voicemail, text messaging, and other common use cases.
Can act as a gateway for integration with classic PSTN, PBXs, and mobile networks.
Pricing & Support
As open-source software, FreeSWITCH is entirely free to download and use without any license fees.
Paid commercial support subscriptions are available through third-party companies that sponsor and contribute to the FreeSWITCH project.
Pros
Extremely scalable and reliable. Can handle huge call volumes across distributed deployments.
Very modular internally making it flexible and customizable.
An active open-source community providing add-ons and documentation.
No vendor lock-in since everything is open source.
Cons
Can have a steep learning curve initially. Not as plug-and-play as commercial PBXs.
Requires expertise to configure and customize a production system.
Voice quality and stability rely heavily on network conditions and hardware.
Ideal Use Cases
The high scalability and flexible programming interfaces make FreeSWITCH suitable for:
Carriers or ITSPs need a VoIP switch infrastructure.
Developers wanting to build custom telephony applications.
Large enterprises that require robustness and redundancy.
Companies offering hosted or multi-tenant PBX services.
FreeSWITCH gives you the core building blocks for assembling a communication system tailored exactly to your needs.
For those with complex requirements and in-house expertise, FreeSWITCH can provide major cost savings over commercial solutions.
3. Elastix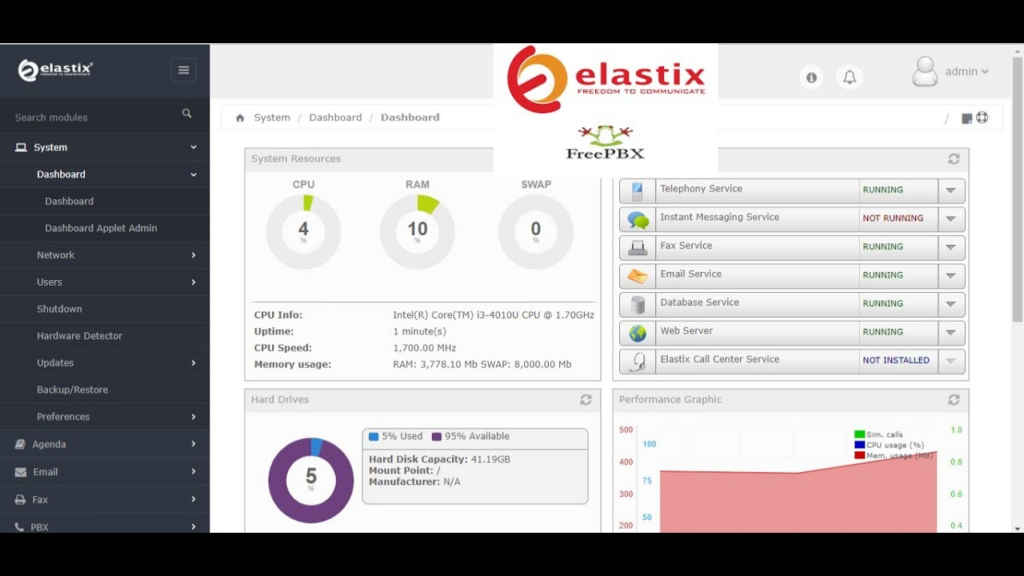 Elastix is an open-source unified communications server software based on 3 major open-source projects:
Asterisk for the IP-PBX core engine
HylaFAX for enterprise fax server capabilities
Openfire for instant messaging and collaboration
This bundling together of leading open-source communication projects makes Elastix an attractive option for small to medium-sized organizations.
It brings together all the functionality needed for a modern phone system under one simple web interface.
Features
Unified communications including PBX, voicemail, conferencing, and faxing.
Instant messaging, group chat, and presence via integrated Openfire server.
Intuitive web-based GUI for admin makes management easy.
Built-in secure communications with SIP TLS and SRTP encryption.
Low resource consumption runs well on commodity hardware.
Interoperability with a wide range of IP phones, softphones, and trunks.
Pricing & Support
As an open-source project, Elastix can be downloaded and deployed for free without any licensing costs.
Free community support is available through forums and wikis. Commercial-grade support is offered by third-party companies for a fee.
Pros
Very easy to install and manage compared to raw Asterisk.
Bundles all the essential apps and tools for a phone system.
Great for small to medium businesses and offices.
A low-cost way to get enterprise-level communications.
Cons
Limited scalability compared to large carrier systems.
Dependent on the project's release cycles for updates.
Less flexible compared to pure open-source components.
Ideal Use Cases
Elastix hits the sweet spot for:
Small businesses that want a full-featured phone system.
Companies that need unified communications beyond just a PBX.
Organizations without dedicated IT resources to manage separate tools.
For these customers, Elastix delivers a VoIP phone system with built-in conferencing, fax, and messaging – all neatly wrapped up and easy to manage through the web GUI.
4. FreePBX

FreePBX is an open-source GUI interface that manages and configures the powerful Asterisk PBX.
It provides an easy-to-use administrative interface for setting up and controlling your phone system without needing deep technical skills.
Think of FreePBX as a front-end for accessing the advanced features already built into Asterisk.
You still need to have Asterisk installed, but FreePBX makes it much more accessible to administrators through the web.
Features
Simplified interface for initial setup of extensions, trunks, routes, etc.
Easy-to-use control panel for administrators to make changes on the fly.
Configuration wizards for setting up call routing, IVR, voicemail boxes, and more.
Seamless integration with popular SIP telephony devices.
Add-on manager for installing plugins and commercial modules.
Multi-language support for global deployments.
Pricing & Support
The core FreePBX platform is 100% open source and free.
Paid commercial modules are available from Sangoma to add more enterprise-level features. Paid professional support subscriptions are also available if desired.
Pros
A streamlined way to set up and manage Asterisk.
Great for users less familiar with Linux administration.
Active development community behind the project.
Commercial modules are available if more features are needed.
Cons
Still requires setup and management of the underlying Asterisk instance.
Paid modules can add up in cost for large deployments.
Less flexibility compared to editing Asterisk configs directly.
Ideal Use Cases
FreePBX is a great choice for:
SMBs that want an easy-to-use phone system interface.
Companies with less technical resources to devote to telephony.
Organizations that prefer a commercial support option.
Asterisk power users who still want a control panel for quick changes.
If you need the advanced capabilities of Asterisk but don't have an army of Linux gurus to manage it full-time, FreePBX can provide the usability layer on top.
5. YATE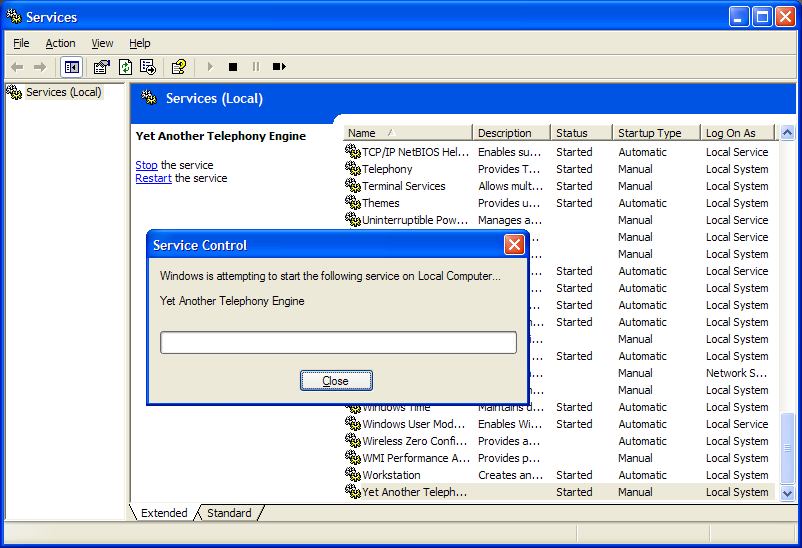 YATE (Yet Another Telephony Engine) is a modular open-source VoIP PBX built using the Enhanced Nethack Telephony Interface (ENTI) framework.
It uses a lightweight stand-alone architecture optimized for speed and efficiency rather than being a fully featured PBX system.
The modular design allows features to be flexibly added or removed as needed for custom solutions. YATE has been ported to run on Linux, BSD, and other UNIX-based operating systems.
Features
Built-in SIP registrar and proxy server for VoIP calls.
IVR module for interactive voice response menus.
Voicemail and call recording modules available.
Real-time billing and routing capabilities.
Can send and receive SMS messages.
APIs for building custom telephony applications.
Pricing & Support
YATE is available for free under the GPL open-source license. There is community-based support available through forums and the project wiki. Paid support plans are offered by some commercial partners and consultants.
Pros
Very lightweight and efficient compared to large PBXs.
Flexible for creating custom telephony solutions.
Can connect to standard SIP desktop and mobile clients.
Runs well on low-resource machines like Raspberry Pi.
Cons
Not a full PBX replacement for large enterprises.
Configuration requires editing text config files.
Limited documentation and lack of GUI interface.
Ideal Use Cases
YATE is a solid open-source option when you need:
Very customizable IVR trees and call flows.
To build specialty VoIP apps and services.
An efficient SIP server to use with softphones.
A low-resource PBX for niche deployments.
The modular architecture makes YATE great for assembling just the features you need without bloat. It brings flexibility without the overhead of larger PBX platforms.
6. FusionPBX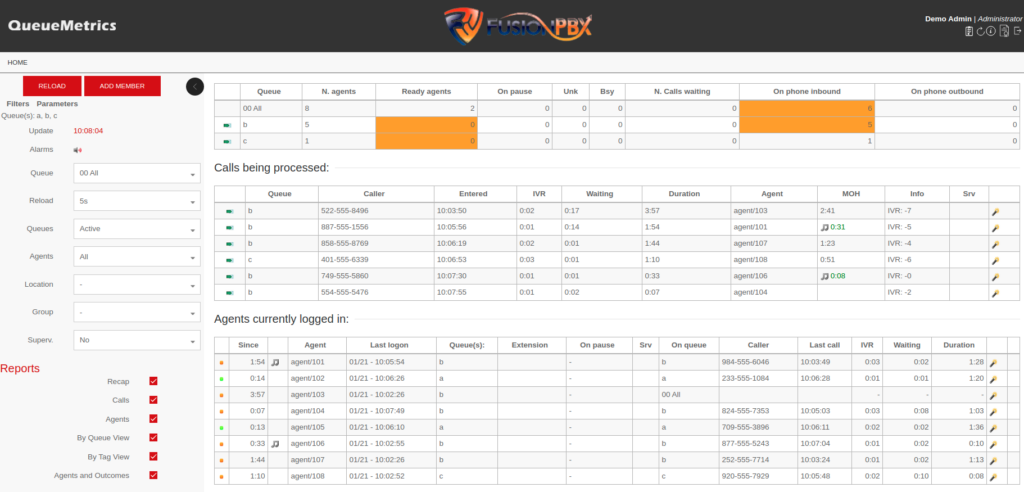 FusionPBX is an open-source project that builds an administration GUI on top of the powerful FreeSWITCH telephony engine.
It provides a way to visually manage FreeSWITCH and build custom dial plans through easy-to-use configuration menus.
FusionPBX leverages the robustness and flexibility of FreeSWITCH to deliver carrier-grade performance suitable for large enterprises.
At the same time, the intuitive web interface and redial plans make it accessible to IT staff without specialized telecom experience.
Features
Easy-to-use web interface for admins with intelligent display builder.
Extension management, ring groups, call queues, parking orbits.
Voicemail with message waiting indicator and email integration.
Music on hold support with customizable recordings.
Real-time monitoring, alerts, and reporting.
Highly scalable for distributed deployments.
Pricing & Support
FusionPBX can be downloaded from the project website and deployed for free. Paid commercial support plans are available that include training, software updates, and expert assistance.
Pros
Combines the power of FreeSWITCH with an intuitive GUI.
Great for large and distributed telephony deployments.
Very active development community behind the project.
Avoids vendor lock-in by using open-source components.
Cons
More complex to install and manage than an out-of-the-box PBX appliance.
Requires expertise with FreeSWITCH and FusionPBX concepts.
Needs adequate hardware resources to handle large call volumes.
Ideal Use Cases
FusionPBX is ideal for:
Large enterprises that need a customizable PBX.
Service providers offering multi-tenant UCaaS.
Companies with in-house VoIP engineering skills.
Organizations want scalability without vendor lock-in.
For high call volume environments with requirements for customization, FusionPBX paired with FreeSWITCH can deliver an extremely robust telephony platform.
7. Zulu UC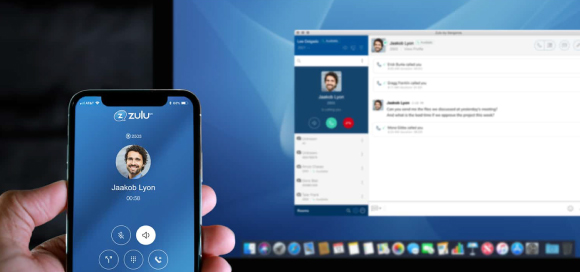 Zulu UC is an enterprise-grade unified communications suite that offers video conferencing, instant messaging, presence control, and PBX functionality in a single open-source platform.
It was developed by Sangoma and uses OPAL as the core library for signaling and media handling.
Zulu UC provides an integrated alternative to maintaining separate tools for calling, chatting, meetings, and collaboration.
Features
Unified communications server with SIP registrar for extensions.
Enterprise PBX features like ring groups, call routing, and interactive voice menus.
Instant messaging, presence control, and group chat.
Audio/video conferencing with content sharing.
Visual voicemail integrated with email and mobile.
Pricing & Support
Zulu UC is available as a free open-source download. Paid professional service plans are available from Sangoma and include setup assistance, enterprise integration, and multi-year support.
Pros
Combines PBX calling with chat, video, and collaboration.
Good enterprise functionality like provisioning and SSO integration.
Individual components can be swapped out if needed.
Available as a pre-configured virtual appliance.
Cons
Complex initial installation with multiple dependencies.
Not as intuitive as commercial UC solutions.
Requires expertise to manage long-term and troubleshooting.
Ideal Use Cases
Zulu UC is a good fit for:
Organizations that want an open source alternative to Cisco or Microsoft.
Businesses require integrated voice, chat, conferencing, and collaboration tools.
Companies with in-house skills to handle installation and management.
Enterprises concerned about vendor lock-in or recurring license fees.
Zulu UC brings together a full suite of unified communications capabilities into a modular, customizable, and open-source platform.
Conclusion
Open-source PBX systems like Asterisk, FreeSWITCH, and FusionPBX offer a flexible and cost-effective alternative to closed proprietary solutions.
The availability of paid support and GUI interfaces help provide accessibility for different experience levels.
For many organizations, the benefits of no recurring license fees, source code access, and community-driven development outweigh the additional in-house expertise required.
The seven options reviewed each cater to slightly different use cases and requirements. Hopefully, this overview gives you a starting point to compare how open-source PBX software could meet your business phone system needs.
Frequently Asked Questions (FAQ)
Ques 1. What are the main advantages of using an open-source PBX?
Ans. The main advantages of open-source PBX platforms include lower costs since there are no per-user licensing fees, greater flexibility due to open standards and modularity, and avoiding vendor lock-in that forces you to stay with a single product.
Open-source PBX systems can also be highly customized for specific use cases.
Ques 2. What level of technical expertise is required to manage open-source PBX solutions?
Ans. Most open-source PBX platforms require strong Linux and networking knowledge to install and manage them long-term.
Some options like FreePBX make the core system easier to administer without deep technical skills, but you still need IT staff capable of troubleshooting issues on the underlying Linux OS and network infrastructure when they arise.
Ques 3. How does call quality compare between open-source and proprietary PBX systems?
Ans. When deployed on proper hardware and network infrastructure, open-source PBX platforms can deliver call quality equivalent to proprietary systems.
The software itself is not inherently less reliable but does require expertise to optimize performance for your environment.
Ques 4. Is it possible to get commercial-grade support for open-source PBX platforms?
Ans. Yes, many open-source PBX projects offer paid commercial support and service plans through partners.
This provides access to expert assistance and guaranteed response times when issues occur. Companies like Digium and Sangoma offer supported enterprise versions of open-source PBX software.
Q5. What are some limitations of open-source PBX systems?
Ans. Potential limitations include the lack of polish and intuitiveness compared to commercial GUIs, the reliance on community support which can be hit or miss, and the requirement for in-house technical resources.
Open-source PBX tools may also not be suitable for customers wanting an end-to-end turnkey solution from a single vendor.