Voice over Internet Protocol (VoIP) phones are slowly replacing traditional landline phones in homes and businesses.
A VoIP phone uses the internet to make and receive calls instead of relying on a phone line.
This allows for cheaper call rates, more features, and greater flexibility. With a VoIP phone system, calls are converted into data packets and transmitted over the internet.
A VoIP phone looks and works just like a regular phone but it connects through an ethernet cable or WiFi.
In this article, we will discuss what a VoIP phone is, how it works, the differences between VoIP and landline systems, the features of VoIP phones, the benefits of using VoIP phones, and some of the best VoIP phones available.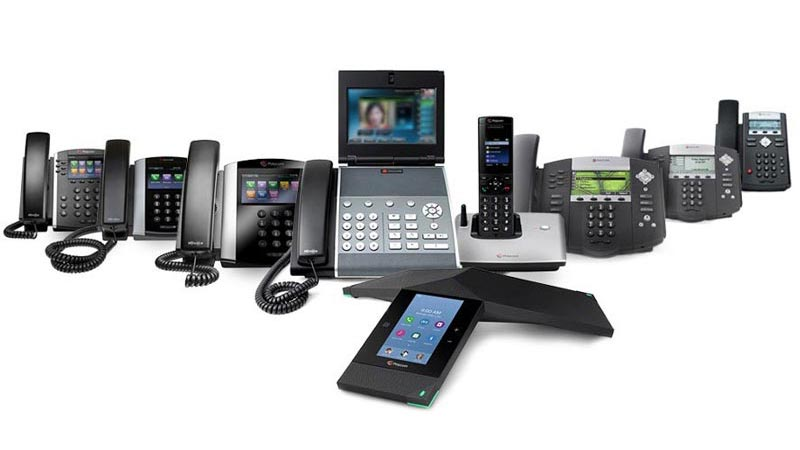 How Does a VoIP Phone Work?
VoIP phones work by converting analog audio signals like your voice into digital data that can be transmitted over the internet.
Here is a more detailed 10-step overview of how VoIP phones work:
Your voice is picked up by a microphone on the VoIP phone and converted into an analog audio signal.
The analog audio signal is digitized through a process called encoding or codecs. Popular codecs used include G.711, G.729, and G.722.
The codec converts the analog signal into a digital signal using pulse code modulation.
The digital signal is further compressed to optimize transmission speed. Compression removes any silence periods.
This compressed digital signal is then split up into small packets of data that contain audio information.
These packets also contain addressing information like the IP address of the destination to route the call.
The packets are placed into data frames which add additional protocol overhead like sequence numbers.
The data frames are transmitted from your VoIP phone over your high-speed internet connection using IP (internet protocol).
At the other end, the data packets are reassembled based on the sequence numbers.
The digital signal is decompressed, decoded back into an analog signal, and played through the recipient's phone.
VoIP Phone Systems vs. Traditional Phone Systems
There are some key differences between VoIP phone systems and traditional analog PBX phone systems:
Infrastructure: VoIP systems rely on your existing internet connection and IP networks while traditional PBX systems require the phone company's PSTN infrastructure of landlines, switches, and copper wiring.
Cost: VoIP systems only require an internet connection and typically cost much less compared to traditional PBX systems. The monthly service costs are 50-75% lower and there are little to no hardware setup costs.
Scalability: It's easy to add and remove lines with VoIP since it's all software-based. VoIP servers can handle thousands of lines and calls. In contrast, scaling a traditional PBX system requires expensive hardware upgrades.
Mobility: VoIP systems allow seamless call transition between desktop IP phones, laptop softphone apps, and mobile apps. Calls can be moved across locations and devices. Traditional PBX systems are less flexible.
Advanced Features: VoIP systems come with a host of built-in features like auto-attendants, call routing, conferencing, voicemail to email, call analytics, and more. Most of these features cost extra with traditional PBX systems.
VoIP Phone 5 Key Features
VoIP phones offer some great features and capabilities beyond just making and receiving calls. Here are 5 of the top features and abilities of VoIP phones:
1. Superior Call Quality
VoIP calls use wideband codecs like G.722 to deliver superb sound quality. This results in very clear and natural-sounding calls.
The HD sound technology minimizes background noise for crisp conversations that are often better than landlines.
2. Advanced Telephony Features
VoIP systems come with a whole suite of advanced calling functions through software features.
These include auto attendants, find/follow me call routing, music & messages on hold, call forwarding, ring groups, call queues, and much more.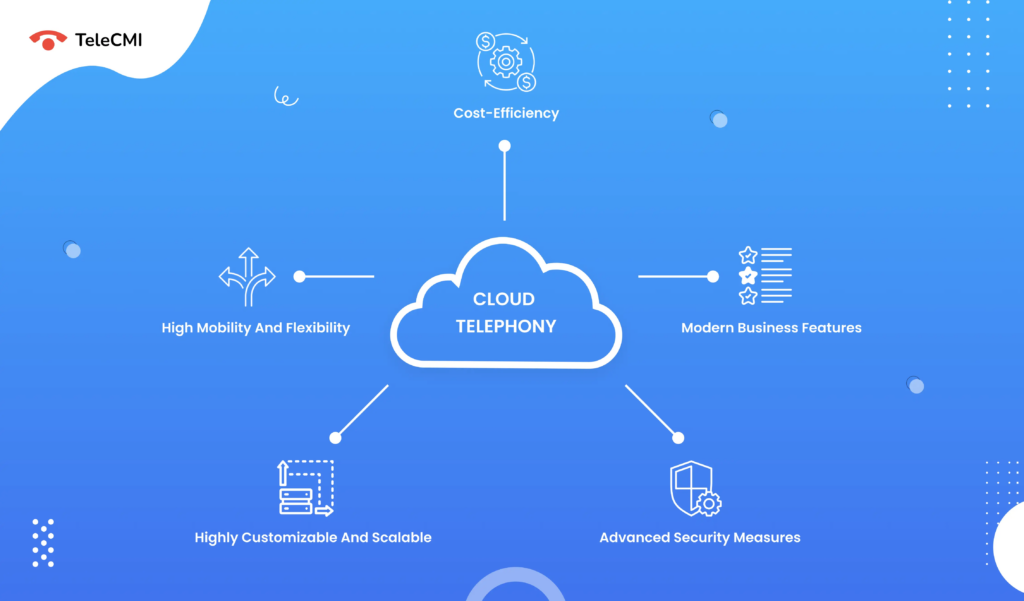 3. Cost Savings
Using VoIP allows businesses to save as much as 50-75% on monthly phone bills compared to traditional PBX phone lines.
Free VoIP eliminates extra charges for long-distance calls and phone line features. International calls are very cheap on VoIP.
4. Device Support & Flexibility
VoIP supports a wide range of devices – desk IP phones, computer softphones, smartphone apps, and bridging existing analog phones.
Users have maximum flexibility to use their VoIP system anywhere through an internet-connected device.
5. Easy Scalability
It's easy to scale up or down the number of phone lines and users as your business needs change.
No need for expensive hardware upgrades. Simply get licenses for new lines, extensions, and features as required.
Benefits of a VoIP Phone System
Switching your business phone system over to a VoIP phone system provides many worthwhile benefits:
1. Significant Cost Savings
VoIP allows businesses to save 50-75% off monthly phone bills compared to traditional landline systems.
There are built-in savings on long-distance calls, no per extension charges, and cheaper upgrade costs.
2. Increased Productivity
VoIP systems provide features like auto attendants, intelligent call routing, conferencing bridges, voicemail to email, and more.
This improves staff productivity and call management.
3. Seamless Remote Work Ability
VoIP systems enable seamless remote working capabilities as calls can be answered through desktop softphones or mobile apps, regardless of location.
Staff have maximum flexibility.
4. Simplified Administration & Management
VoIP systems are easy to set up, manage, and scale through software.
There is no complex hardware to install or upgrade. Features and extensions can be added instantly.
5. Enhanced Customer Service
VoIP provides features like call queues, IVRs, and advanced call routing to deliver top-notch customer service. Useful metrics provide insights to improve operations.
Best VoIP Phones in 2023
1. Polycom VVX 501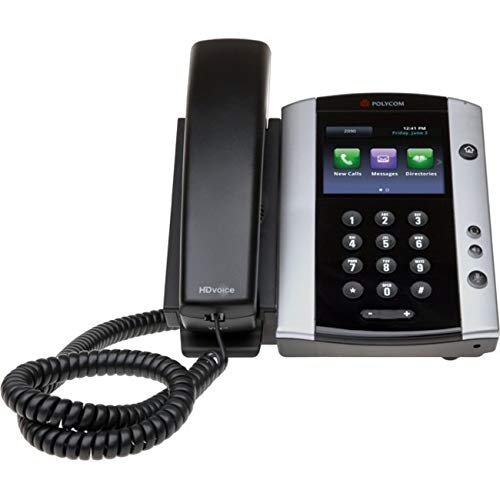 Features:
12 line keys with dual-color LED indicators
320 x 240-pixel color LCD
Supports Bluetooth headsets
Dual Gigabit Ethernet ports
24 programmable soft keys
Pricing: Starts at $290
2. Yealink T57W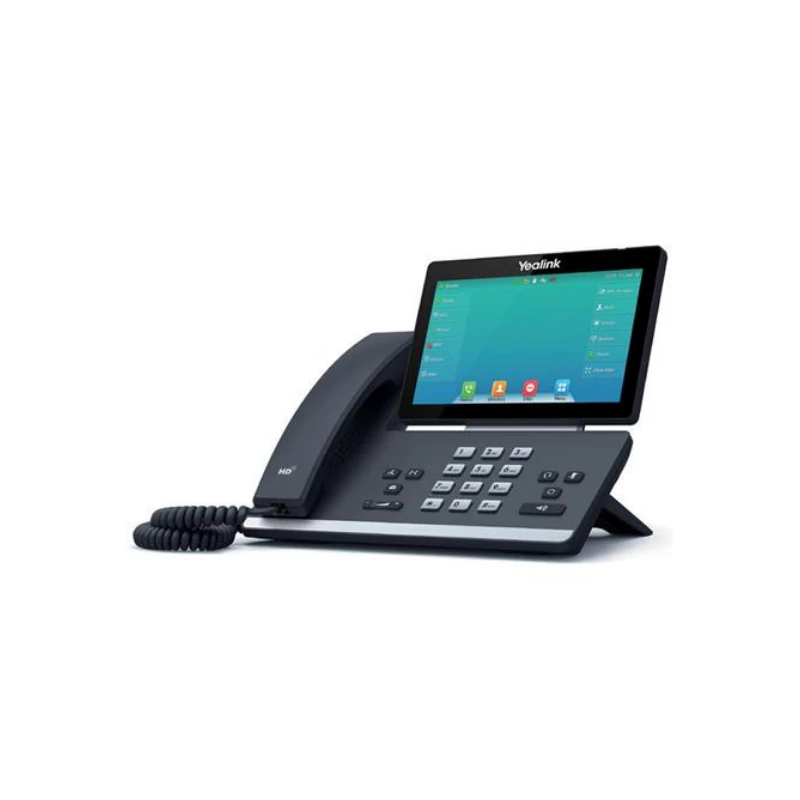 Features:
7-inch adjustable touchscreen
16 programmable keys with LED indicators
Built-in Bluetooth for headsets
Runs Android OS for apps
Supports Wi-Fi connectivity
Pricing: Starts at $429
3. Cisco IP Phone 8851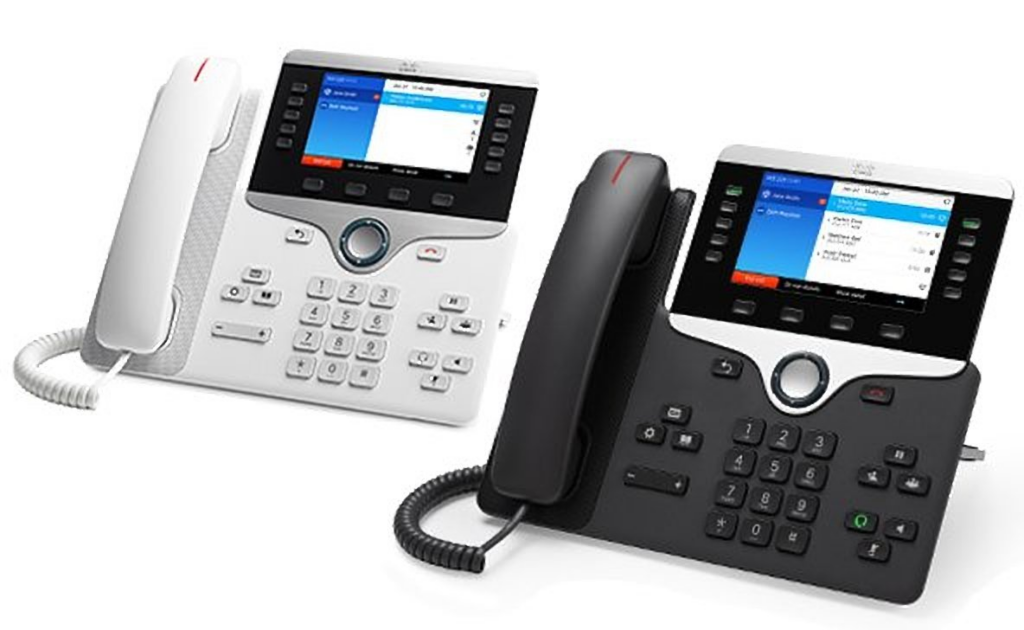 Features:
5-inch color display
Voice over WLAN support
Built-in Bluetooth for headsets
USB port for call recording
Supports wired and wireless headsets
Pricing: Starts at $335
4. Avaya J179 IP Phone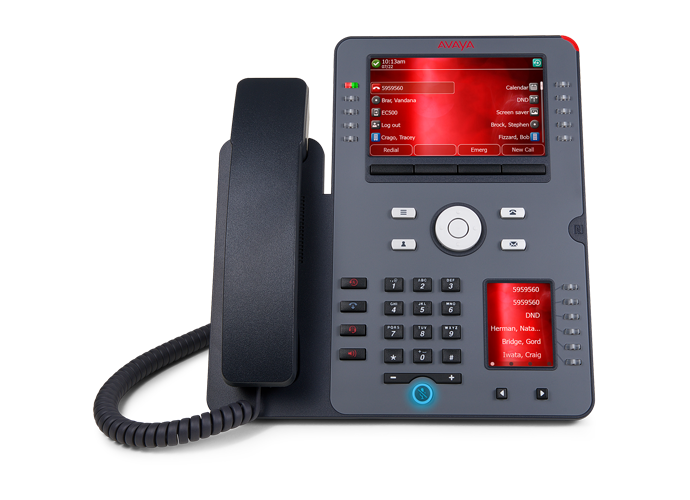 Features:
Color display
Integrated Gigabit Ethernet port
Supports PoE powering
Headset jack and speakerphone
Supports up to 3 call appearances
Pricing: Starts at $215
5. Mitel MiVoice 6920 IP Phone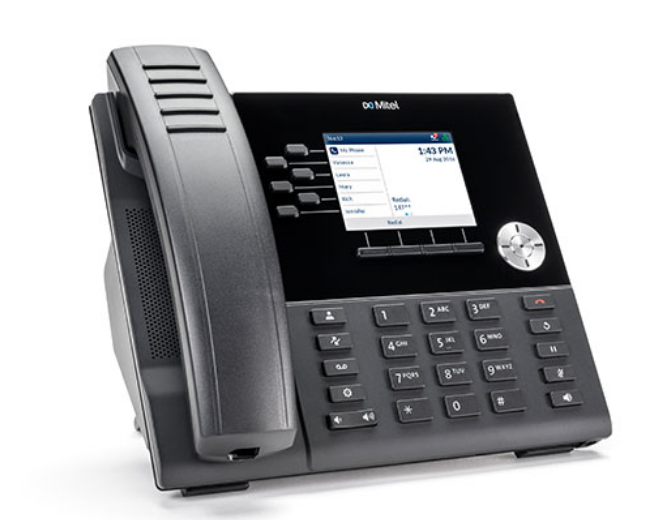 Features:
3.5-inch backlit display
2 x Ethernet 10/100/1000 ports
Headset support via Bluetooth
Supports optional Wi-Fi
Up to 3 x 12 key expansion modules
Pricing: Starts at $265
6. Grandstream GXP2170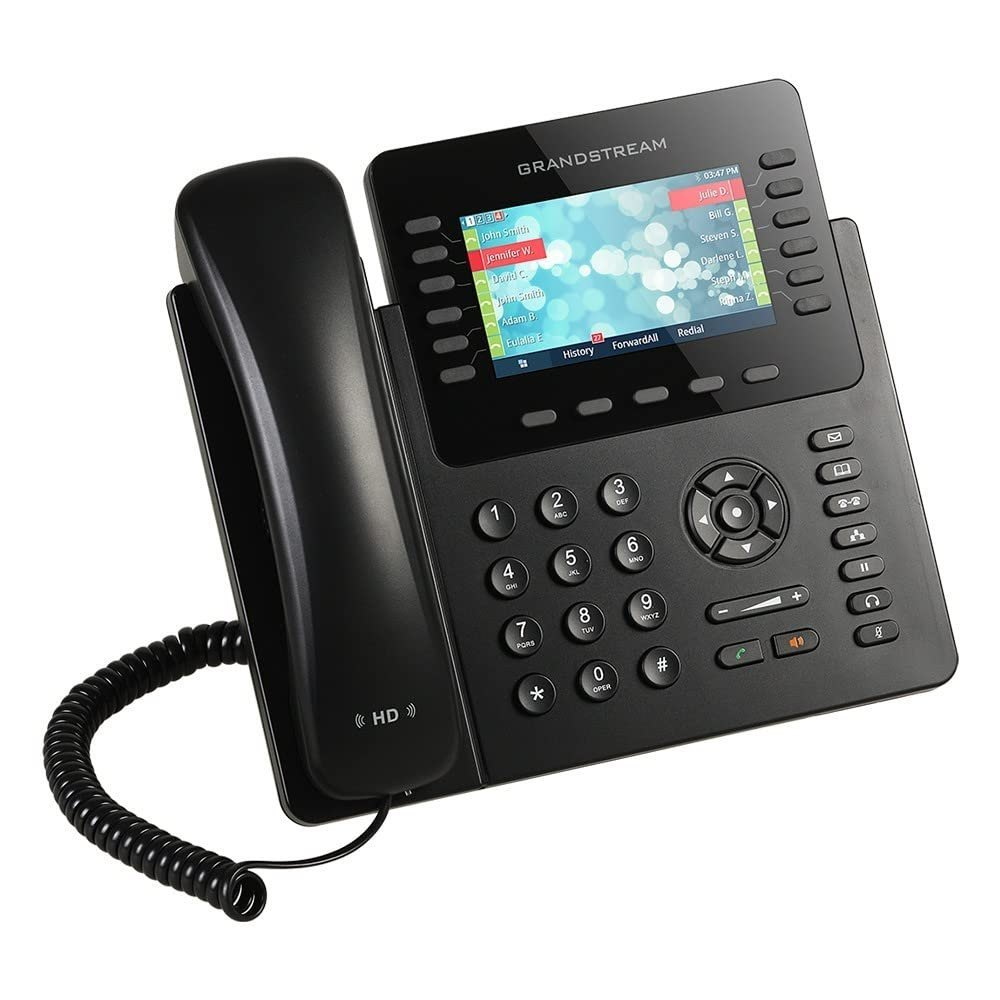 Features:
6 line keys
320×240 pixel color display
Dual-port Gigabit Ethernet
Integrated PoE support
2.5mm headset port
Pricing: Starts at $150
7. snom D765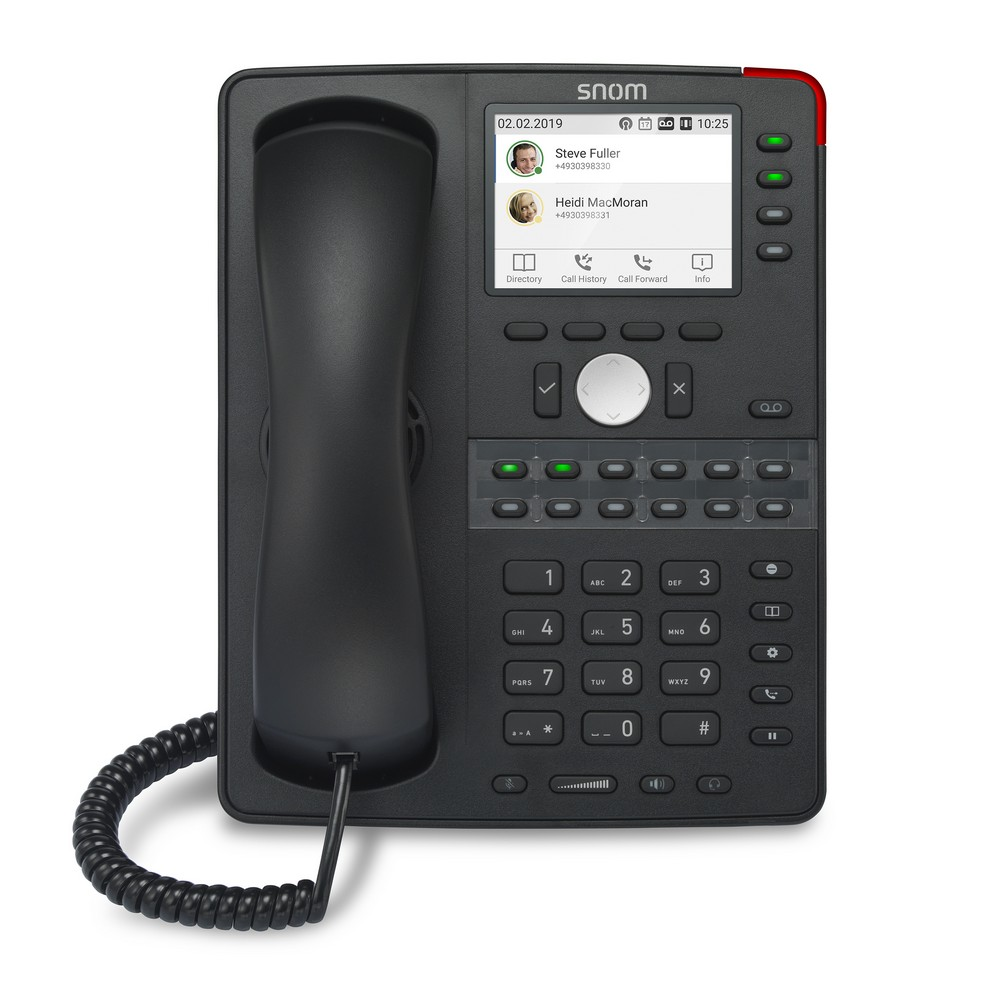 Features:
5-inch color touchscreen
HD audio with wideband codec
2 x Gigabit Ethernet ports
USB port for headsets
Supports DND, caller ID
Pricing: Starts at $229
Conclusion
VoIP phones are feature-rich internet-powered phone systems that are quickly replacing traditional landlines.
They convert voice into data packets and transmit calls over the internet, offering great flexibility and advanced calling capabilities.
From improved mobility and productivity to significant cost savings, VoIP phones deliver huge benefits for businesses and homes.
Frequently Asked Questions (FAQ)
Ques 1. Do you need high-speed internet for a VoIP phone?
Ans. Yes, VoIP phones require a high-speed broadband internet connection to work optimally.
For the best call quality, an internet connection with at least 1 Mbps upload/download speed is recommended.
Ques 2. Can you use a VoIP phone without a landline?
Ans. Yes, VoIP phones do not require a traditional phone landline.
As long as you have a good internet connection, you can use a VoIP phone system independently without having a phone landline.
Ques 3. Is the sound quality good on a VoIP phone?
Ans. VoIP call quality has improved significantly over the years. With modern codecs and protocols, VoIP HD sound quality can match or exceed traditional landlines.
Factors like internet bandwidth and network congestion affect quality.
Ques 4. Are VoIP calls secure?
Ans. VoIP calls are generally encrypted using protocols like SRTP, TLS, and HTTPS to protect against eavesdropping and data theft.
Providers offer firewalls, call encryption, and other safety measures to keep VoIP systems secure.
Ques 5. How much does a small business VoIP phone system cost?
Ans. An entry-level VoIP system for a small business can cost between $20 – $100 per phone line.
Additional costs are there for extra features like mobility, conferencing, call center features, etc. Overall costs are still cheaper than traditional landlines.