Video conferencing has become an indispensable communication tool for businesses, schools, and personal use.
While Zoom has led the video conferencing space in recent years, it is not without its limitations.
From security concerns to capacity caps on free accounts, there are good reasons to consider alternatives to Zoom.
This comprehensive guide will examine the top competitors and alternatives to Zoom in 2023.
Whether you require robust enterprise-grade capabilities or are simply looking for secure basic video chat, there are solid Zoom alternatives worth your evaluation.
1. RingCentral Video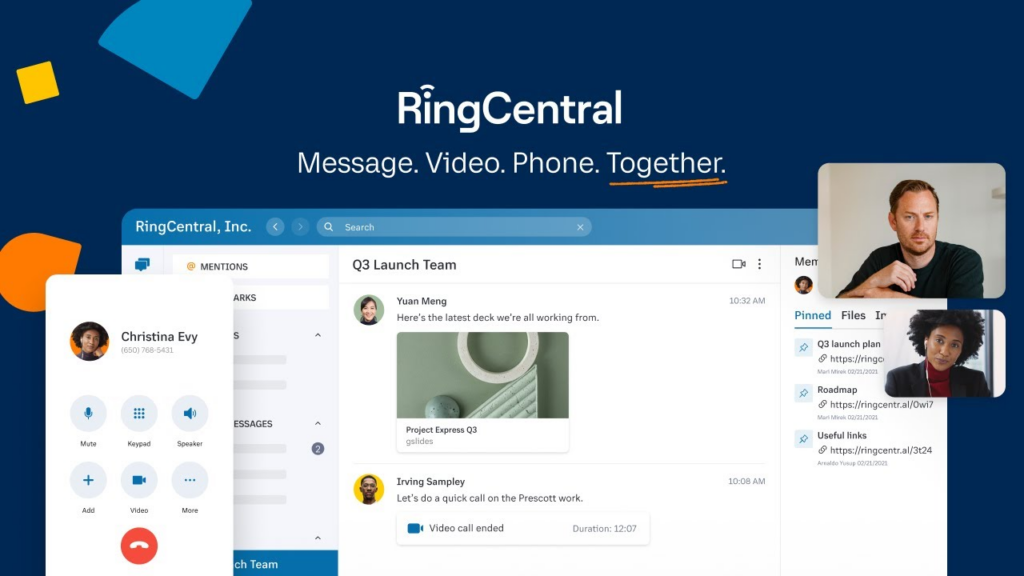 Key Features
RingCentral Video is a full-featured video conferencing solution that competes directly with Zoom. Some of the key features include:
HD video – RingCentral Video supports up to 4K HD video for meetings with up to 200 participants. High-resolution video provides crisp, clear visuals for remote meetings.
Virtual backgrounds – Customizable backgrounds allow you to brand meetings, hide distracting environments, or add some fun. RingCentral offers high-quality background images and visuals.
Webinars – Host seminars, demos, and presentations for up to 10,000 view-only attendees. Engage the audience with interactive polls, Q&A, and surveys during the webinar.
Integrations – RingCentral integrates with popular business apps like Salesforce, Dropbox, Google, Outlook and more. This allows seamless workflow and productivity.
Mobile apps – Meet on the go via the full-featured iOS and Android mobile apps. The apps provide the same meeting capabilities as the desktop experience.
Pricing
RingCentral Video is priced per user per month, with volume discounts available.
Essentials plan – $24.99/user/month (up to 100 participants per meeting, 10GB cloud storage)
Premium plan – $34.99/user/month (up to 200 participants, 100GB storage)
Ultimate plan – $49.99/user/month (Webinars up to 10K viewers, 200GB storage)
Best For
RingCentral is a great option for:
Businesses that want an enterprise-grade Zoom alternative integrated with a feature-rich business phone system.
Companies that need flexible meeting capacity from small groups up to large webinars.
Organizations looking for strong security, compliance, and control features.
Firms wanting deep integrations with business productivity apps.
2. Dialpad Meetings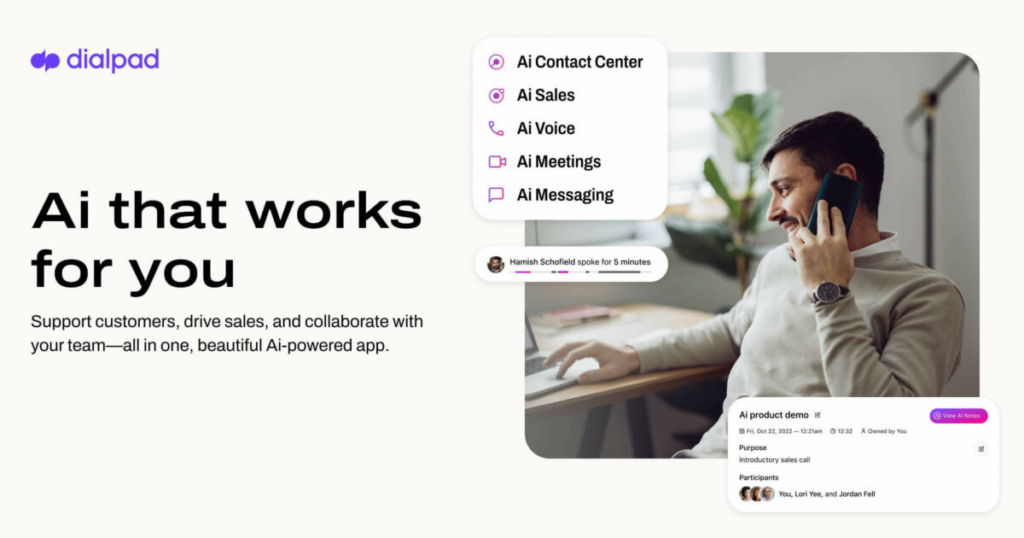 Key Features
Dialpad Meetings competes with Zoom and RingCentral as a cloud business communications platform. Key features include:
HD video and audio – Support for up to 200 meeting participants with HD quality.
Screen sharing – Share your screen or files with remote attendees.
Virtual backgrounds – Customizable backgrounds for your video feed.
Webinars – Large seminars, demos, or presentations with up to 500 view-only attendees.
AI-powered meetings – Real-time transcription, note-taking, and voice commands via AI.
Mobile apps – Fully functional apps for iOS and Android.
Security – 256-bit encryption, waiting rooms, password protection.
Integrations – Google Drive, Office 365, Slack, Salesforce integrations.
Pricing
Dialpad Meetings is priced per user per month. Volume discounts are available.
Pro plan – $15/user/month (100 participants per meeting, 10GB recording storage)
Business plan – $25/user/month (200 participants, 25GB storage)
Enterprise plan – Custom pricing (500 webinar attendees, unlimited storage)
Best For
Dialpad Meetings is ideal for:
Small to midsize businesses wanting AI-powered meetings.
Companies that value simple pricing and packaging.
Organizations that need Salesforce, Slack, and Google integration.
Presenters who want automated meeting transcriptions.
3. Microsoft Teams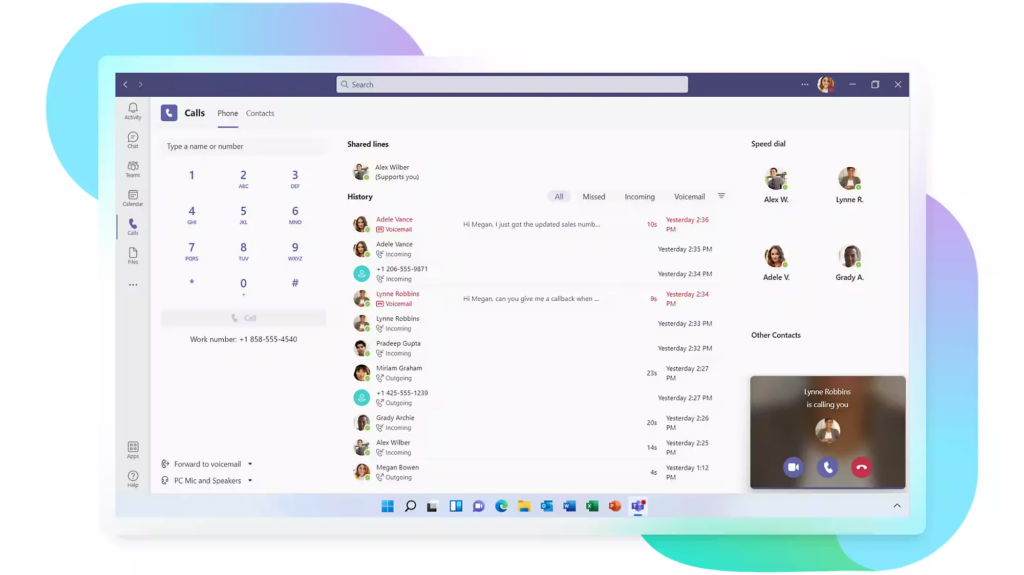 Key Features
As part of Office 365, Microsoft Teams combines meetings, chat, collaboration, and business voice features. Key features include:
HD video meetings – Meetings support up to 250 participants with 1080p HD video and content sharing.
Built-in chat and collaboration – Teams provides persistent chat rooms, task management, document collaboration, and project management.
PSTN conferencing – Native audio conferencing and toll dial-in over standard phone lines.
Webinars – Host large seminars or presentations for up to 10,000 attendees.
Recording and transcription – Cloud recording, transcription, and time-coded captions.
Mobile apps – iOS and Android apps with full meeting capabilities.
Security – Enterprise-grade security and compliance capabilities.
Tight Office 365 integration – Teams integrates deeply into Office 365 apps like Outlook, Word, Excel, and more.
Pricing
Teams pricing is bundled into Office 365 subscription plans:
Business Essentials – $5/user/month (Audio meetings with up to 250 people, 2GB storage per user)
Business Premium – $12.50/user/month (Full HD video meetings, additional Office app features)
Best For
Microsoft Teams is ideal for:
Organizations heavily invested in Office 365 and Microsoft products.
Companies that want meetings combined with team chat and collaboration.
Businesses need compliance and security capabilities.
Teams with global participants across different time zones.
4. Cisco Webex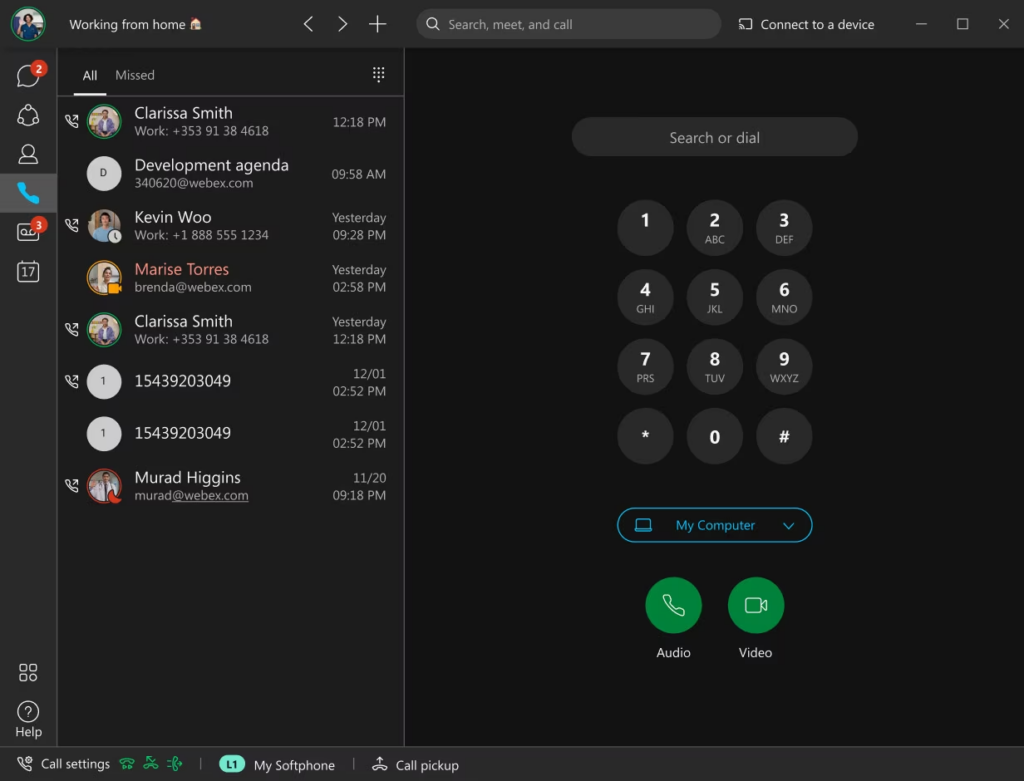 Key Features
Cisco Webex is a longstanding industry leader in video conferencing platforms. Key features include:
High-quality video – Up to 1080p HD video for meetings with up to 200 participants.
Screen sharing – Share your screen or files with up to 8 simultaneous presenters.
Virtual backgrounds – Customizable backgrounds for your video feeds.
Webinars – Host large seminars or demos with up to 3,000 view-only attendees.
Recording and playback – Cloud recording, editing, playback, and storage.
Mobile apps – iOS and Android apps allow meetings on the go.
Security – End-to-end encryption, password protection, waiting rooms.
Hardware integrations – Native integration with Cisco conference room systems.
Pricing
Webex pricing is per host per month with volume discounts available:
Starter – $13.50/host/month (50 meeting participants, 1GB storage)
Plus – $17.95/host/month (100 participants, 5GB storage)
Business – $26.95/host/month (200 participants, 10GB storage)
Enterprise – Custom pricing (Up to 3,000 attendees, unlimited storage)
Best For
Cisco Webex is a great choice for:
Large enterprises that want robust meeting features and global scale.
Companies with existing investments in Cisco collaboration infrastructure.
Organizations that need deep integration between software and hardware systems.
Presenters host frequent webinars, seminars, or lectures.
5. Google Meet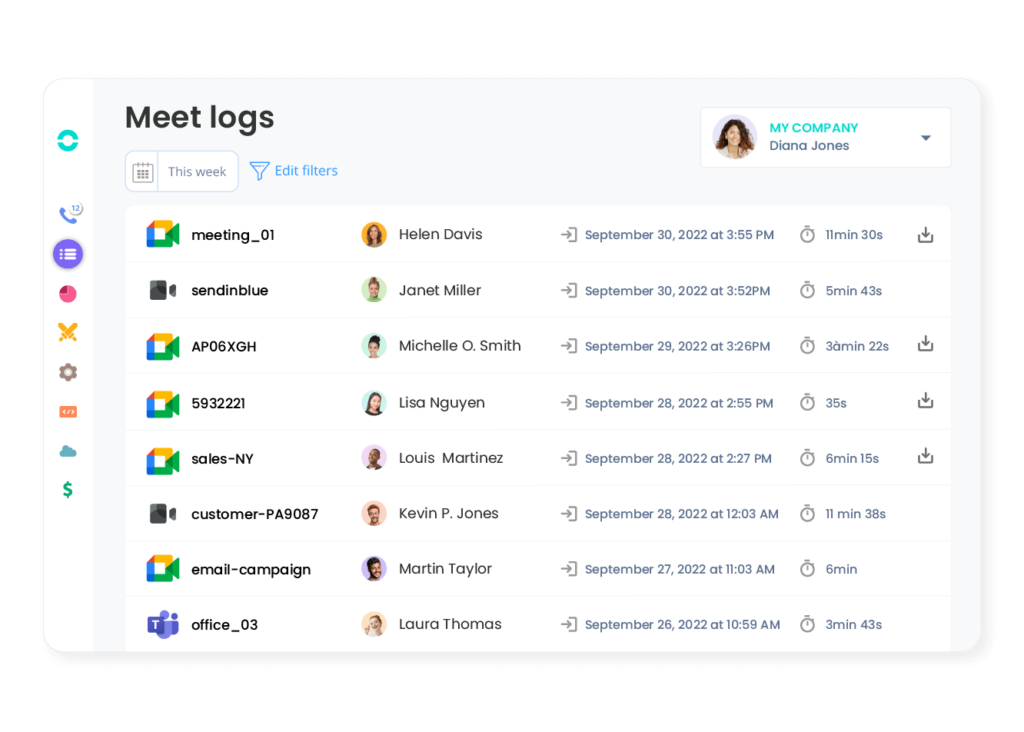 Key Features
Google Meet is Google's professional video conferencing solution. As part of G Suite, it offers:
Simple interface – Quickly start and join meetings via Google Calendar. No PINs are required.
Group video calls – HD video meetings for up to 250 participants.
Screen sharing – Present your screen to remote participants.
Recording and live streaming – Cloud recordings with unlimited storage, and live stream to YouTube.
Jamboard integration – Collaborate in meetings on a digital whiteboard.
Mobile support – iOS and Android apps enable meetings on the go.
Security – Enterprise-grade security powered by Google Cloud.
Pricing
Google Meet is included in G Suite business subscription plans:
Basic – $6/user/month (150 meeting participants)
Business – $12/user/month (150 participants)
Enterprise – $25/user/month (250 participants)
Best For
Google Meet is ideal for:
Organizations invested in G Suite apps and Google Cloud.
Distributed teams that need simple, fast video meetings.
Companies who want enterprise-level security.
Businesses who want easy meeting room integration.
6. GoToMeeting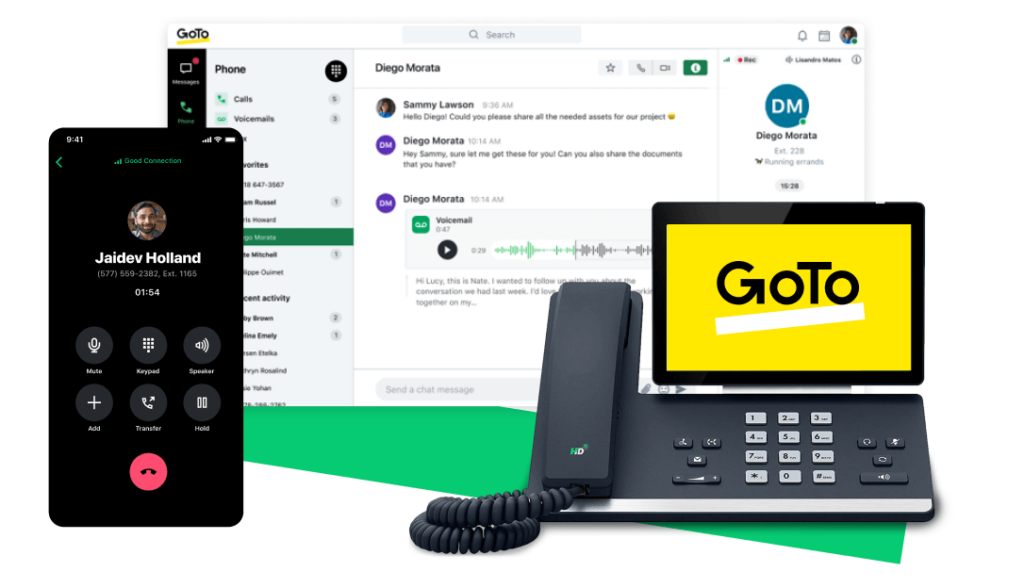 Key Features
GoToMeeting is a popular web conferencing solution from LogMeIn. Features include:
HD video conferencing – Meetings with up to 250 HD video participants.
Screen sharing – Share your screen or files during meetings.
Webinars – Host interactive webinars for up to 10,000 attendees.
Recording and transcripts – Cloud recording, storage, playback, and transcripts.
Drawing tools – Annotate your screen share with the built-in drawing tools.
Mobile apps – Start and join meetings from iOS and Android devices.
Toll-free dial-in – Local dial-in numbers in over 55 countries.
Security – SAML, SSO, AES-256 bit encryption, and SOC 2 compliance.
Pricing
GoToMeeting has three pricing tiers per organizer per month:
Professional – $12/month (150 participants, 1TB cloud recording)
Business – $16/month (250 participants, transcription capabilities)
Enterprise – Custom pricing (3,000 webinar attendees, additional features)
Best For
GoToMeeting works well for:
Mid-market companies that want an easy and reliable web conferencing platform.
Organizations that host frequent webinars, trainings, or presentations.
Teams with remote participants across many geographic regions.
Businesses that want call-in audio conferencing and toll dial-in.
Overall, all of these platforms provide robust video conferencing capabilities combined with useful productivity features like screen sharing, webinars, recording, and mobile apps.
Choosing the right one depends on your business needs, scale, and integration requirements. But any would make an excellent Zoom alternative for enterprise-grade HD video meetings.
Why Look For Zoom Alternatives?
Zoom skyrocketed in popularity during the pandemic, but it does have some drawbacks users should be aware of.
Reasons you may want to consider switching to an alternative include:
Cost – While Zoom offers a free basic package, its paid plans can be pricey for larger teams and organizations. Competitors may offer similar capabilities for less.
Security/privacy concerns – Zoom has faced scrutiny over security and privacy protections. Alternatives like Webex may provide more robust encryption and control.
Meeting features – Other platforms like Microsoft Teams boast abilities to chat, collaborate on docs, and more during meetings.
Branding/customization – Services like BlueJeans let you customize meeting environments and branding.
Ease of use – Newer platforms match or exceed Zoom's user-friendly interface.
So while Zoom works well for many smaller teams, larger or complex organizations may benefit from evaluating alternatives.
What is the Best Zoom Alternative for Video Calling?
Here are our top picks for best Zoom alternatives and competitors in 2023:
1. Microsoft Teams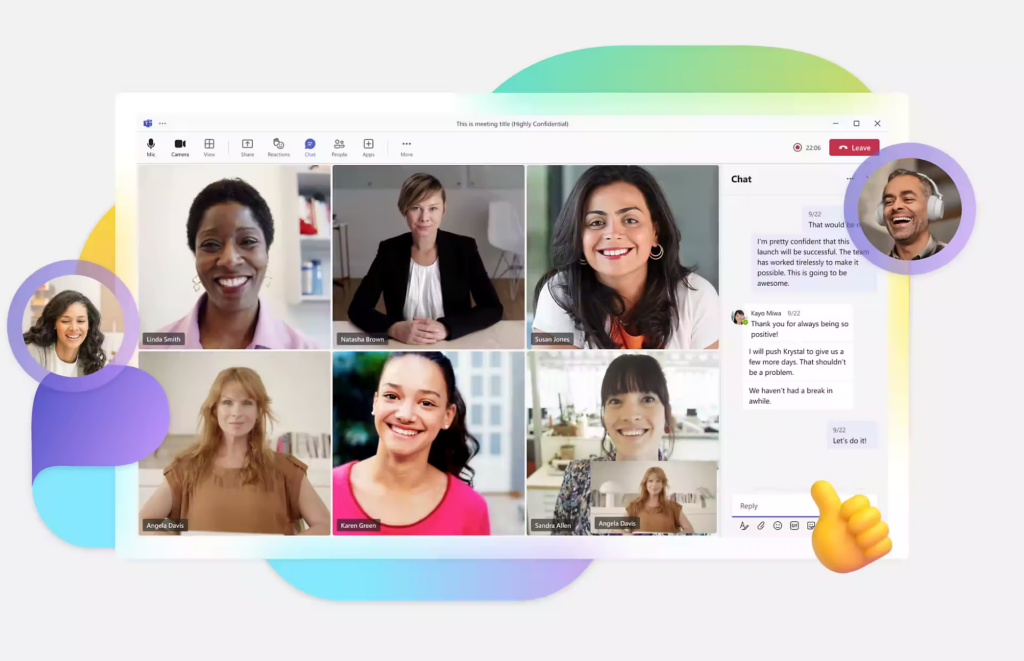 Microsoft Teams is our top pick for a Zoom alternative thanks to its robust set of features and deep integration with Office apps.
Teams allow for unlimited meeting duration with up to 300 participants. Video quality is excellent, even at lower bandwidths.
Teams enable real-time collaboration during meetings through screen sharing, chat, document editing, and whiteboarding.
For organizations using Office 365, Teams leverages those existing accounts for easy deployment.
Security protections like single sign-on, encryption, and policy controls give Teams an enterprise-level advantage. While it may take some training, Teams delivers a complete video meeting and collaboration environment.
2. Cisco Webex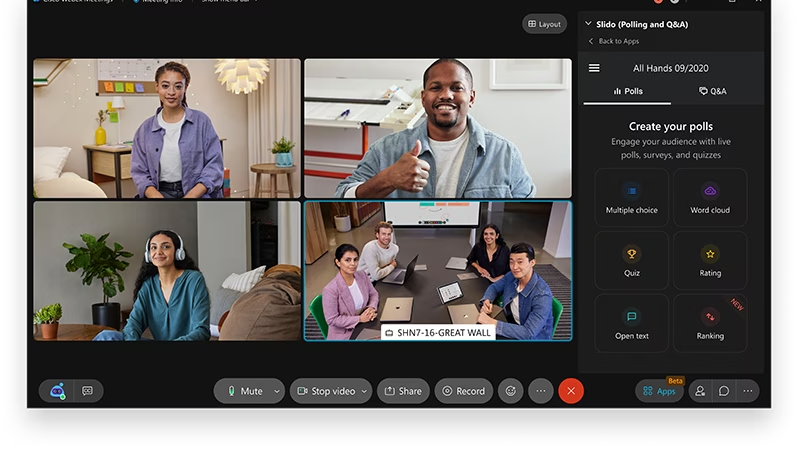 Cisco Webex is the enterprise-scale video conferencing leader, making it an ideal Zoom alternative for large organizations and regulated industries.
Webex supports meetings with up to 100 participants by default and up to 1,000 with additional licensing.
HD video comes through clearly across devices and connections. Hosts enjoy robust controls over security options, recording, layouts, and invited participants. AI-powered background noise removal ensures crisp audio quality.
Webex's architecture provides end-to-end encryption and security certifications for highly sensitive data. Mobile apps allow access across devices. For organizations that rely heavily on video conferencing, Webex is a reliable choice.
3. BlueJeans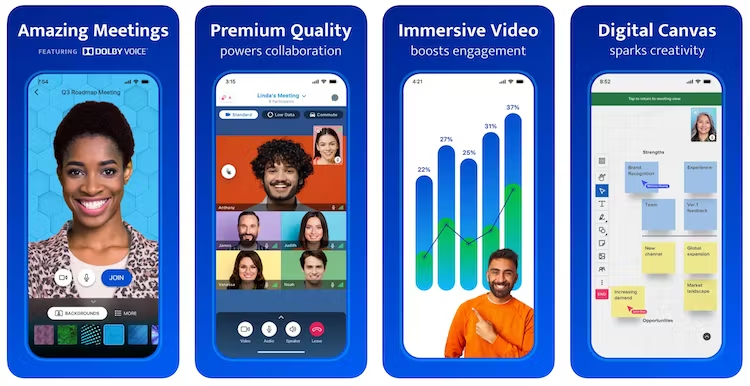 BlueJeans makes it simple for employees and remote teams to connect via video calls through its customizable meeting "rooms." Users can brand rooms, change layouts, and backgrounds, and set accessibility options.
Moderation controls help meeting hosts manage participants and share privileges easily. While supporting standard meetings for up to 150 participants, BlueJeans also accommodates large-scale interactive events.
Consistently clear audio/video quality helps BlueJeans stand out from some competitors.
For companies that want a straightforward video calling platform with easy customization, BlueJeans is a leading contender.
4. GoToMeeting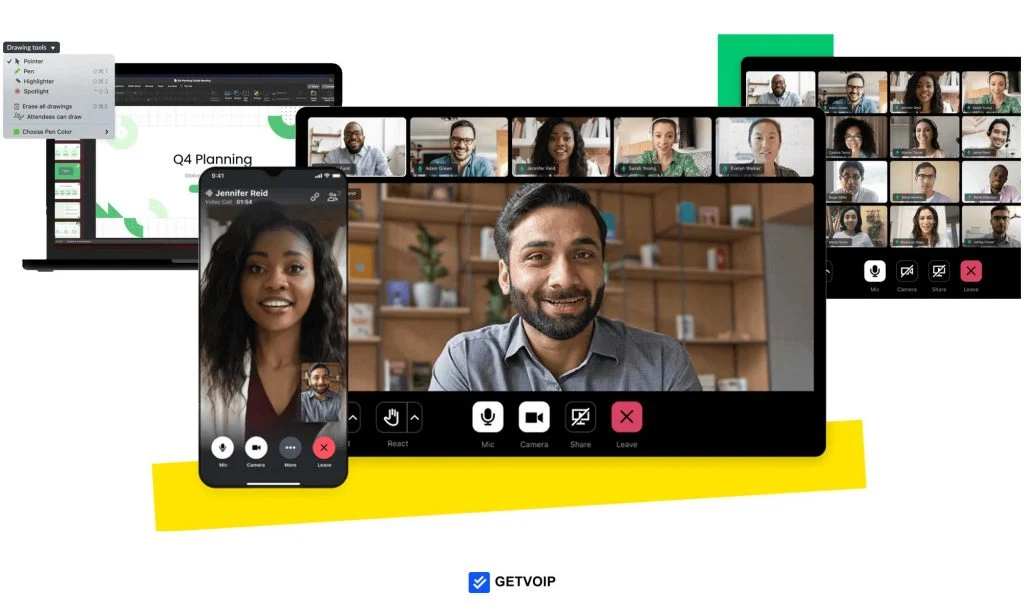 GoToMeeting offers a user-friendly video conferencing solution tailored to sales teams and webinars.
One-click screen sharing makes it simple to walk through presentations and demos. Webinar capabilities support audiences over 1,000, with engagement features like polls and Q&A.
The mobile app allows reliable access when on the go.
While GoToMeeting lacks some advanced administrative controls, its focus on collaborative meetings makes it ideal for sales and marketing teams that need to connect visually with prospects and clients.
For video meetings centered around presentations and screen sharing, GoToMeeting is easy to use and dependable.
5. Google Meet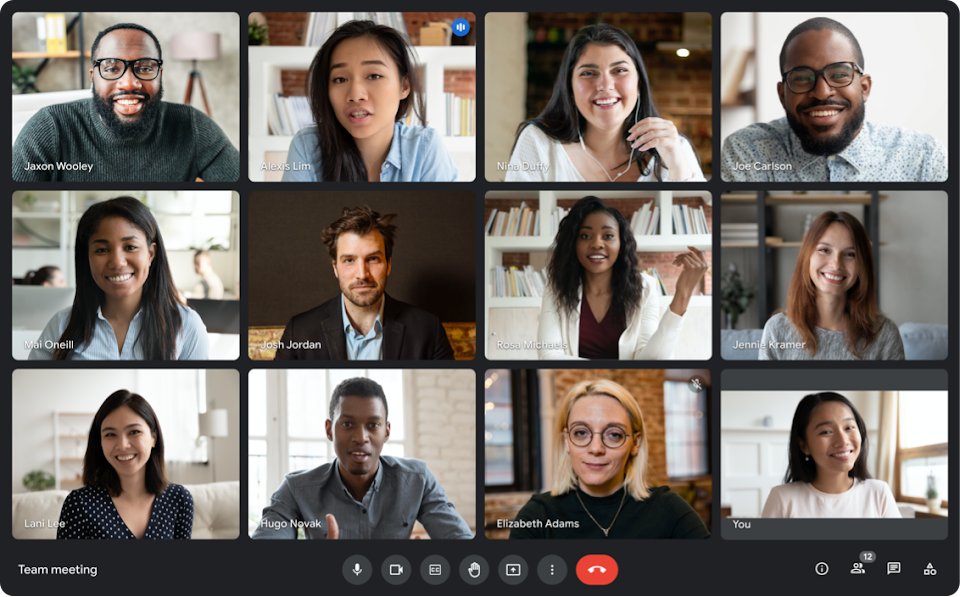 As a free addition to Google Workspace accounts, Google Meet provides a no-frills video meeting experience.
Meet calls support up to 100 participants for unlimited length. Easy access happens directly through Gmail and Google Calendar.
Performance remains surprisingly consistent even with larger groups. While lacking extensive customization or advanced features, Meet covers the basics well.
For personal use or smaller teams already invested in Google Workspace, Meet offers a free and convenient Zoom alternative. However, larger enterprises may desire more sophisticated options.
Frequently Asked Questions (FAQ)
Ques 1. Is Zoom still the best video conferencing platform?
Ans. Zoom remains very popular, especially for free basic video meetings. But many paid platforms like Microsoft Teams now equal or surpass Zoom's capabilities and security protections.
Ques 2. Which is better – Microsoft Teams or Zoom?
Ans. Teams compare favorably to Zoom, with robust enterprise features, security, and integrations with Office apps for communication and collaboration. For large organizations, Teams is likely the preferable choice over Zoom.
Ques 3. Can Webex host large meetings better than Zoom?
Ans. Yes. WebEx can accommodate significantly larger meeting audiences with smooth performance. Advanced customization and controls also make WebEx preferable over Zoom for major events and webinars.
Ques 4. What video conferencing app has the best call quality?
Ans. WebEx and BlueJeans are frequently rated as having the best and most reliable audio/video quality among leading platforms. This makes them preferable for mission-critical meetings.
Ques 5. Does GoToMeeting work well on mobile devices?
Ans. Yes. GoToMeeting offers dedicated mobile apps for Android and iOS that enable attending and even hosting meetings smoothly from a smartphone or tablet