RingCentral is a leading provider of cloud-based communications and collaboration solutions for businesses of all sizes.
Founded in 1999, It has become one of the top players in the unified communications as a service (UCaaS) market.
With its easy-to-use platform, It allows businesses to message, meet, and connect across any mode – video, voice, team messaging, and fax – all in one solution.
It aims to provide flexible and scalable communication tools to empower the modern mobile and distributed workforce.
The company's focus on innovation and customer needs has led to strong growth and popularity. It is now serving over 500,000 businesses worldwide across a range of industries including healthcare, retail, education, finance, and more.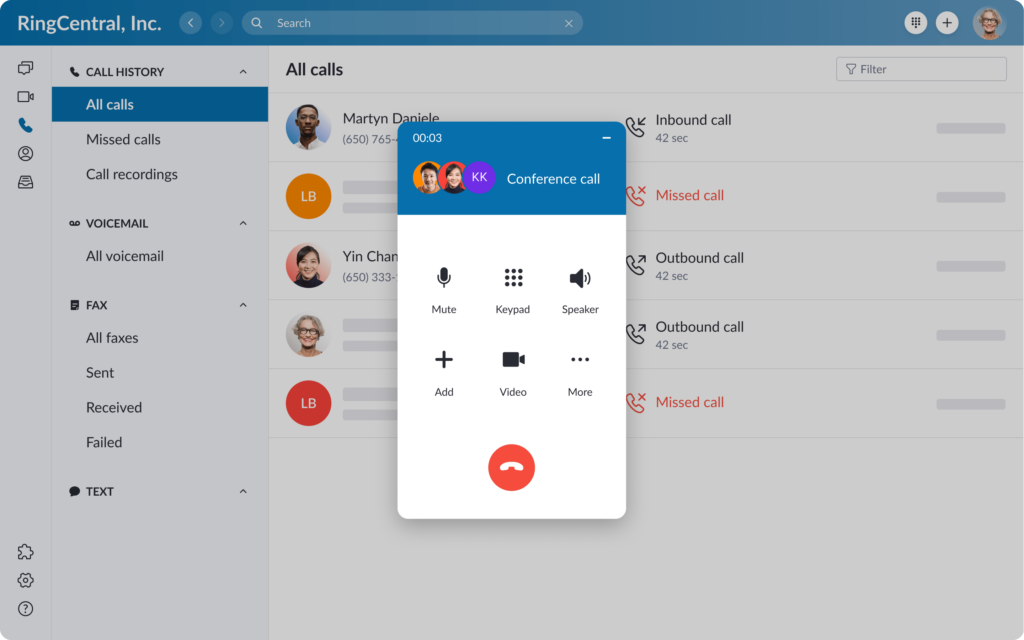 Features
1. Cloud-based phone system
It provides a complete business phone system delivered through the cloud. This eliminates the need for complex on-premise hardware.
Features include auto-receptionist, call routing, voicemail, audio conferencing, call handling, and more. Being cloud-based enables easy scalability.
2. Mobile app
The RingCentral mobile app makes business communications accessible on the go.
Users can make and receive calls, fax, access voicemail as well and see colleagues' availability status from anywhere.
Key features like presence and messaging are centralized through the mobile app. This enables workforce mobility and flexibility.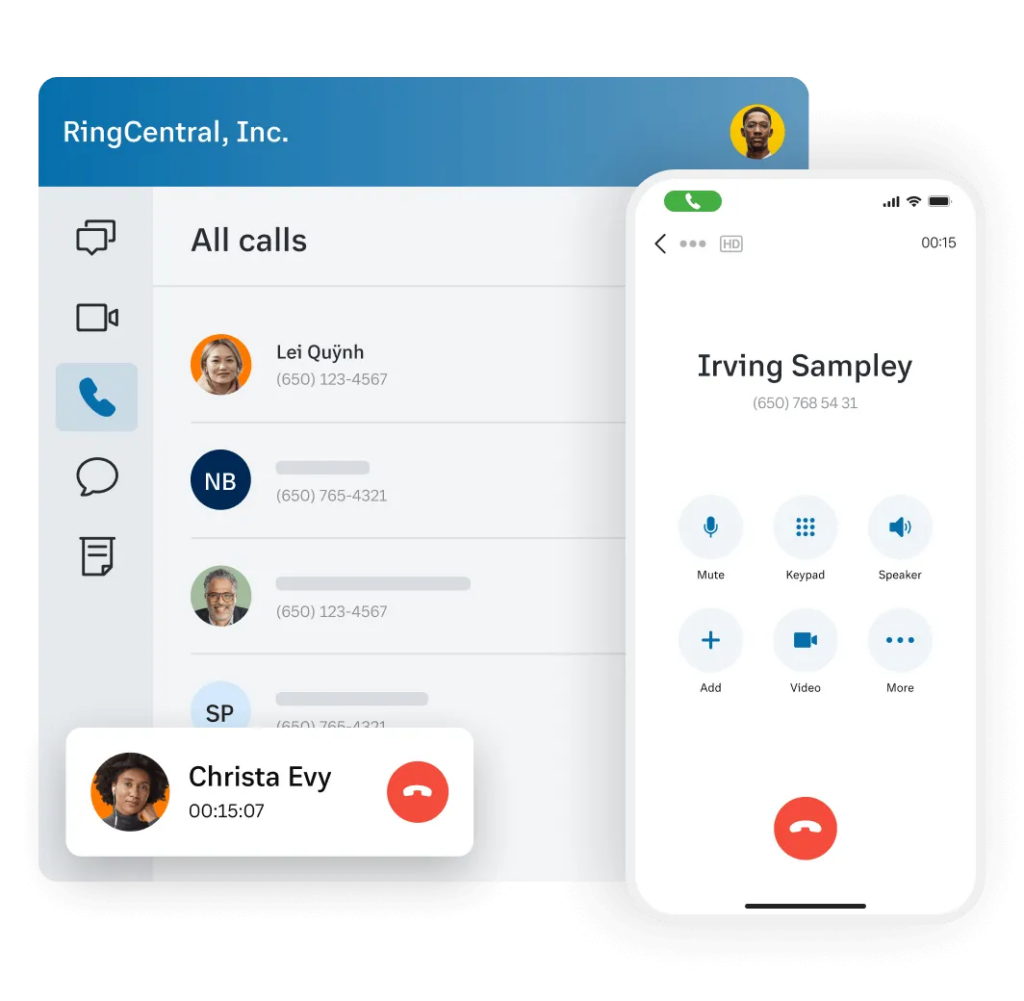 3. RingCentral Video
This provides reliable, high-quality video meetings from any device. Users can host and join meetings with up to 200 participants, share screens, annotate, and more.
The video platform is optimized to work seamlessly with RingCentral's voice capabilities for a unified experience.
4. Team messaging
The platform offers a fast, modern team messaging app with capabilities like file sharing, task management, automation bots, and more.
Groups and teams can communicate openly or privately. Team messaging is integrated with the phone system so that users can move from chats to voice and video easily.
5. Integrations
Integrate with over 150 business applications including Salesforce, Zendesk, Microsoft Teams, Google Workspace, and others.
These integrations help workflows and increase productivity. It also offers open APIs to build custom integrations matching specific business needs.
Use Cases of RingCentral
1. Distributed/remote teams
It enables teams with remote or mobile workers to stay productive and connected. Cloud delivery and mobile apps keep every employee in sync.
Features like presence and messaging build engagement within distributed teams.
2. Multiple locations
For businesses with multiple offices, RingCentral eliminates the need for on-premise PBX hardware in every location.
Just connect phones and devices to the internet to provision the system. Admins can manage the entire phone system from a single web dashboard.
3. Customer service
Equip your call centers and support teams with a reliable, global phone system. Features like skills-based routing, call monitoring, and IVR help route each customer to the right agent efficiently.
Integrations with popular CRM and helpdesk systems also boost customer service capabilities.
4. Mobile workers
Field sales and service teams can use smartphones to communicate and collaborate as if they were in a conventional office setting.
The mobile app provides calling, meetings, messaging, and other tools. Customers get the same quality of communication when engaging mobile workers.
5. Multi-channel communications
It allows businesses to bring together multiple communication modes – voice, video, messaging, conferencing, and fax.
This provides flexibility to connect with customers, partners, and colleagues through their preferred channels. All modes are unified under a single platform.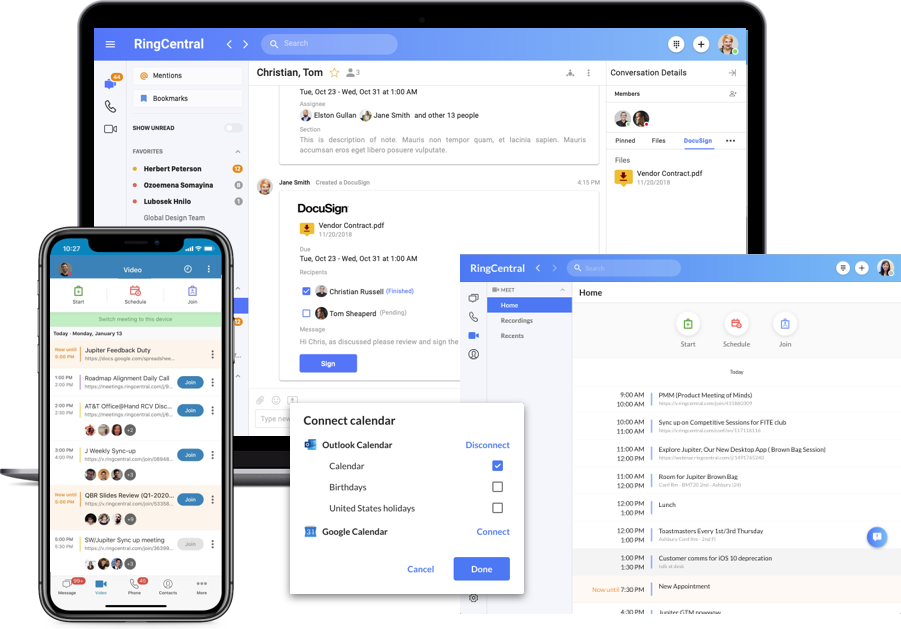 Pros
Simple cloud delivery removes the cost and complexity of managing on-premise PBX hardware and software. The system is easy to set up with plug-and-play phones.
It provides a full-featured phone system accessible from anywhere to support mobility and remote teams.
The system seamlessly integrates calling with modern team messaging, video conferencing, and other tools on a unified platform.
Flexible capabilities and integrations allow customization to specific business needs and workflows.
It offers high reliability with a robust service level agreement (SLA) up-time of 99.999%. As a mature UCaaS vendor, they have extensive experience managing and optimizing cloud infrastructure.
Cons
As a closed cloud platform, RingCentral offers little flexibility for custom app development or integrations beyond what is provided out-of-the-box and through their app gallery.
Limited configuration options compared to on-premise PBX systems – businesses must adapt processes to how RingCentral works rather than deeply customizing the system.
It provides phone numbers only for certain countries. Toll-free and local number availability can be limited in some regions.
Being 100% cloud-based means dependence on internet connectivity. Call quality may suffer in areas with poor broadband reliability.
Potential lock-in if a business relies on proprietary integrations or workflows designed around RingCentral. Migrating to another system in the future would require changes.
RingCentral Pricing Plans
It offers several tiers of pricing plans depending on business needs:
Essentials – $19.99/user/month. Includes basic features like unlimited calling, auto-receptionist, video meetings, and team messaging. Ideal for very small businesses.
Standard – $24.99/user/month. Adds more advanced features like multi-level IVR, internet fax, call forwarding, and API access. Fit for most small businesses.
Premium – $34.99/user/month. Further upgrades with single sign-on, advanced call reports, multi-site support, and more sophisticated capabilities. Optimized for larger businesses.
Ultimate – $49.99/user/month. Top-tier plan including executive line, executive reports, account management, and other premium features. Tailored for enterprise needs.
Discounts are available for annual contracts. It also charges per toll-free number and phone rental. Overall, It offers a range of affordable plans that can scale with business growth.
Alternatives of the Tools
1. Vonage
Vonage is a prominent business VoIP and cloud communications provider.
Vonage offers unified communications across multiple devices, with features like auto-receptionist, visual voicemail, call recording, and advanced call routing options. It integrates with CRM, helpdesk, and productivity software.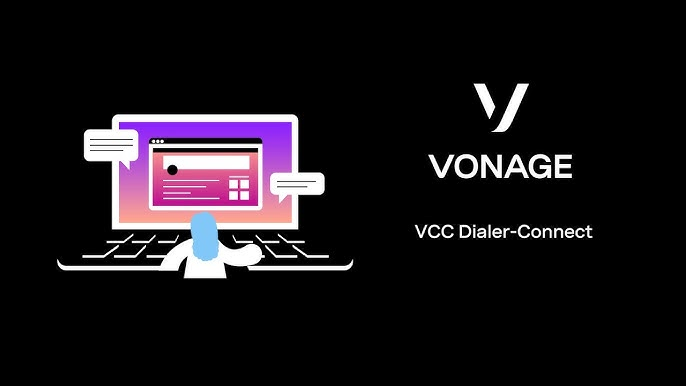 2. Phone.com
Phone.com is a virtual phone system designed for SMBs, startups, enterprises, and remote teams.
It provides VoIP calling, call routing, IVR menus, and voicemail services. It offers a number of provisioning and global coverage capabilities.
3. Aircall
Aircall is a cloud phone system built for modern business. It focuses on simplifying call management for sales, support, and shared lines.
It offers intuitive call flows, voicemail, call conferencing, and reporting. It also provides CRM and helpdesk integrations.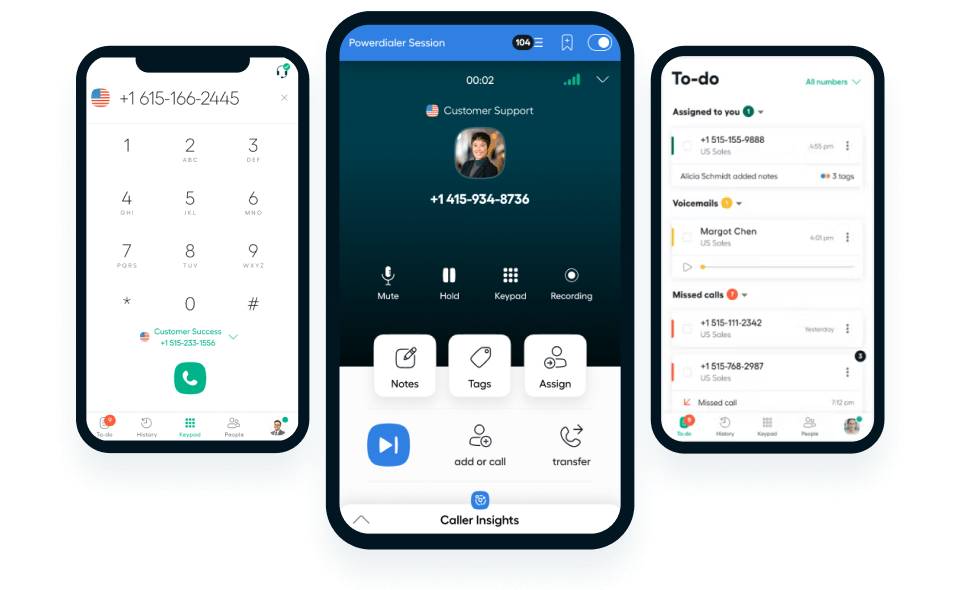 Conclusion
RingCentral continues to be a leader in the UCaaS market with its reliable and intuitive platform.
For most businesses seeking a full-featured cloud business phone system integrated with modern communication capabilities, It remains a top choice.
Flexible plans and widespread app integrations provide value across different industries and use cases. As remote and distributed work increases, It also enables teams to stay productive and connected from anywhere.
Frequently Asked Questions (FAQ)
Ques 1. What is RingCentral used for?
Ans: RingCentral provides cloud-based communications solutions for businesses including phone, video, messaging, and conferencing.
Ques 2. Is RingCentral like zoom?
Ans: RingCentral offers video conferencing like Zoom, but also provides a complete business phone and communications platform.
Ques 3. Who owns RingCentral?
Ans: RingCentral is an independent, publicly traded company founded in 1999.
Ques 4. Is RingCentral free?
Ans: RingCentral offers free basic plans but charges for advanced features and capabilities.
Ques 5. Is RingCentral a software?
Ans: Yes, RingCentral offers cloud-based software for business communications.