Have you ever been frustrated while talking on a call because the audio quality is poor, making it difficult to understand the other person?
That's where HD Voice comes in. HD Voice provides significantly improved call quality through better audio fidelity and clarity.
In this comprehensive guide, we'll explore what HD Voice is, how it works, the codecs used, requirements, benefits, things to consider, and top VoIP providers that offer HD Voice calling.
Whether you're considering upgrading your phone system or you just want to learn about this emerging technology, read on to get the full low-down on HD Voice.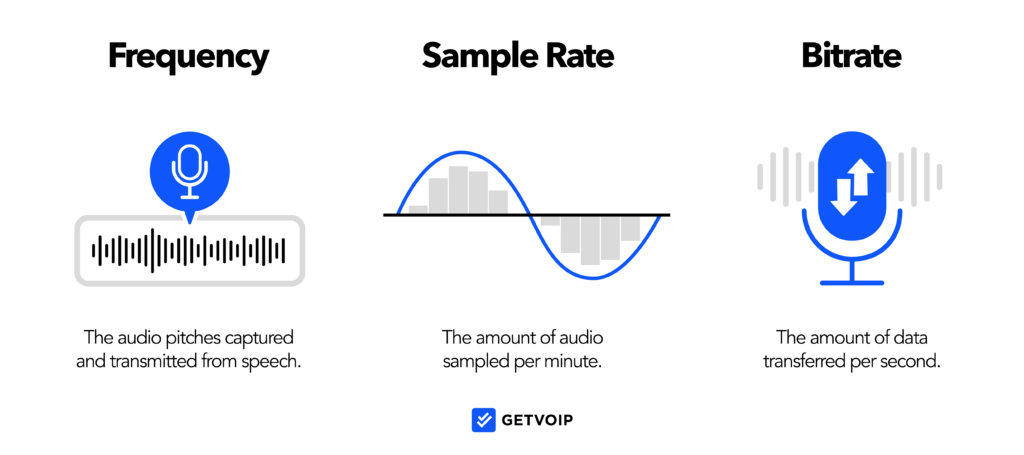 What is HD Voice?
HD Voice refers to high-definition voice calls that offer substantially better call quality compared to regular phone calls.
It uses wideband audio frequencies ranging from 50 Hz to 7 kHz rather than the narrowband frequencies of 300 Hz to 3.4 kHz used in traditional telephony.
This expanded frequency range allows HD Voice calls to transmit a much broader range of sound frequencies.
The result is audio that sounds more natural and lifelike. Other terms used for HD Voice include wideband audio, HD sound, HD calling, and high-resolution voice.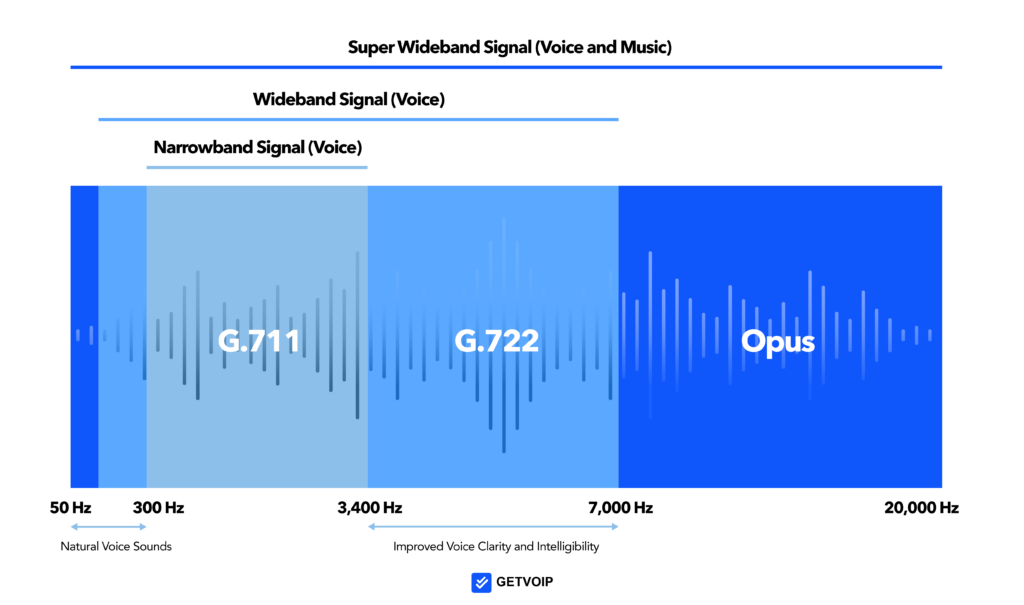 How Does HD Voice Work?
For an end-to-end HD Voice call, both the phone making the call and the phone receiving the call must support HD Voice technology.
Here are the key requirements for HD Voice calls:
HD Voice compatible phones: Both phones must be capable of producing and receiving wideband audio. Older phone models may lack this capability.
HD Voice networks: The entire telecommunications network involved in transmitting the call must support wideband audio. This includes the phone provider networks of both parties.
HD Voice codecs: Codecs compress and decompress the audio into a format that can be transmitted over networks. The calling and receiving phones must both support compatible HD Voice codecs. Some popular codecs are AMR-WB, EVS, and Opus.
During an HD Voice call between compatible phones and networks, the audio sampling rate is increased from 8,000 samples per second in traditional calls to 16,000 samples per second.
This allows a much wider range of audio frequencies to be transmitted, providing fuller, richer sound quality.
Comparing Popular HD Voice Codecs
Several audio codecs can be used to encode HD Voice calls. Here are some of the most common ones:
AMR-WB (Adaptive Multi-Rate Wideband): This was one of the first HD voice codecs introduced by 3GPP in 2002. It provides good call quality but has higher bandwidth requirements.
EVS (Enhanced Voice Services): EVS is the latest and most advanced HD voice codec standardized in 2014. It provides exceptional call quality at bitrates as low as 5.6 kbps. EVS is backward compatible with AMR-WB.
Opus: Opus is an open-source codec developed by the Internet Engineering Task Force (IETF) in 2012. It provides excellent sound quality at bitrates as low as 6 kbps. Opus sees widespread use in VoIP applications.
G.722: G.722 is an ITU standard codec that offers wideband audio at bitrates up to 64 kbps. It's supported on many VoIP phones and PBX systems.
G.722.2: Also known as AMR-WB, G.722.2 is based on the AMR-WB codec specified by 3GPP. Not as advanced as newer codecs but still offers good HD voice quality.
Requirements for HD Voice
To make and receive HD Voice calls, the following requirements must be met:
HD Voice-enabled mobile phone or desk phone
Cellular carrier or VoIP provider that supports HD Voice on their network
4G LTE, VoLTE, or broadband internet connection for VoIP calls
The other caller must also be using an HD Voice-capable phone and network
Both callers in the same coverage area for cellular HD Voice calls
For landline HD Voice calls over PSTN, both phones must support wideband codecs, and the entire network path should maintain higher audio frequencies.
Overall, upgrading all network components involved in the call transmission is crucial.
Benefits of HD Voice
Here are some excellent benefits that HD Voice offers compared to standard voice calls:
Increased call clarity – HD Voice has up to four times wider audio frequency range leading to clearer, more natural-sounding audio.
Reduced background noise – Noise cancellation and audio processing algorithms in HD Voice impressions filter out ambient background noise.
Easier to hear soft voices – Softer tones and voices are much more discernible with HD Voice. This helps in noisy environments.
Smoother conversations – The improved audio fidelity makes conversations feel more real and smoother. Less need to repeat sentences.
Availability in noisy locations – HD Voice works admirably in noisy places like airports where regular calls suffer.
Better call experience for hearing aids – The wider audio bandwidth accommodates hearing aids better.
Overall, HD Voice enables easier communication with minimal misunderstanding or repetition. It brings the calling experience closer to face-to-face conversations.
What to Consider Before Switching to HD Voice Calling?
Here are some things to evaluate if you are considering upgrading to HD voice calling:
Phone model – Ensure your smartphones or desk phones support HD Voice codecs and features. May require purchasing new phones.
Carrier support – Verify your mobile carrier or VoIP company supports HD Voice on their network. Limited to certain plans.
Internet connection – For VoIP systems, ensure your business has a robust broadband internet connection for optimal call quality.
Coverage area – HD Voice works only if both callers are in an area with HD Voice support. Roaming may disable HD Voice.
Cost – HD Voice plans may have higher monthly costs depending on the provider. Factor this into your evaluation.
Number porting – Understand if you can port your existing phone number if switching mobile or VoIP providers.
Making the switch to HD Voice calling can significantly improve call quality and clarity if done right. Weigh the costs versus benefits with your specific requirements in mind.
Top 5 VoIP Providers with HD Voice Calling
Here are the top VoIP phone systems that offer excellent HD voice calling capability: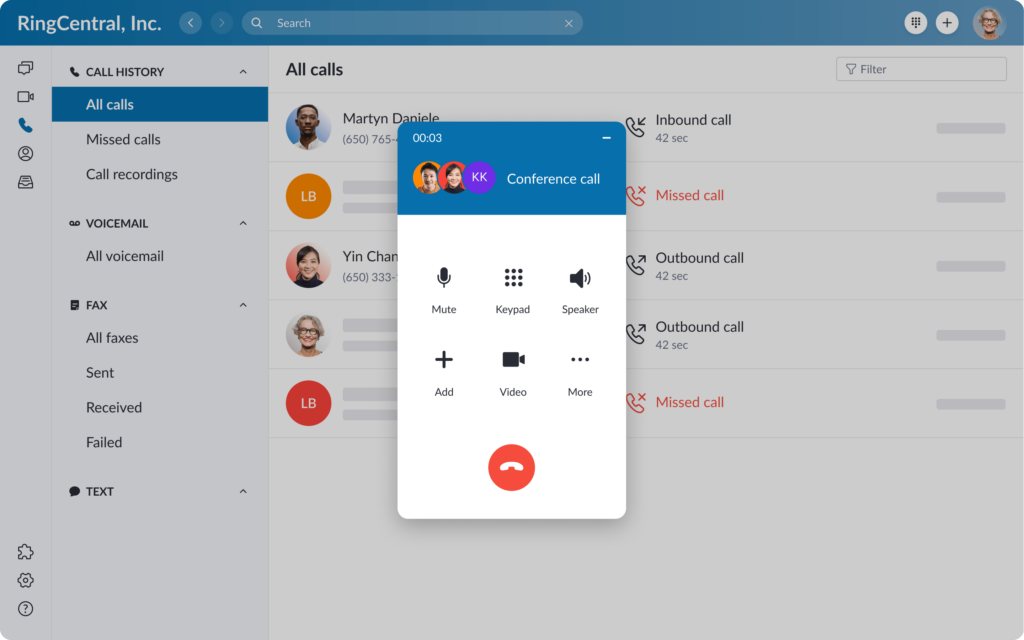 Features
HD voice and video calling
Team messaging and collaboration tools
Mobile app with calling and messaging
Advanced call routing and management
Pricing
Starts at $19.99 per user per month
Offers various plans based on the number of users and features required
Why to Pick
The industry leader in unified communications
Easy to set and use
Reliable service with 99.999% uptime guarantee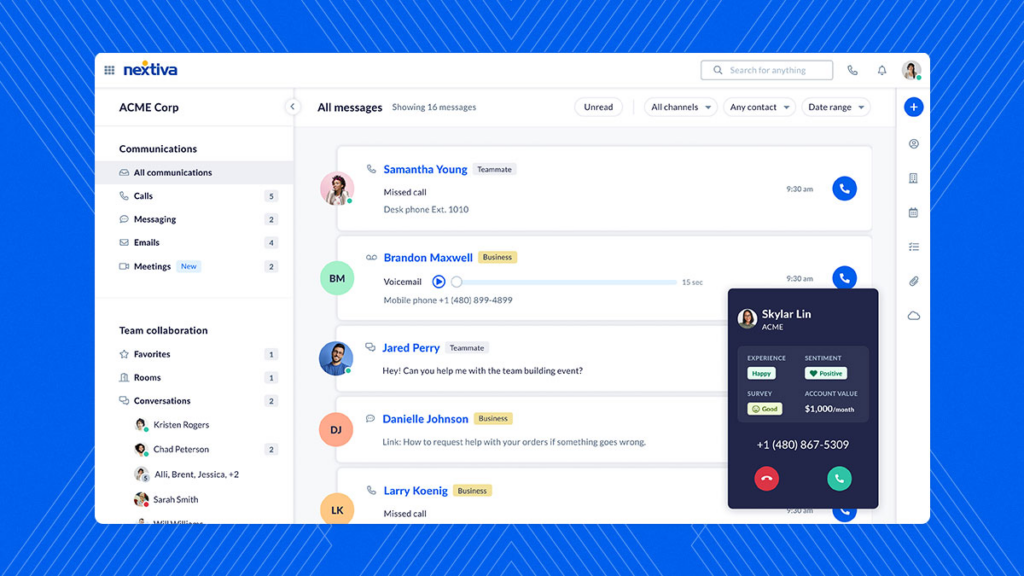 Features
Crisp HD voice quality
Integrated team chat and collaboration
Intelligent call routing and management
Mobile app for calling and messaging
Pricing
Starts at $20 per user per month
Scalable pricing for growing businesses
Why to Pick
Award-winning customer service
Reliable network with exceptional call quality
Powerful call center features
3. 8×8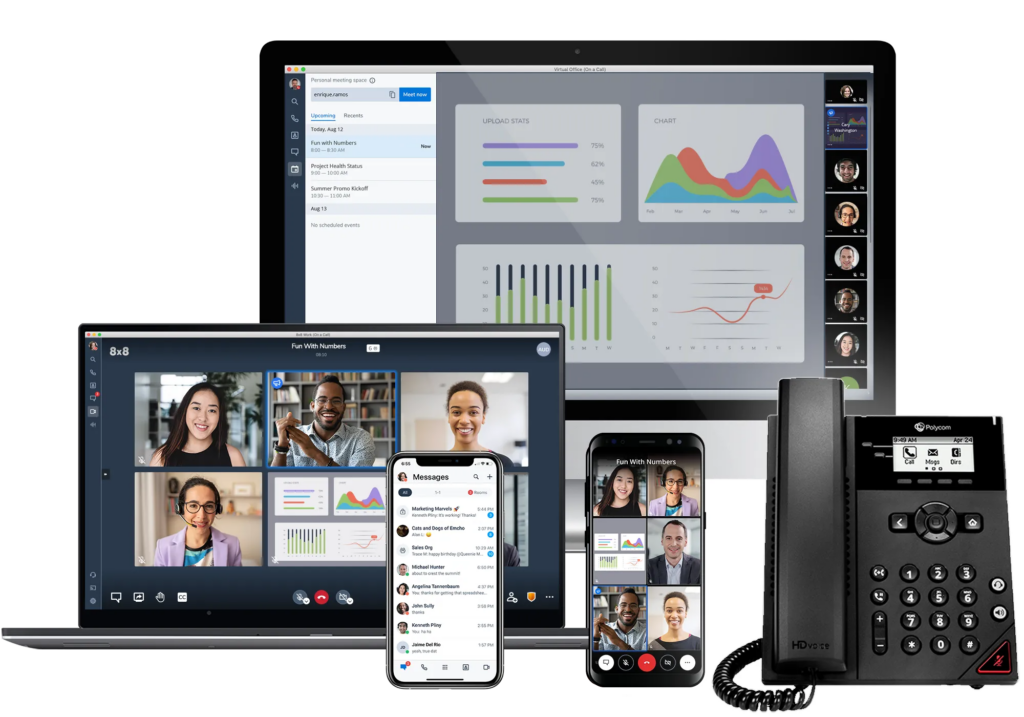 Features
HD audio and video meetings
Team chat, SMS, and screen sharing
Sophisticated call handling with IVR
Integrations with CRM and helpdesk apps
Pricing
Starts at $25 per user per month
Volume discounts available
Why to Pick
Robust Unified Communications platform
Global network with outstanding call quality
Generous inclusive minutes
4. Jive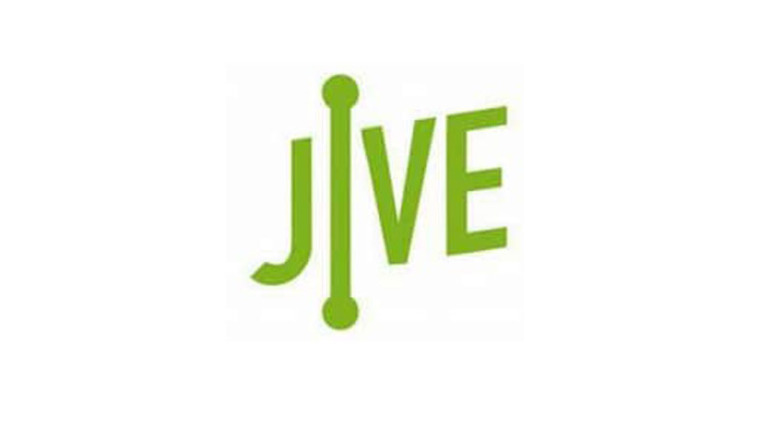 Features
Crystal clear HD voice
Voicemail transcription and messaging
Intuitive mobile app
Integrated with G Suite and Office 365
Pricing
Starts at $19.95 per user per month
Discounts for annual contracts
Why to Pick
Focus on simplicity and ease of use
Works on any device
Low-cost solution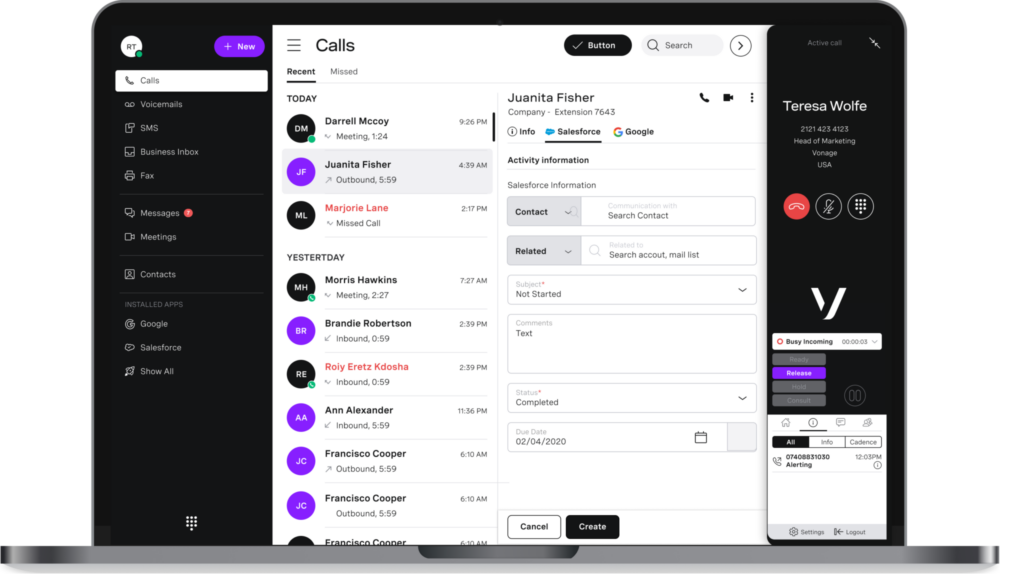 Features
HD audio and video conferencing
Team messaging and collaboration
Flexible call flows and routines
Integrates with CRM and helpdesk tools
Pricing
Starts at $19.99 per user per month
Customizable plans
Why to Pick
Reliable network with great voice quality
A popular choice for small businesses
Generous inclusive minutes
Frequently Asked Questions (FAQ)
Ques 1. Can I make HD Voice calls to anyone?
Ans: No, HD Voice calls only work if both you and the other caller are using HD Voice-enabled phones and are supported by HD Voice networks.
The caller you're speaking with must also have an HD voice-capable phone for the improved audio to work.
Ques 2. Do I need a new phone to use HD Voice?
Ans: Most newer smartphone models and VoIP desk phones support HD Voice, but you'll need to verify the phone you plan to use has the necessary hardware and software to encode/decode wideband codecs for HD calling.
Older phone models likely don't support HD Voice.
Ques 3. Is HD Voice the same as VoLTE?
Ans: HD Voice and VoLTE refer to two different technologies.
HD Voice improves call quality by enabling wider bandwidth audio. VoLTE (Voice over LTE) delivers voice calls over 4G LTE data networks rather than traditional cellular networks.
However, VoLTE can support HD Voice for even better call quality.
Ques 4. Does HD Voice use more battery or data?
Ans: HD Voice has minimal impact on battery life or data usage on smartphones. The codecs transmitting HD Voice are very efficient.
However, enabling VoLTE for HD calls on 4G networks may use slightly more battery life than on 3G.
Ques 5. What's the difference between HD Voice and WiFi calling?
Ans: HD Voice improves call quality, while WiFi calling enables making and receiving calls over a WiFi internet connection rather than cellular networks.
They are complementary technologies. Using WiFi calling over a high-speed connection can facilitate HD Voice capabilities.