Having a dedicated business phone number is an important part of establishing a professional brand and connecting with customers.
Unlike using a personal cell phone number, a business phone number allows you to present a more official image and keep your personal and professional communications separate.
In this article, we'll look at the costs associated with getting a business phone number as well as the steps involved.
We'll cover the pricing and options offered by traditional landline providers as well as newer virtual phone services. Virtual phone services are often more affordable, flexible, and feature-rich compared to traditional landlines.
We'll explore some of the top virtual phone service providers, their pricing models – which range from free basic services to plans costing over $100 per month – and the features included at different pricing tiers.
Additionally, we'll walk through how to port an existing number to a virtual service, get set up with a new business phone number, and configure features like call routing and voicemail.
Whether you're just starting or looking to upgrade your existing phone system, this article will help you understand your options and get started with a business phone number tailored to your needs and budget.
What is a Business Phone Number?
A business phone number is a direct number assigned to your company that routes calls to your business instead of to a personal device. It provides customers with a professional contact method for reaching your company.
Unlike a personal cell number that's tied to an individual, a business number remains consistent even if staff members change.
This number appears on your website, ads, and other marketing materials so customers can call your company.
Some key attributes of a business phone number include:
Associated with your company, not an individual
Consistent point of contact for customers
Enables call tracking and analytics
Allows for professional call-handling features
Helps present a legitimate business image
While a personal cell phone number may seem like an easy option at first, taking the time to get a proper business number is worth it for the benefits it provides your brand over the long term.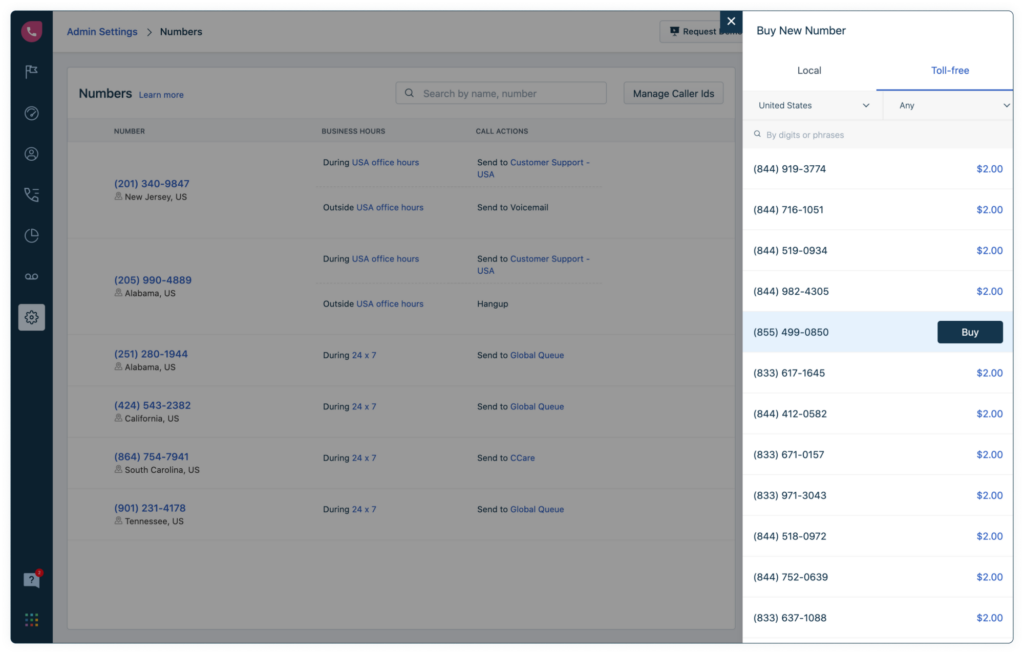 The Different Types of Business Phone Numbers
There are a few common types of phone numbers used for business purposes:
1. Local Numbers
A local phone number associates your business with a geographic area and local presence. Local numbers use an area code and prefix specific to your region.
If you operate a business with a physical location that serves customers in a metropolitan area, a local number is typically the best fit.
Customers can easily discern that your business is located near them and likely serves their area.
Local numbers are often cheaper than toll-free numbers. The call is treated as a local call for customers dialing within your area code, which they are more likely to do if you serve a local area.
A local number may not be practical if your business does not have a geographic focus or has customers scattered across a large region. In that case, a toll-free number may be a better option.
When getting a local number, you can request a specific exchange prefix, though availability may be limited for certain prefixes. Some examples of local business numbers:
555-123-4567
777-987-6543
321-555-4321
2. Toll-Free Numbers
A toll-free number, often styled as 1-800, allows customers to call you from anywhere in the country without long-distance charges.
The customer's phone carrier covers the cost instead. This makes it very convenient for both local and non-local customers to call your business without incurring a fee.
A toll-free number can help encourage calls and project a national presence. Common toll-free prefixes include 800, 888, 877, and 866.
Of these, 800 is generally considered the most prestigious prefix. However, most providers charge more for 800 numbers compared to other toll-free prefixes.
While toll-free numbers indicate a national business reach, they don't connect your brand to a specific region like a local number. If you want to convey a local presence, a local number would be better.
Here are some examples of toll-free business numbers:
800-PETS-R-US
1-888-555-1234
877-COMPANY-NAME
3. Vanity Numbers
Vanity numbers, also known as mnemonic numbers, use a combination of letters and numbers that spell out a business name, slogan, or memorable phrase.
For example, a flower shop could use the vanity number 1-800-FLOWERS instead of a random toll-free number. Vanity numbers are much easier for customers to recall.
Most virtual phone services offer vanity numbers, but they usually cost extra per month compared to a standard toll-free number. The more popular the vanity word or phrase, the higher the monthly price.
Vanity numbers are great for brands that want an easy-to-remember and visually appealing number. Just keep in mind they work best for established companies that already have strong brand recognition.
Here are some examples of vanity toll-free numbers:
1-800-GOT-JUNK
1-855-FOR-PIZZA
1-866-RING-JING (jewelry store)

4. International Numbers
For businesses located overseas that want to serve English-speaking customers, an international business number can be a local dial-in option for callers in specific countries.
International numbers provide a localized presence in foreign markets. Customers see a number formatted for easy dialing from their country. Rates may be cheaper compared to long-distance costs.
For example, a company in the UK could get a unique virtual number that appears to US callers as a standard US number, making it more convenient to dial.
International numbers may also be necessary if you have physical operations in multiple countries for local customer support.
5. Shared Lines & Extensions
Some office phone systems use shared lines with extension numbers to route calls internally.
A main business number rings into the phone system, then callers dial extensions to reach specific people or departments.
Shared lines and extensions help minimize the need for multiple direct business numbers.
However, the experience may be less streamlined compared to assigning each department or team its direct inbound number.
Why You Need a Business Phone Number
There are several important reasons why having one or more direct business phone lines is critical for projecting a professional brand image and providing top-notch customer service:
1. Professional Perception
A dedicated business line presents your company as professional, trustworthy, and legitimate.
Customers perceive dedicated business lines as more credible than personal cell numbers.
2. Privacy & Organization
Separating business and personal calls keeps your work and personal life organized. Customer calls won't ring through to your mobile phone, avoiding unwanted disruption.
3. Consistent Contact
The business number remains constant even when individual employees leave the company.
This minimizes disruption for customers.
4. Call Tracking & Analytics
Many business phone services offer powerful call tracking features, such as several calls, duration, wait times, and sources. This data helps optimize sales and marketing.
5. Customer Reachability
A business line enables various call routing features like automated attendants, voicemail, and ring groups to ensure customers can conveniently reach your business anytime.
6. Professional Call Handling
Smart call-handling technology on a business line routes callers smoothly to create an excellent customer experience.
For example, an after-hours voicemail menu or routing calls to employees working remotely.
7. Credibility for Customers
Customers often check that a business has a legitimate contact number before making a purchase decision. This provides trust and credibility.
In summary, investing in a proper business phone number helps present a professional image, maintain privacy, track data, and most importantly, provide customers with an accessible and trustworthy contact option.
How to Get a Business Phone Number
The steps involved in obtaining a business phone number include:
Step 1. Determine the Number Type Needed
First, decide if you need a local number, toll-free number, vanity number, or a combination.
Local is best for regionally-focused businesses. Toll-free enables broader reach.
Step 2. Choose a Provider
Next, pick either a traditional landline service or a modern virtual phone system.
Virtual services tend to be more flexible and cost-effective. Compare quality, features, reliability, and pricing.
Step 3. Select a Plan
Look for a provider plan in your budget that has all the call management features your business needs.
Prioritize must-have capabilities like IVR menus, voicemail, call analytics, etc.
Step 4. Obtain Your Number
Once signed up with a provider, you can select an available number from their pool. Or port your existing business number if you want to keep it.
Step 5. Configure Features
Take time to set up voicemail, call routing rules, IVR system, and other functionality that will optimize your business call handling.
Step 6. Start Advertising Your Number
Now you can proudly display your new business number on your website, emails, adverts, and all other brand touchpoints.
How to Get a Business Phone Number through a VoIP provider
Selecting the right business phone number provider is key to presenting a professional image, ensuring excellent call quality, and providing customers with an optimal calling experience.
While traditional landlines are still an option, most businesses today are embracing voice-over IP (VoIP) phone services for greater flexibility, smarter features, and lower costs.
When researching providers, you'll want to compare factors like reliability, call quality, features, hardware options, and pricing.
Here are 6 top VoIP business phone number providers on the market today:
1. RingCentral
RingCentral is one of the most widely used and robust VoIP solutions designed for business communications.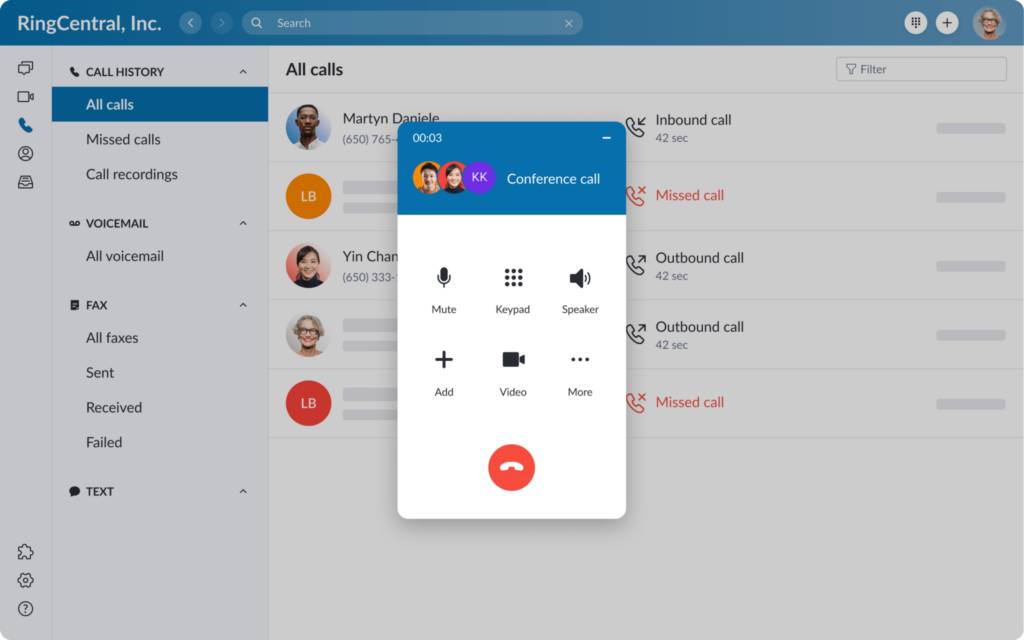 Key features
Auto-attendant
Voicemail
Call forwarding
Call queues
Conferencing
Fax
SMS
RingCentral provides high-quality audio and seamless call connectivity. They offer both local and toll-free numbers available in over 100 countries.
Customers can use their phones or purchase recommended VoIP desk phones, wireless phones, and softphone apps.
Advanced Capabilities
In addition to standard features, RingCentral offers advanced capabilities like:
Call analytics
Real-time call monitoring
CRM integrations
Custom app development using APIs
This allows for deeper insights into your calling data and customization to fit your workflows.
Pricing and Plans
RingCentral pricing starts at $19.99 per user per month. Volume discounts are available for larger teams. There are three core plans:
Essentials – For small teams
Standard – Adds multi-level auto attendants, internet fax, APIs, and more
Premium – Highest level plan with unlimited storage and minutes
RingCentral also offers dedicated call center plans for larger customer service teams.
In summary, With industry-leading capabilities, RingCentral is a robust option suitable for businesses of all sizes. It provides a full cloud business phone system with enterprise-grade voice quality and a range of features.
2. Nextiva
Nextiva is a leading hosted VoIP provider powering over 150,000 businesses globally.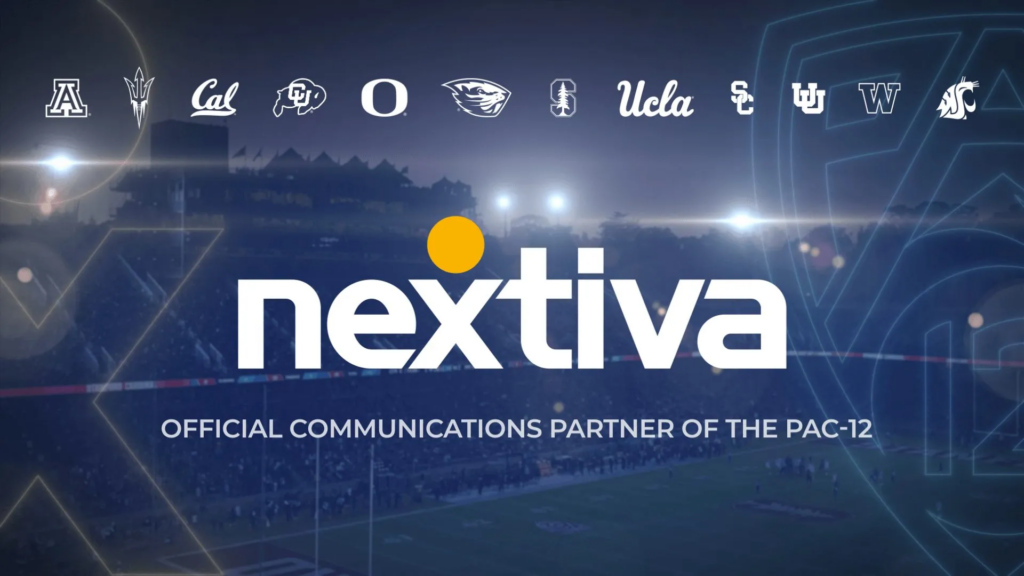 Key features
Cloud-based phone system with easy setup and management.
Wide range of voice features like auto-attendant, call routing, and voicemail.
Team chat and collaboration tools for improved productivity.
Advanced analytics and reporting for insights into calls and performance.
Integrates with popular business apps like CRM, email, and calendar.
Reliable service with 99.999% uptime
Excellent call quality and clarity
Nextiva offers a full range of telephony features like auto-attendants, voicemail, conferencing, and call queues tailored to businesses.
Advanced Capabilities
Video conferencing
Team chat
CRM integrations
Advanced call center features
Customizable auto-attendants provide intelligent call routing to direct customers seamlessly.
Supported Hardware Nextiva offers VoIP desk phones, cordless phones, and conference room speakerphones that integrate smoothly with their phone service. Their desktop and mobile apps allow you to use your existing devices as VoIP phones.
Pricing and Plans
Nextiva pricing starts at $18.95 per user per month. Enterprise plans with full contact center features start at $34.95 per user per month.
In summary, With strong reliability, call quality, and integration capabilities, Nextiva is suitable for growing SMBs and larger enterprises needing a scalable, cloud-based phone system.
3. Grasshopper
Grasshopper is a virtual phone system geared toward entrepreneurs, freelancers, and micro-businesses. Grasshopper plans start at $26 per month with no contracts.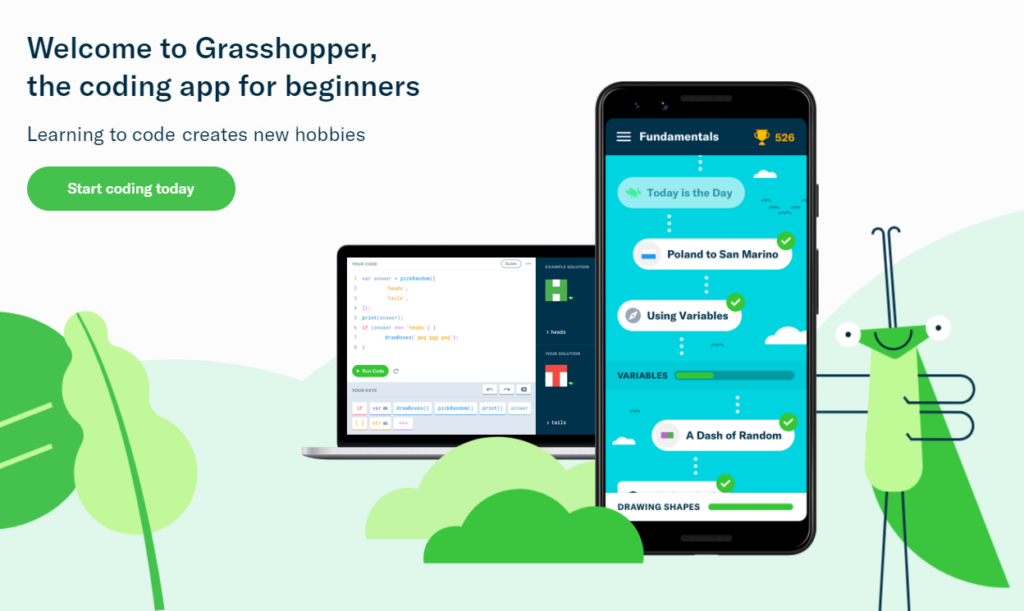 Key features
Auto-receptionist
Voicemail
Call forwarding
Fax
The auto-receptionist provides a custom greeting with a dial-by-name directory to route calls intelligently. Grasshopper also allows you to mask your personal caller ID when making outbound calls.
Ease of Use A major benefit of Grasshopper is its ease of use. The system works seamlessly with your existing mobile and desktop devices without added hardware. It can be set up and managed entirely through their online portal and mobile app.
Pricing and Plans
In addition to the $26 per month Solo plan, Grasshopper offers a $44 per month Partner plan with extensions for small teams. Setup fees are waived for annual contracts.
In summary, With its simple setup and competitive pricing, Grasshopper provides an ideal VoIP solution for solopreneurs, home-based businesses, and freelancers. Larger teams may require more advanced call center features.
4. 8×8
Overview 8×8 is a VoIP provider focused on delivering a unified communications platform for small to mid-sized businesses. They claim over 1 million business users.
Key features
Unlimited calling
Auto-attendants
Advanced call management
CRM integrations
Contact center features
8×8 offers mobile apps, desk phones, and headsets to unify communication across devices.
Integrations 8×8 integrates with popular business software like NetSuite, Microsoft, Salesforce, and Zendesk. This allows contacts, leads, and other data to be synced across your systems.
Pricing and Plans
8×8 has four core plans starting at $25 per user per month. The higher-tier Enterprise plan at $50 per user per month adds sophisticated analytics, an omnichannel contact center, and real-time insights.
In Summary, 8×8 provides reliable, enterprise-grade VoIP phone services paired with robust integrations. This makes it a strong choice as businesses scale beyond the start-up phase.
5. Ooma Office
Overview Ooma Office is a smart option for smaller businesses with 5-20 extensions. It starts at just $19.95 per month for the base station, with each additional extension only $5.99 per month.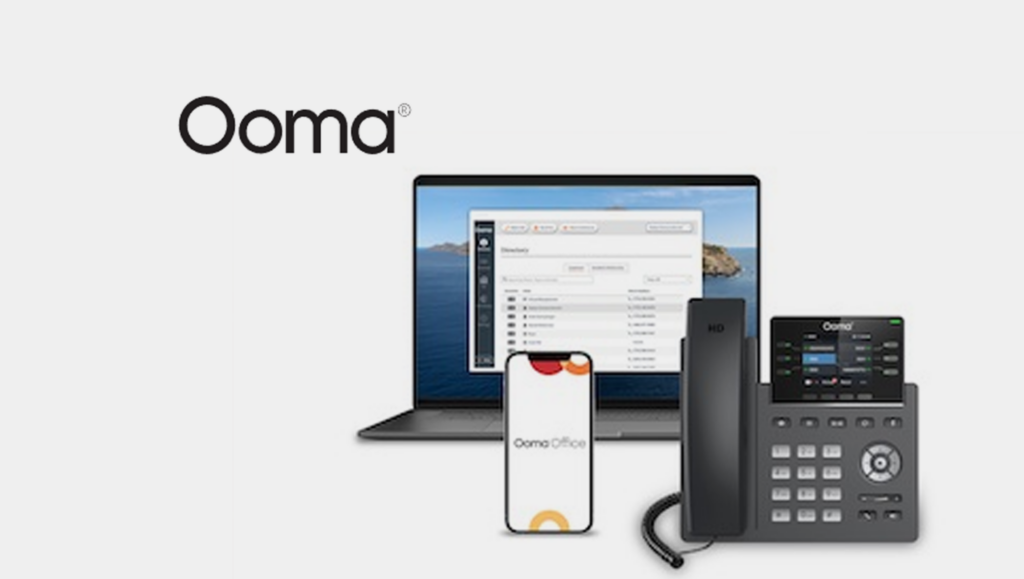 Key Features
Ooma allows you to use your existing desk phones or purchase new VoIP phones with an easy plug-and-play setup. Useful features include:
Virtual faxing
Ring groups
Call forwarding
Voicemail-to-email
HD call quality
The mobile app provides full access to your phone system while on the go.
Ease of Use Ooma Office is designed for easy self-installation by business owners without the need to pay expert setup fees. The online portal provides full control over your phone system settings.
Pricing and Plans
Ooma Office starts at $19.95 per month per user for basic phone service and features.
Ooma Office Pro is $24.95 per month per user and adds advanced features like call recording and enhanced phone support.
Ooma Enterprise starts at $19.95 per user with unlimited calling, advanced features, and a virtual receptionist.
In Summary, Ooma Office provides excellent value for micro-businesses just getting started with hosted VoIP services. However, larger growing companies may require more advanced capabilities.
6. Vonage
Vonage is a longtime provider of business cloud phone services with over 1 million business clients.
In addition to great nationwide call quality, Vonage provides toll-free numbers available in over 60 countries.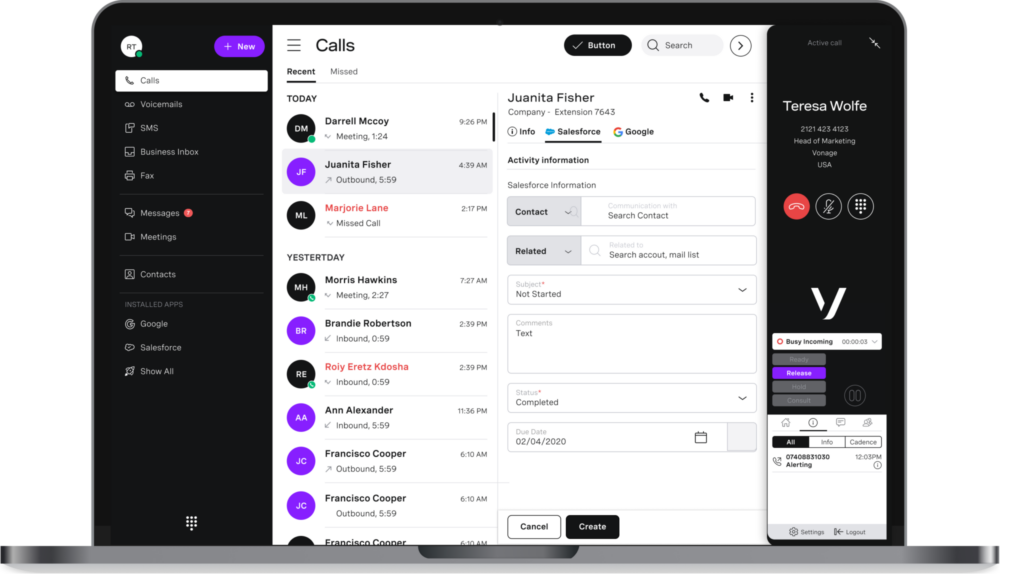 Key Features
Auto-attendants
Visual voicemail
Call forwarding
Notifications via email/SMS
CRM integrations
Status indicators
Mobile app
International Capabilities For global businesses, Vonage provides the flexibility to configure numbers in multiple countries along with capabilities to manage international teams.
Plans and Pricing
Vonage offers home office plans starting at $29.99 per month. Small business plans start at $19.99 per user per month with volume discounts available.
In Summary, Vonage is ideal for small businesses planning to scale globally. Their reliable network and international numbering capabilities provide seamless communications across borders.
Choosing the Best Provider for You
When selecting a VoIP provider, start by considering your business size, calling needs, budget constraints, and must-have functionality.
Larger enterprises will benefit most from robust call center features and deep CRM integrations, while solo entrepreneurs may just need basic call routing and voicemail capabilities.
Be sure to take advantage of any free trials available so you can test out providers firsthand before committing.
Investing in a reliable, high-quality hosted VoIP phone system will ensure you present callers with a seamless, professional experience when engaging with your company.
When to Get a Business Phone Number
You should obtain a dedicated business phone number as soon as you start your company, brand, or initiative.
Even solo entrepreneurs and home-based businesses need a professional number separate from their cell.
A business number presents a legitimate image and allows you to set up proper call-handling features right away as you launch your operations.
Don't wait to establish this vital contact channel for customers.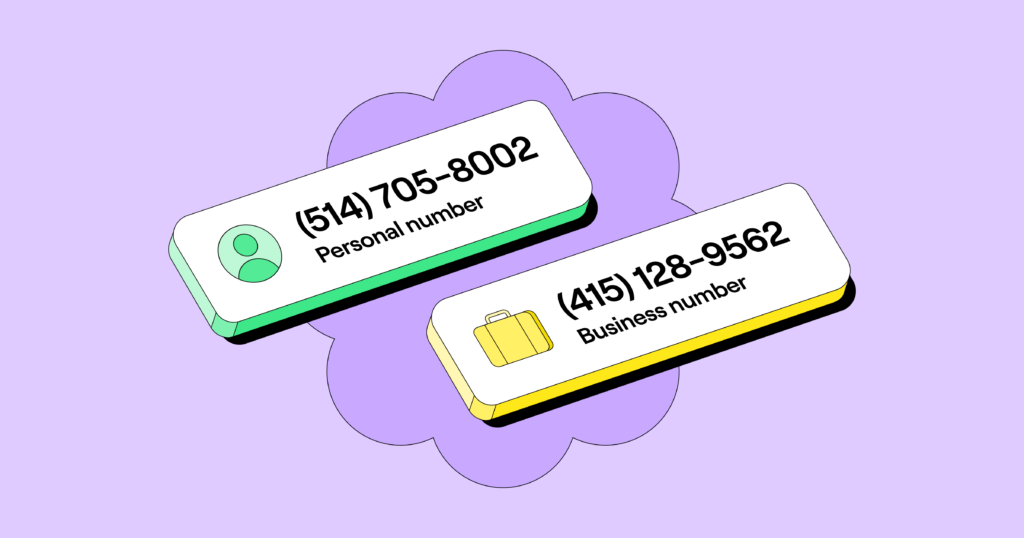 Must-Have Business Phone Number Features
Call forwarding – This allows calls to your business number to be forwarded to another number as needed. You can forward calls when you're away, after hours, if your line is busy, and more. Very useful for a mobile or distributed workforce.
Voicemail – Essential for capturing messages when you can't answer the phone. Voicemail should be customizable with greetings and include features like voicemail-to-email.
Call conferencing – Allows multiple people to join the same phone call. Useful for meetings, training, interviews, and conference calls. Look for advanced features like muting lines, recording, and screen sharing.
Auto attendant/IVR – Automated system that answers calls and provides menu prompts so callers can route their calls. Reduces the need for live operators. Customize with business hours, locations, dial-by-name directory, and more.
Call analytics – Provides data about your incoming calls. See volume, wait times, abandoned calls, and more. Lets you identify staffing gaps, and busy times, and assess advertising effectiveness. Requires integration with your phone system.
Toll-free number – Key for providing an accessible customer service number nationwide. Choose a vanity toll-free number that spells your business name or service for branding.
Texting – Allow customers another channel to reach your business. Integrate texts into your business phone system and enable SMS notifications, chatbots, appointment reminders, and more.
Traditional Landline vs. Virtual Phone Services
You'll generally be choosing between two options for your business phone service: traditional landline or virtual phone system.
Here's an overview comparing the key differences:
Traditional Landline Phone Service
For decades, the traditional landline phone provided through a local phone company was the only option available. To get a business landline, you need to contact providers like AT&T, Verizon, or CenturyLink.
The phone company will install a physical phone line to your business location that connects you to the public switched telephone network (PSTN). Callers dial your direct number that's tied to this landline.
Pros
Tried and tested reliable technology.
Number tied to geographic location.
No internet is required.
Cons
Requires installation of phone line on-site.
Hardware can be expensive to purchase and maintain.
Limited flexibility – new lines require additional installation.
Features and functionality are limited.
Monthly service is generally more expensive.
Overall, traditional landlines work well for established companies with fixed local operations but lack flexibility.
Virtual Phone Services
A virtual phone system delivers business phone service entirely over the internet, without the need for any on-site hardware installation.
With virtual phone services, you're assigned dedicated business numbers that forward calls to any phone of your choosing.
Leading providers include Nextiva, RingCentral, Ooma Office, 8×8, Grasshopper, Aircall, and others.
Calls are received via desktop or mobile apps over WiFi or cellular data, providing streamlined mobility.
Pros
No expensive hardware required – uses smartphones or apps.
Very flexible and scalable. Easy to add numbers and features.
Advanced features like IVR menus, voicemail transcription, and call analytics.
Lower monthly service costs.
Integrates with CRM and marketing automation platforms.
Mobile administration.
Cons
Reliant on internet connectivity to function.
Emergency service limitations.
Geographic number availability varies.
Number porting can take time.
Overall, virtual phone services are best for modern businesses that require mobility, flexibility, advanced features, and integration with other software platforms.
Now that you understand the key contrast between traditional and virtual business phone services, let's take a closer look at pricing and fees.
Business Phone Number Pricing
Costs for a business phone number can vary significantly depending on whether you opt for a traditional landline or virtual phone system. Here's an overview of what to expect:
Traditional Landline Pricing
The monthly cost for a traditional business landline connection through your local phone company typically ranges from $30 – $50 per month.
This usually includes one direct inbound phone number and a basic handset.
You'll also likely pay an upfront installation fee of $100 or more for the phone company to run cables and connect the physical phone line to your business location.
Any additional phone lines or extensions at your location will cost extra per month, usually $10 – $30 per additional line.
Other potential fees to factor in:
$5+ per month for basic voicemail service.
$10+ per month for a toll-free number.
$7+ per month for call forwarding features.
Long-distance calling charges if you do out-of-area business.
One-time hardware costs for any additional handsets or an on-site Private Branch Exchange (PBX) system.
When you add up the base monthly fee, installation, extra lines, hardware, features, and long distance, a traditional multi-line business phone system can cost well over $100 per month.
The exact total will depend on your business size and the number of phones/lines needed.
Scalability is also limited. Adding more lines means installing new costly phone line infrastructure.
Virtual Business Phone Service Pricing
Pricing for virtual phone services has a wider range, with flexible options to accommodate different needs and budgets:
Basic plans – Start as low as $10 per month per number. Include a local/toll-free number, call routing, voicemail, and basic call-handling features.
Professional plans – Around $25 – $50 per month per number. Adds advanced call routing, IVR menus, visual dashboards, and integrations.
Enterprise plans – $50 – $100+ per month per number. For sophisticated call centers with omni-channel queuing, real-time analytics, and more.
Toll-free numbers – An extra $5 – $15 per month for vanity toll-free numbers.
Additional lines – Anywhere from $5 – 25 per extra number per month.
Pay per minute – Some services bill for talk time used instead of a flat monthly rate.
International numbers – $5 – $15 monthly for a virtual international number.
Unlike traditional landlines, virtual services make it affordable and easy to add more phone lines, features, and capabilities as your business grows.
The total monthly cost for a virtual business phone system for a small company with limited needs could be as little as $25.
Medium and larger businesses may pay $100 to $500+ per month depending on the provider plan tier and number of lines.
Best Practices For Choosing a Business Phone Number
Your business phone number is an important part of your company's brand and identity. When choosing a number, there are several best practices you should follow:
Choose an easy-to-remember number. Opt for a phone number with repeating digits or a pattern that makes it simple for customers to recall. For example, 555-1234 or 123-4567.
Avoid toll-free numbers if possible. While 800 numbers can work, local numbers appear more established and professional.
Make sure the area code matches your business location. Having an area code in the same region as your office or store helps connect your business to the local community.
Check for a clear meaning. Stay away from phone numbers that spell out unclear or unintended words. Use a number lookup to see the corresponding letters.
Test the number first. Before committing, call the number yourself to ensure it's active and rings through properly.
Search online for references. Do a quick search to see if the number is already listed for another business.
Set up proper greetings. Record a professional business greeting that identifies the company name.
By following these tips when choosing a phone number, you can select one that maximizes brand recognition while conveying trust and reliability.
Now let's look at some frequently asked questions about business phone numbers.
Frequently Asked Questions (FAQ)
Ques 1. How can a customer reach my business if I don't answer the phone?
Ans: Set up voicemail and configure it to play a custom greeting message when you can't answer calls.
This allows customers to conveniently leave a message so you can call them back.
Ques 2. What should my business voicemail greeting say?
Ans: Your voicemail message should identify your business name and hours.
Ask the caller to leave their name, number, and a brief message so you can return the call. Keep it short, professional, and friendly.
Ques 3. Can I use a call forwarding service to route calls from my business number?
Ans: Yes, call forwarding is a standard feature with most business phone services. You can create conditional forwarding rules to ring multiple devices or numbers until someone answers.
Just be aware of potential long-distance charges if forwarding outside your local area.
Ques 4. How do I set up a professional phone menu for my business?
Ans: Many providers include an auto-attendant or IVR (interactive voice response) system. This allows you to set up a phone menu where callers dial numbers to route their call, e.g. "Press 1 for sales, press 2 for support…"
Ques 5. What is the cost of vanity 800 numbers?
Ans: Vanity toll-free numbers like 800-FLOWERS usually cost an additional $5 – $15 per month plus the cost of your service plan. The more recognizable the vanity phrase, the higher the monthly fee.
Conclusion
A dedicated business phone number that presents a professional image is a must-have for any company. Traditional landlines and newer virtual phone services both offer viable options to get your business connected.
Carefully weigh factors like call quality, reliability, features, and budget flexibility in choosing the right phone provider. Look for scalable service plans that will support growth.
Setting up call routing, voicemail, IVR menus, and other options provides callers with a great experience and gives you control over how calls are handled. Don't forget to port an existing number when switching providers.
With this guide, you now have an in-depth look at the critical decisions and steps involved in getting the perfect business phone number solution up and running for your company.