Aircall is a powerful cloud-based phone system designed for today's small and mid-sized businesses.
Offered by Aircall.io, it delivers enterprise-grade VoIP calling, intelligent call routing, interactive voice menus, voicemail, and other robust features without the need for costly on-premise PBX hardware.
With easy browser-based setup, unlimited calling plans, and flexible pricing tiers, it enables growing companies to unify multi-location communications, connect remote teams, and deliver top-notch customer experiences.
This comprehensive guide explores Aircall's platform capabilities in depth, highlights real-world use cases, analyzes its advantages and limitations, breaks down available pricing options, and compares Aircall against leading solutions like RingCentral Office, Nextiva, Dialpad, and Ooma Office.
For high-growth SMBs looking to upgrade their phone service, this detailed analysis provides unparalleled insights.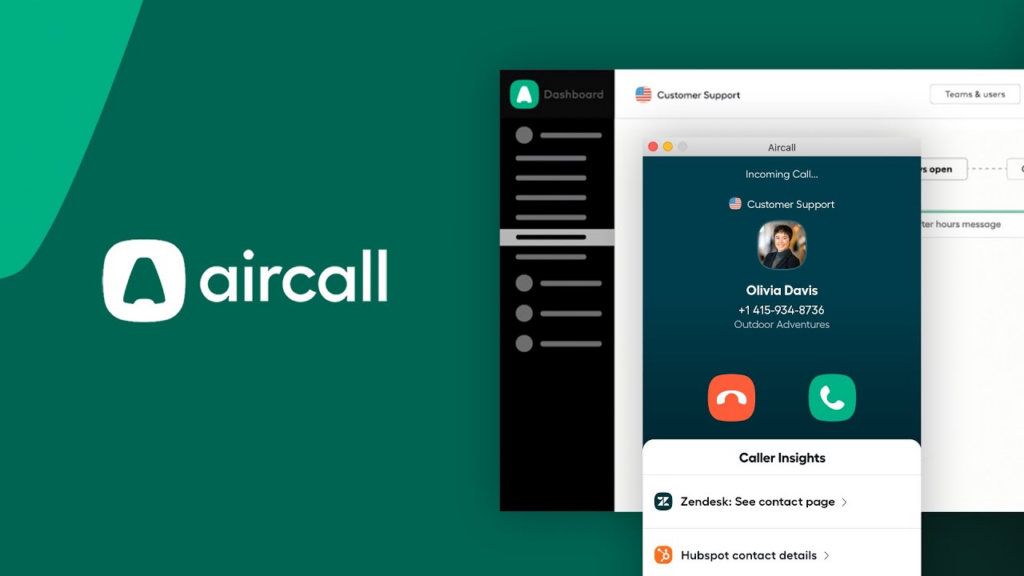 Features
1. Cloud-based call center
One of Aircall's flagship features is its cloud call center which provides advanced capabilities without the need for costly on-site equipment.
With this, agents can manage incoming and outgoing calls from anywhere with just an internet connection.
Managers have access to real-time agent tracking, call monitoring, and whisper messages to provide support.
2. Interactive voice menus
It enables customizable interactive voice menus (IVRs) to route inbound calls effectively. Menus can be tailored with welcome messages, dial-by-name directories, operating hours, and more.
Advanced options include voicemail, canned responses, and multi-level menus.
3. Real-time dashboards
Users can leverage Aircall's real-time dashboard to monitor call volume, waiting times, agent status, and more.
With visual analytics, teams can optimize processes and staffing. Dashboards can be displayed on office TVs and accessed remotely via web or mobile.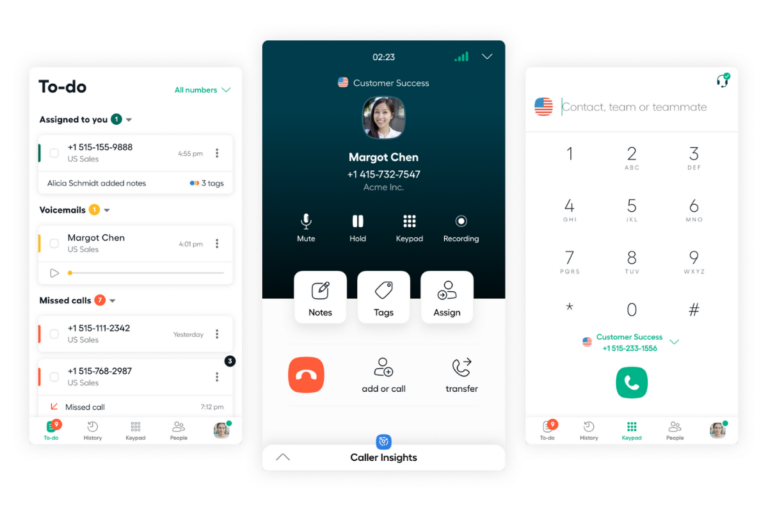 4. Click to call
Aircall's click-to-call feature enables one-click calling directly from your CRM.
Users can initiate calls immediately from within platforms like Salesforce rather than looking up numbers and manually dialing.
This expedites workflows and boosts productivity.
5. Call recording
All calls made and received through it can be recorded, stored, searched, and shared. Managers can listen back to agent calls for training purposes.
Recordings can also act as receipts for customer service interactions. Calls are recorded securely and encrypted.
6. SMS
In addition to voice calls, It enables users to send and receive SMS messages from the same interface.
Two-way texting simplifies communication with customers and expands options for notifications like order confirmations.
7. Native integrations
With over 40 native integrations, Aircall connects directly to popular business applications including Salesforce, Zendesk, HubSpot, and more.
Tight integrations allow for screen pops, click-to-call, call logging, lead enrichment, and other beneficial features.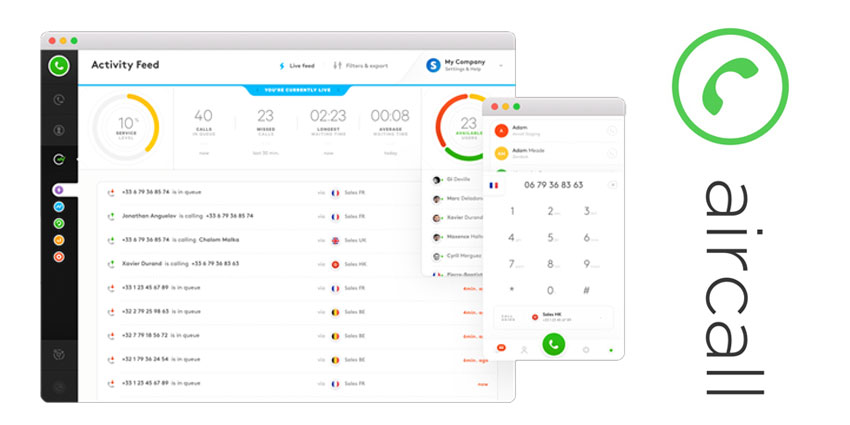 Use Cases of Aircall
1. Customer support
With IVRs, routing rules, and omni-channel queuing, It is well-suited for customer support call centers.
Agents can be assigned to specialized queues while intelligent call distribution ensures optimal staffing. Real-time dashboards provide managers with the visibility needed to refine support operations.
2. Sales teams
For sales teams, It enables click-to-call, screen popping, and recording directly from CRM platforms like Salesforce.
By surfacing relevant customer information at call time, Aircall makes the process smoother for sales reps. Call analytics also provide sales operations managers with insights.
3. Remote teams
It is ideal for remote teams since it operates in the cloud and offers mobility through desktop and mobile apps.
Location is irrelevant, enabling remote agents to handle calls from anywhere. Call forwarding also ensures no calls are ever missed.
4. Small businesses
The ease of setup and lack of on-site equipment required makes It accessible for small businesses.
Growing teams can start with essential call center features and then scale up as their needs evolve. Customizable call flows adapt to changing business requirements.
5. Multi-location
Larger companies with numerous offices and franchises can unify communications with Aircall.
Location-based routing sends calls to the nearest available agent while centralized management provides visibility across all sites.
6. Healthcare
In healthcare, IVRs enable patient self-service while call recording assists with documentation and compliance.
Aircall integrates with popular EHR/EMR platforms to surface patient info to staff. HIPAA-compliant recording secures sensitive data.
7. eCommerce
For eCommerce businesses, It enables order status checks via IVR as well as SMS capabilities for shipping confirmations.
If additional assistance is needed, calls can be routed to customer service queues.
Pros
1. Intuitive interface
One of the biggest advantages of Aircall is its intuitive, user-friendly interface. The platform is designed to be simple to use for call center agents with no prior experience required.
With easy configuration of IVRs, dashboards, and routing rules, Aircall cuts down on training and ramp-up time.
2. Scalable
It scales smoothly along with business growth and easily accommodates spikes in call volume along with the addition of locations and agents.
Advanced features like skills-based routing and automated call distribution optimize operations.
3. Affordable
Compared to legacy on-premises systems, Aircall is extremely cost-effective. The cloud-based model avoids costly hardware investments and installation fees.
Monthly subscriptions provide predictable costs that flex up or down based on usage.
4. Reliable
With 99.999% uptime and exceptional call quality, It provides reliable enterprise-grade performance.
Redundant infrastructure across global data centers minimizes the potential for downtime.
5. Feature-rich
Despite its user-friendly interface, It still offers an extensive feature set including IVRs, CRM integrations, real-time dashboards, omnichannel support, and more.
The breadth of features accommodates diverse use cases.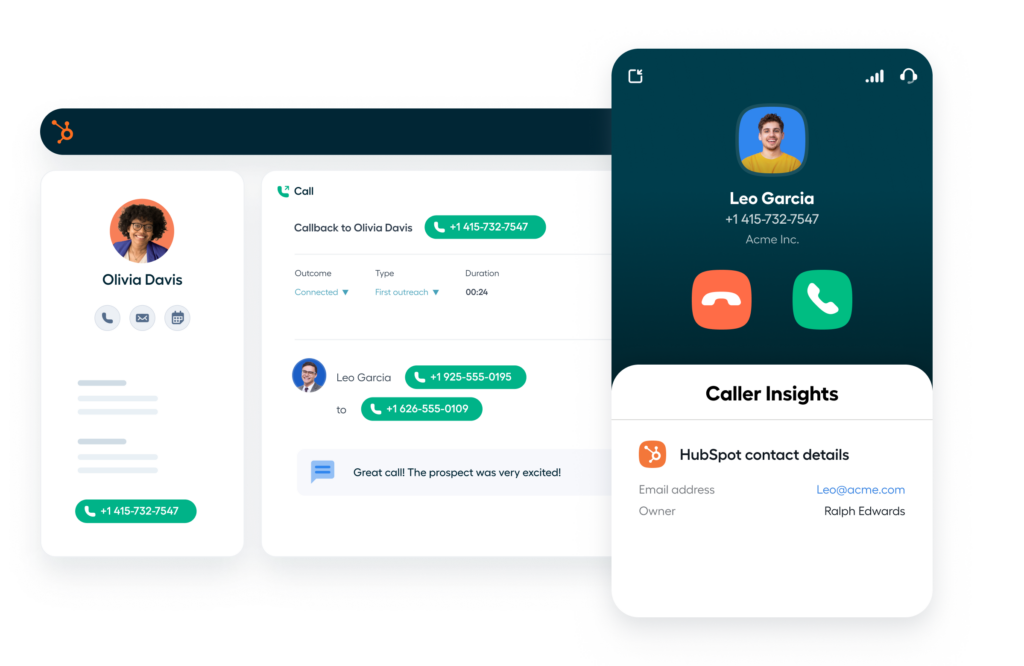 Cons
1. Third-party hardware costs
While Aircall itself is affordable, some complementary hardware like desk phones and headsets must be purchased from third parties.
These additional costs can add up, especially for larger teams.
2. Limited mobile app
While there is an iOS/Android app for Aircall, it has reduced functionality compared to the web interface.
The mobile experience is more geared toward basic calling rather than advanced call center agents.
3. Steep learning curve
It is easy to get started with, but unlocking the platform's advanced functionality like customized IVR workflows or CRM screenpops requires more extensive training and expertise.
4. Limited reporting
Out-of-the-box reporting provides high-level insights but lacks deeper analytics offered by some competitors.
Users may need to export data to third-party BI tools for additional reporting.
5. No video calling
For customer engagements that require a visual component, It lacks inherent video calling or screen-sharing capabilities.
Third-party software is required to add these multimedia channels.
Pricing Plans for Aircall
It offers four main pricing plans tiered by several users and features. All plans include unlimited calling, intelligent call routing, team collaboration tools, CRM integrations, and mobile apps.
The higher tiers add functionality like call recording, SMS, and premium support.
Essentials – $30/month per user. The Essentials plan supports core call center capabilities like IVRs, call queues, forwarding, monitoring, and analytics. It's a good entry point for teams getting started with advanced phone systems.
Professional – $50/month per user. The Professional plan adds features like call recording, voicemail, conference calling, and Salesforce integration. It's ideal for growing teams that need more sophisticated tools.
Expert – $90/month per user. The Expert plan includes everything in Professional plus SMS/texting capabilities and access to an enterprise account manager. It's designed for larger teams.
Ultimate – Custom pricing. The Ultimate plan provides customized solutions and premium support for large enterprises. Everything is tailored to specific needs with custom onboarding, training, and configurations.
These prices represent individual user licenses. Volume discounts are available for larger teams of 10+ users on the Professional or Expert plans.
Customers are not locked into rigid contracts and can adjust plans or cancel anytime. Unlimited US and Canada calling is included while international calling rates apply.
Overall, Aircall's pricing is cost-effective for the extensive features provided, especially compared to traditional on-premises systems requiring major upfront investments. The plans scale flexibly alongside growth.
Alternatives to the Tool
1. Phonebooth
It is a cloud-based voice-over IP (VoIP) phone system built for startups and small businesses.
Key features include unlimited calling, call routing, SMS, voicemail to email, mobile apps, and integrations. Phonebooth focuses on affordability, ease of use, and mobility.
Its platform provides the essential business calling capabilities needed by small teams. Overall, Phonebooth offers an affordable and lightweight cloud phone system that stands as an alternative to Google Voice.

2. 8×8
It provides a unified communications as a service (UCaaS) platform for businesses. It combines a cloud phone system, team chat, video conferencing, and contact center capabilities in one solution.
Key features include unlimited calling, call routing, IVR, visual voicemail, screen sharing, analytics, and integrations.
8×8 offers deployment flexibility across desktop and mobile. It aims to streamline communications for improved productivity and customer engagement. With robust features optimized for the modern enterprise, 8×8 provides a complete UCaaS alternative to Google Voice.
3. Ooma Office
It is a cloud-based PBX phone system designed for small businesses. It provides essential calling capabilities like virtual phone numbers, call routing, voicemail to email, call recording, ring groups, and auto-attendant.
Ooma Office offers competitive pricing with no contract requirements. It provides mobile apps, software integrations, and conference calling features.
With its streamlined features and transparent pricing, Ooma Office offers a cost-effective, low-commitment cloud phone system alternative to Google Voice for SMBs.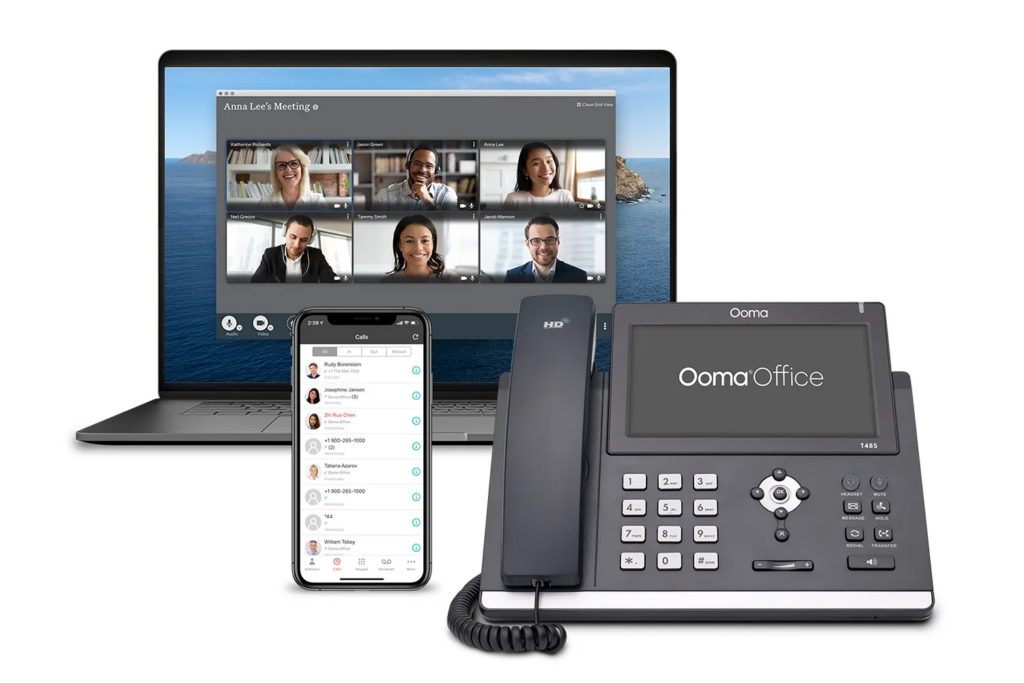 Conclusion
Aircall provides a sophisticated cloud business phone system enabling growing SMBs to upgrade their capabilities and caller experiences – all without large upfront investments.
With its tiered service plans and per-user pricing, scaling companies can benefit from enterprise-class voice, analytics, and routing designed for the modern business. For feature-rich VoIP, Aircall is an excellent option.
Frequently Asked Questions
Ques 1. Does Aircall require long-term contracts?
Ans: No, Aircall does not impose mandatory multi-year service contracts. Users can cancel or change plans anytime with no early termination fees.
Ques 2. What phones work with Aircall?
Ans: It supports popular IP desk phones from Poly, Yealink, Cisco, and other leading manufacturers. Softphones are also available.
Ques 3. Can you get toll-free numbers with Aircall?
Ans: Yes, branded vanity 1-800 numbers can be purchased in addition to local DIDs to project a professional image and boost lead conversions.
Ques 4. Is voicemail transcription included?
Ans: Yes, voicemail transcription powered by artificial intelligence is included with Professional and Ultimate packages or can be added to Essentials.
Ques 5. Does Aircall service customers globally?
Ans: Aircall is expanding globally but focuses primarily on North America and EMEA markets. Worldwide availability is limited.