GoToConnect is a cloud-based communications platform that brings together voice, video conferencing, chat, and contact center capabilities into a unified solution.
Developed by LogMeIn, It aims to simplify business communications for organizations of all sizes.
With robust features for call management, meetings, team messaging, and customer engagement, It provides an all-in-one tool to connect employees and customers across multiple channels.
As workforces become increasingly distributed and mobile, solutions like GoToConnect are key for enabling seamless collaboration and delivering consistent customer experiences.
This comprehensive article will dive deep into GoToConnect's capabilities and use cases, analyze its pros and cons, break down the pricing plans, and explore the top alternatives.
For any business evaluating its communication needs, this analysis should provide valuable insights into whether GoToConnect is the right platform.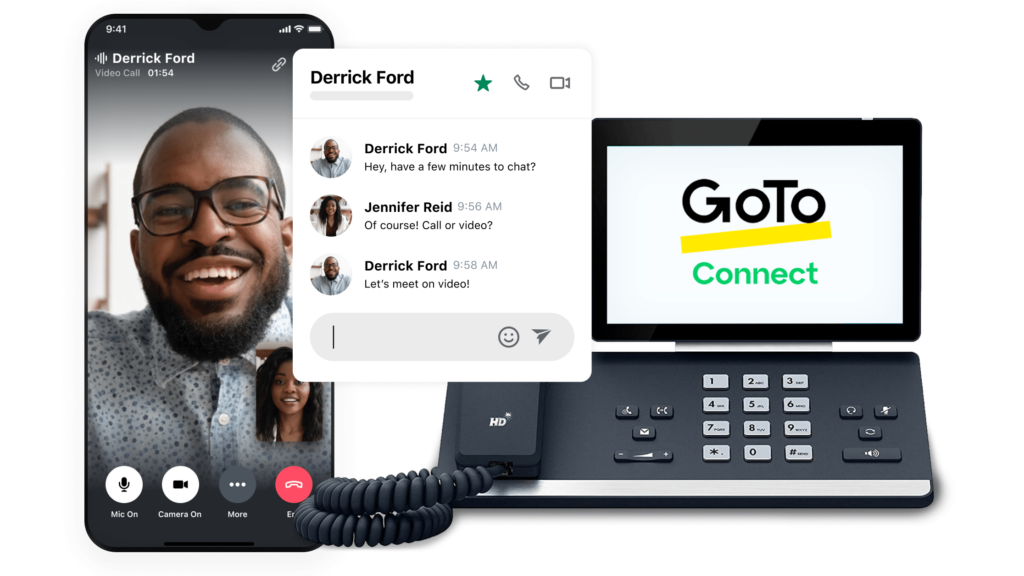 Features
GoToConnect delivers an expansive set of features to support multiple facets of business communication under one umbrella. Key capabilities include:
1. Cloud Architecture
It is delivered as a cloud-based Software-as-a-Service (SaaS) platform. This means the entire system is hosted in remote data centers managed by GoToConnect. Businesses don't need any on-premises hardware.
The cloud model provides easy scalability to adapt to evolving needs. It also enables rapid deployment since no local installation is required.
All that's needed is an internet connection. The cloud systems offer built-in redundancy and disaster recovery for maximum uptime.
2. Unified Communications
This platform is bringing together all modes of business communication into a single, unified platform.
This includes phone calls, video conferencing, team chat/messaging, contact center channels, screen sharing, and more.
Having a unified communications suite eliminates silos between capabilities that previously required separate tools. It enables seamless omnichannel collaboration.
3. Business Phone System
The voice capabilities transform this platform into a full business phone system.
GoToConnect supports inbound and outbound calling over PSTN lines, 800 toll-free numbers, call queues, IVR menus, voicemail to email, auto attendants, call routing and more.
Users can click to dial from their CRM system or meeting invite. Call flows are customizable using simple drag-and-drop tools.
4. HD Video and Web Conferencing
It provides HD video conferencing so teammates can meet face-to-face. Screen sharing augments video meetings to enable collaborative presentations.
The calendar integration enables easy scheduling. Video meetings support up to 50 participants under the basic plan.
Larger events can be accommodated through the Enterprise option. Meetings can be recorded and shared later using cloud storage.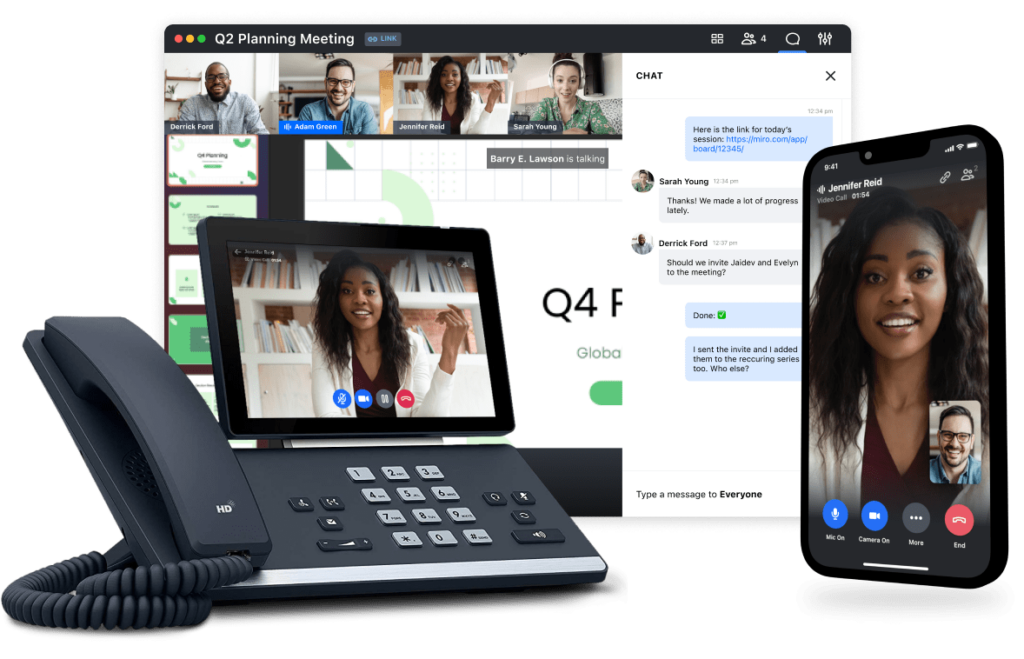 5. Team Chat
The integrated team chat module gives employees a means for quick, real-time communication.
Coworkers can direct messages or create chat groups. Chat history is archived for later searching. Chat complements email for faster internal collaboration.
6. Contact Center Capabilities
It offers a range of contact center features including call routing, IVR menus, hold music, call monitoring, call barge, advanced reporting, and workforce optimization.
These capabilities help elevate customer experiences. Omnichannel options allow managing phone calls, live chats, emails, and SMS interactions from one unified console.
7. Mobile Apps
It offers dedicated mobile apps for both iOS and Android devices.
These well-designed apps allow users to make and receive calls, chat with team members, start or join meetings, manage contacts, listen to voicemails, and see who is available – all on the go. This constant connectivity enables true mobility.
8. Administrative Controls
For administrators, It provides a range of management controls through the admin portal.
This allows configuring call settings, building multi-level IVR menus, setting up departments, customizing hold music, generating reports, and more.
Role-based access allows the granting selective privileges.
9. CRM Integrations
It integrates out-of-the-box with popular CRM platforms like Salesforce and Zoho. This makes customer data easily accessible during calls.
Sales reps can tap to dial directly from contact records. CRM activity logs are automatically updated after calls, saving effort.
Use Cases for GoToConnect
GoToConnect is flexible enough to support various communication needs for different business environments:
1. Distributed Teams
For teams with remote workers across multiple office locations, It enables easy collaboration through video meetings, screen sharing, messaging, and VOIP calling.
It ensures distributed teams stay connected.
2. Remote Employees
Employees working from home can leverage GoToConnect mobile apps and cloud-based access to call, message, meet, share screens, and communicate with colleagues from anywhere as if they are in the office.
3. Call Centers
GoToConnect's contact center features like IVR menus, call queues, hold music, call monitoring and advanced reporting provide exceptional capabilities for call center environments.
Omnichannel management unifies voice, chat, email, and SMS.
4. Sales Teams
Sales teams can utilize GoToConnect for both internal and external communication. Call pop screen display CRM data during customer calls to inform sales reps.
Product demos can be done through screen-sharing video meetings. Team chat, presence indicators, and click-to-call improve internal collaboration.
5. Professional Services
Law firms, IT consulting companies, marketing agencies, and professional service firms can streamline communications with clients using GoToConnect's secure video meetings, team messaging, and project collaboration features.
6. Hybrid Work Environments
For companies with onsite and remote staff, It helps unite both categories of employees through consistent access for calling, conferencing, chatting, and meetings.
It bridges communication gaps.
7. Training and Events
This platform can support virtual training sessions and corporate events by providing video meeting capabilities for presentations, screen sharing for visual aids, and team chat for backchannel conversations.
Pros
1. Unified Communications Platform
With this, businesses no longer need separate tools for voice, conferencing, contact center, etc. Having one platform is more efficient.
2. Flexible Deployment Options
It can be deployed on-premise using existing hardware or in the cloud. This caters to diverse IT environments and business needs.
3. Scalability
The cloud architecture of GoToConnect means it can easily scale up or down based on changing business needs. Adding new users is simple through the self-service admin portal.
4. Customization
Businesses can customize GoToConnect based on their unique requirements – configure call flows, build IVR, set up departments, enable call recording, and more.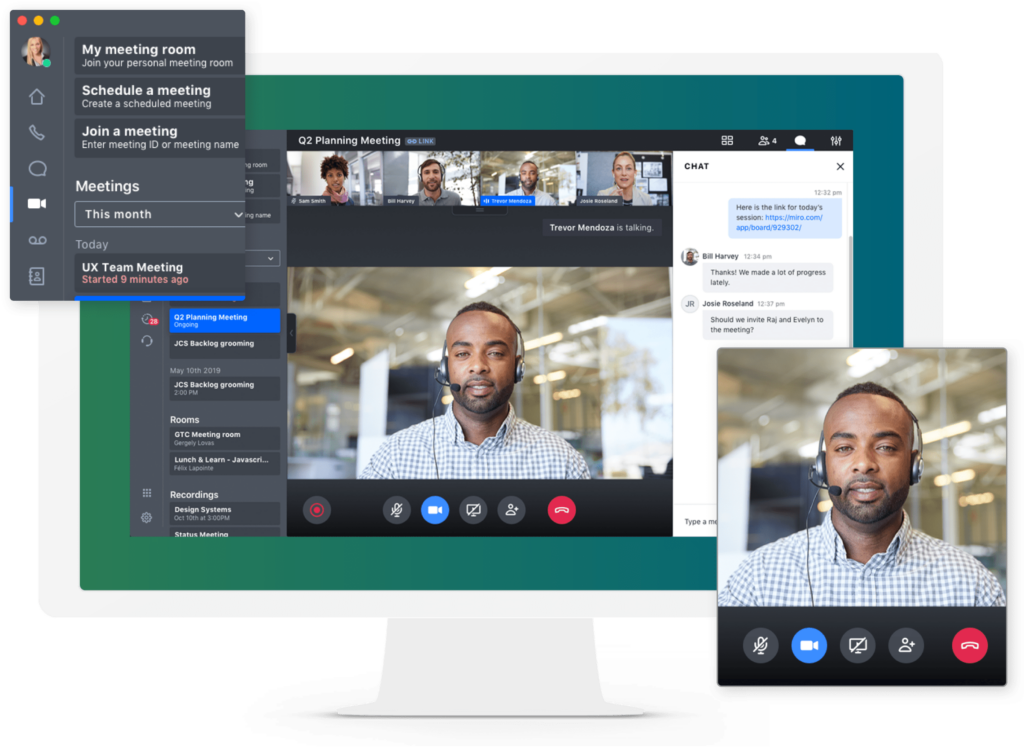 5. Reliability
It guarantees over 99.9% scheduled uptime. The platform utilizes redundant components and failover to minimize outages and deliver reliable connectivity.
6. Security
It uses enterprise-grade security like end-to-end encryption, SOC 2 compliance, and role-based access controls to keep communications private and prevent breaches.
Cons
1. Steep Learning Curve
It has a significant learning curve. IT admins and super users need time to get familiar with the platform's extensive configuration options and settings for an optimal setup.
2. No Native Video Conferencing Interoperability
This platform uses its Jitsi-based video conferencing technology. It does not natively interconnect with SIP/H.323 standards used by some other platforms.
3. Limited Call Recording Storage
The basic GoToConnect plan includes only 10 hours of call recording storage. For businesses needing more storage capacity, higher tiers with additional costs must be selected.
4. No Desktop Softphone App
Unlike some competitors, It does not offer a desktop softphone app for making VoIP calls from laptops. Users are limited to the mobile app.
5. Limited End-User Customization
End-users have minimal ability to customize its settings or account configuration without IT administrator assistance. Personalization options are limited.
6. Missing Some Advanced UC Features
While this platform covers the core UC needs for most SMBs, it lacks some advanced unified communications features offered by other market-leading platforms.
Pricing Plans for GoToConnect
Basic Plan
$27 per user/month
Unlimited calling
Video conferencing for up to 4 participants
Call recording
Voicemail transcription
Basic analytics and reporting
Standard Plan
$32 per user/month
Unlimited calling
Video conferencing for up to 100 participants
Call recording transcription
Advanced analytics and reporting
Salesforce CRM Integration
API access
Call forwarding and call flipping
Team messaging and chat
Mobile app
The basic plan focuses on core communication needs for small teams and solopreneurs. The standard plan offers more advanced features like large video meetings, CRM integration, mobility, and analytics for growing businesses.
Pricing is simple and affordable per user/month. Features can be added to customize plans for specific needs. The focus is on providing value, flexibility, and seamless communication.
Alternatives to the Tool
Below are the top competing solutions businesses may want to evaluate alongside GoToConnect:
1. Vonage
Vonage provides scalable, flexible cloud communications tailored for businesses of all sizes. Its unified platform integrates a robust business phone system with video meetings, team messaging, and programmable capabilities via APIs.
Vonage enables customized call and workflow automations, virtual phone numbers, visual voicemail, intelligent call routing, CRM integrations, enterprise mobility features, and more. It offers easy self-service management across devices and locations.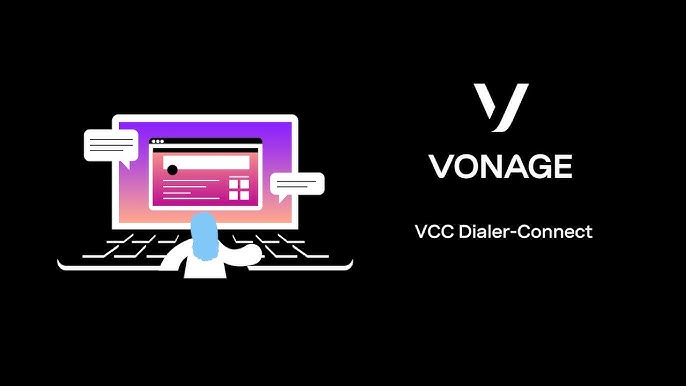 2. Phone.com
Phone.com is an innovative business phone service provider that empowers companies with virtual phone numbers, IVR menus, visual voicemail, advanced call routing, SMS/MMS messaging, video conferencing, and API integrations.
It offers customizable packages with unlimited calling, auto attendants, call analytics, voicemail transcription, conference calling, call queueing, and other features. Phone.com enables reliable communications tailored for each business.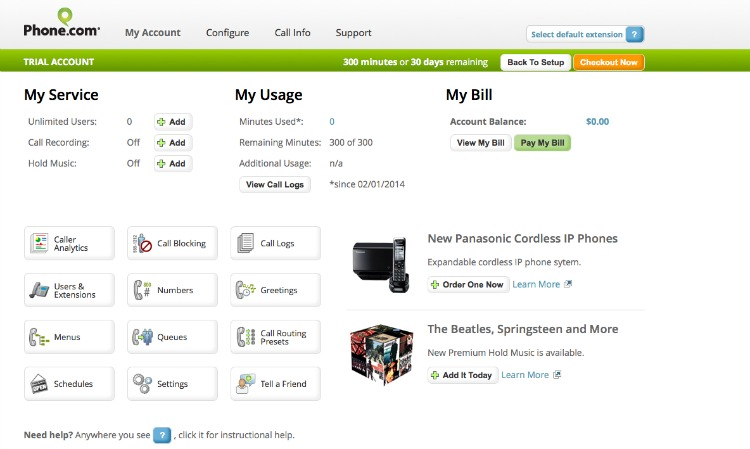 3. Aircall
Aircall is a cloud-based phone system built for modern customer support teams.
It seamlessly integrates calling with existing workflows and apps through APIs to unify sales, support, and marketing channels.
Aircall provides call routing, monitoring, analytics, auto attendants, voicemail drops, SMS, and more. The intuitive interface empowers teams to personalize call flows while providing enterprise-grade administration and reliability.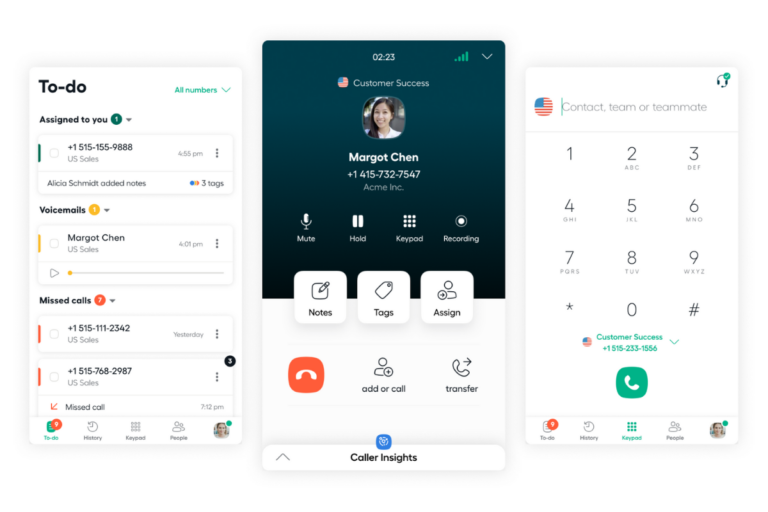 Frequently Asked Questions (FAQ)
Ques 1. What does GoTo Connect do?
Ans: GoTo Connect provides video conferencing, team messaging, and integrated business communications tools.
Ques 2. Is GoTo Meeting free?
Ans: No, GoTo Meeting requires a paid subscription plan, though they offer a free trial.
Ques 3. How do I join GoTo?
Ans: You can join a GoTo Meeting by clicking on the meeting link or entering the meeting ID provided by the meeting host.
Ques 4. What is the time limit for GoTo Meeting?
Ans: GoTo Meeting has no time limits for meetings on paid plans, but the free plan has a 45 minute limit per meeting.
Ques 5. What is GoTo Google?
Ans: GoTo Google does not exist, it seems you mean GoTo Meeting which is a video conferencing software by LogMeIn.