A hosted phone system, also known as a VoIP or cloud phone system, is a modern business phone service that is hosted in the cloud instead of on-premise hardware.
Hosted phone systems provide all the features of a traditional PBX phone system but without the costly maintenance and installation.
The service is provided over the internet so it can be easily scaled as your business grows.
With a hosted system, businesses only pay for what they use each month and avoid large upfront costs. Hosted phone services make it easy for employees to work remotely while still having full access to the business phone system.
In this article, we'll explore what a hosted phone system is, its working and features, who should use them, and the top providers in the industry.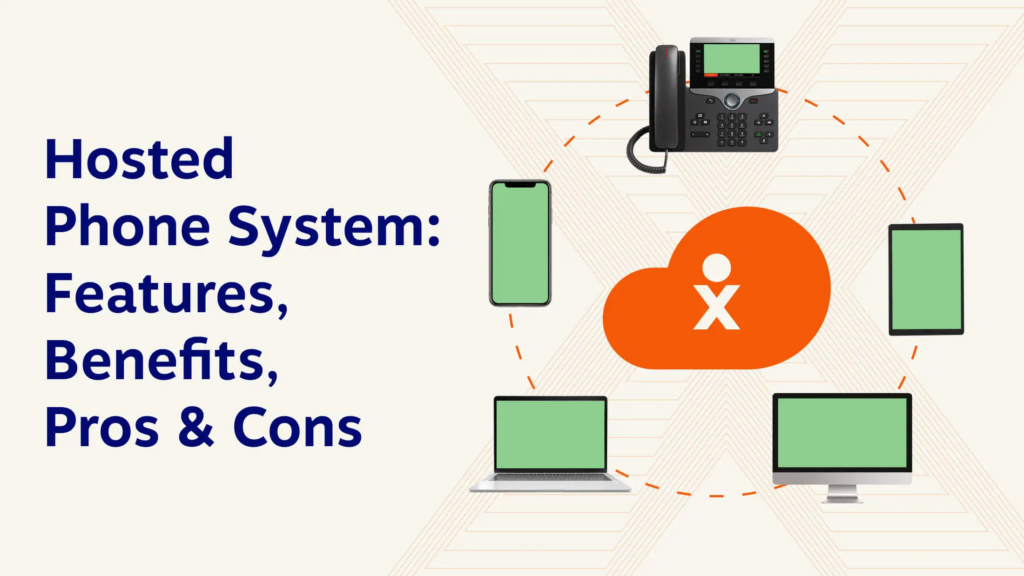 How Does A Hosted Phone System Work?
A hosted phone system works by having the PBX system live in the cloud at the provider's data center instead of on physical hardware at the customer's office.
Here is how it works:
Phones connect to the cloud PBX over the internet, usually through VoIP. This allows phone service even if the internet goes down via rerouting.
The cloud system manages all call routing, dial plans, call forwarding, etc., just like a traditional PBX.
Users can manage calls on desktop and mobile apps connected to the cloud PBX.
The service provider manages the PBX maintenance, upgrades, and administration.
Auto attendants and interactive voice menus provide call routing.
Calls can be monitored, recorded, and routed intelligently based on rules.
Voicemail is digital and can be accessed remotely via apps or email.
The system can be integrated with CRM and business software.
Reporting provides insights into call volume, performance, and productivity.
In summary, the PBX system is hosted remotely which handles all the phone network features.
Users just need an internet connection and a desktop or mobile app.
Hosted Phone Systems: Pros and Cons
Here are the main advantages and potential disadvantages of using a hosted phone system:
Pros:
Cost Savings – No expensive PBX hardware to purchase and maintain. Just pay a monthly fee per user.
Easy to Scale – Adding more phones and extensions is quick and easy.
Flexibility – Employees can work remotely while still having full access.
Disaster Recovery – Your system is still running even if the office internet goes down.
Automatic Updates – No need to manually update PBX firmware and software.
Integrations – Integrate with popular business tools like Salesforce and Zendesk.
Cons:
Dependence on the Internet – Hosted systems require a stable internet connection.
Potential Sound Quality Issues – Call quality depends on the internet connection.
Security Concerns – Data is stored with a third-party provider.
Loss of Control – Cannot modify PBX hardware or software as needed.
Provider Switching Difficulties – Switching providers requires porting numbers.
Essential Hosted Phone System Features
Here are essential features to look for in a hosted phone system:
Auto Attendant
An auto attendant provides a professional greeting when customers call your business and routes calls to the appropriate extensions.
This automated system can give the callers prompts for frequently requested information like business hours, driving directions, or department extensions.
Voicemail to Email
Rather than checking voicemail on your phone, hosted systems can transcribe messages and forward them to your email.
This allows you to get messages quickly without calling in. It also serves as a backup in case you miss a call.
Mobile App Integration
The best-hosted phone services integrate with iOS and Android apps.
This allows you to make and receive calls on your business line using your mobile device, providing flexibility to take calls anytime, anywhere.
Call Forwarding
Hosted phone systems make it easy to forward calls to alternate numbers like your mobile phone or home office.
You can also forward calls based on the time of day or day of the week.
Conference Calling
Host conference calls using your hosted phone with multiple participants. This provides a flexible collaboration option without expensive conference services.
Toll-Free Numbers
Many hosted providers include toll-free numbers to help present a professional image for your business.
This gives customers an easy way to call you without incurring long-distance charges.
Advanced Call Routing
Hosted systems provide customizable call routing options like ring groups, call queues, and interactive voice menus to handle calls professionally.
More advanced features like skills-based routing are also available
Who Should Use Hosted Phone Systems?
Here are some examples of what types of businesses can benefit most from switching to a hosted phone system:
Growing Businesses – Easy scalability as you expand makes hosted PBX ideal for growing companies. No need to buy new hardware.
Remote Teams – Employees can work from anywhere while still having full access to a business phone. Great for remote teams.
Multiple Office Locations – Employees across different locations all connect to the same system. No need for separate systems.
Mobile Professionals – Auto call forwarding to cell phones and mobile apps keep
mobile professionals connected.
Low IT Support – No need to maintain an on-site PBX system. The provider handles maintenance and updates.
Budget Conscious – No major hardware costs and pay per user per month. Easily scale costs up or down as needed.
Young Companies – Startups and small companies benefit from fast setup, low costs, and flexibility.
Top Hosted Phone System Providers
1. RingCentral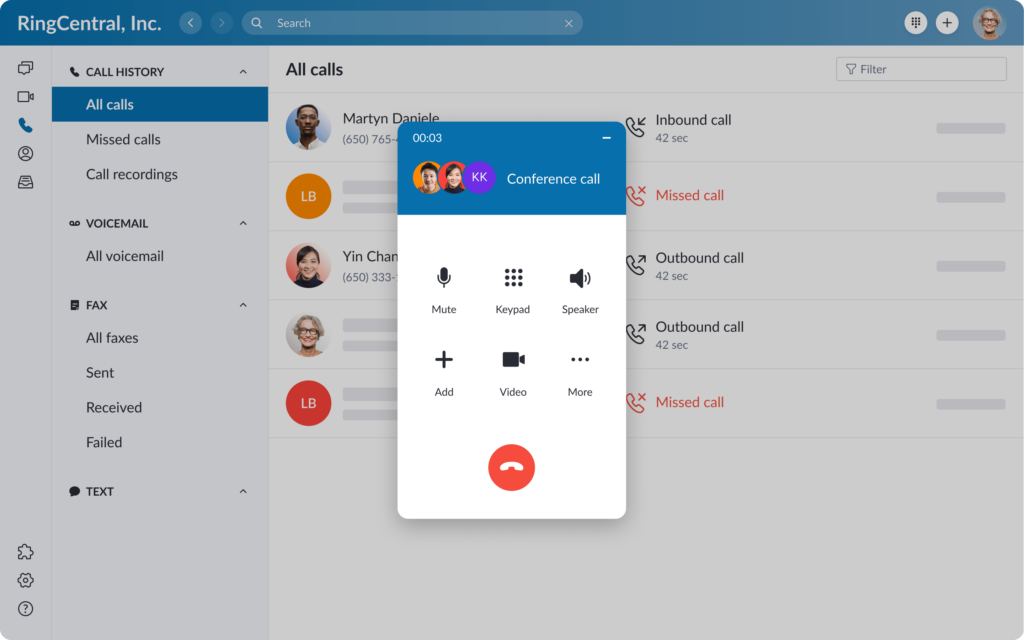 Overview
Founded in 1999, RingCentral is one of the leading providers of cloud-based communications solutions catering to businesses of all sizes.
The company serves over 350,000 customers worldwide. RingCentral offers easy-to-use cloud phone systems with enterprise-grade features.
Key Features
Auto Receptionist – Automatically routes incoming calls to the right extension
Visual Voicemail – Voicemails appear as text for easy access
Ring Groups – Link extensions so a single call rings multiple phones
Advanced Call Routing – Route calls based on time of day, department, caller ID, and more
Integrations – Seamlessly integrate with popular business apps
Pricing & Plans
RingCentral has several pricing tiers suitable for different business needs:
Essentials – $19.99 per user/month. Includes unlimited calling, 100 toll-free minutes, auto-receptionist, call forwarding, and more.
Standard – $24.99 per user/month. Adds single sign-on, advanced call handling, multi-level auto attendant, and more over the Essentials plan.
Premium – $34.99 per user/month. Further adds video conferencing, CRM and other integrations, call recording, and more features.
Enterprise – Custom pricing. For large businesses requiring enhanced administrative control, security compliance, and implementation support.
Pros
Easy-to-use interface and admin portal
Scales easily by adding users
Integrates with many popular business applications
Wide range of features suitable for all business sizes
Cons
Standard plans lack video conferencing support
Limited free toll-free minutes on lower tiers
Additional charges for advanced features like call recording
2. Nextiva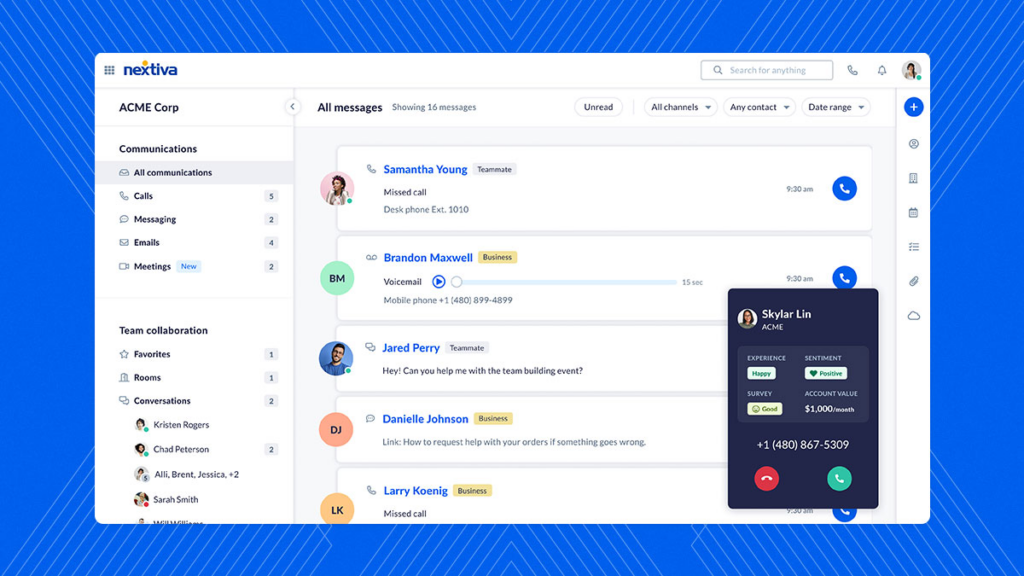 Overview
Founded in 2006, Nextiva is a leading VoIP provider that serves over 150,000 businesses across the globe.
The company is best known for its cloud-based unified communication platform and exceptional customer service.
Key Features
Voice-to-Text Transcription – Converts voicemails into text for easy retrieval
NextOS Desktop & Mobile Apps – Make and receive calls from your computer or smartphone
Advanced Call Routing – Intelligently route calls based on time of day, department, and more
CRM Integrations – Sync contacts and records with popular CRM platforms
Automated Answering – Answer calls 24/7 with the IVR system and chatbots
Pricing & Plans
Nextiva offers flexible plans to meet the needs of different business sizes:
Essentials – $18.95 per user/month. Video conferencing for 8 participants, basic call management, basic reports.
Professional – $20.95 per user/month. Adds department routing, shared lines, and Salesforce integration.
Enterprise – $23.95 per user/month. Further adds call recording, voice analytics, and executive voice greeting.
Ultimate – $29.95 per user/month. Includes advanced reporting, Geo-routing, call monitoring, and more premium features.
Pros
Excellent uptime record
User-friendly management portal
A wide array of enterprise-level features
Scales to large businesses seamlessly
Cons
Limited app integrations compared to some competitors
Extra fees for certain advanced features
Can get expensive for larger deployments
3. Vonage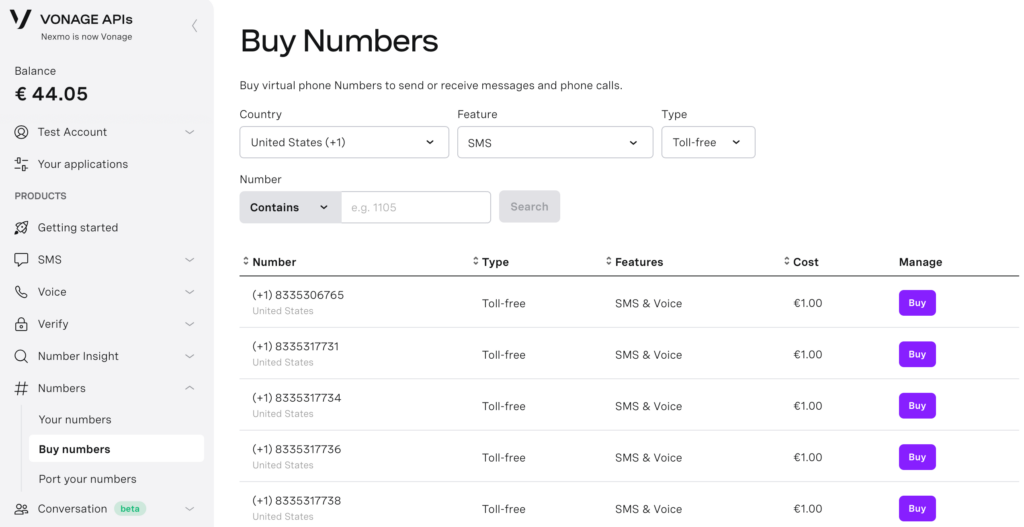 Overview
Since its inception in 2001, Vonage has grown into one of the most recognized business VoIP providers.
The company offers award-winning products catering to organizations of all sizes. Vonage is especially popular for its top-notch call quality.
Key Features
Visual Voicemail Transcriptions – Voicemails are converted to text for easy access
Intelligent Call Routing – Route calls to the right people using time of day, location, and other rules
Vonage Contact Center – Advanced call center solution with CRM integrations
Video Meetings – Face-to-face video conferences via desktop and mobile apps
Team Messaging – Chat, share files, and collaborate across devices
Pricing & Plans
Vonage provides flexible plans based on several lines and features needed:
Mobile – $19.99 per line/month. Basic features for solopreneurs and small teams.
Premium – $29.99 per line/month. Adds video conferencing, advanced call management, and other features.
Advanced – $39.99 per line/month. Further includes contact center, integrations, and API access.
Pro & Enterprise – Custom pricing. For large businesses and advanced call center capabilities.
Pros
Excellent call clarity
Easy to manage even for non-technical users
Scales to enterprise-level deployments
Flexible plans to suit different needs
Cons
More limited app integrations vs. some competitors
Standard plans lack advanced call center features
Premium features require higher-cost plans
4. 8×8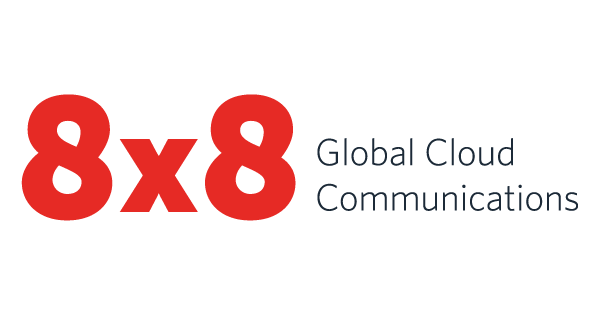 Overview
8×8 is a leading cloud communications provider founded in 1987.
Over 1 million businesses worldwide use 8×8 for their telephony, contact center, video conferencing, and other unified communications needs.
Key Features
Virtual Office – Cloud-based PBX with unlimited calling, auto attendant, dashboard, and more.
Voice for Teams – Team messaging, contact management, and collaboration app.
Meetings – Video conferencing with screen sharing for up to 50 participants.
Contact Center – Sophisticated call center software with advanced routing, and analytics.
Pricing & Plans
8×8 offers the following packages:
X Series – Starts at $25 per user/month. Includes Virtual Office plan with 100+ features.
X2 Series – Starts at $50 per user/month. Adds advanced Voice for Teams app.
X4 Series – Starts at $100 per user/month. Further includes Meetings and a Contact Center.
Larger deployments get volume discounts and custom pricing.
Pros
Over 100 built-in features with Virtual Office
Easy migration from legacy phone systems
Contact center solution included in higher tiers
International availability in over 50 countries
Cons
Limited toll-free minutes on cheaper plans
Requires annual contract
The contact center module requires X4 plans
5. Jive Communications
Overview
Jive Communications is a leading cloud-based phone systems provider founded in 2006. Over 60,000 small to mid-sized businesses rely on Jive for unified communications.
The company focuses on delivering an easy-to-use yet full-featured VoIP solution.
Key Features
Auto Attendant – Route calls with professional greetings and prompts
Visual Voicemail – View and manage voicemails online or via the app
Call Recording – Selectively record calls for quality assurance
Advanced Call Routing – Custom call flows based on time, department, and more
Integrations – Sync contacts and records with business apps
Pricing & Plans
Jive offers competitive pricing starting at just $19.95 per user/month:
Basic – $19.95 per user/month. For small teams. Includes basic call management, auto-receptionist, and mobile apps.
Pro – $29.95 per user/month. Adds advanced call routing, multi-level auto attendants, and integrations.
Enterprise – $39.95 per user/month. Further includes call recording, real-time analytics, and custom apps.
Pros
Simple and intuitive interface
Scales up to large deployments
Competitive pricing, especially for SMBs
Excellent reputation for customer support
Cons
Limited international availability
Fewer advanced features compared to some competitors
Add-on costs for certain functionality
Frequently Asked Questions (FAQ)
Ques 1. How does a hosted phone system differ from traditional on-premise PBX?
Ans. A hosted system is cloud-based rather than having hardware on-site. This removes the need to purchase and maintain your own PBX.
The service provider handles all hardware and software.
Ques 2. What features do hosted phone systems have?
Ans. Hosted PBX offers a full suite of features including auto attendants, call routing, IVR menus, voicemail to email, call recording, analytics, CRM integrations, conference calling, and more.
Ques 3. How reliable are hosted phone systems?
Ans. Leading hosted providers have built-in redundancy and disaster recovery to provide excellent uptime and reliability.
Quality depends on the specific provider.
Ques 4. What are the main benefits of using a hosted phone service?
Ans. Benefits include cost savings, easy scalability, flexibility for remote workers, multi-office use, disaster recovery, and little to no maintenance.
Ques 5. Who should switch to a hosted phone system?
Ans. Ideal users include growing businesses, remote teams, mobile workers, multi-location offices, and startups.
Hosted systems also appeal to companies with low IT support and budget concerns.