The phone system you choose should have all the necessary features to support your business operations and growth. It should be reliable, easy to use, and provide clear call quality.
The best small business phone services offer solutions tailored specifically for small companies.
They provide call routing, auto attendants, voicemail, call recording, conferencing, mobile integration, CRM integration, and many productivity-enhancing features.
Additionally, with the rise of remote work, cloud-based phone systems give businesses the flexibility to connect employees across locations.
In this article, we review the top 10 best small business phone services of 2023. We evaluate key factors like pricing, features, customer support, and more.
Whether you need a simple phone system or a full unified communications platform, you'll discover the best options to empower your small business.
Best Small Business Phone Services
1. RingCentral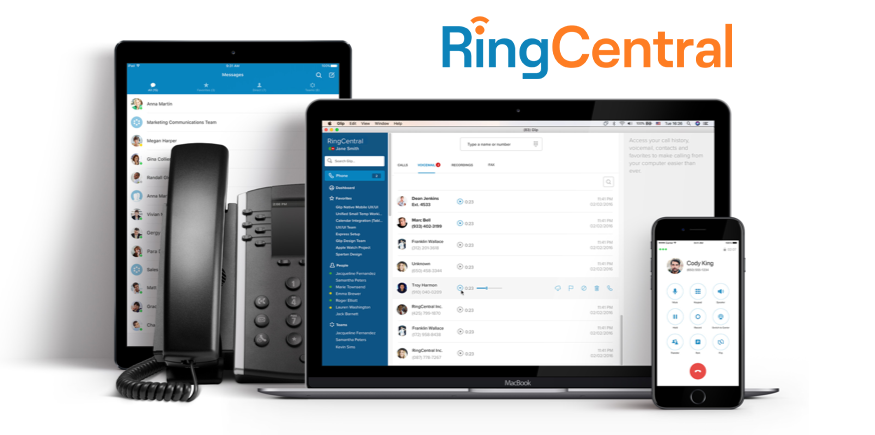 RingCentral is a leading provider of cloud-based communications and collaboration solutions for businesses of all sizes.
Founded in 1999, RingCentral has become one of the top players in the unified communications as a service (UCaaS) market.
With its innovative products and strong focus on customer experience, RingCentral empowers modern mobile and distributed workforces to communicate and collaborate from anywhere, on any device.
Features of RingCentral
RingCentral offers a robust, enterprise-grade platform with a wide array of features:
Cloud PBX – RingCentral provides a full business phone system and PBX in the cloud. This eliminates the need for expensive on-premise hardware.
Video and Audio Conferencing – Host unlimited HD video and audio meetings with screen sharing, calendar integrations, virtual backgrounds, and more.
Team Messaging – Send group chats, direct messages, files, and more to keep teams aligned. Integrates with top business apps.
Omnichannel Contact Center – Never miss a customer interaction with voice, email, chat, text, and social media support all in one place.
Cloud Faxing – Send and receive faxes electronically without a fax machine. RingCentral fax integrates with workflows and CRM systems.
Mobile Apps – RingCentral offers full-featured iOS and Android apps so users can communicate on the go. Mobile app notifications keep users connected anywhere.
Integrations – RingCentral integrates with over 100 business apps including Salesforce, Office 365, Box, and Google Workspace. Workflows stay streamlined.
Global Network – With data centers around the world, RingCentral provides reliable global coverage in over 100 countries.
The Pricing Plans of RingCentral
RingCentral offers several tiers of pricing plans, scaled to fit business needs:
Essentials – Starting at $19.99 per user/month, aimed at startups and small teams. Includes unlimited phone calling, 100 toll-free minutes, basic call handling, audio meetings, and more.
Standard – Starting at $24.99 per user/month, adds features like multi-level auto attendants, internet fax, CRM integrations, single sign-on, and more.
Premium – Starting at $34.99 per user/month, further adds unlimited internet fax, advanced call handling, Salesforce integration, and more sophisticated needs.
Ultimate – Starting at $49.99 per user/month, RingCentral's top tier adds more advanced features like expanded storage, Premium service level agreements, executive analytics dashboard, and more.
Discounts are available for annual contracts. Toll-free minutes and other add-ons can be purchased as needed.
Why Pick RingCentral
There are many good reasons to choose RingCentral as a cloud communications provider:
Industry Leader – RingCentral is a proven leader in unified communications with years of expertise and continuous innovation.
Easy to Use – With its intuitive interface and simple setup, RingCentral is easy to use right out of the box.
Mobile Apps – RingCentral's mobile capabilities keep teams connected on the go with full-featured iOS and Android apps.
Flexible Scalability – RingCentral scales up smoothly to accommodate growth. It's cost-effective for a handful of employees up to thousands.
Reliable Uptime – With a track record of outstanding uptime and availability, RingCentral provides dependable communications.
World-Class Customer Support – RingCentral offers 24/7 customer support via phone, email, and live chat to keep businesses up and running.
Trusted Security – RingCentral employs robust security measures like encryption, anomaly detection, and authentication safeguards.
In summary, RingCentral stands as a proven and trusted platform for business communications in the cloud.
Its robust features, flexible pricing tiers, renowned reliability, and focus on customer needs make it a top choice for organizations of all types and sizes looking to enhance productivity and collaboration.
2. Nextiva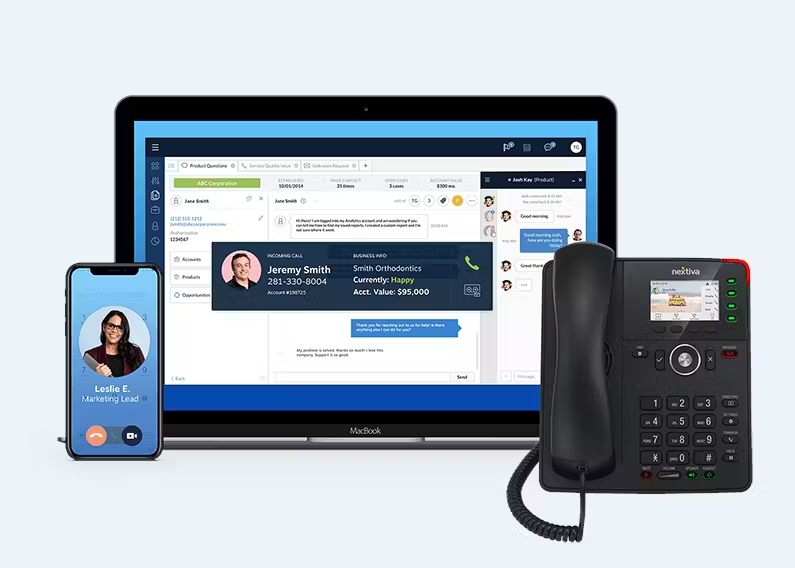 Nextiva is a leading provider of VoIP business phone services and unified communications.
Founded in 2006, Nextiva has quickly become a top choice for cloud business communications with its reliable, easy-to-use solutions.
Nextiva is committed to delivering amazing customer experiences through cutting-edge technology.
Features of Nextiva
Nextiva offers a robust cloud communications platform loaded with features to supercharge productivity. Here are 5 key capabilities:
Intelligent Call Routing – This advanced call routing allows businesses to customize call flows to handle all incoming calls effectively. Features include auto-attendants with interactive voice menus, call queuing to avoid busy signals, smart routing to the right people or teams, and more. Intelligent call routing can significantly optimize workflows and customer experiences.
Real-Time Call Monitoring – Nextiva enables supervisors to monitor employee calls in real time. This allows supervisors to listen in on conversations to provide immediate feedback and coaching. It's also useful for quality assurance and training purposes. With call monitoring, managers can take a hands-on approach to improving team performance.
Team Presence Indicators – The team presence feature shows the availability status for colleagues at a glance. Users can see who is available, in a meeting, on a call, or offline. By reducing interruptions and enhancing connections, presence indicators can greatly improve team productivity.
Advanced Analytics – Nextiva provides expansive analytics and reporting capabilities. Users can access detailed metrics on call volume, wait times, agent performance, customer engagement, and more. Customer lifetime value reporting provides insight into customer profitability. With this data, businesses can make smarter strategic decisions.
Voicemail to Text – Nextiva can transcribe voicemails into text and deliver them to users' inboxes. Never miss an important message again. Voicemail transcriptions can be tagged with metadata like caller ID. This Nextiva capability ensures complete, searchable records of all voicemails.
The Pricing Plans of Nextiva
Nextiva offers several service plans to meet varying business needs and budgets:
Nextiva Office – Starting at $20 per user/month, this basic plan has unlimited local and domestic calling, auto attendants, basic call center features, 100 toll-free minutes, and more.
Nextiva Professional – Starting at $25 per user/month, this upgraded plan adds voicemail to text, call analytics, real-time call monitoring, video conferencing, and more advanced capabilities.
Nextiva Enterprise – Nextiva's most robust plan starts at $32 per user/month with expansive features like unlimited toll-free minutes, advanced call center management, executive reporting, and more.
Discounts are available for annual contracts. Additional costs may apply for add-ons.
Why to Pick Nextiva?
Here are some top reasons to choose Nextiva for business communications:
Cloud-Based Platform – As a pure cloud-based solution, Nextiva reduces costs and complexity. There's no on-site hardware to manage.
Reliable Uptime – Nextiva delivers outstanding reliability with maximum uptime, protection against outages, and geo-redundancy.
Industry-Leading Customer Support – Nextiva is renowned for top-notch, experienced customer support available 24/7/365.
User-Friendly Interface – Nextiva wins praise for its clean, intuitive, easy-to-use interface across devices. Minimal training is needed.
Scalable – Nextiva scales smoothly to handle growth. It cost-effectively serves both small businesses and large enterprises.
Innovative Capabilities – Nextiva consistently rolls out advanced new features to maximize capabilities for users.
Trusted Security – Nextiva employs robust security protections like encryption, SSO access control, and secure data centers.
In summary, Nextiva provides a feature-packed cloud business phone service with excellent uptime and customer support.
Its reliable, user-friendly platform makes it a top choice for growing organizations
3. Zoom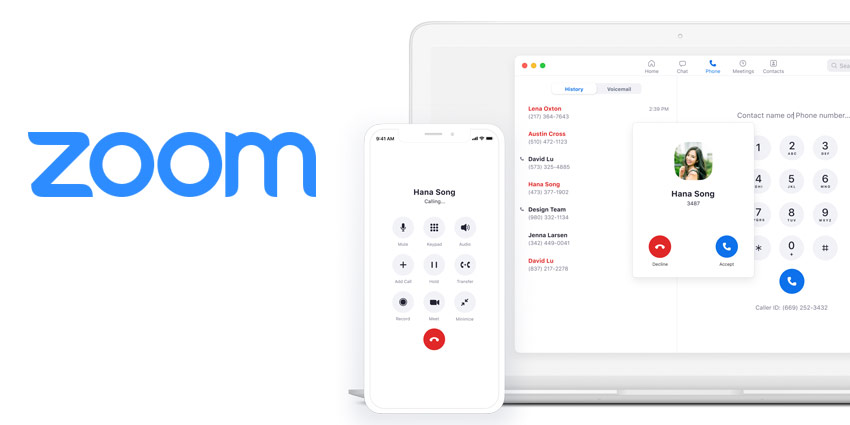 Zoom has become synonymous with video conferencing and online meetings, dominating the market with its easy-to-use and reliable platform.
Millions turn to Zoom every day to connect teams, conduct webinars, and build virtual communities.
With top-notch features and capabilities, Zoom is the go-to solution for video communications.
Features of Zoom
Zoom stands out for its robust features optimized for an exceptional video meeting experience. Here are 5 standout capabilities:
Virtual Backgrounds – Zoom's virtual background feature allows users to display an image or video as their backdrop instead of their actual physical background. This creates a more professional appearance and blocks potential distractions. Customizable backgrounds bring fun and creativity to meetings.
Active Speaker View – Zoom automatically detects the current active speaker and displays them prominently in the meeting window. This makes multi-person meetings easier to follow along and gives every speaker their moment in the spotlight.
Polling and Q&A – Hosts can launch polls during meetings to gather feedback from participants. The Q&A feature enables attendees to ask questions and upvote popular queries. This advanced audience engagement expands meeting capabilities.
Automatic Transcription – Zoom can transcribe meetings in real time and make the texts available afterward. Users can also search within the transcription to find important moments. Transcriptions are a great way to capture meeting notes.
Zoom Rooms – Zoom Rooms are conference room systems for conference rooms, executive offices, and classrooms. This includes video, audio, and screen-sharing capabilities optimized for an immersive meeting experience in physical spaces.
The Pricing Plans of Zoom
Zoom offers several pricing tiers to meet different use cases:
Basic – The free basic plan allows unlimited 1-to-1 meetings, a 40-minute limit on group meetings with up to 100 participants, and access to most core call features. A great starting point.
Pro – Starting at $14.99/month per license, the Pro plan lifts call limits on group meetings, enables meeting recordings, and provides advanced administration controls. Better for teams.
Business – Starting at $19.99/month per license, this plan adds cloud recording transcripts, company branding features, and a dedicated customer success manager. Built for businesses.
Enterprise – For $19.99/month per license, large enterprises gain unlimited cloud storage, executive business reviews, and additional scalability and security features.
Custom packages are also available if none of the basic plans meet an organization's needs. Discounts can be applied for annual contracts.
Why to Pick Zoom
There are great reasons why Zoom has become the leader in its industry:
Ease of Use – Zoom stands out for its simplicity and intuitiveness. Participants can be up and running in minutes with minimal training required.
Consistent High Quality – Zoom's platform delivers reliable HD video and crisp clear audio day after day for top-notch meeting experiences.
Flexibility and Scalability – Zoom can scale up or down smoothly and cost-effectively to accommodate small groups to organizations of all sizes.
Robust Feature Set – Zoom built its platform with features purpose-built for modern video communications for any use case imaginable.
Strong Security – Zoom implements sophisticated security protections across its service including encryption, secure access controls, and data protection.
Constant Innovation – Zoom consistently rolls out exciting new features, capabilities, and enhancements to its already rich platform.
Stellar Customer Experience – Zoom is highly responsive with round-the-clock support via chat, phone, and email.
In summary, with its unmatched combination of ease of use, reliable quality, innovative features, and responsive support, it's clear why Zoom has emerged as today's video communication platform of choice.
4. Grasshopper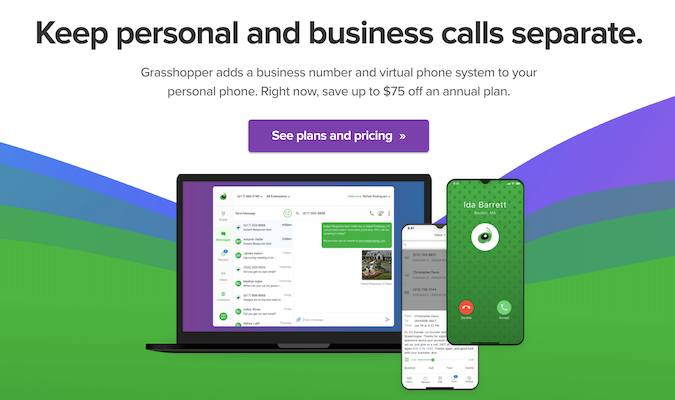 With its easy-to-use phone solutions, Grasshopper empowers entrepreneurs and small businesses to project a professional image and stay connected.
Grasshopper eliminates the need for pricey traditional phone infrastructure by providing everything needed for a complete business phone system in the cloud.
Features of Grasshopper
Grasshopper enables small teams to get up and running with enterprise-level phone capabilities in minutes. Here are 5 key features explained in depth:
Custom Business Phone Numbers – With Grasshopper, businesses can establish an identity with local or toll-free numbers showing their desired area code and exchange. Vanity numbers that spell words relevant to a brand are also available for better memorability. Phone numbers help customers know who they are contacting.
Intelligent Call Routing – This advanced call routing allows Grasshopper users to precisely control their call flows based on criteria like time of day, caller ID look-up, IVR menu selections, wait times, and more. For example, calls can ring different devices on weekends versus weekdays. Intelligent call routing ensures no important customer calls will ever be missed.
Voicemail Transcriptions – Voicemails are automatically transcribed into text and delivered via email or SMS. This enables voicemail access from anywhere and also generates a searchable record of all messages received. Transcriptions include useful metadata like timestamps and caller IDs.
Auto Receptionist – The auto-receptionist provides a customizable interactive voice menu that callers hear when they first call in. It can guide them to dial extensions, departments, common requests, and more. The automated greetings create a polished, professional impression.
Call Forwarding Flexibility – Grasshopper makes it easy to forward calls to any device, even on the go. Call forwarding rules can be configured to route to different numbers based on factors like time of day, day of week, or calling number. Maintain full call availability.
The Pricing Plans of Grasshopper
Grasshopper offers transparent pricing tailored to lean operations:
Solo Plan – $26/month for a single phone line with unlimited US/Canada calling, voicemail to text, basic call management, and more.
Partner Plan – $44/month for 3 phone lines to cover a small team with features like call forwarding, hold music, shared contacts, and more.
Small Business Plan – $80/month for unlimited phone lines as a business scales up. Adds auto-receptionist, ring groups, and instant calling between employees.
Enterprise Plan – Customized packages for larger teams with expansive features offered at competitive rates.
No long-term contracts are required and all plans include unlimited calling nationwide. International calling can be added starting at 2.3 cents/minute.
Why Pick Grasshopper
Here are some of the top reasons small businesses choose Grasshopper as their phone service provider:
No Equipment Costs – As a cloud-based system, Grasshopper doesn't require expensive hardware purchases. Reduces costs.
Provides Local Numbers – Local and toll-free numbers make businesses seem established and credible within their region.
Simple to Setup and Use – With its user-friendly portal, Grasshopper is intuitive to administer without any special training.
Scales Flexibly – Grasshopper grows with businesses by adding lines and features as needed with no hassle.
Reliable Service – Grasshopper leverages top telecom providers for great call quality and service availability.
Top-Notch Support – Grasshopper specialists are available 24/7 via phone, email, or online chat to resolve issues quickly.
Affordable Value – Grasshopper delivers enterprise-grade phone performance tailored for lean small business budgets.
In summary, Grasshopper provides an easy, affordable phone solution packed with powerful business phone features.
Its flexibility makes it the top choice for solopreneurs and growing teams.
5. 8×8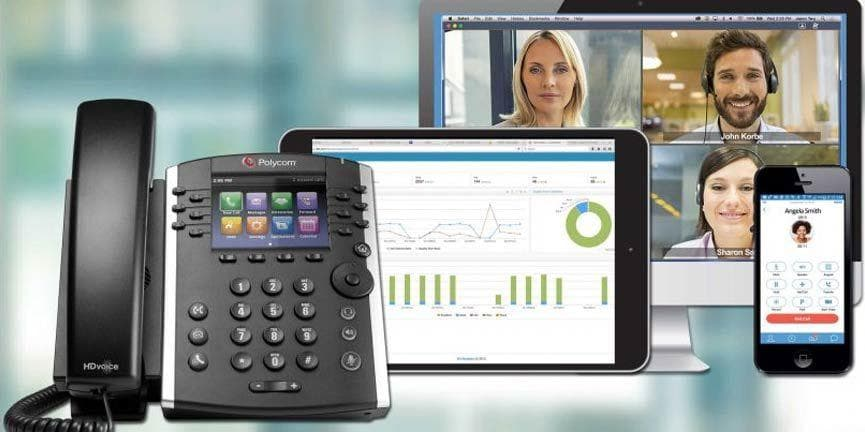 8×8 is a leading provider of cloud-based communications, contact centers, and collaboration solutions.
Its integrated unified communications platform empowers employees to communicate and collaborate more effectively.
With origins dating back to 1987, 8×8 has been innovating cloud phone systems long before they were mainstream.
Features of 8×8
8×8 offers an expansive set of capabilities to enhance communications. Here are 5 key features:
Omnichannel Contact Center – The 8×8 Contact Center supports seamless customer engagements across multiple channels including voice, chat, email, SMS/text, social media, and self-service options. AI and automation enhance efficiency.
Advanced Analytics – Detailed analytics provide insights into the entire customer journey across touchpoints. Analytics dashboards track KPIs like lead response times, CSAT scores, wait times, and more.
Global Availability – With data centers around the world, 8×8 reliably delivers high-quality connectivity globally. This includes localized toll-free numbers to reinforce global business presence.
Team Messaging – 1-on-1 and group chat capabilities keep employees aligned with read receipts, private rooms, GIF integration, search, and more. Syncs across desktop and mobile.
Video Meetings – Face-to-face video meetings help build engagement and collaboration. 8×8 offers HD video, screen sharing, virtual backgrounds, and calendar integrations.
The Pricing Plans of 8×8
8×8 offers several packages with transparent pricing:
X Series – Starts at $25/mo per user. Includes unlimited calling, basic contact center features, chat, integration with Salesforce, and more.
X2 Series – Starts at $45/mo per user. Adds functionality like multi-level auto attendants, advanced analytics, phone integrations, and elevated support services.
X4 Series – Starts at $55/mo per user. Further capabilities for mid-size businesses like omnichannel contact centers, advanced admin controls, and global availability.
X8 Series – Starts at $95/mo per user. 8×8's most robust plan adds compliance recording, an executive dashboard, real-time speech analytics, and more.
Volume discounts are available. Additional costs may apply for add-ons.
Why to Pick 8×8
There are many excellent reasons to choose 8×8 for your business communications:
Single Integrated Platform – 8×8 combines a full-featured phone system, contact center, meetings, and team chat in one seamless solution.
Powerful Analytics – 8×8 provides unparalleled insights into the entire customer and employee journey through advanced analytics.
Enterprise-Grade Reliability – With 99.999% uptime and proven scalability, 8×8 delivers robust service for businesses of all sizes.
Ease of Use – The intuitive centralized admin portal minimizes training time for admins and employees.
On-Demand Scalability – 8×8 flexes to meet changing business demands, seasonal surges, and growth with on-demand scalability.
Experienced Provider – As a trusted pioneer in cloud communications, 8×8 brings over 3 decades of expertise and innovation.
24/7 Support – Highly responsive technical support and customer service available around the clock.
In summary, 8×8 is an industry-leading integrated cloud communications platform trusted by businesses globally.
Its combination of robust capabilities, reliability, and support make it an excellent choice.
6. Avaya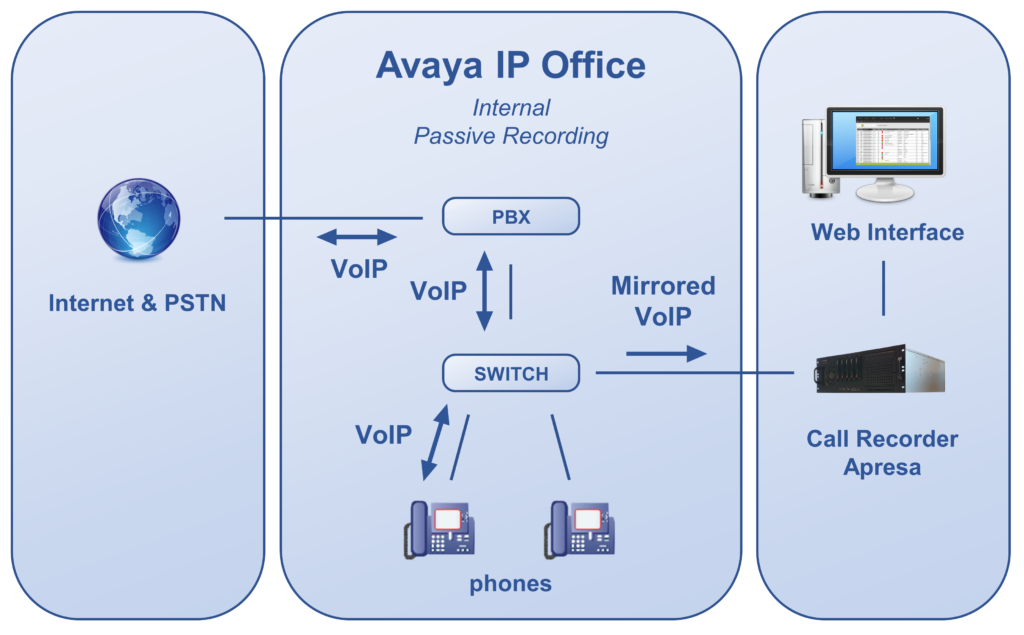 Avaya is a leading provider of communication and collaboration solutions for businesses of all sizes.
With over 100 years of experience, Avaya continues to innovate and deliver reliable and flexible solutions to meet the evolving needs of its customers.
Avaya offers a comprehensive portfolio of products and services including unified communications, contact centers, networking, and services.
Its solutions are designed to enable seamless communications between customers, agents, and employees across multiple channels and devices.
Features of Avaya
Unified Communications: Avaya provides a flexible UC platform that integrates voice, video, messaging, mobility, and presence management across devices. Key features include audio, web, and video conferencing, team collaboration tools, and an intuitive user interface.
Contact Centers: Avaya offers an intelligent and customizable contact center solution. Key capabilities include skills-based routing, multi-channel integration, interactive voice response, reporting, and analytics.
Mobility Solutions: Avaya enables mobile workforce productivity through its mobile collaboration apps. Users can make voice and video calls, exchange instant messages, share files, and collaborate from smartphones and tablets.
Cloud Solutions: Avaya offers public, private, and hybrid cloud deployment options for its UC and CC platforms. This provides flexibility and scalability to customers looking to transition to the cloud.
Networking: Avaya fabric networking technology provides an intelligent foundation for real-time communications. Its features include automation, virtualization, reduced complexity, and improved performance.
The Pricing Plans of Avaya
Avaya OneCloud offers three subscription plans:
Essentials starting at $25 per user monthly provide basic features for startups and small teams.
Professional starting at $35 per user monthly offers additional capabilities for growing SMBs.
Elite pricing is customized for large deployments.
Why to Pick Avaya
There are several compelling reasons for businesses to choose Avaya, including:
Industry Experience: Avaya has over 100 years of communications industry experience and expertise. Its solutions are field-tested by millions of end users globally.
Reliability: Avaya's technology delivers carrier-grade reliability with 99.999% uptime on core platforms. Its solutions are trusted by organizations for mission-critical deployments.
Flexibility: Avaya offers flexible deployment options (on-premises, cloud, hybrid), making it easier for businesses to get started and scale.
Comprehensive Portfolio: Avaya provides a complete suite of communications products to address the full range of customer needs under one platform.
Future Proof Investments: Avaya devises technology roadmaps and migration paths to ensure customers get continued value from their investments as technology evolves.
Strong Partnerships: Avaya has a global ecosystem of partners and developers that extend the value of Avaya technology through vertical solutions.
In summary, Avaya continues to be a leading provider of enterprise-class communications solutions due to its technology strengths, rich features, flexibility, and comprehensive portfolio.
Its solutions help companies improve workforce productivity, customer service, and operational efficiency
7. Ooma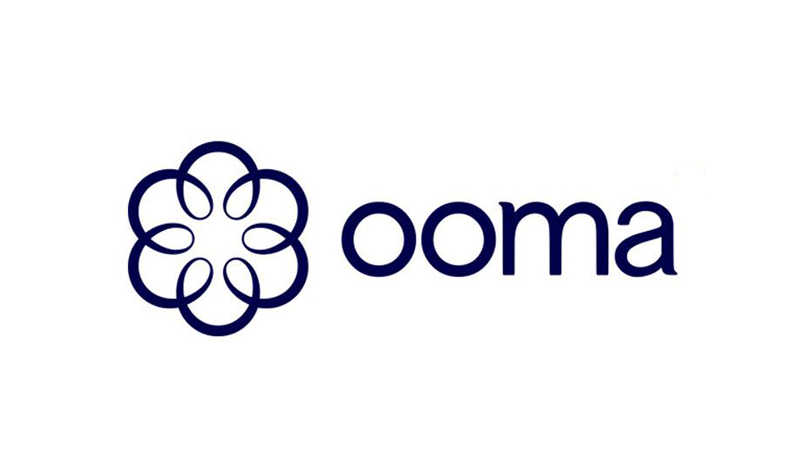 Ooma is a leading provider of cloud-based communications solutions for small and mid-sized businesses. Its innovative products and services are designed to meet the growing needs of modern businesses.
Ooma offers a suite of affordable, flexible, and easy-to-use phone and unified communications services for organizations of all sizes.
With advanced features and great call quality, Ooma helps businesses improve communications and productivity.
Features of Ooma
Cloud Phone Service: Ooma provides a reliable, cloud-based phone service with a virtual PBX system. It includes features like call routing, voicemail to email, ring groups, auto attendants, and more.
Unified Communications: Ooma Office integrates phone service with a host of UC features like audio conferencing, video meetings, chat, screen sharing, and file collaboration.
Mobile App: The Ooma mobile app for iOS and Android allows users to make and receive calls, host conferences, access voicemail, and see who is available from their smartphones.
Advanced Call Routing: Ooma offers intelligent call routing features like find me/follow me, time-based routing, dynamic ring groups, and interactive voice menus for efficient call handling.
CRM Integrations: Ooma seamlessly integrates with popular CRM platforms like Salesforce, Zoho, and SugarCRM to enable features like click-to-dial, screen pops, and call logging.
The Pricing Plans of Ooma
Ooma offers flexible plans suitable for different business needs and sizes. Some key options include:
Ooma Office: For small businesses, starting at $19.95 per user/month with features like extension monitoring, ring groups, caller ID, and more.
Ooma Office Pro: For enhanced call routing, voicemail, auto attendant, and other advanced features for $24.95 per user/month.
Ooma Enterprise: The premium plan starts at $19.95 per user/month with features like multi-site networking, call recording, and enhanced integrations.
Number porting and additional direct numbers are available for added fees. Hardware phones can be purchased or rented.
No long-term contracts so businesses can cancel anytime. Discounts are available for annual payments.
Why to Pick Ooma
There are many good reasons for businesses to choose Ooma, including:
Cost Savings – Ooma provides significant cost savings over traditional phone services with predictable monthly expenses.
Scalability – It's easy to add and manage users across multiple locations as your business grows.
Mobility – The mobile app keeps employees connected and productive from anywhere.
Reliability – Ooma delivers excellent uptime along with disaster recovery features.
No Hidden Fees – Simple, flat-rate pricing means no surprise additions to your monthly phone bill.
Customer Support – Ooma offers responsive 24/7 customer support via phone, email, and chat.
Ease of Use – Ooma's interface is intuitive and easy to use with drag-and-drop call flows.
Integrations – Seamless integrations boost productivity across CRM, help desk, ERP, and other business apps.
With its comprehensive features, competitive pricing and focus on customer service, Ooma is a great communications solution for modern businesses looking to improve productivity and collaboration.
8. Vonage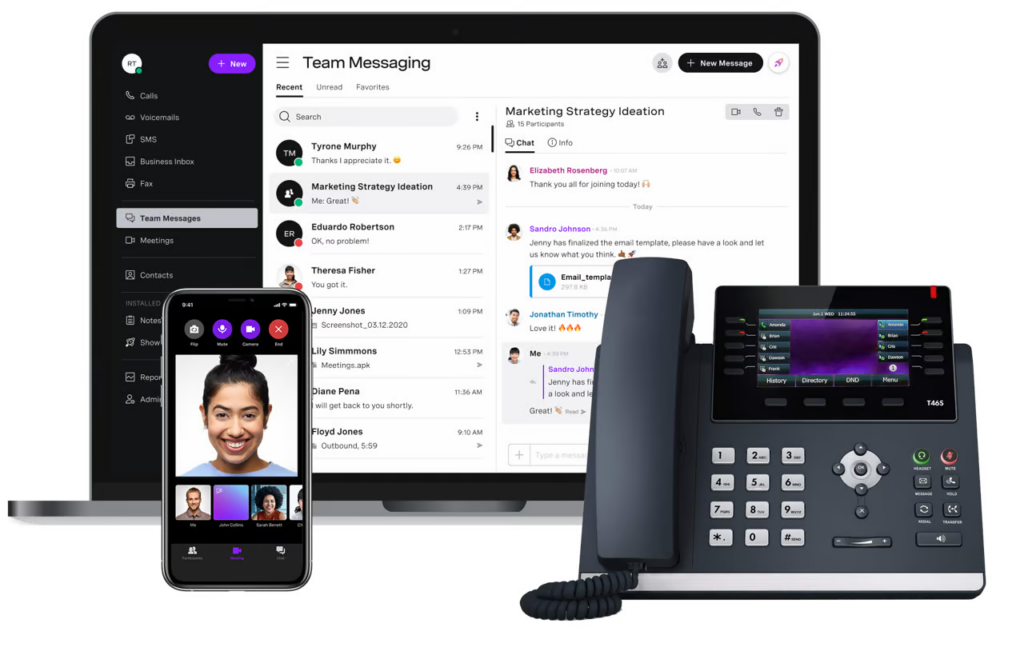 Vonage is a global leader in cloud communications, helping businesses connect through next-generation unified communication services.
Vonage enables businesses to collaborate more productively and engage their customers more effectively across all modes of communication.
Vonage offers a robust suite of features and capabilities to power modern business communication through flexible, scalable cloud-based solutions.
Features of Vonage:
Unified Communications Platform – Vonage brings together multiple communication channels like video, voice, messaging, chat, and verification on one unified platform.
Mobility Features – Vonage equips the mobile workforce with calling, messaging, presence, and collaboration capabilities on their smartphones and tablets.
Contact Center Solutions – Vonage provides an omnichannel contact center solution blended with advanced features like IVR, CRM integrations, reporting, and analytics.
API Platform – Businesses can easily embed programmable voice, video, messaging, and verification into apps and products using Vonage APIs.
Global Network – Vonage leverages a reliable, scalable global network spanning 6 continents and 60+ countries.
The Pricing Plans of Vonage
Vonage caters to companies of all sizes with flexible plans for their specific needs and budgets:
Vonage Business Communications: Vonage's core UC plan starts at $19.99 per user/month with unlimited national calling, team messaging, video meetings, and more.
Vonage Contact Center: Full-featured contact center solution with pricing customized based on several agents, minutes, talk time, and desired capabilities.
International calling plans: Affordable per-minute rates for calling to international numbers in various countries.
Toll-free plans: Shared and dedicated toll-free numbers are available every month.
Add on services like visual voicemail, call recording, etc. at additional costs.
Why to Pick Vonage
There are many compelling reasons for businesses to choose Vonage as their communications provider:
Proven Track Record – Vonage has over 20 years of experience delivering innovative communications globally.
Cost Savings – Vonage eliminates expensive hardware and maintenance costs with a flexible, subscription-based cloud solution.
Agility – Vonage makes it easy for businesses to quickly add new users, features, or entire offices as needed.
Reliability – The network architecture delivers 99.999% uptime along with disaster recovery capabilities.
Customer Support – Vonage provides 24/7 customer support via phone, email, chat, and community forums.
Global Reach – Vonage enables seamless global communication through partnerships in 60+ countries.
Latest Technology – Vonage continuously invests in R&D and innovation to incorporate the latest advancements.
Scalability – Vonage offerings are designed to scale to meet the needs of companies ranging from SMBs to large enterprises.
With its rich unified communications capabilities, flexible plans, and renowned customer service, Vonage is the ideal communications partner for forward-thinking global businesses.
9. Dialpad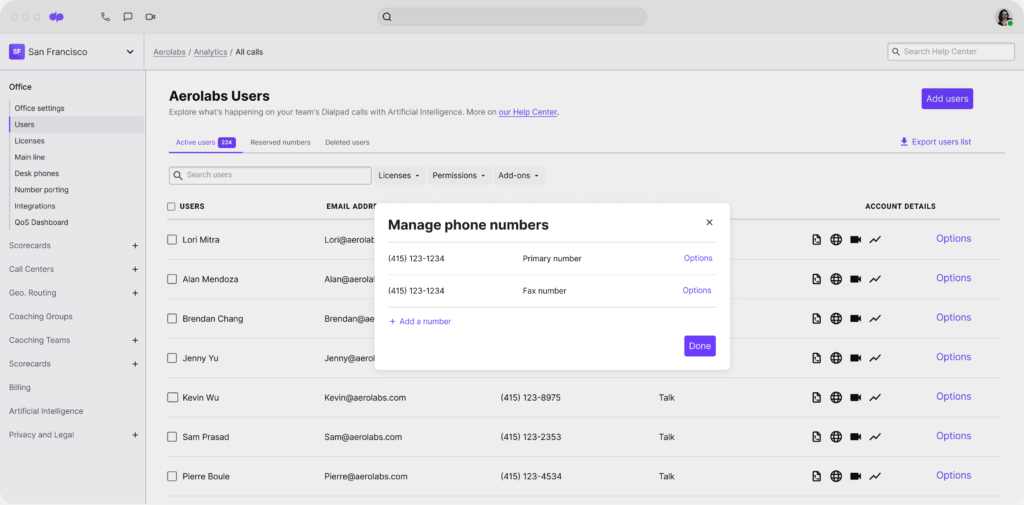 Dialpad is a leading cloud-based phone system that aims to simplify business communications.
With an intuitive interface, robust features, and flexible pricing, Dialpad provides everything today's businesses need to stay connected and productive.
Features of Dialpad
AI-Powered Voice Intelligence: One of Dialpad's standout features is its artificial intelligence technology. The Voice Intelligence system transcribes calls in real time, identifies speakers, and even provides smart suggestions during your conversations. This allows you to stay focused on the discussion rather than taking manual notes.
Customizable Call Routing: Dialpad makes it easy to customize call routing to match your business needs. Options include call flipping, simultaneous ringing, call forwarding, custom greetings, and more. You can configure unique rules for different users or departments.
Team Messaging: Instant messaging is built right into the Dialpad platform. The team messaging feature lets you communicate with coworkers in real time via text, share files, and more. It's a quick and convenient way to collaborate.
Virtual Phone Numbers: Dialpad supports provisioning virtual phone numbers so you can establish a local presence in different cities or regions. This gives your business a professional image and helps drive more calls.
Call Recording & Analytics: With Dialpad, you can record calls for quality assurance, training purposes, and more. The system also provides analytics like live call transcriptions and emotion analysis, helping you gain insights to improve customer interactions.
The Pricing Plans of Dialpad
Dialpad offers three main plans suitable for different business sizes and needs:
Standard – $15/user/month. Best for small teams. Includes unlimited calling, 100 toll-free minutes, basic call routing, and more.
Pro – $25/user/month. For growing businesses. Adds features like automatic call recording, advanced call routing, and single sign-on.
Enterprise – Custom pricing. For large organizations. Includes administrator controls, real-time analytics, customized onboarding, and priority support.
The Pro plan unlocks most core capabilities, while Enterprise offers white-glove service and support.
Why to Pick Dialpad
There are a few key reasons Dialpad stands out from traditional business phone services:
Intuitive and modern UI – Dialpad's interface is clean, easy to use, and designed for today's employees. The web-based access works seamlessly across devices.
Scalable platform – Dialpad scales smoothly as your team grows. It's easy to add new users and features as needed with no extra hardware.
Reliable – Built on a carrier-grade network, Dialpad offers 99.999% uptime and call quality. As a cloud service, it's not vulnerable to local outages.
Flexible pricing – Dialpad's pricing is straightforward and affordable. You can mix and match plans to fit each employee's needs.
For a full-featured cloud business phone system with intelligent call routing, team messaging, and more – Dialpad is an excellent choice.
The modern platform and robust feature set simplify day-to-day communication
10. GoTo Connect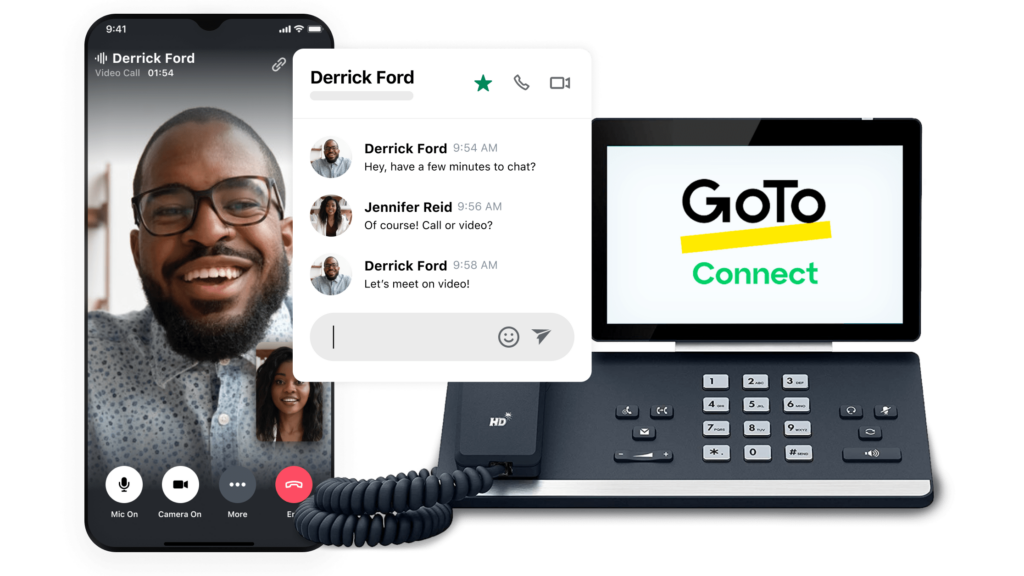 GoTo Connect is an industry-leading cloud communications platform that brings calling, messaging, meetings, and contact centers together in one solution.
With powerful features tailored for business, flexible plans, and ease of use, GoTo Connect helps companies improve collaboration and customer experience.
Features of GoTo Connect
Cloud PBX Phone System: GoTo Connect provides a reliable cloud-based phone system that eliminates the need for outdated on-premise PBX hardware. It includes call management, auto attendant, unlimited calling, and more.
Video & Audio Conferencing: Users can instantly host and join video or audio conferences with screen sharing right from the GoTo Connect interface. Meet with remote teams or customers with just a click.
Team Messaging: The integrated team chat and messaging capability enables real-time communication between coworkers, departments, and more. This improves internal collaboration.
Contact Center Software: GoTo Connect includes an intuitive contact center solution for managing incoming customer calls. Features include IVR, intelligent call routing, call monitoring, and advanced reporting.
Mobile Apps: With iOS and Android apps, users can make calls, join meetings, send chats, view contacts, and manage voicemail on the go. This provides flexibility for the mobile workforce.
The Pricing Plans of GoTo Connect
GoTo Connect offers three core plans:
Professional – $25/user/month. Includes phone system, 100 toll-free minutes, and essential features.
Business – $35/user/month. Adds single sign-on, advanced call routing, multi-level auto attendants, and more premium features.
Enterprise – Custom pricing. For larger organizations. Includes executive support, customized onboarding, dedicated account management, and more.
Custom and international calling add-ons are also available. The plans scale flexibly according to business needs.
Why Pick GoTo Connect
There are several key reasons GoTo Connect stands out as a top business communications solution:
All-in-one platform – GoTo Connect combines cloud PBX, contact center, meetings, and messaging in one seamless solution. This eliminates the need to integrate multiple vendors.
Easy to use – The modern, intuitive interface enables users to adopt the platform quickly with minimal training required.
Reliable – GoTo Connect delivers outstanding 99.999% uptime on a global cloud network. Quality and security are baked in.
Scalable – Easily add users, features, and capabilities as your business grows. The cloud-based system scales on demand.
Flexible pricing – GoTo Connect offers affordable plans suitable for all business sizes. Pay only for what you need.
With its robust all-in-one platform, focus on usability and flexible plans, GoTo Connect is a smart choice for companies that want to streamline their business communications.
Business Phone Service Essential Features
The way businesses communicate is constantly evolving. Having reliable and effective phone service is crucial for any organization, no matter the size or industry.
There are several key features that every business phone service should provide.
Call Clarity – A top priority is having clear call quality so conversations are easy to understand on both ends of the line. This includes minimizing background noise, echo, dropouts, or other disturbances that can frustrate callers. Voice quality should be uniform whether calls are local, long-distance, or international.
Voicemail – Voicemail capability is a must, allowing callers to leave messages 24/7. Features like voicemail-to-email provide added convenience by delivering messages directly to inboxes. Advanced options include transcribed voicemails so recipients can read the message text.
Call Transfer – Transferring calls between extensions or directing them to external phone numbers should be simple and intuitive. Options like warm, blind, and attended transfers give flexibility for different user preferences. Easy call transfers promote efficiency and fluid communication across an organization.
Auto Attendant – Automating call routing with an auto attendant helps ensure callers reach the correct department and person. Menu options, dial-by-name directories, and automated greetings improve customer experience and reduce receptionist duties.
Analytics – Usage metrics, recordings, and reports help businesses optimize communication. Analytics provide insight into peak call times, unanswered calls, wait times, and more. This data guides effective staffing plans, call center performance, and other operational decisions.
Conferencing – Conference calling brings multiple parties together on planned calls or improves collaboration on existing calls. Features like mute, hold, call recording and screen sharing increase the utility during conferences.
Remote Calling – Mobile and remote calling enable professionals to use business phone systems on the go. Calling and texting capabilities, VoIP technology, and smartphone apps keep teams connected when out of the office.
CRM Integrations – Integrating phones with CRM software helps connect insights between systems. Caller ID, call logs, and tracking provide context to customer records in the CRM. Sales and service teams gain a unified view of customer interactions.
Security – Business phone services should have security measures like call encryption, spam blocking, and authentication to prevent fraud. Protecting calls and account access is imperative for any organization, especially those handling sensitive data.
When comparing business phone service options, keep these key features in mind as the core components of an effective communication platform for any organization.
Prioritizing these capabilities will ensure seamless calling that enhances operations, sales, and the customer experience.
The right phone system becomes an invaluable business tool when thoughtfully selected to match functional needs and be user-friendly.
Frequently Asked Questions
Ques 1: What are the benefits of using a business phone service for a small business?
Ans: Lower costs, advanced features like call routing and voicemail transcription, flexibility to add lines, ability to make/receive calls remotely, more professional image.
Ques 2: What features should small businesses look for in a phone service?
Ans: Unlimited nationwide calling, auto attendants, conference calling, toll-free numbers, call tracking, mobile apps, SMS capabilities, and CRM integrations.
Ques 3: How much does a small business phone service cost?
Ans: Costs range from $20-$50 per user monthly. Some charge per line. The most affordable options are $10-$25 per user monthly. Discounts for annual contracts or additional lines.
Ques 4: What are the differences between VoIP and analog phone services?
Ans: VoIP transmits calls digitally over the internet for lower cost and advanced features. Analog uses landlines. VoIP call quality is now on par with analog for most small businesses.
Qus 5: How difficult is it to set up a business phone system?
Ans: Many systems are cloud-based for quick online setup without hardware. Simply create accounts, and assign numbers/features. Plug in IP phones and make tweaks through the dashboard. Onboarding support is usually available