Do you ever get annoyed by robocalls or spam calls? Do you wish you could screen unknown callers before answering?
If that's the case, call screening is the only option you got.
Call screening is a feature offered by many phone carriers and third-party apps that lets you see who's calling and choose whether or not to pick up.
This article will explain what call screening is, how it works, tips for setting it up, key features to look for, the benefits it provides, and best practices for using it effectively.
Read on to learn the basics of call screening and how this simple tool can make a big difference in decreasing disruptions and protecting you from harassment.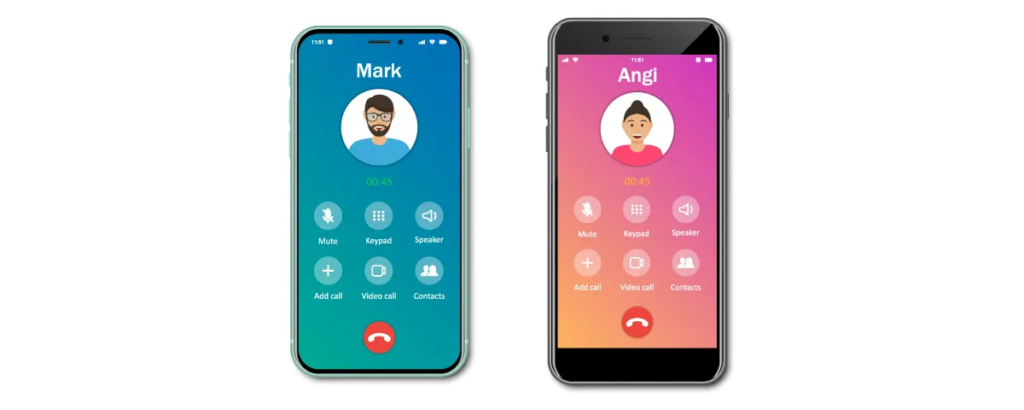 What is called screening?
Call screening is a service that screens incoming calls and provides information about the caller before you answer.
It lets you see the caller ID, type of call (robocall, spam risk, etc.), and a transcript of what the caller is saying if they leave a voicemail message.
This allows you to make an informed decision about whether or not to answer based on who's calling and why.
Call screening gives you more control over the calls coming into your phone. You can see details about unknown callers and choose to answer, block, or send them to voicemail.
Many call screening services automatically detect and filter out robocalls as well. This helps reduce disruptions and lets you avoid unwanted calls.
Key Terms
Blacklist: A list of phone numbers you want automatically blocked. Blacklists allow you to actively block callers that you know are spammers or scams.
Whitelist: A list of contacts you want to always allow calls from. A whitelist makes sure important calls from family, friends, and other contacts can still reach you.
Spam risk calls: Calls identified as potential spam or scams. This category labels calls that display red flags but can't yet confirm they are spam.
Robocalls: Automated pre-recorded calls. These nuisance calls often have a robotic-sounding voice and ignore do-not-call lists.
How Call Screening Works?
There are a few different ways call screening can work depending on your phone carrier and whether you use a third party some of the main methods: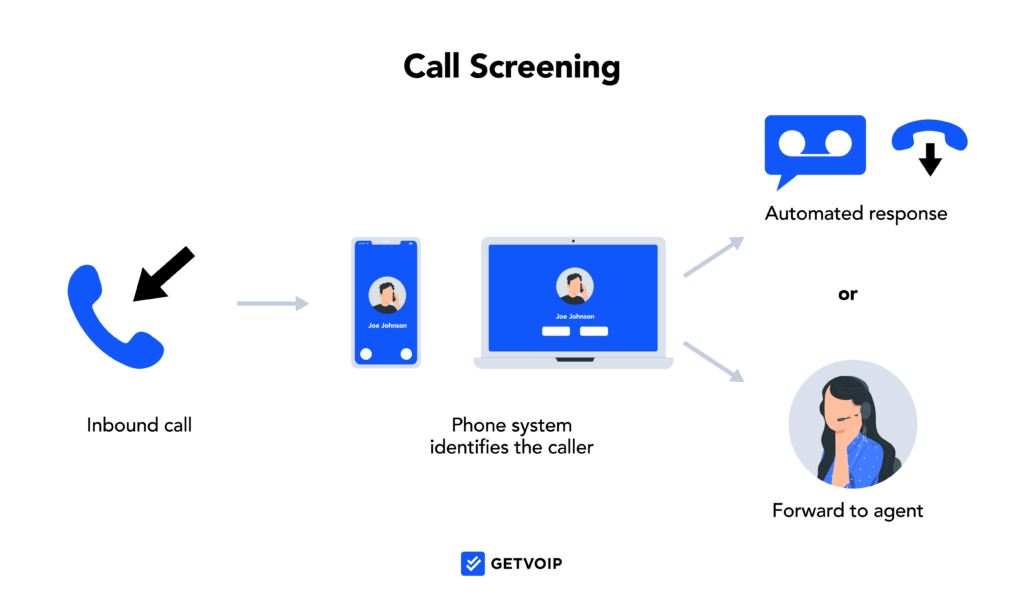 Carrier-Based Call Screening
Some phone carriers like Google Fi and T-Mobile include built-in call screening features.
They use advanced analytics and algorithms to identify high-risk calls and give you the option to screen. Carrier screening is convenient if included free with your plan.
Third-Party Call Screening Apps
There are apps like RoboKiller and YouMail that provide call screening and other anti-spam features. You simply set them as your default calling app.
Third-party apps often have more advanced screening abilities compared to carrier options.
Keyword Filtering
Some call screening apps let you set certain keywords so if the caller says those words, the call will be flagged for your attention. Keyword screening helps detect common scam phrases.
Reverse Phone Number Lookup
This cross-references the caller's number against various databases to identify known spammers or scams. Lookup services help accurately label high-risk calls from shady numbers.
Real-Time Transcriptions
Apps can provide a live written transcript of what the person is saying if they leave a voicemail. Transcriptions allow you to skim voicemails rather than listening to every rambling message.
Setting Up Call Screening
Follow these steps to start using call screening features:
Carrier-Based: Check if your mobile carrier offers built-in call screening. Enable it in your account settings or phone app. Activating carrier screening is quick if available through your provider.
Third-Party Apps: Download a call screening app like YouMail or RoboKiller from the app store. Follow the setup prompts. Take a few minutes to set up a third-party app and customize your settings.
Contact Lists: Add important contacts to your whitelist and known spammers to your blacklist to automate filtering. Maintaining updated lists ensures that wanted calls get through while spammers are blocked.
Keywords: If available, enter key spam phrases like "phrases card" or "vacation prize" to flag for those words. Adding scam keywords provides an extra layer of screening protection.
Answering Rules: Set preferences for how calls should be handled and when you want to be notified. Customize your rules so screening works the way you want.
Test It Out: Do a test call from another phone to ensure it's working correctly. Testing will confirm the screening and your settings are functioning properly.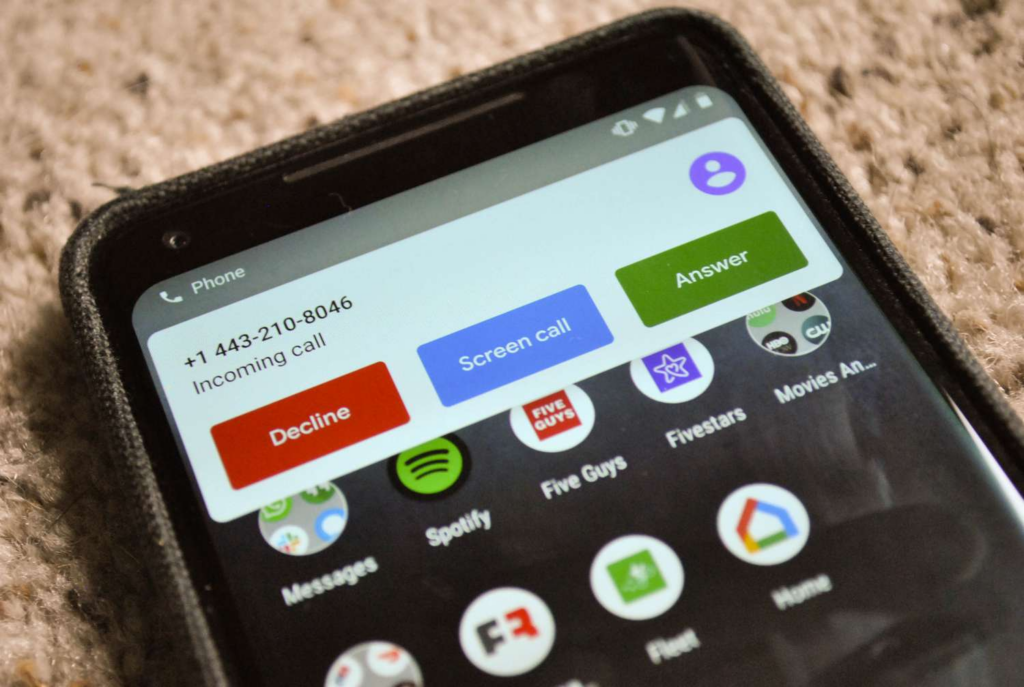 Key Call Screening Features
When researching call screening apps and services, look for these key features:
Blacklist/Blocklist
Create a custom list of phone numbers you want to block
Calls from blacklisted numbers won't ring through and go to voicemail instead
Useful for blocking telemarketers, robocalls, or harassing contacts
Prevents unwanted disruptions and screening unwanted calls
Whitelist
Only allow calls from contacts you add to the whitelist
Great for family members, close friends, important work contacts
Blocks any callers not on your approved whitelist
Customize for your key contacts you always want to connect with
Reverse Number Lookup
Database cross-checks incoming numbers and identifies callers
Provides name and location info for unknown business or personal calls
Helps you screen calls and avoid scams spoofing real numbers
More informed decision-making with detailed caller ID
Custom Greetings
Personalize greetings for different types of incoming calls
Deter unwanted calls by setting a screening greeting for unknowns
Custom greetings for specified groups and contacts
A fun way to screen calls with personalized pre-recorded greetings
Call Screening for Known Contacts
Enables screening of calls from numbers in your contacts
Avoid unwanted calls from known numbers like coworkers or solicitors
Whitelist key contacts to allow calls from known numbers
Provides enhanced screening even for calls from your address book
Real-Time Caller Screening
Transcribe the caller's voice in real time before you answer
Identifies legitimate urgent calls and filters out spam
View live transcriptions to screen calls with more context
Answers call intelligently based on real-time voice screening
Call Blocking by Category
Smart blocking uses profiles to block types of robocalls
Block entire categories like telemarketers, debt collectors
Customize categories to block political calls, surveys, solicitors
Eliminate whole types of unwanted calls automatically
Benefits of Call Screening
Many benefits call screening provides:
Avoid unwanted calls from telemarketers, robocalls, and scams. Screening reduces interruptions from illegal spam calls.
See who's calling and why before answering unknown numbers. Identifying callers allows you to answer intelligently.
Reduce interruptions from spam calls. Fewer robocalls and telemarketers make your phone more usable.
Protect your time by only taking important calls. Screening weeds out unimportant calls to free up more time.
Prevent harassment from repeat unknown callers. Blocking repeat nuisance callers stops unwanted harassment.
Screen business calls to prep before answering. For important calls, screening gives you a moment to prepare.
Never miss crucial calls from your whitelist contacts. Whitelists let key calls from VIPs always reach you.
Read voicemail transcripts instead of listening to rambling messages. Transcriptions save time skimming voicemails.
Feel more in control of your phone experience. Taking charge of calls reduces phone-related stress.
Reduce the risk of spam calls tricking you into providing personal information. Identifying scams early prevents you from being manipulated.
Gain peace of mind knowing who's contacting you. Confidently answering calls reduces anxiety.
Call Screening Best Practices
Follow these tips to get the most out of call screening:
Actively manage your whitelist and blacklist by adding new contacts whenever needed. Keep lists updated to improve accuracy over time.
Use the "send to voice email" option for unknown spam risks rather than blocking entirely in case they leave a legitimate message. Voicemails provide a chance for valid callers to identify themselves.
If transcription is available, skim voicemails to identify important messages. Quickly scanning transcripts saves time.
Monitor your call logs for any spam leaks and adjust your settings accordingly. Check for missed spam and tweak settings to improve blocking.
Report spam callers to your carrier and call screening app to improve algorithms. Reporting helps increase accuracy in identifying risky calls.
Periodically update your call screening app and check for new features. New updates provide better screening capabilities.
For businesses, create custom call handling rules for different types of calls like customers or vendors. Customize screening to fit business needs.
Provide feedback to your call screening provider on the accuracy of spam detection. This helps them enhance performance.
Be cautious of callers claiming you "won a prize"- it's likely a scam. Don't fall for common tricks used by scammers.
Never provide personal information like credit card details to an unverified caller. Protect your sensitive data from potential scams.
Business Phone Systems Offering Call Screening
Selecting a phone system that meets the unique needs of your business can be challenging.
One feature that many companies find valuable is call screening, which allows you to view incoming caller ID information and decide whether or not to answer the call. This prevents wasted time on unsolicited sales calls and scams.
Here are 5 top-rated business phone systems that provide call screening and other key features for SMBs:
1. Nextiva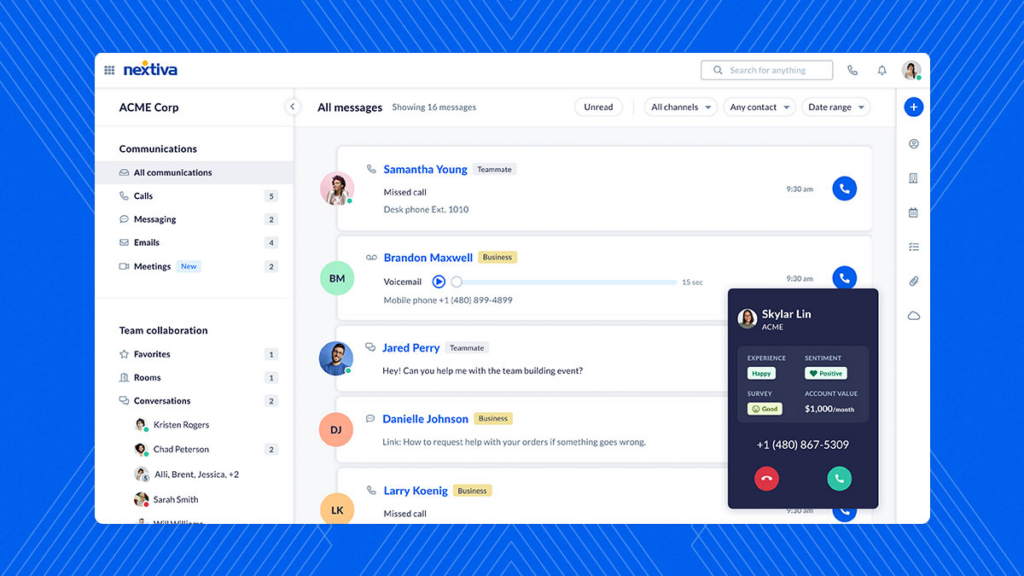 Overview
Nextiva is a popular cloud-based VoIP provider that serves over 150,000 businesses.
They offer a robust unified communications platform with video conferencing, team chat, contact center software, and more.
Key Features
Call screening – Preview caller ID and screen calls with custom audio greetings.
Auto attendant – Automated greetings guide callers to the right department or person.
Interactive voice response (IVR) – Self-service options via phone keypad.
Voicemail transcription – Voicemails are transcribed into text for easy reference.
Call recording – Record calls for quality assurance and training.
CRM integrations – Connect with platforms like Salesforce, Zendesk, and Oracle.
Mobile app – Make and receive calls on your smartphone.
Pricing & Plans
Nextiva offers several affordable VoIP packages. Their basic "Essential" plan starts at $18.95 per user per month.
Upgraded tiers like "Professional" and "Enterprise" add more advanced features.
Pros
Easy cloud-based setup and management
Excellent call quality
Packed with features including call screening
Scales to support large businesses
Reliable network with 99.999% uptime guarantee
Cons
Video conferencing is an add-on (not built into core plans)
No automatic call recording feature
2. RingCentral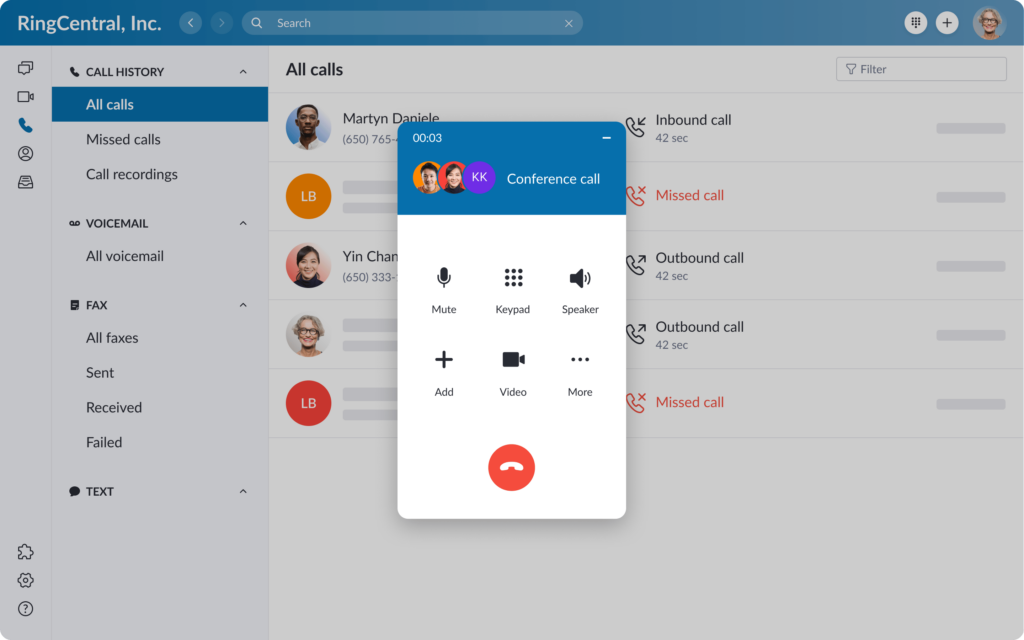 Overview
As one of the first VoIP providers, RingCentral has been a longstanding leader in cloud phone systems for over 20 years. They serve over 400,000 customers globally.
Key Features
Call screening – See caller names and customize greeting messages.
Auto receptionist – Route calls with professionally recorded greetings.
Ring groups – Have calls ring multiple devices until answered.
Call logs – Review details on all incoming, outgoing, and missed calls.
Voicemail to text – Get voice messages delivered as text transcripts.
Built-in conferencing – Host phone and video meetings.
Mobile app – Make and receive calls on any device.
Pricing & Plans
RingCentral has tiered pricing that scales for business size. The Essentials plan starts at $24.99 per user per month. Premium and Ultimate plans add more tools and capabilities.
Pros
Very reliable with great uptime
Well-rounded features including call screening
Easy to manage even for non-technical users
Works seamlessly across devices
World-class customer support
Cons
Can get expensive for large deployments
Voicemail transcription is an add-on
Some users complain of inconsistent call quality
3. Ooma Office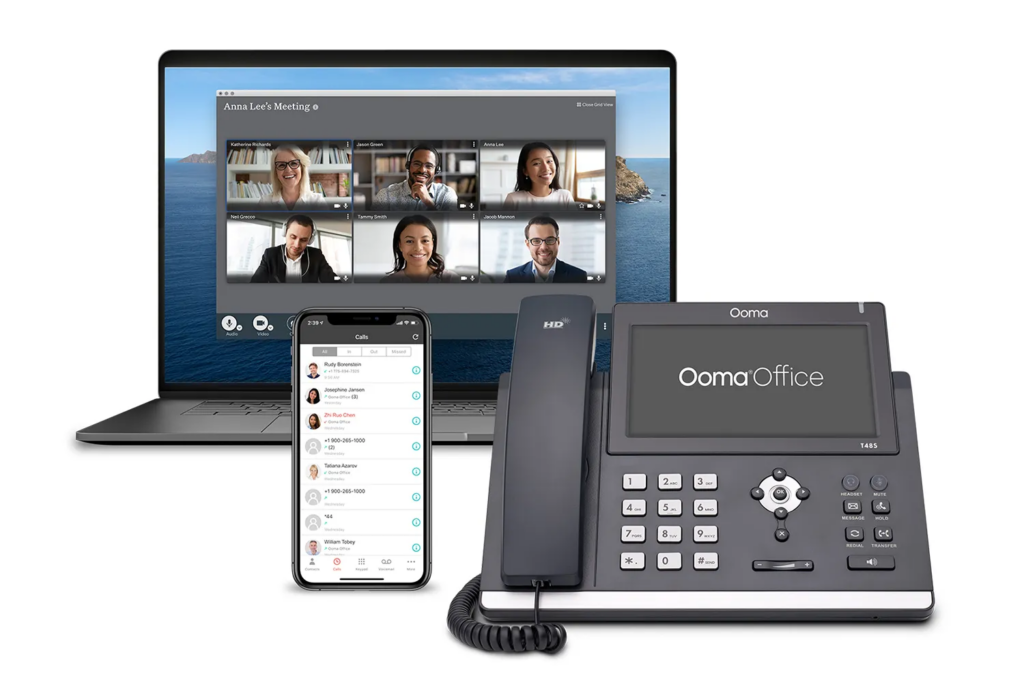 Overview
Ooma Office is a premises-based system suited for small businesses. You purchase the onsite hardware device and then get access to their cloud platform.
Key Features
Call screening – Block unwanted callers and get caller details.
Virtual receptionist – Customized professional greetings with dial-by-name.
On-hold messages – Promotional messages for callers on hold.
Do not disturb – Halts calls during busy times.
Call logging – Review call history details.
Voicemail-to-email – Receive voice messages via email.
Conference calling – Host meetings with up to 20 participants.
Pricing & Plans
Ooma Office has two main plans: the basic $19.95 per month per user or the upgraded $24.95 per month per user. You also pay $229.99 upfront for the onsite Ooma Office Base Station hardware.
Pros
No long-term contracts
Low monthly rates
Crystal clear call quality
Easy onsite setup
Great small business feature set including call screening
Cons
Limited integrations compared to leading cloud systems
Base Station appliance can only support 20 users
Add-on features increase the monthly rate
4. 8×8 X Series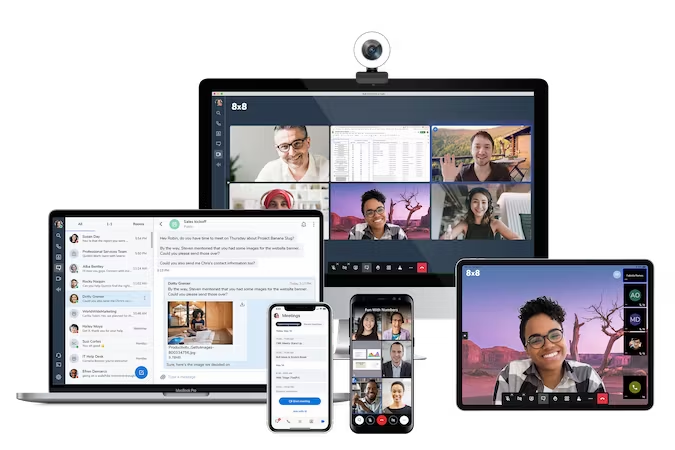 Overview
8×8 is a cloud-based unified communications provider with integrated VoIP phone service, video conferencing, team chat, and contact center features.
Key Features
Call screening – Identify callers and customize greetings.
Auto attendant – Route calls and provide dial-by-name directory.
Advanced call routing – Send calls simultaneously to multiple devices.
Voicemail transcription – Convert voicemails to text for quick reference.
Built-in reporting – Track usage metrics and call analytics.
Mobile app – Make calls over WiFi or cellular data.
Pricing & Plans
8×8 X Series pricing starts at $24 per user per month for the basic X2 plan. More advanced tiers like X4 and X8 are available for larger organizations.
Pros
Full-featured cloud communications
Global infrastructure with 99.999% uptime
Call screening comes standard
Easy admin controls and usage analytics
Integrates with top CRM and helpdesk platforms
Cons
Can get expensive for larger deployments
Some users report choppy call quality
Video meeting features require upgrading plans
5. Microsoft Teams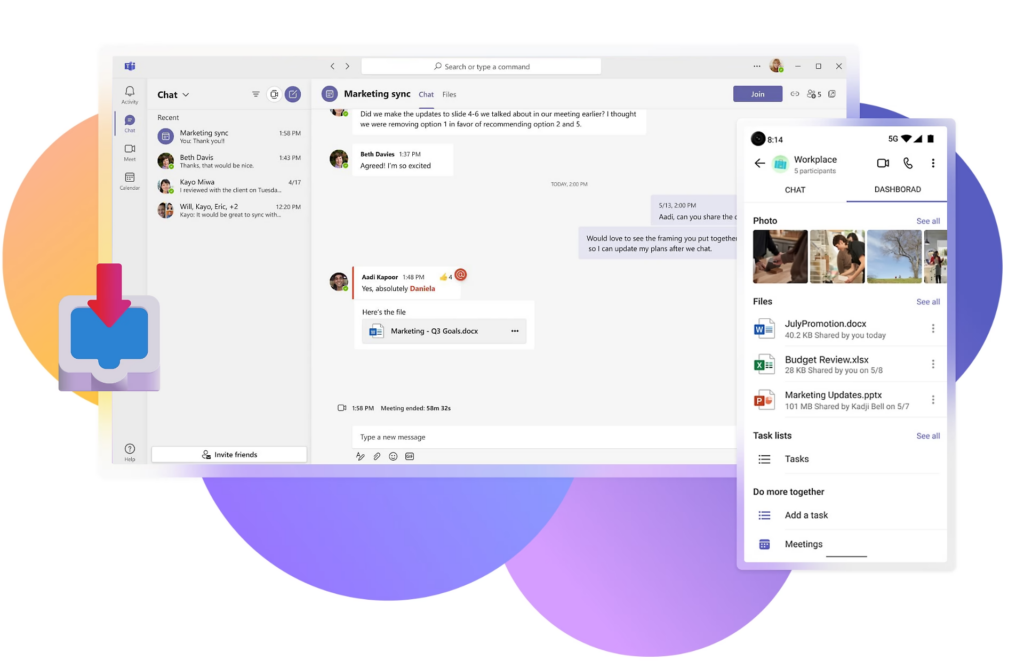 Overview
Microsoft Teams is a collaboration hub that includes VoIP phone capabilities, video meetings, team chat, and file sharing. It integrates with other Microsoft 365 apps.
Key Features
Caller ID screening – See who's calling before you answer.
Call routing – Send calls to various numbers or queues.
Voicemail – Get voice messages delivered by email.
Call history log – Look up past incoming, outgoing, and missed calls.
Call forwarding – Redirect calls to another line or device.
Call park – Put a call on hold and pick it up on a different device.
Pricing & Plans
Microsoft Teams is included in Microsoft 365 and Office 365 subscriptions that start at $5 per user per month. Unlimited domestic calling plans are extra.
Pros
Deep integration if you already use Microsoft 365
Low monthly cost for basic voice capabilities
Easy collaboration through a combination of tools
Familiar interface for Microsoft users
Caller ID screening comes standard
Cons
Full-featured phone system requires add-ons
Can experience laggy call quality
Advanced call routing and auto attendants cost extra
Mostly suited for existing Microsoft 365 subscribers
Conclusion
Call screening is a simple but powerful tool that allows you to filter unwanted calls, identify who is contacting you, and reduce disruptions.
Taking the time to set up call screening features and manage your contact lists can make a big difference in decreasing everyday annoyances and potential scams.
Test out different call screening apps to find one that fits your needs and preferences. Keep these best practices in mind to maximize the benefits.
With helpful call screening in place, you can answer calls with confidence knowing exactly who is on the other end.
Frequently Asked Questions (FAQ)
Ques 1. What is called screening?
Ans. Call screening is a service offered by phone carriers and apps that lets you screen incoming calls by seeing the caller ID and a risk profile before deciding whether to answer.
It helps filter out unwanted spam and robocalls. Call screening gives you more information about the caller so you can decide whether or not to answer.
Ques 2. Does call screening work for text messages too?
Ans. Most call screening services only screen phone calls, not text messages. However, some apps like RoboKiller can block spam texts in addition to calls.
However, the majority focus specifically on screening voice calls from unknown numbers.
Ques 3. Do I have to pay to use call screening?
Ans. Some carrier-based call screening services are free or included with your mobile plan.
However, third-party apps often offer free trials but charge a subscription fee for full access to all features. If using a third party to pay a monthly or yearly access fee.
Ques 4. What happens if I don't answer a call being screened?
Ans. If you don't answer, it will typically go to voicemail as usual. Many call screening apps let you read the transcript of voicemails left by screened calls.
This allows you to check the voicemail content without having to list messages.
Ques 5. Can call screening accidentally block wanted calls?
Ans. There is a small risk of blocking legitimate calls, but whitelisting important contacts can prevent this.
Be sure to add family and friends to your approved contacts list. Also, review your logs periodically to make sure wanted calls aren't being blocked by mistake. Adjust settings if needed.