Voice over Internet Protocol (VoIP) has become an increasingly popular way for people and businesses to make phone calls over the Internet instead of traditional phone lines.
A key component that allows this technology to work is a VoIP gateway. It converts voice and fax calls into data packets that can be transmitted over the internet and vice versa.
This article will provide an overview of what a VoIP gateway is, the different types available, reasons to consider using one, and major VoIP gateway manufacturers.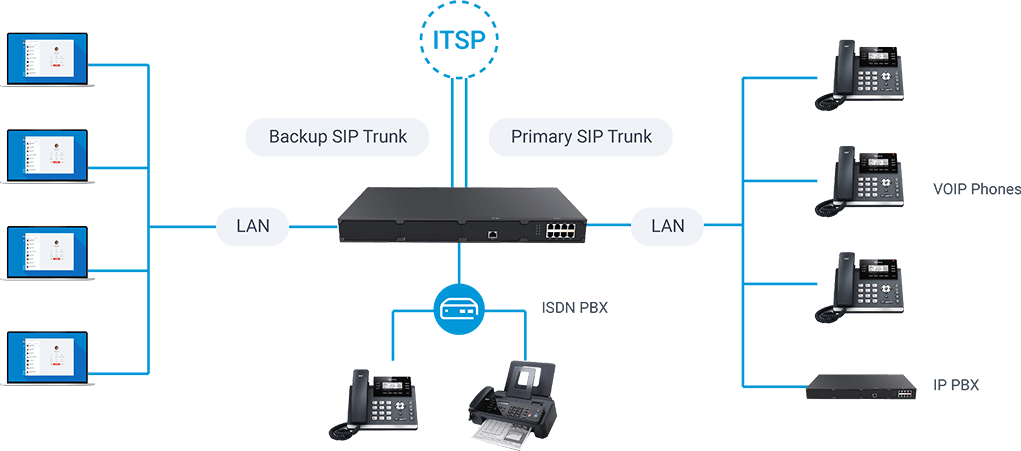 What is a VoIP Gateway?
A VoIP gateway is a device that bridges the traditional telephone system and a VoIP network. It converts analog voice signals from traditional phones into digital signals that can be transmitted over the internet or a corporate LAN.
It also converts incoming VoIP data packets back into analog signals so that you can use a regular phone for making VoIP calls.
VoIP gateways have two physical interfaces – one for connecting to the public switched telephone network (PSTN) and another for connecting to an IP network.
Common analog interfaces on VoIP gateways include FXS, FXO, and E&M. Digital interfaces include BRI and PRI.
VoIP protocols like SIP and H.323 are used for call routing, call control, and other signaling purposes over the IP network.
In summary, a VoIP gateway performs three key functions:
Analog to Digital Conversion: Converts incoming analog signals from PSTN into digital packets.
Digital to Analog Conversion: Converts incoming VoIP data packets into analog signals for use with regular phones.
IP Telephony Protocols: Supports VoIP protocols like SIP and H.323 to route calls over the IP network.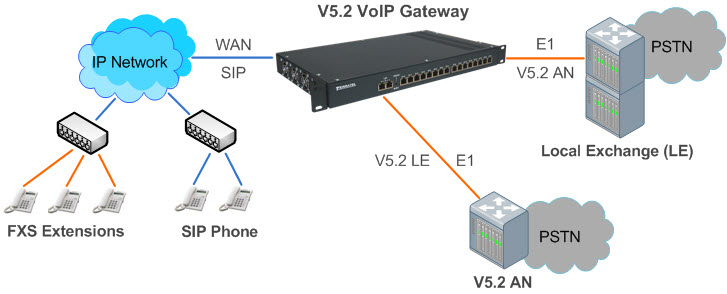 Types of VoIP Gateways
There are many different types of VoIP gateways available to suit various business needs:
Analog Telephone Adapters (ATAs) – These are small consumer-grade VoIP gateways that enable traditional analog phones to be used with VoIP services. They have FXS ports to connect to regular phones. Popular for home offices and small businesses.
IP Business Gateways – Larger gateways with multiple FXS and FXO ports and other advanced features for business environments. Enable connecting PBX systems to VoIP.
Session Border Controllers (SBCs) – Used by VoIP service providers and large enterprises for intelligent VoIP routing, security, interoperability, and SIP trunking between networks.
Media Gateways – Convert between different media types rather than just analog and digital VoIP. Used for video conferencing, legacy TDM to IP, etc.
Residential Gateways – Integrated devices for small offices or homes combining a VoIP gateway, router, firewall, WiFi access point, and Ethernet switch in one box.
So in summary, the primary criteria for choosing a VoIP gateway type include several required ports, form factor, performance capabilities, supported VoIP protocols, and security features.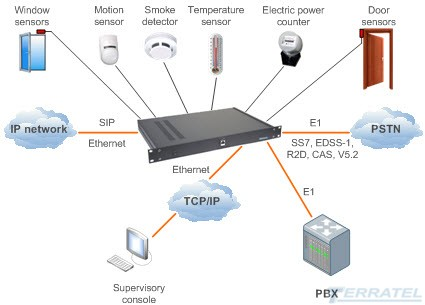 VoIP Gateway Features
1. Voice Compression and Coding
A key feature of VoIP gateways is the ability to compress and encode voice data into IP packets for transmission over IP networks.
This allows voice calls to be sent efficiently over the internet. VoIP gateways support various codecs like G.711, G.729, and G.723 for compressing audio into digital data. The codec used impacts call quality and bandwidth utilization.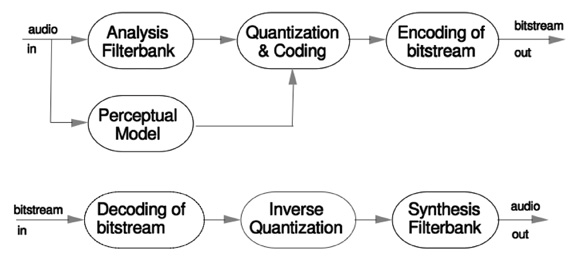 2. Echo Cancellation
VoIP gateways provide echo cancellation to remove any echo or feedback that can occur due to impedance mismatch between analog PSTN lines and IP networks.
This improves call quality by eliminating distracting echoes. Advanced echo cancellation algorithms in VoIP gateways can remove hybrid echoes and provide superior voice quality.
3. Call Routing and IP-PSTN Interworking
VoIP gateways enable call routing between IP and PSTN networks by converting between SIP, H.323, MGCP, and traditional PSTN protocols like SS7.
This allows seamless call connectivity and makes VoIP gateways a key component of converged voice networks.
The gateway manages signaling and media stream conversion between TDM and IP.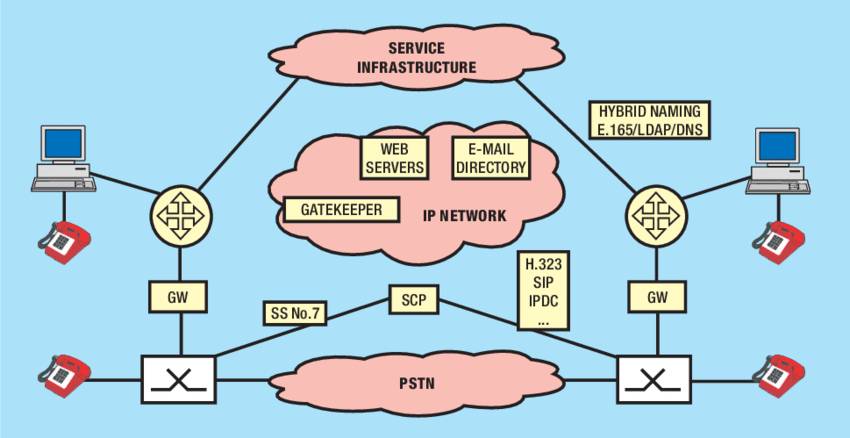 4. Fax over IP Support
VoIP gateways allow fax machines connected to PSTN lines to transmit fax data seamlessly over IP networks.
This is achieved by converting analog fax signals to digital format using codecs like T.38.
The gateway handles the entire fax transmission, therefore providing interoperability between traditional fax machines and IP networks.
5. Security Features
VoIP gateways support various security protocols to provide secure communication of voice data over IP networks.
This includes encryption using SRTP, TLS, and IPSec protocols to prevent eavesdropping on VoIP calls.
Gateways also use authentication mechanisms like SIP digest authentication to prevent hacking or spoofing attacks.
6. Management and Provisioning
VoIP gateways can be remotely configured and managed through standard interfaces like the web interface, Telnet, SNMP, and TR-069.
This allows easy provisioning of gateway settings like codecs, dial plans, and security policies.
Gateways also support monitoring of call quality metrics like MOS score, jitter, and delay to ensure optimal performance.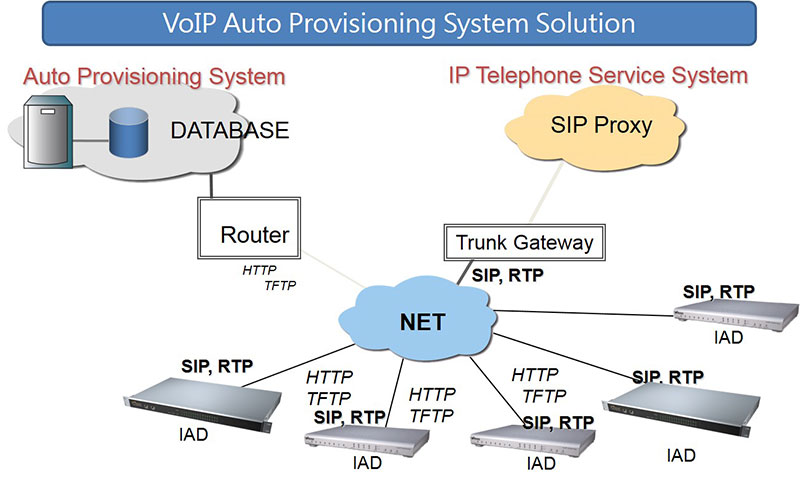 7. Scalability
VoIP gateways are designed with modular architecture and support clustered deployment.
This provides seamless capacity expansion to support growth in call traffic.
Multiple gateways can be added to the network with ease and provide failover redundancy for uninterrupted VoIP services.
VoIP Gateway Top Manufacturers
Some of the major companies that manufacture VoIP gateways for businesses and service providers include:
1. Cisco
Cisco is a leading provider of IP telephony solutions including VoIP gateways. Popular Cisco VoIP gateway models include:
Cisco Integrated Services Routers (ISR) with in-built gateway functionality
Cisco Unified Border Element for VoIP peering and security
Cisco TelePresence Video Communication Server for video conferencing
Cisco gateways are feature-rich supporting a wide range of voice codecs, robust QoS, and security features.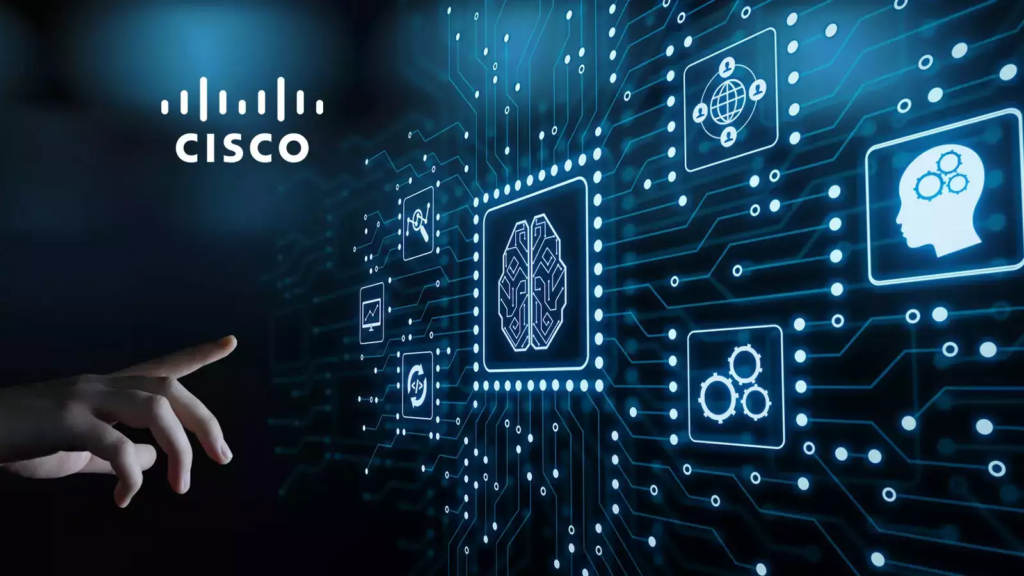 2. Grandstream
Grandstream offers a range of analog, digital, and hybrid VoIP gateways for small, medium, and large enterprises. Key products include:
GXW series analog VoIP gateways
HT series analog telephone adapters
DP series digital VoIP gateways
Grandstream gateways provide affordable VoIP access to traditional phone systems.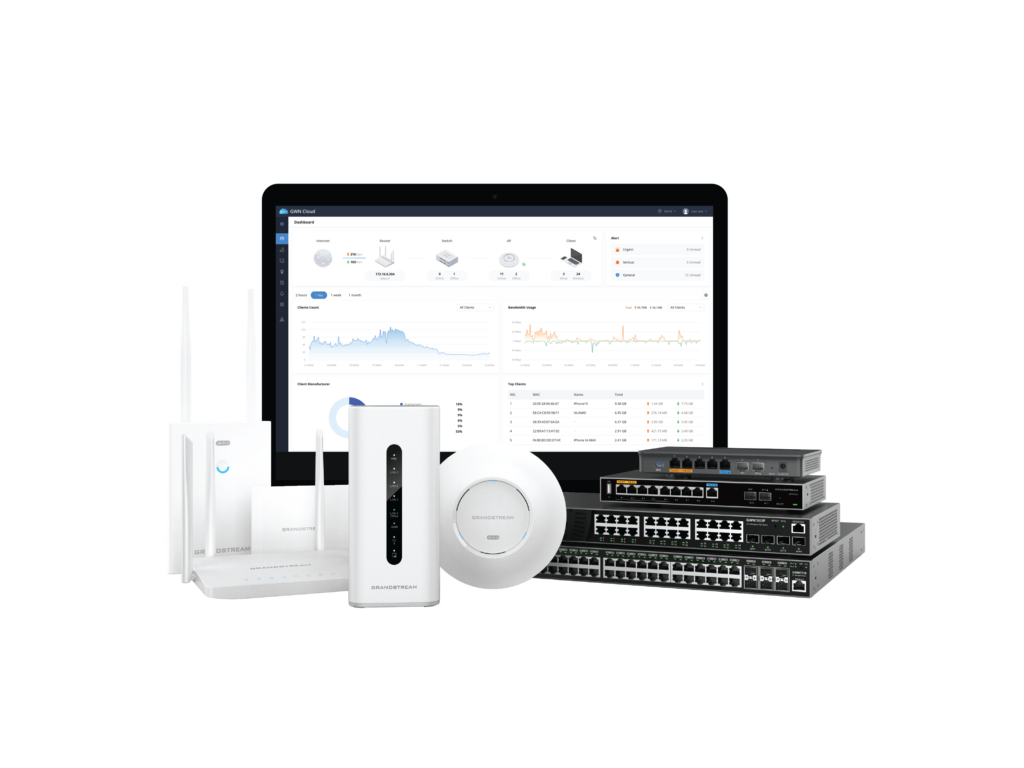 3. AudioCodes
AudioCodes focuses on high-performance VoIP gateways for service providers and enterprises. Their solutions include:
Mediant series media gateways & SBCs
IP media series of analog media gateways
One Voice Operations Center for management
AudioCodes gateways support large-scale deployments and have advanced hybrid VoIP capabilities.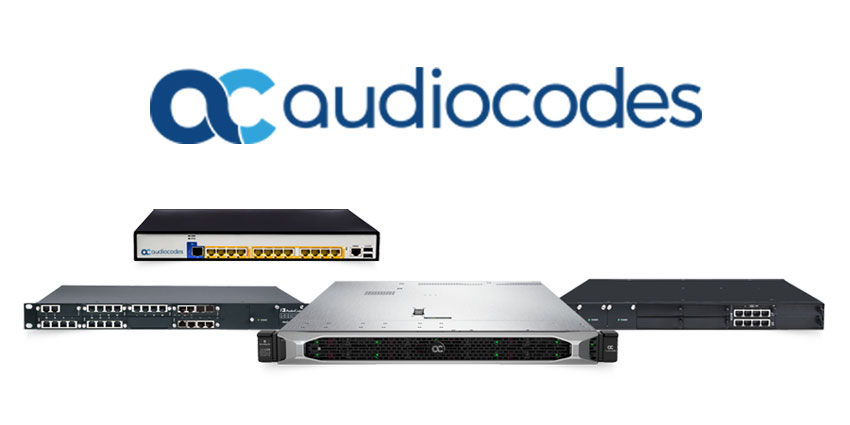 4. Sangoma
Sangoma offers a complete portfolio of VoIP gateways including:
Vega series analog VoIP gateways
A400 series PRI gateways
Session Border Controllers (SBCs)
Their gateways interoperate seamlessly with leading IP-PBX systems and PSTN networks.

5. Patton
Patton provides carrier-grade VoIP gateway solutions like:
SmartNode enterprise session border controllers
CopperLink analog VoIP gateways
ForeFront TDM over IP gateways
Patton Gateway Solutions offers intelligent VoIP routing with high reliability.
This covers some of the top VoIP gateway vendors providing products tailored to diverse customer needs. Their gateway solutions enable seamless integration of legacy and IP voice networks.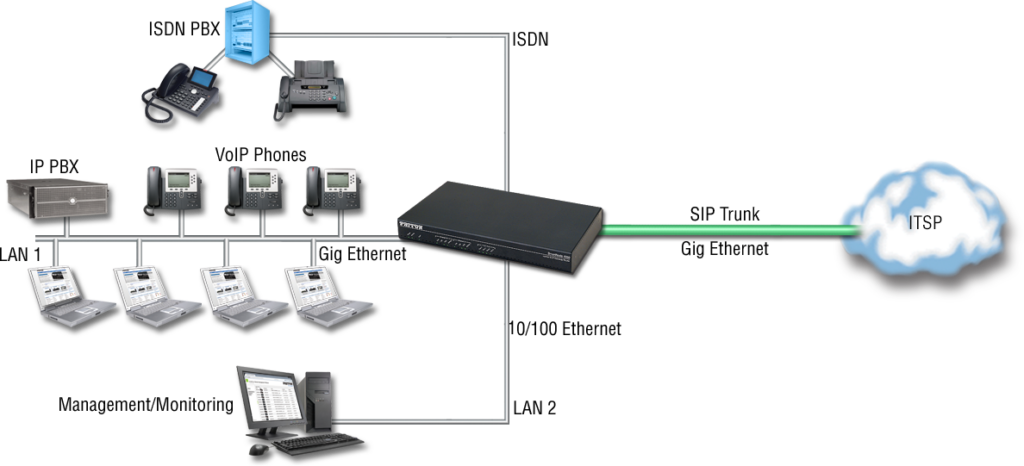 Frequently Asked Questions (FAQ)
Ques 1. What protocols do VoIP gateways use?
Ans. VoIP gateways primarily use SIP and H.323 protocols for handling call signaling, call routing, endpoint registration, and other functions over the IP network. SBCs may also support additional protocols.
Ques 2. Can you connect a conventional PSTN line to a VoIP gateway?
Ans. Yes, VoIP gateways support connecting to traditional PSTN lines using an FXO interface. This allows you to route PSTN calls over VoIP networks.
Ques 3. Do VoIP gateways work with analog phones?
Ans. Yes, VoIP gateways support analog phones using FXS interfaces. This allows traditional analog phones to work seamlessly over VoIP networks.
Ques 4. Can VoIP gateways connect PBX systems?
Ans. Yes, VoIP gateways can connect your existing PBX phone system using digital interfaces like BRI, PRI, and T1/E1 to enable integration with VoIP networks.
Ques 5. How do VoIP gateways help improve call quality?
Ans. VoIP gateways utilize techniques like echo cancellation, jitter buffers, and packet loss concealment to compensate for IP network impairments and improve the quality of VoIP calls.