Customer service is a crucial part of any successful business. Providing excellent customer support can lead to higher customer satisfaction, loyalty, and repeat business.
Implementing an efficient call center software solution allows companies to streamline their customer service operations and provide a smooth experience for both customers and agents.
This article provides a detailed overview of the top free call center software platforms available.
For each provider, we outline the key features, pricing, pros and cons, and ideal customer profiles so you can determine which solution best fits your business needs. Read on to learn more about these leading call center systems.
Best Free Call Center Software
1. Aircall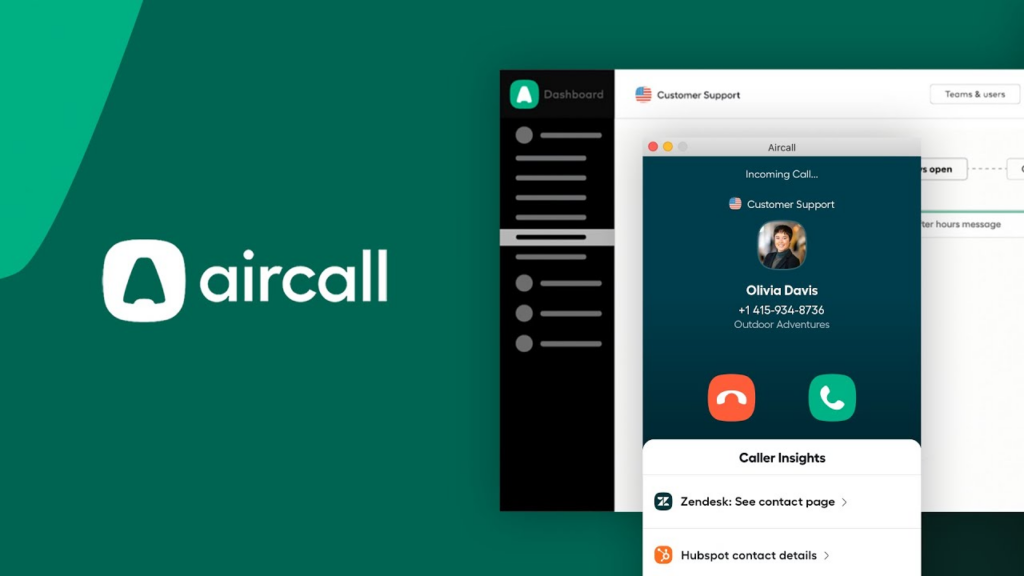 Aircall is one of the most popular cloud-based call center software solutions used by over 10,000 companies worldwide.
It is designed to enable businesses to quickly set up a call center in minutes without the need for complex and expensive on-premise equipment.
Aircall aims to make call center operations streamlined, and efficient and provide a unified customer experience across channels.
Key Features
Cloud-based system accessible from anywhere – Agents can access Aircall using any device with an internet connection, enabling remote or distributed teams.
Intuitive drag-and-drop call flow builder – No coding required to set up IVRs, waiting lines, business hours, and smart call routing flows.
Real-time call monitoring and whisper features – Managers can monitor agent conversations and interact via whisper to provide support.
Customizable interactive voice response (IVR) menus – IVR greetings and routing options can be easily customized to direct customers to the right department.
Omnichannel support for voice, SMS and email Customers can reach your support team through their channel of choice.
Pricing & Plans
Aircall offers three pricing plans depending on the number of agents needed:
Essentials – $30 per agent/month billed annually – Best for small teams
Professional – $50 per agent/month billed annually – Adds more voice minutes
Ultimate – $90 per agent/month billed annually – For larger teams and call volumes
Volume discounts are available for larger deployments. Additional fees apply for add-ons like number provisioning and storage overages.
Pros
Easy to set up and use – Aircall's interface is intuitive and setting up flows/queues is drag-and-drop simple.
Scales as your team grows – Upgrading plans is easy as your business expands. Handles call volumes of enterprise-level call centers.
Affordable pricing – One of the most cost-effective solutions especially for small businesses.
High uptime and reliability – Cloud-based architecture provides stable connectivity and operations.
Cons
Limited call recording storage on lower plans – 100 hours offered in Essentials vs unlimited in Ultimate. Additional storage can be costly.
Lacks customizable analytics and reports – Reporting functionality is not as robust compared to competitors.
Best For
Aircall is ideal for small businesses looking for intuitive, easy-to-use, and affordable cloud call center software.
The system is designed to be implemented quickly with little training needed. Scales well for growing teams making it a good fit for mid-size businesses as well.
2. Freshcaller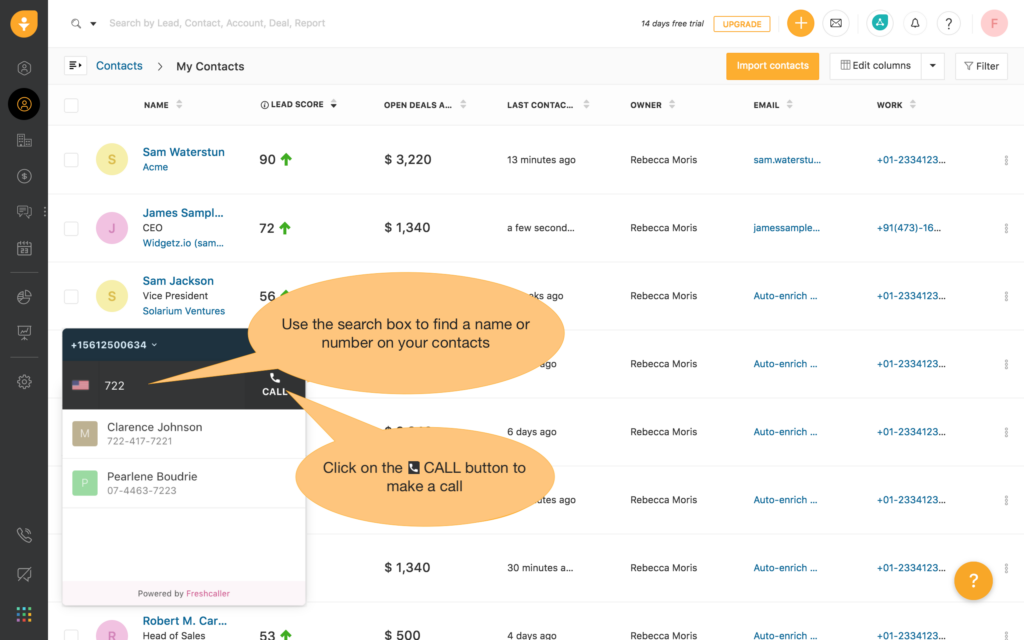 Freshcaller is another popular cloud-based call center system built for SMBs.
It aims to provide an all-in-one customer engagement platform spanning voice calls, live chat, and email support as well as bundled CRM and helpdesk functionalities.
Key Features
Omnichannel support for voice, email, live chat for contextual engagement
Customizable IVR system to direct callers to the right representatives
Real-time call monitoring and whisper coaching for managers
Built-in CRM, helpdesk, and shared inbox for ticketing
Reporting and analytics for insights into customer interactions
Pricing & Plans
Freshcaller has three main plans:
Blossom – Free, unlimited agents but has limited features
Garden – $15 per agent/month billed annually
Estate – $35 per agent/month billed annually
Pros
Intuitive and easy-to-use interface – Designed for fast implementation and easy usage.
Comprehensive features for a call center – Has all the key functions needed for customer support.
Affordable pricing – Good capabilities for the low monthly cost.
Omnichannel support – Voice, chat, and email for holistic customer engagement.
Cons
Third-party integration is limited – Zapier is available but no native CRM integrations.
Lack of sales-focused features – Geared more towards customer service vs sales teams.
Best For
The straightforward pricing and design of Freshcaller make it a great fit for SMBs looking for an intuitive call center solution.
The software provides a capable feature set at an affordable price point for small teams.
3. Talkdesk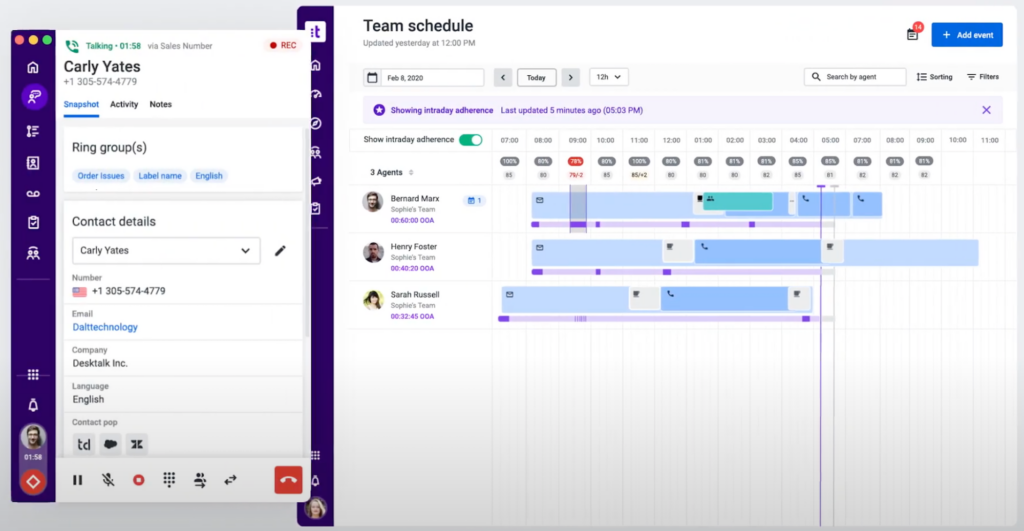 Talkdesk is one of the leading enterprise-grade contact center solutions used by large global companies like HP, IBM, and Trivago.
It provides comprehensive call center capabilities with enterprise-level security, reliability, and scalability.
Key Features
Omnichannel support – voice, video, email, SMS, social media and web chat
Intelligent call routing algorithms with skills-based matching
Real-time and historical analytics and reports
Tight CRM integrations with Salesforce, Zendesk, and more
AI-powered automated workforce management
Pricing & Plans
Talkdesk has customized enterprise pricing plans based on several agents and desired features. Volume discounts are offered. Pricing starts at $20 per agent per month.
Pros
Enterprise-grade security and reliability – Carrier-class availability with redundant infrastructure.
Smart contact center features powered by AI – Boosts efficiency with automation and intelligent routing.
Scales to support very large call centers – Handles huge call volumes without disruption.
Deep platform integrations – Integrates tightly with top CRM and helpdesk platforms.
Full-featured administration portal – Robust controls for admins and managers.
Cons
Potentially complex for smaller businesses – More suited for larger or growing call centers.
Higher pricing than SMB competitors – Enterprise features come at an enterprise price.
Best For
Talkdesk shines when it comes to large enterprises that need a feature-rich, secure, and scalable call center capable of supporting thousands of agents across the globe.
It's used by leading enterprises that cannot afford any downtime.
4. PhoneBurner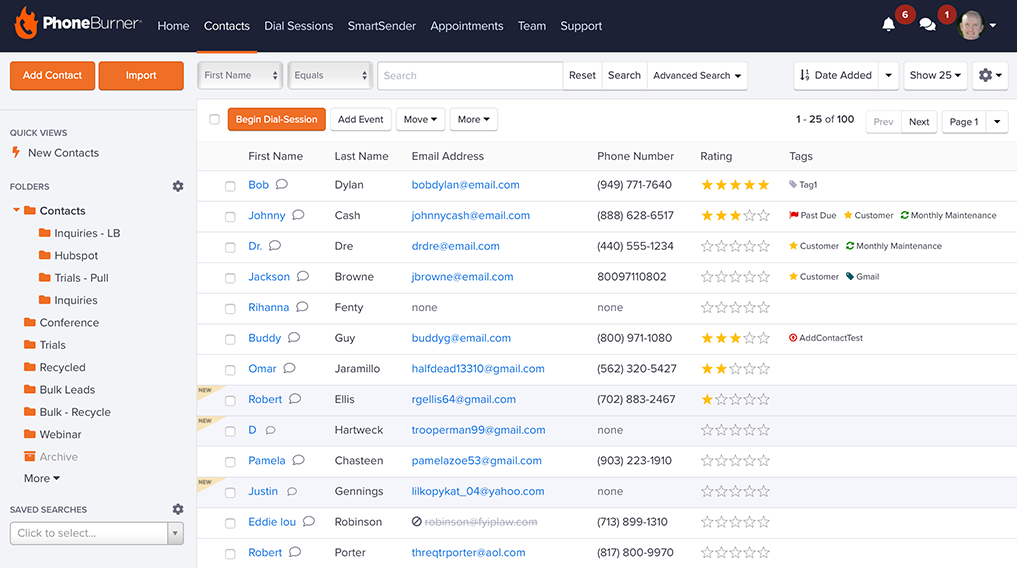 PhoneBurner is a call center CRM geared specifically for sales teams.
It combines calling, texting, email, and voicemail tools into one unified workspace to streamline outbound sales engagement.
Key Features
Click-to-call and voicemail drops to connect with prospects
Sequences for automatically sending emails and texts
Built-in library of sales cadences and scripts
Activity tracking and notifications for follow-ups
Integrated CRM and reporting for pipeline insights
Pricing & Plans
PhoneBurner offers two main plans:
Team – $65 per user/month billed annually
Business – $125 per user/month billed annually
Pros
All-in-one sales engagement platform – Unified interface for calling, outreach, and tracking.
Helps sales teams prospect efficiently – Automated sequences and cadences help reps optimize workflows.
Easy to get started and implement – Intuitive dashboard requires minimal ramp-up time.
Cost-effective for key features compared to competitors.
Cons
More focused on sales vs customer support use cases.
Calling capabilities are less robust than full-featured call center software.
Best For
PhoneBurner is tailored specifically for high-velocity sales teams that want an easy-to-use sales engagement platform with integrated outbound calling, sequencing, and pipeline tracking features.
5. RingCentral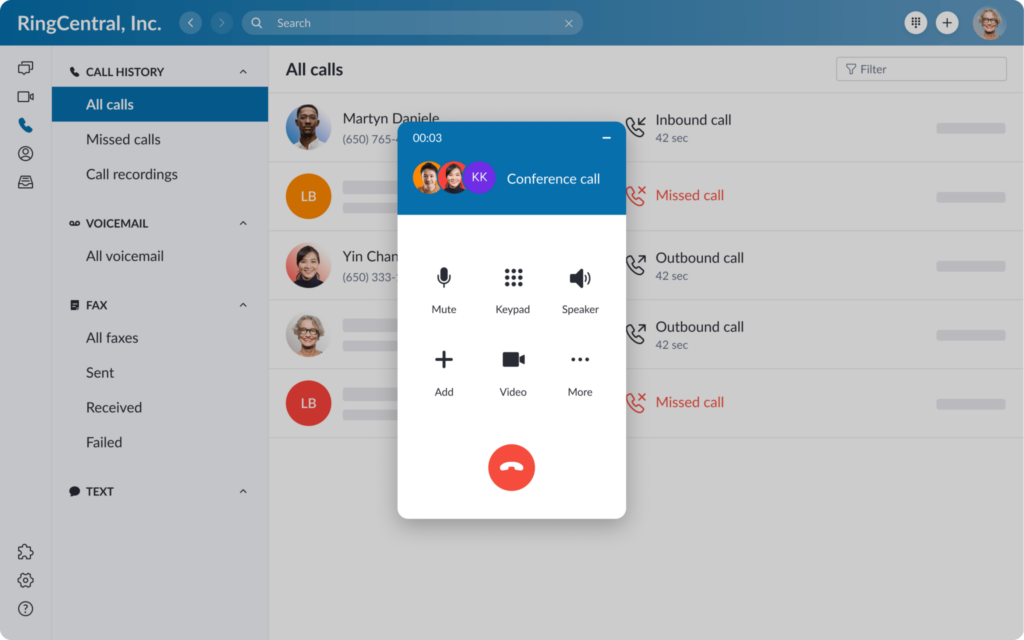 RingCentral Office is an industry-leading cloud business communications platform used by over 400,000 customers globally.
It offers a cloud PBX phone system tightly integrated with other tools like video conferencing, team messaging, and collaboration.
Key Features
Cloud PBX with auto attendants and call routing
Smart call handling with IVR, digital receptionist
Flexible ring groups for call distribution
Real-time and historical call analytics and reports
Seamless integrations with business apps
Pricing & Plans
RingCentral pricing is customized based on the number of users and features needed. Starts at $19.99 per user/month with volume discounts available.
Pros
Reputable vendor with excellent uptime record – Very reliable platform.
User-friendly admin portal – Easy to manage and configure system settings.
Scales to support large call centers – Cloud architecture handles fluctuating demands.
Deep integrations with popular business apps – Google, Salesforce, Microsoft, and more.
Cons
Can have a significant learning curve for smaller teams – Many advanced capabilities.
More costly than some other cloud PBX providers – Premium pricing for proven reliability.
Best For
RingCentral works well for medium to large businesses that want a full-featured business phone system natively combined with advanced call center capabilities, IVR, call routing, and reporting.
6. LiveAgent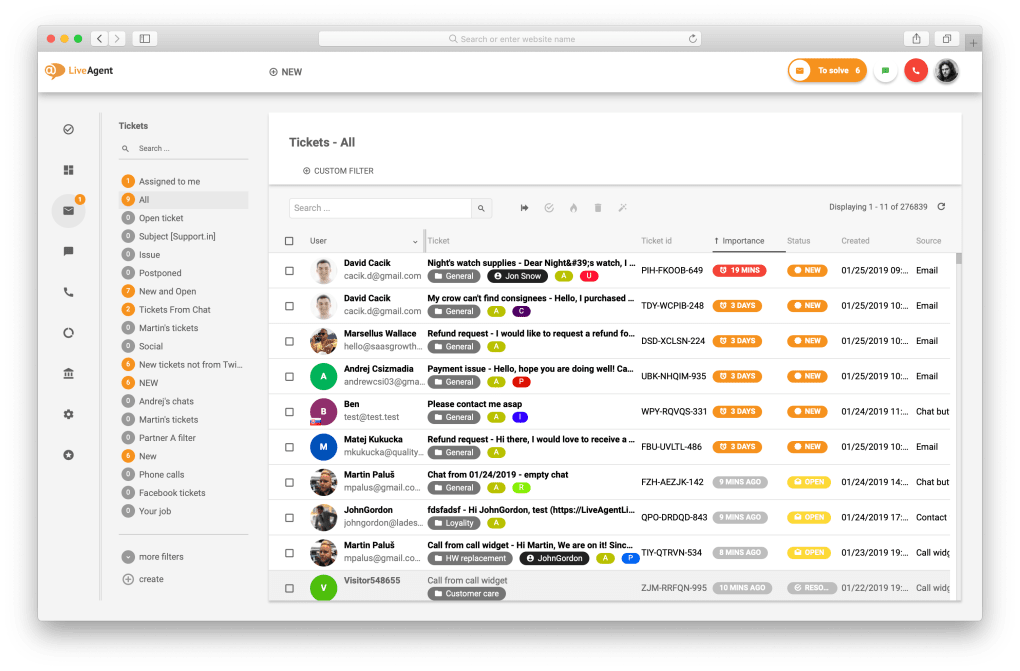 LiveAgent is a cloud-based call center software suitable for SMBs and smaller teams.
It offers omnichannel support with voice calls, live chat, email ticketing as well as helpdesk and shared inbox capabilities.
Key Features
Voice calls, live chat, email ticketing
Customizable IVR menus and skills-based call routing
Native helpdesk and shared team inbox
CRM integration and real-time reports
Pricing & Plans
LiveAgent offers these main plans:
Starter – $15 per agent/month
PRO – $39 per agent/month
Enterprise – Custom pricing
Pros
Affordable for SMBs – Competitive pricing for core features.
Intuitive agent desktop – Clean interface for voice, chat, and emails.
Good feature set for the price – Has what most SMBs will need.
Dedicated customer support – Quick to respond and helpful.
Cons
Separate pricing for different channels – Adds cost for full omnichannel.
Third-party integrations require developer help – Not plug-and-play.
Best For
LiveAgent hits the sweet spot for SMBs that want an easy-to-use yet full-featured call center software solution at an affordable price point. It provides the essential capabilities small teams need to deliver good customer experiences.
7. Five9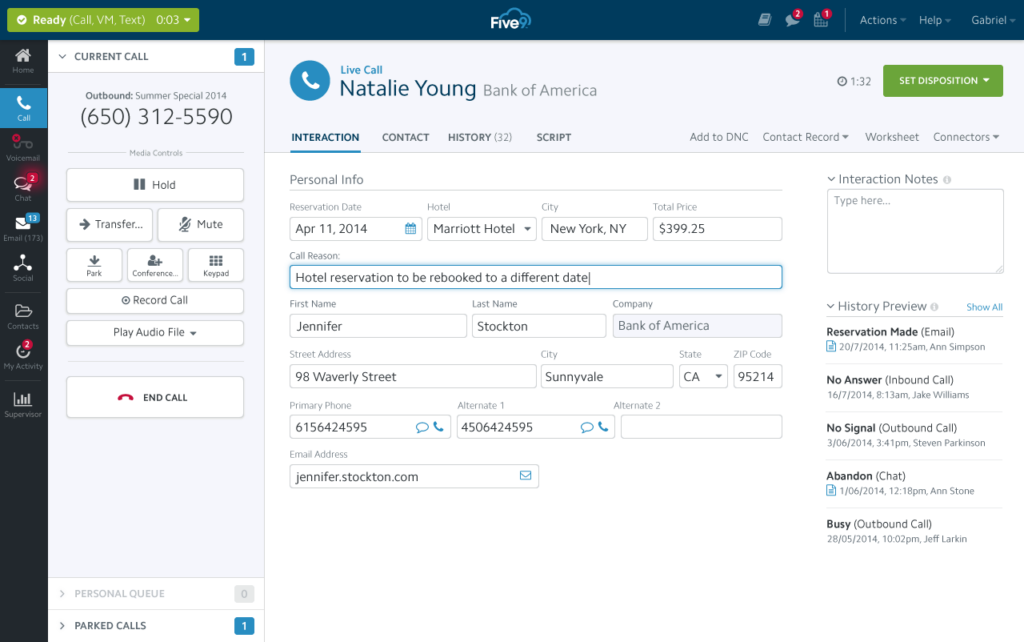 Five9 is a leading enterprise-grade, carrier-class contact center provider trusted by Fortune 500 companies.
It provides voice, IVR, email, social media, and chat support combined with helpful AI functionalities.
Key Features
Omnichannel – Support across voice, digital, self-service channels
Intelligent call routing and omnichannel management tools
Call recording, speech analytics, and artificial intelligence
Helpdesk ticketing and workflow management
Native CRM integrations and automation capabilities
Pricing & Plans
Five9 pricing is custom-quoted based on several agents, features, and deployment requirements. Starts at $100 per agent/month with enterprise discounts.
Pros
True enterprise-grade solution built for complex needs
Carrier-grade security and reliability standards
Scales to support thousands of agents globally
Reliable platform with an impressive uptime record
Cons
Potential overkill for smaller call centers
More complex and harder to customize vs competitors
Best For
Five9 shines for large enterprises that need a secure, robust, and scalable call center capable of managing huge volumes of customer interactions across channels.
It's trusted by leading enterprises where reliability is paramount.
Should You Upgrade To A Paid Call Center Software?
Running an efficient call center is crucial for providing good customer service and support.
While free call center software exists, paid options offer more advanced features and customization. Here's what to consider when deciding whether to upgrade to paid call center software.
1. Cost
The main downside of paid software is the cost. Prices range from $20 to $100+ per agent monthly.
Consider call volume and features needed to calculate if the price is justified by improved operations. Many paid platforms offer free trials to test the system first.
2. Features
Paid platforms offer features like skills-based routing, interactive voice response (IVR), call recording, advanced reporting, integration with other software, customizable dashboards, etc.
Consider which capabilities will optimize efficiency. Free versions have basic features, while paid tiers unlock more advanced functionality.
3. Scalability
Many free platforms are designed for very small teams. Paid options are better suited for businesses expecting growth.
They make it easy to add agents and features as call volume increases. This flexibility ensures the software can continue meeting needs down the road.
4. Customer Service
Paid platforms typically offer better technical support and customer service.
This can help troubleshoot issues and answer questions when leveraging all the software's capabilities. Lack of support on free platforms can lead to frustration.
5. Customization
Paid software allows admins to customize the system to fit their call center's unique needs.
This includes modifying the IVR flow, agent desktop layouts, quality assurance settings, and more. Limited customization on free platforms means the system may not be configured optimally.
Conclusion
The call center software solutions discussed all offer great capabilities that can benefit companies of different sizes and needs.
Factors like the number of users, reliability requirements, omnichannel support necessities, and budget constraints will inform what the best choice is for your organization.
Small businesses on a budget will likely benefit most from options like Aircall or LiveAgent. While enterprise players like Talkdesk and Five9 excel for large complex contact centers.
Overall by selecting and implementing the right call center platform for your needs, you can provide top-notch customer experiences and support
Frequently Asked Questions (FAQ)
Ques 1: What are the key things to consider when choosing call center software?
Ans. Your call volume, number of agents, reliability needs, omnichannel support requirements, scalability, and budget constraints. Match software capabilities to your needs.
Ques 2: What are the main benefits of paid call center software over free versions?
Ans. More advanced features, better scalability, increased customization, and improved customer service support. Paid often optimizes operations more.
Ques 3: Which call center software is best for small businesses?
Ans. Platforms like Aircall, LiveAgent, and Freshcaller are designed for SMBs with easy-to-use interfaces, affordable pricing, and essential features.
Ques 4: When does it make sense to choose an enterprise-level vendor?
Ans. Large call centers needing carrier-grade reliability, security, scalability, and omnichannel support will benefit most from vendors like Five9 and Talkdesk.
Ques 5: How can you calculate the ROI of paid call center software?
Ans. Analyze how improved efficiency, higher customer satisfaction, increased sales conversions, and reduced costs from new capabilities justify the expense.