OnSIP is a feature-rich cloud-based phone system designed for today's mobile and distributed small and mid-sized businesses.
It delivers a full business communications platform hosted in the cloud, eliminating the need for on-premise PBX hardware.
It consolidates voice, video, messaging, conferencing, and collaboration into one seamless service accessible across desktop and mobile devices.
With its flexible delivery model, It makes it easy for companies to transition business communications to the cloud quickly and cost-effectively.
In this comprehensive guide, we will do a deep dive into OnSIP's capabilities, use cases, pros and cons, pricing options, and alternative solutions available in the market.
Whether you are looking to upgrade outdated telephony infrastructure or deploy a new VoIP phone system, this guide will provide the details needed to determine if OnSIP is the right fit.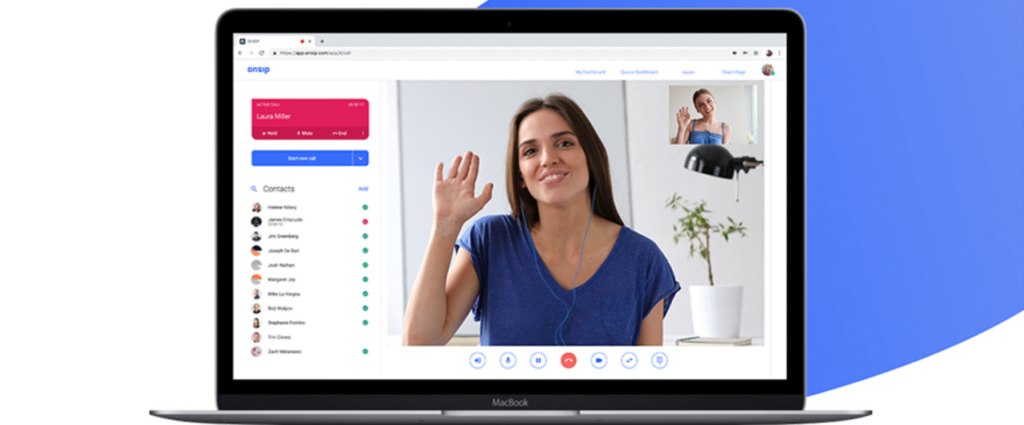 Features of OnSIP
1. Cloud Business Phone Service
It offers a feature-rich cloud phone system accessible from anywhere. The flexible system eliminates costly on-premise PBX hardware.
Easy self-setup, configuration wizards and drag-and-drop call flows provide versatility as business needs evolve.
2. Unlimited Calling Plans
It provides unlimited local and long-distance calling to the US, Canada, and Puerto Rico. There are no per-minute charges or overages to worry about.
International calling options to over 40 countries are also available for low flat monthly fees.
3. Contact Center Solutions
Its Contact Center equips teams with advanced capabilities to optimize customer experience.
Features like call routing, IVR menus, queue callbacks, and CRM integrations streamline operations. Real-time analytics provide insights to improve service levels.
4. Video Conferencing and Screen Sharing
OnSIP's HD video meetings enable remote teams to collaborate face-to-face through desktop and mobile apps.
Screen sharing fosters engagement during presentations or training sessions. Features like digital whiteboards, polling, and breakout rooms add interactivity.

5. Team Messaging and Collaboration
OnSIP Teams unifies team communications with group messaging, file sharing, VoIP audio calls, and video chat accessible across devices.
Users can quickly connect via their preferred mode. Team spaces foster collaboration across departments and locations.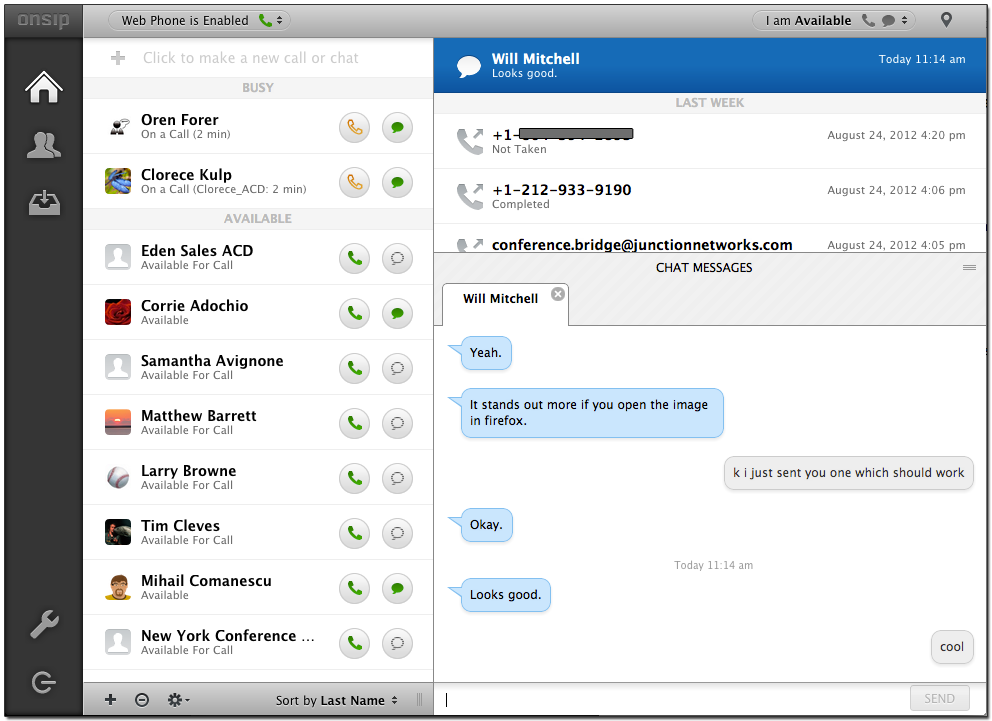 6. Mobility Apps and Capabilities
It equips mobile employees with apps to make and receive calls, texts, faxes, and video conferences anytime.
Native integrations with iOS and Android devices enable continuity across smartphones, tablets, and desktops. Features like location-based call routing and statuses boost productivity.
7. CRM, Helpdesk, and ERP Integrations
It integrates with popular business apps like Salesforce, Zendesk, and Microsoft Dynamics to align communications with core workflows.
This provides users with quick access to customer data during interactions. Screen pops, click-to-call, and call logging features to optimize productivity.
Use Cases of OnSIP
1. Distributed Call Center
For call centers with remote agents, It provides tools to connect dispersed teams. Intelligent call routing sends calls to available agents across locations.
Real-time management tools provide visibility and seamless coordination.
2. Professional Services Firm
Law firms, consulting groups, and agencies use It to present a professional image. Mobile apps keep remote employees connected through one business identity.
Video meetings facilitate client collaboration, and call-handling features manage high-volume traffic.
3. Field Technician Management
It helps dispatchers coordinate with field technicians on the go. Location-based call routing immediately connects customers to nearby techs.
Integrated messaging and scheduler apps optimize assignments and routes.
4. Multi-Location Business
For businesses with multiple locations, the OnSIP cloud phone system unifies communications.
Calls seamlessly route between locations, headquarters, and remote workers while call handling features project consistency.
5. Recruiting and Hiring
It simplifies recruiting workflows with coordinated messaging and telephone interviews. Hiring managers use video conferencing to preliminary screen applicants.
Recorded videos allow asynchronous review for collaborators.
6. Hybrid Office Environment
With more hybrid remote work policies, It keeps employees connected through video meetings, internet phone service, softphone apps, and messaging.
Users have one seamless business identity across office and mobile devices.
7. Developer Platform
OnSIP APIs allow developers to integrate calling, SMS, faxing, voicemail, and other telephony features into business apps.
Custom solutions boost efficiency with screen pops, click-to-call, call analytics, and more.
Pros
1. Cost Savings
It eliminates expensive upfront PBX hardware costs. Predictable subscription fees scale up or down to match needs and users.
2. Easy Cloud Administration
Centrally manage the entire phone system including call routing, auto-attendants, users, and more via an intuitive online portal.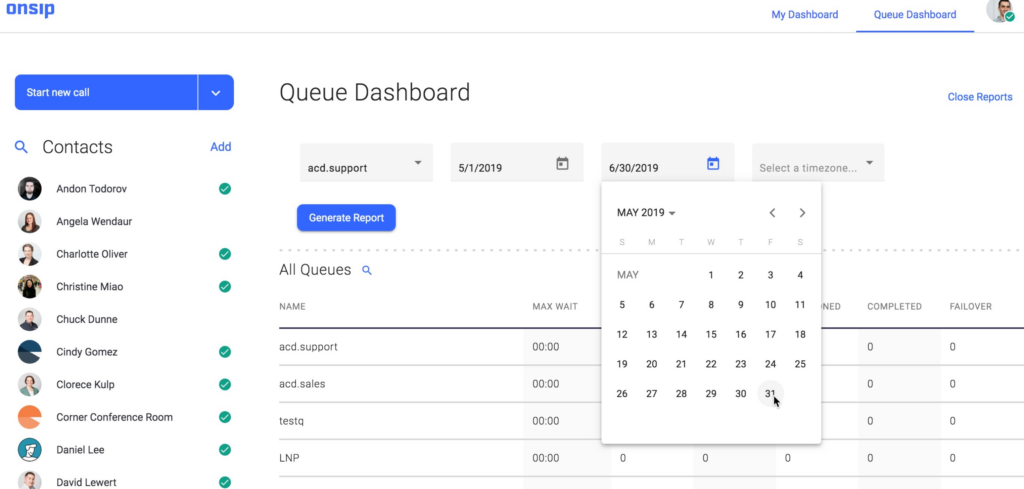 3. Increased Agility
New features, upgrades, and enhancements are added seamlessly without any downtime or disruption. Keep up with the pace of modern business.
4. Enterprise Reliability
Carrier-grade call quality and rock-solid reliability with 99.999% uptime SLA. Delivered over geo-redundant data centers and resilient networks.
5. Scalability on Demand
Add more lines, features, or users instantly through a self-service online dashboard. Scale from 10 to 10,000+ users seamlessly.
6. Work from Anywhere Mobility
Native desktop and mobile apps enable calling, meetings, team messaging, and collaboration from anywhere on any device.
7. Deep Integrations
450+ out-of-the-box integrations with business apps like Salesforce, Microsoft Teams, Slack, Zendesk and more.
8. Global Coverage
It provides reliable, high-quality service across the US, Canada, the UK, and Europe through its expanding global network footprint.
9. 24/7 Proactive Monitoring
OnSIP's team monitors systems proactively 24/7 to detect and resolve issues before they impact customers.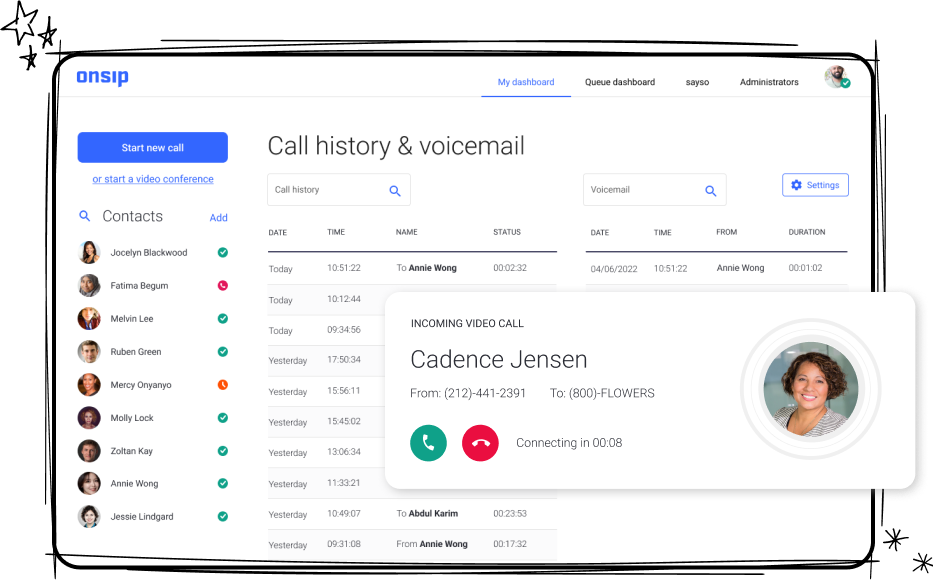 10. Robust Support
Get access to 24/7 technical phone support, an online knowledge base, forums, and proactive check-ins from the customer success team.
Cons
1. Learning Curve
While intuitive, first-time VoIP users require training and time to get up to speed on the new solution versus legacy systems.
2. Call Quality Dependence
As a cloud service, call quality is dependent on the quality of the internet connection. Quality issues can arise on poor networks.
3. Limited Hardware Phone Options
It focuses on mobile and desktop softphones rather than SIP desksets. The selection of supported hardware phones is limited.
4. Large Conference Calling
For very large 500+ attendee webinars or conferences, a separate web conferencing platform may still be required beyond OnSIP's native video capabilities.
5. Third-Party Reliance
Being cloud-based creates dependence on its platform for uptime and global network connectivity.
6. International Expansion
While rapidly growing, OnSIP has limited availability outside the US, Canada, the UK, and Europe compared to leading competitors.
7. Early Stage Support Cautions
As a smaller provider, its support may not yet match the breadth of resources from longtime market leaders.
8. Potential Vendor Lock-in
Multi-year contracts still required in most cases make switching platforms after deployment more difficult. Month-to-month options remain limited.
OnSIP Pricing and Plans
The Unlimited Plan
The Unlimited Plan at $18.95 per user/month provides robust features:
Cloud phone with desktop and mobile apps
Unlimited VoIP calling
5-person video conferences
Unlimited IVR, ring groups, announcements
The Basic Plan
The Basic Plan at $49.95 per month per account allows:
Cloud phone with desktop and mobile
VoIP calling
5-person video conferences
3 auto attendants, 3 ring groups
1 company announcement
OnSIP offers two ways to pay – per user for unlimited features or per account for basic needs. The Unlimited Plan scales features for every user.
The Basic Plan offers core capabilities per account. Choose the plan that aligns best with your business needs and budget.
Alternatives to the Tool:
1. Dialpad
Dialpad is an AI-powered cloud business phone and contact center solution.
It provides a full-featured phone system with video conferencing, enterprise messaging, and advanced call routing. Dialpad seamlessly integrates with G Suite and CRMs.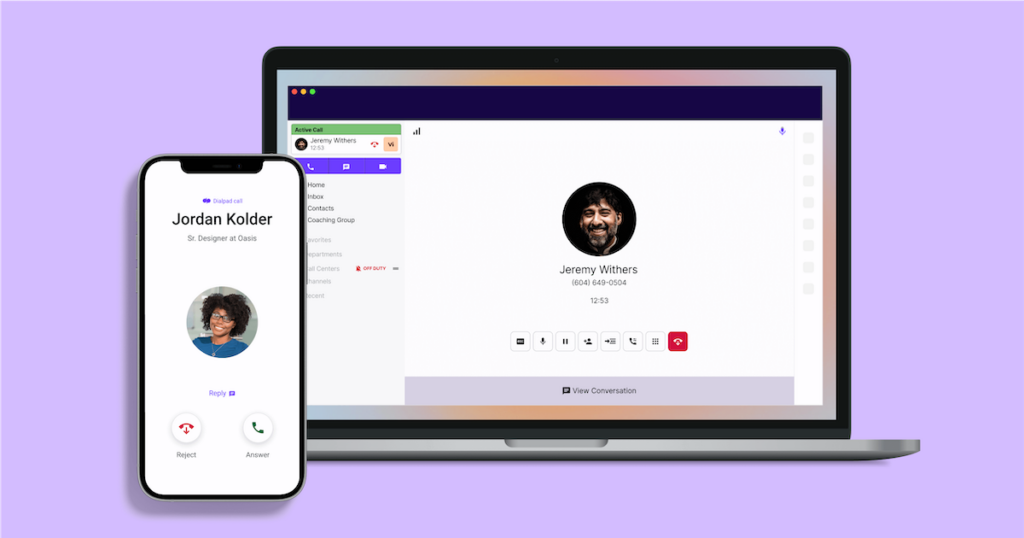 2. GoToConnect
GoToConnect brings together powerful VoIP phone service with video meetings, team chat, and contact center features.
It enables reliable call management, collaboration, and customer support for remote teams and distributed workplaces.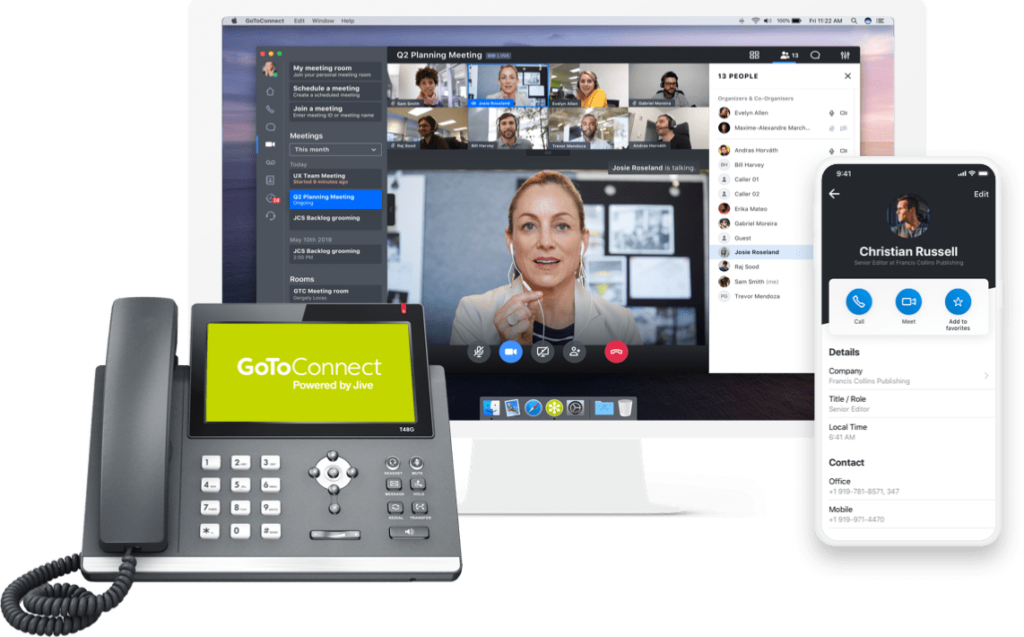 3. Zoom Phone
Zoom Phone is a cloud phone system natively integrated with Zoom's popular video conferencing.
It delivers call routing, auto attendants, voicemail, enterprise messaging, and mobile features. Zoom Phone provides an easy admin portal to manage users and call flows.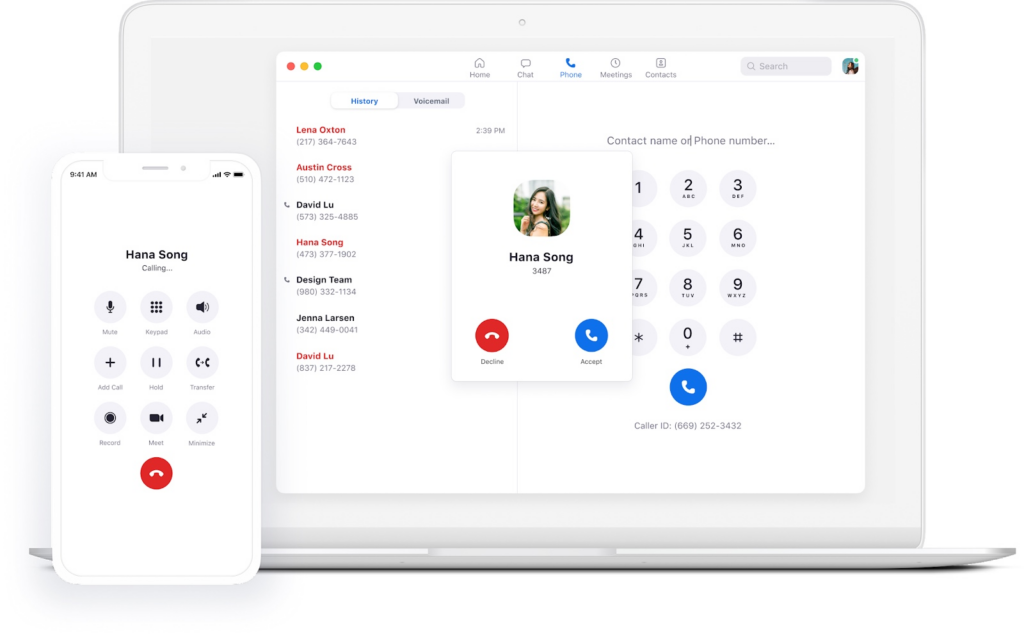 Conclusion
OnSIP provides a feature-rich cloud-based phone system tailored to the needs of modern businesses.
With its unified communications capabilities, mobile apps, contact center features, deep CRM integrations, and flexible delivery model, It enables companies to unite business communications onto a single agile platform.
While It still has some growth ahead to match longtime market leaders in areas like global footprint and large conference support, it remains a compelling option for US-based SMBs looking to migrate to the cloud quickly with limited IT.
For rapidly scaling mid-market companies and distributed teams needing robust UCaaS capabilities out of the box, OnSIP differentiates itself as a complete business phone and collaboration service hosted in the cloud.
Frequently Asked Questions (FAQ)
Ques 1. Is OnSIP free?
Ans: No, It has paid plans starting at $19.99 per month.
Ques 2. How does OnSIP work?
Ans: OnSIP uses SIP trunking to connect business phone systems to the telephone network over the Internet.
Ques 3. Is SIP calling free?
Ans: No, SIP calling requires a service provider like OnSIP that charges a monthly fee.
Ques 4. Is SIP only for VoIP?
Ans: No, It can be used for VoIP but also other real-time communication like video conferencing.
Ques 5. Why SIP is used in VoIP?
Ans: SIP is used in VoIP because it enables session management, allowing devices to set up, manage, and tear down calls.